AAA's Review & Results: Rey de Reyes 2019
The King of Kings show from AAA brought to you by our personal Luchasaurus Joe!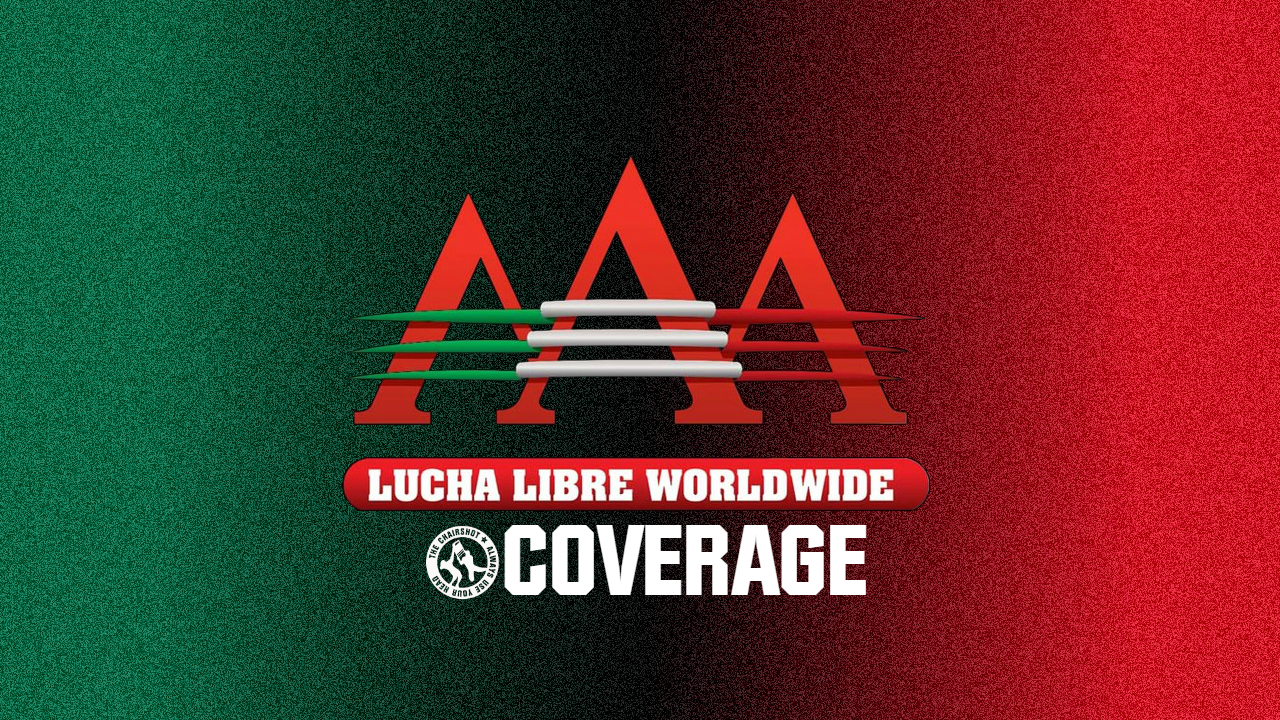 The King of Kings show from AAA brought to you by our personal Luchasaurus Joe!
Rey de Reyes live on Twitch
(Mixed Tag Team Championship) Nino Hamburguesa and Big Mami (Champions) vs Villano III Jr and Lady Maravilla
Maravilla and Mami push each other. Maravilla pretends she likes Nino. Mid promo Maravilla gets the jump on Mami and then they work over Nino. Maravilla and Villano continue to work on both till Mami hits them both out of the ring. She goes for a dive but gets pulled out. Mami holds both and Nino hits a middle rope flip dive. Nino comes back in to the top but Maravilla and Villano meet him up there and go for a superplex. Mami interrupts it. They then do a tower of doom spot. Nino and Mami have an interaction regarding Maravilla. Mami power bombs Maravilla then hits a leg drop. She goes for another attack but Nino says no. Instead she shoulder blocks Villano and Nino splashes him off the top. Nino leaves the ring, there's dissent. He's upset she went after Maravilla hard. Nino Hamburguesa pins Villano with a top rope splash. 
Nino takes his title then carries Maravilla to the back. Uh oh. Mami is upset.
Winners: Nino Hamburguesa and Big Mami
Cody comes out. Cody says Hugo will be the Spanish ambassador. He claims Jericho and Omega will be in AAA. Konnan says you must come to him to make an announcement. Taurus and Rey Escorpion, and Texano beat on Cody now. Taurus spears Cody and Psycho Clown makes a save. Cody did challenge Taurus tonight but I still feel like that won't happen.
(Reina de Reinas Championship) Lady Shani (Champion) vs La Hiedra vs Keyra vs Chica Tormenta
Match starts with them all charging each other. We get some light brawling and Hiedra and Shani are left in the ring. Chicka brings a table into the ring, this is a street fight they said on the preshow. Shani and Hiedra continue to exchange strikes. Chicka then nabs Shani and softens her up and suplexes her through a table. Keyra enters and hits a hurricanrana on Chicka then sets up a chair in her face in the corner and hits a drop kick followed by a vader bomb for a two count. Keyra then does a move and drops Hiedra on her head on a chair. Keyra argues with ref and Hiedra hits a power slam. Hiedra goes for a dive on Keyra but she hits her with a chair, then DDTs her on the apron. Chicka then power bombs Keyra on a chair and Shani smashes Chicka with a chair. Hiedra victory rolls Shani for a two count, then argues with the ref and then is hit with a shotgun drop kick off the top. Keyra breaks up the pin. Keyra and Chicka fight on the apron then Keyra does a spanish fly off the apron onto a table. Shani then power bombs Hiedra for the win. Lady Shani pins Hiedra with a power bomb.
Faby comes out now after the match. The heel ref lays out Faby mid promo. Faby fights back and hits an arm drag then a back breaker. Keyra and Chicka come out to beat her up. Taya comes out from the back to save her. This will likely set up something in the future. Whenever their next show is.
Winner: Lady Shani
Taya Valkyrie, Daga, and Joe Lider vs Mocho Cota Jr, Carta Brava Jr, and Tito Santana
They start the matches brawling. Perros del Mal vs Poder de Norte. Lider tosses Brava int Cota. Daga takes out Carta and takes his shirt off to the women's delight. Daga then head scissors Santana to the outside. Taya comes in and takes out Cota then works over Carta. Santana attacks her from behind when she poses. They take out Daga and Lider with chairs and team on Taya. Santana and Cota hold Taya's legs up and Brava drop kicks her private parts. They continue to beat on Taya. Taya makes her own come back hitting knees to the corner on Santana and Brava. Daga chops down Brava then hits a death valley on Santana. Daga then hits a dive over the top on Cota. Taya hits a german suplex on Brava for a close two. Brava gets up and hits a modified back breaker on her but Lider hits him with a cookie tray. They all trade moves in the ring and Daga hits a snap German for a two count. Poder gets Daga down in the corner and they all hit him with consecutive attacks. Lider gets them all to the outside and Taya hits a top rope splash on Santana to the outside. Lider sets up Cota on a ladder. Daga comes in the ring and hits Lider with a chair. Then death valley's him into the ladder. Daga has turned. Santana then hits a drop kick to the butt with a chair in the way on Lider for the win. Tito Santana hits a drop kick to the butt from the top on Lider's butt with a chair in the way.
Now Taya is getting beat on and Chicka and Keyra come out to lay the boots. Now Faby is coming out to make the save. Faby signals for a handshake but while that happens Poder de Norte throws Lider off the stage into a table. Poor Joe Lider.
Winners: Mocho Cota Jr, Carta Brava, and Tito Santana
Pagano, Drago, and Puma King vs Averno, Chessman, and Super Fly
Super Fly is dressed like Venom and Averno like Batman. The match starts with them immediately brawling. We have weapons involved so this is another hardcore match, though like ECW i feel like every match is hardcore unless otherwise told. The OGTs get the advantage to start and team up on everyone. They rip Drago's mask. They beat on Pagano next and Puma tries to make the save but fails. Drago dodges a double team attack then Pagano clotheslines two of them followed by a drop kick by Puma King. Chessman back drops Drago to the outside but he turns it into a dive on Averno. Pagano then dives through the middle rope on Chessman. Puma King and Super Fly go back and forth until Puma hits a flapjack then a super kick. Chessman and Averno enter to team on him. Puma King kicks Averno in the groin then dives on Super Fly. King and Pagano then do the fusion dance. Back in the ring Pagano and Chessman go back and forth and Pagano hit a hurricanrana. He tries to hit a swinging neck breaker I guess on Super Fly but they go different ways. Spot after spot is done, it's completely chaos. Drago does a Canadian destroyer to Super Fly. After constant chaos we get a tower of doom spot. Puma King sun set flips over Super Fly on the apron and power bombs him but he misses and the edge of his head hits the table. Fuck. Pagano then botches a cutter on Chessman. Pagano and Chessman are on the top rope and they get pushed off by Averno into tables. Chessman is bleeding. In the ring Averno hits a face buster off of the top on Drago for the win. Averno pins Drago with a top rope face buster.
Winners: Averno, Chessman, and Super Fly
(Cage Match) Psycho Clown, Maximo, and Mamba vs Jeff Jarrett, Killer Kross, and La Mascara
The technicos get jumped during the introductions. Super Porky is outside cheering on his family. The inside of the ring was laced with weaponry. Psycho Clown is going to town with a cookie sheet. There is a lot of waffling with weapons going on here. A lot of working on Psycho Clown's groin. Maximo and Mamba try to escape but they get stopped. Mascara works over Psycho Clown in front of Super Porky. Kross rolls out of the ring through the door. Does this count as an escape or was it something we weren't supposed to see. Jarrett waffles Maximo with a guitar. Maximo is bleeding like a pig…a porky. Jeff Jarrett climbs to the outside of the ring. For some reason his teammates didn't follow. He taunts Ms. Pena. Jarrett is kicking Super Porky's walker. Psycho Clown conveniently climbs out to help. Clown just goes back in the ring. Mamba smartly climbs out. Kross drops Maximo on his head with a Saito suplex. Kross does it to Clown then Mascara hits Clown with a chair. Half of Clowns mask is ripped off. Mascara tells Kross to escape. He's got it handled. Bad move i think. Mascara is getting cocky. He can escape whenever he wants. Mascara back drops Clown into a table. Maximo runs up the ropes and scales the cage and escapes. It's just Psycho and Mascara. Clown rips his shirt off and they exchange strikes. The crowd is totally into it now, behind Psycho Clown. Mascara hits a back stabber and then unties Clowns mask a little. Clown sets up a table then smashes Mascara with a cookie sheet. Mascara then does the Rush corner drop kick and does the Ingobernables pose. He was a member once. He puts Clown's mask on after demasking him. Maximo slides Clown a new mask. Clown depants Mascara as he climbs the catch, he catches him and power bombs him through the table. Clown escapes. Psycho Clown escapes to secure the win for his team.
Winners: Psycho Clown, Maximo, and Mamba
Backstage Faby Apache is being interviewed. The interviewer is talking to her about the ref.
Blue Demon Jr is coming out now. Blue Demon is just complaining about whatever. It's gonna be Sunday when this main event starts. He basically said he doesn't need the fans. They probably did this because he came across as a baby face during the last show by accident.
Rey de Reyes Tournament: Laredo Kid, Hijo Del Vikingo, Jack Evans, Sammy Guevara, Australian Suicide, Taurus, Golden Magic, Aerostar, and Myzteziz Jr
Hijo Del Vikingo is out first in this match where the rules have yet to be explained. Myzteziz is out next. Seems like it's royal rumble style. Both these guys start. They're tag team partners by the way. Vikingo does a dive over the top so it's not an over the top battle royal. Myzteziz then does a huge tornado dive over the top. Eclipse Jr  comes in next. They just keep playing Eclipse's theme. Finally stops 40 seconds into it. Eclipse does a dive onto Vikingo. This is chaos. Taurus is in next. He head butts Myzteziz and runs into Eclipse. He hits a Samoan drop on Myzteziz. He does a running shoulder block to Vikingo. Eclipse does a moonsault to the outside. Laredo Kid comes out next and accidentally hits the sword and it falls. Kid hits a big dive through the middle rope on Taurus. Kid works on Eclipse in the ring while everyone is laid out. Sammy Guevara is out next. He stares down with Laredo Kid. They throw rapid strikes. Guevara plays to the crowd well as a heel. Young Jack Evans is out next and does a handspring elbow and falls out of the ring but lands on his feet. Guevara and Evans do some poetry in motion. Evans does a 450 splash. Golden Magic is out next. Match is chaos. Taurus hits the Taurus driver on Eclipse and pins him. Golden Magic hits a cutter on Vikingo. Magic hits a hurricanrana off the top on the apron on Myzteziz. Aerostar head scissors Taurus to the outside and runs up the ropes and hits a flip dive. Myzteziz tries his double asai moonsault but goes 1.5 rotations. Laredo Kid does a crazy corkscrew dive. Golden Magic does a tornado dive onto the pile. Vikingo now does an imploder 450. So earlier AAA said there was 11 people in the match but there isn't. No Suicide he was replaced by Eclipse. Back in the ring Evans hurricanrana's Vikingo onto the pile. Guevara hits a dive to the outside. Jack Evans then hits an asai moonsault. Taurus then does a flip dive through the middle rope. Taurus spears Myzteziz and then hits the Taurus driver. He grabs Golden Magic and Taurus drivers him for the elimination. Evans counters Taurus' and kicks him. Evans hits the 630 and Vikingo kicks him. Vikingo crotches Evans and hits the double stomp in the corner. He hits an imploder 450 for the pin. Aerostar hits double knees to Vikingo's back but Guevara intercepts and hits a GTS. Guevara leaps off the ropes and Kid hits a cutter then a 450 on Guevara for the pin. Aerostar, Kid, and Vikingo team up on Taurus. Taurus fights back with a clothesline then drops Aerostar on his head. Taurus gets Kid on his shoulders then catches Taurus for a double fall away slam. But Taurus poses and Kid catches him with a reverseranna, Vikingo hits a frog splash and Aerostar hits a splash on Kid's shoulders. They all pin him. Taurus eliminated. And then they were three. The two tag partners Kid and Vikingo beat up on Aerostar. Kid gets Aerostar up for a vertical suplex and Vikingo shot gun drop kicks him into a double team attack. Aerostar gets his feet up on Vikingo then dodges Kid making him fall out of the ring. He then hits a middle rope diving head butt on Kid. He hits a code breaker on Vikingo then hits a splash off the top. Vikingo eliminated. Vikingo gets helped out so he might have gotten head butt by Aerostar. Kid kicks him and hits a flipping DDT for a close two. Kid hits a Michinoku driver and goes to the top and hits a 450 for a two count. Kid puts him on the top rope but gets knocked off and code breakered. Aerostar hits a big splash off the top for a close two. Aerostar goes to the well too many times. But he fights off Kid and crotches him. He hits a code breaker from the top then rolls into a cutter for the win. Aerostar wins with a rolling cutter.
Winner, Rey de Reyes: Aerostar
(AAA Tag Team Championship) Rey Escorpion and Texano Jr (Champions) vs Pentagon Jr and Fenix
Fenix and Pentagon kick Texano and Rey to the outside and then hit over the top dives. They get Texano down and double super kick him. Pentagon code breakers Rey and Fenix double stomps his back. Well this is a tornado tag if you needed confirmation. Fenix hits an over the top dive on Rey who just gets up and no sells it and whips Fenix into the barricade. Texano slams Pentagon for a close two count. They double crotch Fenix on the ring post. Pentagon gets teamed up on. Texano and Escorpion do a fusion dance too. Pentagon throws Rey in the ropes and Fenix kicks him. Pentagon hits the Penta driver on Texano for a close two. Pentagon then hits a package pile driver with a double stomp from Fenix for a double team attack. Fenix then flies to the outside and lands in the crowd. Pentagon pins Texano. Pentagon Jr pins Texano with a package piledriver double stomp with help from Fenix.
Winners: Pentagon Jr and Fenix
Konnan storms out now. Pentagon says he has Cero Miedo. Lights go out now. The Young Bucks appear in the ring. They're dressed to wrestle. They super kick Konnan.
(Tag Team Championship) Young Bucks vs Pentagon Jr and Fenix (Champs)
Bucks super kick the Bucks to the outside and Nick hits a dive on Pentagon. The Bucks hit a neck breaker on Fenix. Nick punts Fenix on the outside. Matt rolls into a sharpshooter on Pentagon. Now Nick gets Fenix in a sharpshooter as well. Fenix tries to fight back. Fenix finally does fight back with strikes. Pentagon hits two sling blades. Fenix hits a double cutter. Fenix hits a flip dive over the top on Matt. Pentagon hits the Pentagon driver on Nick for a close two. The Bucks kick them to the outside and hit an indie taker on Fenix. Matt did the Pentagon driver on Pentagon and Nick stomps on him and then Nick hits an over the top dive on Fenix. Matt gets a close two count. They set up Pentagon for the Meltzer driver and pin him. Matt pins Pentagon with the Meltzer Driver.
Winners: Nick and Matt Jackson, The Young Bucks
Mitchell's WWE Monday Night Raw Results & Report! (4/22/19)
Raw settles in after the 2019 Superstar Shake-Up!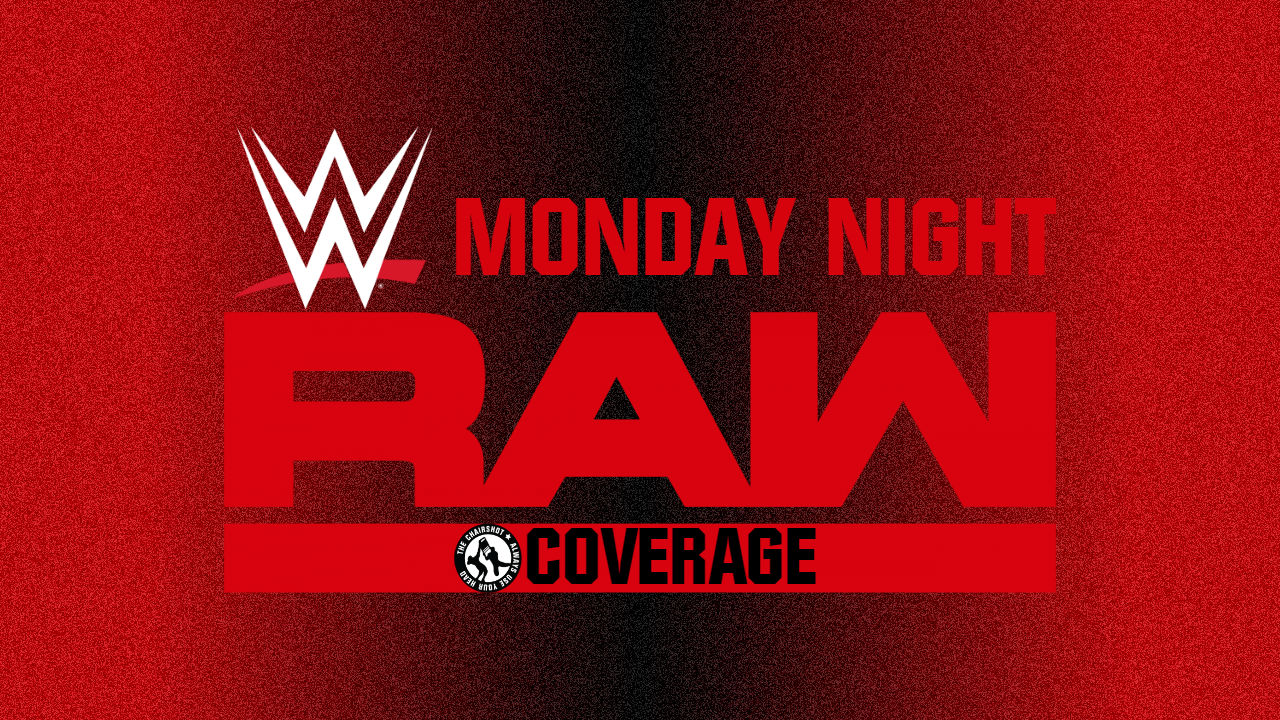 Raw is now Phenomenal AND Awesome! Both AJ Styles and The Miz moved from SmackDown, but what will they and the other new stars do next?
OFFICIAL RESULTS
WWE Universal Championship #1 Contender Qualifier Triple Threat: AJ Styles VS Rey Mysterio VS Samoa Joe; Styles wins and advances to the main event.
Naomi VS Billie Kay w/ Peyton Royce; Naomi wins.
WWE Universal Championship #1 Contender Qualifier Triple Threat: The Miz VS Drew McIntyre VS Baron Corbin; Corbin wins and advances to the main event.
Cedric Alexander VS Cesaro; Cesaro wins.
The Viking Raiders VS Lucha House Party; No Contest.
Becky Lynch VS Alica Fox; Lynch wins.
Ricochet VS Robert Roode; Roode wins.
WWE Universal Championship #1 Contender's Match: AJ Styles VS Baron Corbin; Styles wins and will challenge Seth Rollins for the title at Money in the Bank.
PLAY BY PLAY
Triple H returns to Raw!
The Game was victorious against The Animal in their No Holds Barred Wrestlemania match, and now he's back as the COO! HHH gets Des Moines fired up as he picks up the mic. Because here comes Seth Rollins! Iowa's own is here to #BurnItDown! Rollins stands with HHH in the ring and says, "This whole thing is too surreal for me, man." To be standing in the ring, in his home state, after everything he and the fans have been through together, it's unreal. HHH shakes hands with Rollins, and Rollins reviews how he was in the fight of his life at Wrestlemania. Rollins Slayed the Beast to bring the title home! Fans chant "Welcome Home!" to make it complete.
HHH agrees, Rollins walked in the Kingslayer and came out the certified BEASTSLAYER! Rollins did what he said when he stepped in the ring, stomped "bucket head" Brock Lesnar three times, then walked out THE WWE Universal Champion! And now Rollins stands in his home state (pause to hear the fans cheer again) but now with a new landscape. The Superstar Shake-Up changes everything. Rollins as Universal Champion and measuring stick has the whole world gunning for him. And Rollins knows that. Money in the Bank is coming, but if anyone knows a thing or two about that contract, it's Rollins. He cashed it in and changed his career, but also had it cashed in on him. Rollins promises he won't let Mr. MITB get the drop on him again.
HHH warns Rollins not to put the cart before the horse. Don't worry about who wins that contract, be worried about who he defends against that same night. Did Heyman blow up HHH's phone to get a rematch for Lesnar? No, surprisingly. Heyman hasn't said a thing since Mania, and Lesnar must be licking his wounds. Then what's next? That's what tonight will determine! Because "the best of the best" are on Raw and will compete into two Triple Threats to then move on to a main event match. The winner of that goes on to Money in the Bank to face Rollins for the Universal Championship. Rollins likes the sound of that. But here comes one of those contenders, it's Samoa Joe!
The current WWE United States Champion says "It seems I missed my invitation." Joe reminds us that he does what he wants when he wants. And tonight, the champion has arrived! Joe admits, Becky Lynch came up with a real interesting concept of double champion. Joe has room for one more belt, "and that would be yours", Rollins. But here comes another of the contenders, Rey Mysterio! The King of Lucha tells Joe that he's not the only one wanting to make an impact. As for Rollins, Rey isn't here just to drop knowledge. He's here for a dream match. After tonight, at Money in the Bank, Rey VS Rollins. But yet another contender appears! It's Drew McIntyre!
The Scottish Terminator makes himself clear. It doesn't matter what anyone else thinks they deserve, McIntyre cleaned up Raw yet has had no title opportunities! This is DREW'S time! What was it HHH said? Rollins is the measuring stick here? The only reason Rollins is champion is because he got to Lesnar before McIntyre. Everyone knows what McIntyre is capable of. McIntyre promises to win his Triple Threat, go to MITB, beat Rollins and finally be Universal Champion! But now we get The Miz! The Hollywood A-Lister says that first and foremost, he's back! And the more things change the more they stay the same, because Miz and Rollins are on the same brand and Rollins has something Miz wants. Miz has had a reboot thanks to the "Best in the World".
This is not the same Miz as before, because he has seen the light. Miz can be a man worthy of the title. And what more must-see match for MITB than Rollins VS Miz?! But now we get Baron Corbin, who wants everything to stop right here. Corbin puts this in perspective for everyone: he is the most deserving of all to challenge Rollins. At Wrestlemania, Rollins slayed the beast, but Corbin retired a legend. McIntyre didn't beat a gold medalist in his farewell match. Miz didn't beat a gold medalist in his farewell match. Mysterio didn't, either. But finally, here comes the Phenomenal One! He leaves the House that AJ Styles Built but looks just fine being on Raw.
And after hearing the fans cheer for him, Styles asks if Corbin ever shuts up. Because c'mon. Corbin's face is almost as annoying as his voice. And speaking of annoying, it seems like everyone forgets Styles is Raw! Including Rollins. Styles promises to win his triple threat, then bet the other winner, and Raw will realize why SmackDown was the House that AJ Styles Built. But to that point, this is Raw, so Styles promises to give the fans what they've always wanted: Rollins VS Styles for the Universal Championship! HHH looks to Rollins, and Rollins sees what HHH meant. Everyone guns for the champ. Rollins is ready. It doesn't matter who it is at MITB, because this is Seth Freakin' Rollins, who will BURN IT DOWN! Mic drop from the champ, but who will make it through the special double header to be his contender?
WWE Universal Championship #1 Contender Qualifier Triple Threat: AJ Styles VS Rey Mysterio VS Samoa Joe!
A match worthy of any title, the Phenomenal, the King of Lucha and the Destroyer fight for just the first step towards Rollins and Money in the Bank. Who backs up their words with actions?
Raw returns with the bell and all three men circle. Joe quickly headbutts Mysterio then brawls with Styles. Joe knees low then kicks Styles while he's down. Mysterio returns and enziguris Joe, but Styles hits Mysterio, too. Styles whips Mysterio corner to corner hard then goes back after Joe with a forearm. Mysterio boots Styles then uses Styles to alley-oop to huricanrana Joe out! Now Styles and Mysterio are alone as they circle. Fans duel for these fan favorites as they approach. Mysterio kicks away on Styles' leg but Styles reverses the whip. Mysterio slides under but Styles gets him with a backbreaker! Styles catches his breath and aims at Joe from the apron. Sliding knee rocks Joe down!
Styles goes back to Mysterio and snap suplexes hard! He drags Mysterio up but Mysterio throws hands. Mysterio runs but into a tilt-o-whirl backbreaker! Cover, TWO! Styles keeps his cool as he drags Mysterio up again. He wants the Clash but Mysterio scrambles out. Styles pursues but has to hit Joe first. He gets Mysterio back in the ring and back up for the Clash, but Mysterio manages to get ropes. Styles powers him up but the bomb is countered to a spike-rana! Cover, but Joe breaks it! Joe kicks Styles to a corner then bumps Mysterio off buckles. Joe drags Styles up to whip and run Styles over with the elbow! He drags Mysterio up to throw those swift jabs, then whips and slides Mysterio out to the floor!
Joe goes back to Styles but Styles fights back. Styles whips but runs into the urenage! Cover, TWO! The WWE United States Champion has control while we go to break.
Raw returns and Mysterio fights back against Joe. Mysterio runs but Joe gets him for the powerslam! Cover but Styles breaks it! Styles hobbles over to Joe in the corner and brings him up. Styles fires off the Phenomenal Blitz but Joe tanks it to fire palm strikes. Joe spins, misses, and gets Styles' PELE! Cover, but Mysterio breaks it! All three men are down but Mysterio and Styles go after each other. Mysterio CHOPS then kicks Styles, then whips. Styles reverses but Mysterio kicks him back. Mysterio runs and wheelbarrows for a bulldog! Mysterio sees Joe coming and trips him into the ropes! Fans fire up as Mysterio dials it up, but Joe bails out. So Mysterio springboards and corkscrews to take Joe down! Mysterio hurries up to a corner, climbs, but Styles stop shim.
Styles climbs up from the outside but Mysterio fights him off. Mysterio wants a superplex but Styles denies him. Joe hurries up and in, and gets both men for a SUPER DOUBLE BACK DROP! All three men are down but Des Moines are fired up! "This is Awesome!" but far from over. Joe crawls to cover Mysteiro, TWO. Joe crawls to cover Styles, TWO! He tries Styles again, TWO! Joe grows frustrated while we go to break.
Raw returns and Mysterio fights against Styles. Mysterio runs but Styles clobbers him! Joe clobbers Styles! Cover on Styles, TWO!! Joe drags Mysterio up and puts him on the top rope. Mysterio fights Joe off and hits the seated senton! Mysterio tilt-o-whirls for a Crucifix Driver! But Styles breaks the cover immediately! Styles drags Mysterio up and whips him, but Mysterio goes up and over to headscissor Styles out! Joe attacks Mysterio and scoops, but Mysterio spins around for a tornado DDT! All three men are down but Mysterio is up first. He clubs Joe on the ropes then dials it up! 619 misses, into the Coquina Clutch! PHENOMENAL- COQUINA! Joe has Styles now but Styles uses buckles to make a cover, TWO! Joe swings but gets another PELE!
Styles brings Mysterio up but Mysterio pops through to headscissor Styles on ropes! DIAL IT UP on JOE! Then springboard but Styles BOMBS Mysterio, onto Joe! Then Styles Clash on Mysterio onto Joe! Cover on Joe, Styles wins!!
Winner: AJ Styles, by pinfall; advances to the main event
The main event is already Phenomenal as Styles advances! Who will meet him from the other Triple Threat later tonight?
Naomi VS Billie Kay w/ Peyton Royce!
Iowa loves to #BurnItDown with Rollins, but will they #FeelTheGlow as Naomi goes against one half of the IIconics?
Raw returns as the WWE Women's Tag Team Champions make their entrance. They say that what Naomi did last week can be summed up in a few words: "Thank you, next." That song from that singer obsessed with them. Who is it? Trenta? Venti? Grande! Ariana, that is. This is why they're the champions. Billie has Peyton's back and Peyton has Billie's. But who has Naomi's? Bayley's on SmackDown! Bayley said no to the glow! The IIconics laugh at their own joke, but they tell Naomi she's living in the past if she thinks she can beat the future! And the future is… IICONIC! Strike the pose. The IIconics may say that now, but will Naomi show them what she can do solo?
The bell rings and Billie boots Naomi right down! She also throws Naomi around then covers, ONE! Billie keeps on Naomi with a grounded abdominal stretch. Billie claws Naomi's face but the referee reprimands her. Naomi endures and fights her way up, only to get a knee. Naomi roundhouses back then lariats Billie down! She adds an elbow and a running jawbreaker, then a SLAP! Billie is furious but runs into Naomi's headlock. Peyton gets up on the apron, Naomi gets both IIconics with the bulldog! Slingshot sunset flip, Naomi wins!
Winner: Naomi, by pinfall
The champions are furious! Naomi gets a win on one, but they point out this won't change who the champs are. Will Naomi find yet another partner to help her challenge Billie & Peyton in the future?
WWE Universal Championship #1 Contender Qualifier Triple Threat: The Miz VS Drew McIntyre VS Baron Corbin!
The reformed A-Lister takes on a tall task in facing the Scottish Terminator and the Lone Wolf. Will we see Awesome VS Phenomenal? Or will see one man rebound from losing to The Shield on Easter Sunday?
Raw returns as McIntyre makes his entrance. Corbin already made his entrance over the commercial break, but we can assume he's not Des Moines' Favorite Son. The bell rings and Miz sees he's between two towering opponents. Miz throws hands on McIntyre but Corbin whips. Miz boots back then rolls Corbin up, but McIntyre pries him off. McIntyre scoops but Miz roll shim up, TWO! Miz bails out, and wags his fingers "Not so fast." McIntyre and Corbin work together and flank Miz. He gets back in the ring and then wrecks McIntyre with a dropkick! But Corbin wrecks Miz with an uppercut! Corbin and McIntyre stomp away, then mock the fans who boo. McIntyre drags Miz up and in, then stalks him. He brings Miz up for a CHOP and Corbin likes the sound of that. Corbin drags Miz up but Miz fires hands!
McIntyre clubs Miz and Corbin adds on. They work together to mug Miz with a running body shot. Corbin drags Miz up for McIntyre, but then he sucker punches McIntyre! Corbin goes back to Miz, the alliance over, and throws him out. He pursues after Miz and rams him into barriers! Corbin whips Miz but Miz reverses to send him into barriers! But then McIntyre clobbers Miz from behind! McIntyre puts Miz in and deadlift suplexes Miz up and over! Cover, TWO! Corbin returns but stops when McIntyre glares at him. Corbin tries to explain that whole sucker punch, but gets a boot! McIntyre drags Miz up and CHOPS Miz back down. Then he clubs him down, then tosses him to a corner. Miz hits back but Corbin returns. Miz sends him out but Corbin slides back in, to clothesline McIntyre! Roll up, TWO!
Corbin runs into a corner at Miz but gets post instead! Miz has the fans behind him as he looks at both opponents. Miz blocks and counter punches Corbin again and again! He fires off It Kicks in the corner! Then he gives McIntyre double knees! And then Corbin! A-List Lariat on McIntyre! Miz springboards for ax handles on both men! Fans fire up as Miz sees both men on their knees. MIz gives them both It Kicks! Miz swings the buzzsaw at McIntyre, but McIntyre ducks to let it hit Corbin! And then McIntyre gives Miz the Glasgow Kiss! But it rocks McIntyre, too, so he staggers back. McIntyre drags Miz up for a fireman's carry and then puts him on the top rope. He CHOPS Miz then climbs up to join him.
Miz hits back but McIntyre clubs away. The brawl is fast and furious and McIntyre backs off! Miz adjusts, but Corbin is sent right into him! McIntyre climbs over Corbin to get to Miz again. McIntyre CHOPS Miz again, then fireman's carry, but Corbin adds on! SUPER CELTIC CROSS POWERBOMB!! But no one can cover, and we go to break!
Raw returns and Corbin throws hands with McIntyre on the outside. Miz is in the ring but he's climbing up top! The brawl is back and forth, fast and furious, but Miz LEAPS onto them both! Miz wipes them out but has to get one in the ring. He drags Corbin up to throw him into the timekeeper! Then he puts McIntyre int he ring only to run into an elbow. McIntyre gets through the boot to give Miz another elbow, then the Inverted Alabama Slam! Cover, TWO! Styles watches backstage as Miz survives. McIntyre fires himself up while he dares Miz to stand. Miz does stand, but he gets clear of the Claymore to get a Figure Four! McIntyre endures the hold, and then shoves the ref to poke Miz's eyes! Miz lets go and McIntyre hobbles only to be sent out.
Miz works on getting vision back while Corbin stalks McIntyre. Corbin ditches McIntyre to go after Miz, DEEP SIX! Cover, TWO!! Corbin is furious with the referee but a two is two! He goes back out to hit Miz but runs into steel steps! Miz slides under McIntyre and rolls him up, TWO! BIG Spinebuster from McIntyre! Jackknife cover, TWO!! Miz still lives and McIntyre is even more furious. Fans chant for The Miz even as McIntyre looms over him. McIntyre drags Miz up for underhooks, but Miz slips out to kick low and DDT! Cover, TWO! Corbin returns and reels Miz in, END Of- No! Another low DDT! Cover, TWO!! Miz knows how close he was but he's still so far!
All three men crawl, and McIntyre gets to a corner. Miz stalks Corbin but Corbin denies the Finale. Corbin runs but is clothesline'd out! Miz and McIntyre run, CLAYMORE!! but Corbin shoves McIntyre out, covers, and wins!!
Winner: Baron Corbin, by pinfall; advances to the main event
The Lone Wolf grins as he takes advantage of McIntyre's work! It will be Styles VS Corbin in the #1 Contender's Match, but who moves on to face The Architect?
Backstage interview with AJ Styles.
He was watching that match, so how does he feel about facing Corbin in the main event? Corbin's big, but it's about the size of the fight in the dog. Styles is a Georgia bulldog with a lot more fight in him than the Lone Wolf, the "former" United States Champion. Yes, Corbin won that, won Money in the Bank and beat Kurt Angle. But Styles is a former United States Champion, a former WWE World Champion, and the longest champion on SmackDown in history! Styles beat up John Cena! But this isn't about accolades, this is about picking a fight with a big bully, and winning. Hopefully Rollins watches later tonight, because he'll hear, "and the winner of this match, The Phenomenal AJ Styles!"
Sami Zayn is here!
The zany Underdog from the Underground makes his way to the ring to speak, after the break.
Raw returns and Sami says he's doing something no other superstar has had the courage to do: tell the WWE Universe the truth about themselves. No one wants to hear stuff like that, so the fans just used denial and deflection, and create a false narrative about Sami. Somehow Sami is "bitter"? Sami squashes that by saying he's the exact opposite. Sami is jubilant and happy! In fact, those ten months away from the fans was the happiest time of his life! If fans don't believe him, Sami will show us how beautiful life is. Sami hiked in Switzerland, reconnected with nature, and wept at the beauty all around him. Then Sami relaxed on a beach in Mexico! He's snuggled up in a hammock!
Sami then went to Scotland to see the castles. "Look at that face!" Sami's all smiles! Has anyone ever seen such unbridled joy? Sami lived the good life. But his return approached, he suddenly felt depressed and anxious. A dark cloud was over his head, but why? What was it about the WWE that made him sick? The corporate structure? Or perhaps the other superstars who are "total egomaniacs" and delusional? No, that wasn't it. Sami dug deep, deep down, and he found the root of the problem: THE FANS! The fans perpetuate and impose a toxic environment on the superstars! Fans boo and Sami criticizes them for that. Y'know why that feels good? Because it's easier to pass blame than to hold yourselves accountable! But fine, it doesn't matter, Sami makes the fans responsible. Sami holds the fans accountable!
Fans think they get away with this because of the mob mentality, but it won't keep them safe from Sami! Sami would much rather be back in Norway, Iceland or Sweden or Switzerland or Mexico. Anywhere but depressing Des Moines! Fans definitely boo that. But if fans have a problem with that, take a page out of his book. Take a trip. "Doesn't that sound nice?!" They can all go… TO HELL! Sami laughs and spins around his way out of the ring. Will Sami's mission against the fans get him anywhere?
But Cedric Alexander makes his entrance! The Superstar Shake-Up moved him to Raw full-time, now it's time to see if the Age of Alexander can be reborn!
Cedric Alexander VS Cesaro!
Raw gives a highlight reel of the Soul of 205 Live and his incredible run through the Cruiserweight Division. But now 205 Live's Soul goes against the Swiss Cyborg, a last-minute Shake-Up from SmackDown! Will Cesaro end the Age of Alexander's newest chapter before it even begins?
Raw returns as Cesaro makes his entrance. The bell rings and Cesaro circles with Alexander. They tie up and Cesaro powers Alexander to the corner hard! Cesaro dares Alexander to get up, and Alexander ties up with him. Cesaro gets the arm and wrenches, but Alexander rolls and handsprings to reverse. Alexander headlocks and goes for a takeover but Cesaro powers out! Alexander lands on his feet but gets rocked with a right! Cesaro throws a BIG European Uppercut, then a chop. Cesaro CHOPS again, then stomps Alexander. He whips corner to corner but Alexander goes up and over to handspring headscissor and dropkick Cesaro out! Alexander builds speed as fans fire up, but Cearo gets in. Aelxander slides under and tries to scoop, but Cesaro gets out to scoop slam Alexander! Cesaro drops an elbow, covers, TWO!
Cesaro keeps on Alexander with a chinlock, then shifts to a cobra clutch. Fans rally up as Alexander endures. Alexander fights up and fights out but Cesaro shoves him. Cesaro runs into a boot, but catches Alexander for a backbreaker! Cover, TWO! Alexander clutches his back but he survives. Cesaro sits Aleander up for a running forearm! Cesaro keeps on Alexander with another chinlock. Alexander fights as fans rally again. Alexander gets up and fights with body shots. He throws forearms then runs, but Cesaro BOOTS him down! Cover, TWO! Cesaro keeps his cool as he stomps Alexander's arm. Cesaro gut wrenches Alexander for a suplex! Cover, TWO! Alexander gasps for air while clutching his back, but Cesaro looms over him.
Cesaro stomps Alexander's hand then reels him into another chinlock. Cesaro puts his weight on Alexander but Alexander keeps getting up. Alexander fights but Cesaro whips, only for Alexander to sunset flip. Cesaro stays up, then drags Alexander up for a lift. Alexander sunset flips again, TWO! Alexander CHOPS and punches Cesaro, then throws forearms. Cesaro shoves but Alexander blocks the boot to elbow! Alexander dropkicks the legs out then dropkicks Cesaro in the head! Fans fire up with Alexander as he knips up! Alexander runs in but is put on the apron. He boots Cesaro away then springboards in, but Cesaro overpowers the complete shot! Cesaro suplexes but Alexander slips out, and scoops to a Michinoku Driver! Cover, TWO!
Alexander brings Cesaro up but Cesaro EuroUppers, only for Alexander to backslide. Cesaro powers out, but Alexander dodges to handspring, NEURALIZER! Cesaro tumbles out and Alexander builds speed again, to FLY! Direct hit wipes Cesaro out! Alexander puts him back in the ring then aims from the corner. Springboard, EUROUPPER! Cover, Cesaro wins!
Winner: Cesaro, by pinfall
The Swiss Cyborg was just too much for Alexander's first Raw opponent! Will Cesaro head for a title match of his own in the near future? What will it take for the Soul of 205 Live to revive himself now that he's in the big leagues?
Backstage interview with The Usos!
Jimmy & Jey are ready to be on Raw. SmackDown was #LockDown, now Raw gonna be Uso Lit! Who is here? Lucha House Party! Party over! The Viking Raiders! Who? Those bearded brothers from Braveheart. FREEDOM~! The Major Brothers, Hawkins & Ryder. Those guys like toys, but here come the #TopGuys. The Revival see the Usos. Good hands in the tag team division, perhaps SmackDown's greatest. But this is Raw, this is their territory. So the Usos aren't locking down- Hey, wake up! Oh, sorry, they had a crazy dream about two guys talking about beating the Usos? Usos bring the Penitentiary with them, will Dash & Dawson be the first two put away?
The Viking Raiders VS Lucha House Party!
Erik & Ivar gave the WWE Universe quite the experience, but now Rowe & Hanson- Er, Erik & Ivar prepare for war! Will the fiesta survive the raid?
Raw returns as the LHP make their entrance. But the Vikings attack! They wreck Kalisto then dump down Gran Metalik. They attack Lince Dorado with big knees! Metalik returns bot Erik catches him. Ivar brings Kalisto over for Erik to have on his shoulders, for a powerbomb-powerslam combo! This isn't even a match but the Vikings keep going. They grab Lince, and feed him to Thor's Hammer! The Vikings leave the luchadors down and out, who else will suffer a brutal Viking Experience?
No Contest
Backstage interview with Curt Hawkins & Zack Ryder.
The Raw Tag Team Champions just saw what happened to Lucha House Party, are they concerned? Hawkins isn't sure what to say. We all saw the same thing! Those guys went berserk! They're big, strong, agile but Ryder says they're still new. The Major Brothers have been here for over a decade and are still here. They earned these titles, so they're not letting these "smelly, horny, woolly mammoths" just take them away. But will they really have a say in it when the Viking Raiders come for gold?
Becky Lynch VS Alicia Fox!
The Man is the Champ-Champ, and she's going strong towards her match with The Sassy Southern Belle at Money in the Bank. Will she stay strong against Ms. Crazy Like a Fox?
Raw returns and Becky Two Belts hears the fans chant for her. She then speaks, "There's something in the air tonight in Iowa." Becky sensed it backstage and in the locker room. It's the Superstar Shake-Up. That time of the year where new challengers emerge. Becky didn't have to wait long, she saw Lacey Evans win that shot. "The woman who likes to sucker punch The Man." Becky doesn't mind a good sucker punch, because she's thrown her own here and there. It's not the punching, it's the woman behind them. Becky has made a career of slapping bleached blondes currying favors. Lacey is just the new take on an old approach. While Lacey is "furthering her career", Becky will cement hers with a fight! But before Alicia can appear, Lacey does!
Lacey struts down the ramp and says Becky always wanting to fight, she can't understand it. How can Becky let her emotions get the better of her? Is it because she's Irish? Or like a man, she wants to be the center of attention? Lacey will educate Becky. Lesson 1: a lady is in complete control of her emotions. Lesson 2: a lady is not a show-off. And lesson 3, the most important of all: a man respects a lady. Lacey will teacher Becky that with her Woman's Right, and then she'll take both belts to put around her waist. Becky wants Lacey to back up. After everything Becky's been through, she was just trying to enjoy herself. But "you absolute plank" is on her last nerve. Lacey talks about Irish emotions, those emotions wanna slap Lacey's head off her shoulders!
Lacey may be new around here, but do not confuse happiness for content. Becky will go to MITB and dismantle Lacey because she can. And then The Man will collect on her debts. But now, Alicia does make her entrance, and we can begin this match!
The bell rings and Des Moines cheers Becky on again. Becky and Alicia circle and tie up, and Becky gets a headlock. She throws Alicia with a takedown but Alicia gets up. Alicia fights out and puts a headlock of her own. Becky powers out but Alicia runs her over with a shoulder. Cover, but Becky slips out and has a little fun. Things speed up and Becky deflects the dropkick to back kick Alicia to the corner. Alicia gets out but Becky wants at her. Becky dares Alicia to get in and fans rally up. Alicia draws near and Becky wrecks her with a baseball slide! Becky bumps Alicia on the apron then throws forearms. Becky brings Alicia around to bump off more apron, but then Alicia rams Becky into barriers!
The ring count hits 8! Alicia drags Becky up and in at 9, then slithers to a cover. TWO, but Becky is in trouble while we go to break.
Raw returns and Becky has Alicia in a corner. She brings Alicia out to whip but Alicia kicks back. Alicia boots Becky down then covers, TWO! Alicia tries again, ONE! She keeps Becky down in a chinlock, but fans rally up. Becky feeds off the energy and gets up to fight out. She throws EuroUppers but Alicia shoves to tilt-o-whirl. Becky headscissors through but Alicia denies the Disarm-Her. Alicia throws Becky to the apron then catches her breath. Becky crawls around the way but Alicia finds her. Alicia brings Becky up but Becky throws Alicia into barriers! Becky puts Alicia in but Alicia hits her back. Becky elbows from the corner then hops up for flying forearms. Fans fire up as Becky throws Alicia with a Becksploder! And then another!
But Becky's far from done with Alicia as she runs in. Alicia rolls her up, TWO! Becky gets the Disarm-her! Alicia taps, but Lacey appears to throw her Woman's Right!!
Winner: Becky Lynch, by submission
The Sassy Southern sucker punch gets the better of Becky again! Lacey brushes herself off and puts her hat back on, to hit Becky with another Woman's Right! Will Lacey be adding a belt to her ensemble after Money in the Bank?
Backstage interview with Baron Corbin.
The Lone Wolf warms up for Styles. He's already defied expectations, but if he does it again, he'll not only earn a title shot, but he'll have a chance to settle things with the man who was a thorn in his side during his GM days. Where is Charly getting these interview techniques? The same school that Kim Kardashian got her law degree? And who's expectations did he defy? Those "grease balls" sitting at home in their basements on the computer? Those people didn't think he'd beat Kurt Angle, either. The only thing better than proving "those idiots" wrong is getting revenge on Rollins. So he's looking past Styles? No, he's looking straight through him! But will Corbin even get through Styles to go to Money in the Bank?
Ricochet VS Robert Roode!
The One and Only is now on his own after more of the Superstar Shake-Up moves happened. Will he be able to overcome the slightly renamed GLORIOUS One after the break?
Raw returns as Roode makes his GLORIOUS entrance. And Bobby is now Robert, complete with a mostly shaven look. Roode explained in a WWE.com exclusive interview that with this Shake-Up, he's been able to drop 150 pounds of dead weight named Chad Gable. But Ricochet is just as young, talented and also lacking that something special. That same something special is what Roode has to be GLORIOUS, but will his new name and new look really help give him a fresh start?
The bell rings and Roode circles with Ricochet. Roode and Ricochet tie up and Roode powers Ricochet to the corner. Ricochet turns it around but backs off at the ref's count. Roode kicks low then throws hands on Ricochet in a corner. Ricochet punches back and backs Roode down. Roode headlocks but Ricochet powers out. Things speed up and Roode gets the headlock back. Ricochet endures then fights his way out. Roode knees low then stalks Ricochet. He CHOPS Ricochet to ropes then whips. Ricochet rolls off Roode's back then rolls under to handspring headscissor and dropkick Roode down! Roode wants a timeout at the ropes but Ricochet dares him to come back. Ricochet walks over but is sent to the apron. He shoulders back in then dumps Roode out!
Fans fire up as Ricochet builds speed to fake Roode out! Roode swipes but misses, and gets the moonsault! The King of Flight is fired up while we go to break!
Raw returns and Roode has Ricochet in a chinlock. Ricochet fights his way up but Roode wrangles him back down. Roode grinds Ricochet down but fans rally up. Ricochet endures as Roode squeezes tighter. Ricochet feeds off the energy and fights out of the hold. He runs but into Roode's knee! Roode drags Ricochet up to whip and knee again. He kicks away then suplexes Ricochet up and over! Cover, TWO! Roode grows frustrated but he keeps on Ricochet. He drags Ricochet into a half camel clutch but he also fish hooks Ricochet's face. He lets go at 4 but then goes back to the camel clutch. Roode sits deep on it but fans rally. Ricochet powers his way up but Roode knocks him back down. Roode drags Ricochet up to whip him to a corner. Ricochet boots Roode away, then somersault shotgun dropkicks!
Both men are down but Ricochet slowly stands. Roode slowly follows and they start throwing hands. Ricochet dodges and runs to rally with forearms! Ricochet headscissors Roode to a corner, then goes corner to corner for a shoulder tackle. He slips out to the apron and bumps Roode on buckles, then kicks the buckle to snap Roode back. Ricochet aims and springboards for a leaping lariat! Standing Shooting Star! Cover, TWO!! Roode survives but Ricochet keeps his cool. Ricochet drags Roode up and to a fireman's carry but Roode fights out. Roode waistlocks but Ricochet fights out. Ricochet grabs at Roode but Roode elbows back. Roode runs but Ricochet rolls him, TWO! Ricochet leaps into a SPINEBUSTER! Cover, TWO!!
Roode grows frustrated but he has one more move to try. He winds it up… GLORIOUS! Ricochet stands but denies the DDT to reel Roode in, TKO knee! Cover, TWO!! Ricochet drags Roode to a drop zone and climbs up top! He goes for the 450 but has to land on his feet as Roode dodges. Roode rams Ricochet into buckles! GLORIOUS DDT!! Cover, Roode wins!!
Winner: Robert Roode, by pinfall
The GLORIOUS Reinvention is successful! Roode revitalizes himself with the name change, but will this lead him to putting that new name on a title belt? Can Ricochet rebound and get on track as a singles competitor in his own right?
Welcome to Firefly Fun House~!
Who is that in the red sweater? Iiiiiit's BRAY~! Brat Wyatt has missed us. But he knew we'd all be back together some day. He saw it in his dreams. Bray Wyatt promises we'll all have fun. All the fireflies will feel safe here. And he can't wait to show us what he's learned. Tada~! Here are his very special friends! Mercy the Buzzard! Pammy the Witch! "You are going to love them." Now, Bray admits he used to be a very bad man. Boo~! Yes, he deserves that. But Bray has been punished for that, so that part of him is dead.
However, he has a reminder so that he won't ever go back to being that "pathetic slob loser." Bray shows a cardboard cut-out of himself, and CUTS IT UP! YAY~! The fun is just getting started. So remember, fireflies: Bray will light the way, all you ahve to do is let him in. See you next week!
Wat?
WWE Universal Championship #1 Contender's Match: AJ Styles VS Baron Corbin!
The Phenomenal One and the Lone Wolf made it through four other incredible superstars to make it to this match. But now, who will show they've still got more in the tank to punch their ticket to Money in the Bank?
Raw returns as Corbin makes his entrance. And this time, we do have to hear Mike Rome list Corbin's accolades. But again, the former Raw General Manager, Golden Gloves boxing champion, United States Champion and Mr. Money in the Bank is NOT Des Moines' Favorite Son. Corbin accepts that, and the bell rings so we can begin this major main event!
Corbin circles with Styles but obviously the fans are on Styles' side. Styles and Corbin approach and Corbin talks trash. Styles gets Corbin with a right hand! Corbin comes back but gets CHOPS. Styles shows Corbin he's just fine and then kicks away on Corbin's leg. Corbin rocks Styles back with a right, then drags Styles up. Styles slips out and dropkicks Corbin away. Styles throws more hands against the ropes but backs off at the ref's count. Corbin gets back up to knee Styles low. Corbin throws Styles out but Styles is on the apron. Styles shoulders in then slingshots but into a big right! Styles goes down and Corbin stomps away. Corbin whips Styles corner to corner hard and Styles goes down again. Corbin looms over Styles but fans still rally up. He stands Styles up to punch him back down.
Corbin sits Styles up to punch him back down again and again. He drags Styles up but Styles throws hands back! Styles runs and clotheslines Corbin out! Styles slingshots but lands on the apron when Corbin gets clear. Corbin trips Styles and Styles falls on the apron hard! Corbin whips Styles into the timekeeper area, but Styles roundhouses back! Fans fire up as Styles uses the barriers. But Corbin catches him to drop him on the barriers! The Lone Wolf has the advantage while we go to one more break!
Raw returns again and Corbin has Styles down in a half nelson. Corbin leans on Styles but Styles fights his way up. Styles fights out as fans rally, but Corbin throws another right. Corbin lifts and tosses Styles with a spin! Cover, TWO! Corbin grows frustrated but he still stalks Styles to a corner. He drags Styles up and puts him on the top rope. Corbin climbs but Styles fights back. Corbin rocks Styles again, then wants a superplex, but Styles slips out to trip Corbin up! Styles gets up and throws kicks into Corbin's leg. Fans rally as Styles kicks Corbin off his feet. Styles wants the leg but Corbin shoves him away. Styles comes back with a sliding forearm! He clotheslines Corbin in the corner then goes for a fireman's carry. But Corbin slips out, only for Styles to give him the Phenomenal Blitz!
Corbin grabs Styles and glares at him, for the choke slam. Styles wheelbarrows to a victory roll, TWO! Corbin swings but Styles dodges to climb around for a sunset flip. But into the Clash! But Corbin is too tall and he kicks Styles away. Both men are down but crawling. Corbin stands in a corner but Styles dodges. Corbin slides out then in but gets the PELE! Styles keeps moving, but gets a DEEP SIX! Cover, TWO!! Styles still lives and Corbin can't believe it. Corbin crawls to ropes while Styles goes the other way. Corbin runs at Styles in the corner for a big clothesline! And then another! Corbin reels Styles in but Styles rolls him for the CALF CRUSHER! Styles pulls back hard but Corbin slams Styles' head on the mat! Corbin is free but the damage is done.
Corbin crawls to a corner and drags himself back up. Styles runs in but Corbin boots him. Corbin puts Styles on the ropes then hops up, and leaps! Styles dodges and Corbin hotshots himself! Styles takes aim and springboards, Phenomenal Forearm! Cover, Styles wins!
Winner: AJ Styles, by pinfall; NEW #1 contender to the WWE Universal Championship
The Phenomenal One is victorious after a night of incredible action! Now he heads to Money in the Bank to take on The Architect! And speaking of, Seth Rollins comes out to meet his challenger! Rollins offers a handshake, and Styles accepts it! These two respect each other, but will that change with a month left to go?
---
My Thoughts:
A rather crazy Raw tonight, what with more changes after the backlash of Superstar Shake-Up. The most obvious is that the infamous Viking Experience name change was changed again. Viking Raiders is a better compromise to keep "War" out of the team name, but I wish they'd also just let Erik & Ivar be Rowe & Hanson. But then this compromise was ruined by Vince sneaking his choice in anyway, and now every match where they use Thor's Hammer, the pop-up powerslam, will have commentary shouting "Viking Experience!" If only Vince felt the wrath of Thor's Hammer… The next most obvious was Robert Roode's new name and the change to his facial hair. I was surprised to see him win, but I suppose if he's in a rivalry with Ricochet now, they'd need to go back-and-forth at least this much.
Cesaro VS Cedric was great, and I suppose it works that Cesaro wins. Alexander's promotion to Raw works better if he has some trouble with the transition, and it'll make his first win on Raw that much more exciting. Bray Wyatt turning all those creepy promos into this children's show is a hilarious next step in this new story. His new self is great with this underlying just-barely-holding-on-to-sanity characteristic. I wouldn't mind seeing some more interactions with Mercy and Pammy for a few weeks, maybe a couple months, to really explore how this is going. Maybe it becomes part talk show with an occasional guest.
I felt like The IIconics pointing out Naomi was all alone was going to prompt her new friend to appear to keep the IIconics from screwing her out of the match. But surprisingly, Naomi won clean. I still feel like Naomi will end up teaming with someone, perhaps Tamina. With Nia Jax out with injury and given the history and real-life bond between them, Tamina going to Naomi or vice-versa makes sense to me. Lacey Evans more than likely misspoke about having both belts after one match with Becky, she's only the Raw Women's Championship #1 contender. But either way, she had a pretty good showing without a match, as she gives a good promo and then a great sucker punch attack just as Becky's match ended. Lacey's push may be fast but I'm sure she'll deliver in the match.
But the big thing was that Raw rightfully upped the ante for that Universal Championship now that it's finally on TV. Both triple threats were incredible, worthy of a title in their own right. They both ended about how they should, and it made sense for Corbin to be opportunistic in that moment at the end. Samoa Joe and Mysterio can either have a proper US Championship match or be in the MITB ladder match, and MITB can also include Miz and/or McIntyre if they see fit. Styles VS Corbin was pretty good for under 15 minutes, and honestly I was surprised Corbin didn't find a sneaky way to win. But Styles winning is great, we'll get a dream match already with MITB PPV. I would think Rollins retains, but at least with Styles, it'd be believable if he'd take it so soon.
My Score: 8.1/10
(NOAH) WEEKLY NEWSLETTER VOL.31~ 21ST APRIL 2019
With the Global Tag League in full effect, Hisame brings us those weekly NOAH updates! Read up on one of the best Japanese promotions that tends to fly under the radar!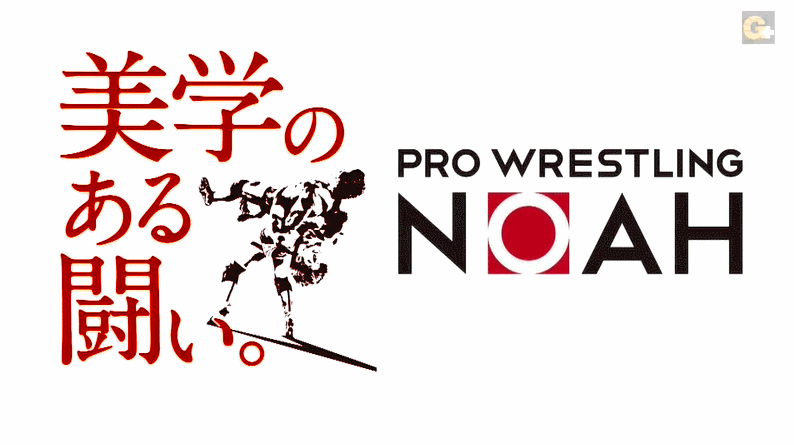 With the Global Tag League in full effect, Hisame brings us those weekly NOAH updates! Read up on one of the best Japanese promotions that tends to fly under the radar!
CURRENT TOUR RECAP
NOAH's first show back on the mainland was held on a midweek night, and while the attendance was not good (819), the show was intense and the fans that did not go were lamenting that they were prevented from going due to it being a midweek night, and therefore, a work night.
Due to Quiet Storm sustaining a concussion after receiving a kick to the head from Kenoh in Sapporo, NOAH have changed their cards (no date has been given for a return of either himself or Kimya Okada yet), and 50 Funky Powers have so far been deducted four points, as per the rules of Global Tag League which counts a team being unable to compete as an automatic loss and a win for the other team (hence the reason why The Tough have two points), and Rocky Kawamura was drafted in to compete at Korakuen Hall. His gimmick is Rocky (the character from the films), and Mohammed
Yone took his name from Mohammed Ali, so you had two boxing fans together.
Yone laughed afterwards and said that he himself might try coming to the ring in boxing gloves.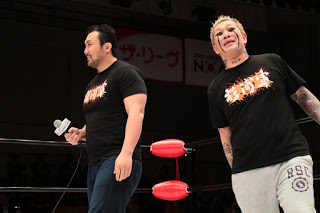 True to his word, NOSAWA Rongai bought a "friend" to Korakuen Hall.
The "friend" turned out to be Hideki Suzuki who had a match in 2018 in NOAH against Naomichi Marufuji and Atsushi Kotoge (he teamed with Jay Bradley), but wasn't seen at all again until 2019.
Suzuki got in the ring and asked for a tag match against Marufuji (Suzuki will team with NOSAWA), as he was at ringside (and all of the heavyweights are tied up in Global Tag League), Marufuji, after telling Suzuki that he should build his own gang, said "lets just have a match" and nominated Junta Miyawaki to be his partner. Miyawaki told NOSAWA that he was going to get the victory over him.
Match has been set for the last night of Global Tag League on May 4th.
When asked why he was here, Hideki said he was "job hunting" and hadn't been employed since the beginning of the year. He later admitted that he was here for himself.
As if the Korakuen Hall crowd weren't wound up enough, there was a HUGE upset for AXIZ when Masao Inoue (whom the crowd had been cheering on), got the sneak win over Katsuhiko Nakajima.
After the match, Inoue and Saito went to imitate AXIZ'S pose, but at the last moment Saito walked away leaving Inoue to crash to the floor.
The crowd laughed.
Saito laughed louder.
Nakajima, however, didn't find anything amusing and said that Masao Inoue has borrowed something big, and he will be coming to take it back.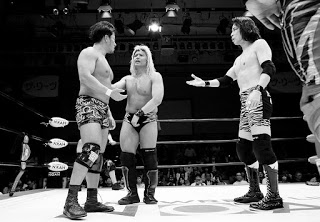 Whatever it is that is going on between Stinger and Daisuke Harada took another turn at Korakuen Hall.
Yoshinari Ogawa offered his hand to Daisuke Harada again, and Harada went to take it, but Tadasuke objected. Harada shoved him aside, and Tadasuke fell against the ropes with a look of surprise. Ogawa tried again, but this time YO-HEY came between them. After that, Harada looked at his hand and just left the ring.
AXIZ were not the only team to have a bad night at Korakuen Hall, their rivals in KAIOH did too.
Takashi Sugiura (complete with stitches after the headbutts from Atsushi Kotoge in Sapporo) stood still and staring at his two former protegees as they entered the ring.
They probably knew that it was a very very bad sign. This match was not about "The Sugiura Army" beating KAIOH, this was about Takashi Sugiura beating down two upstarts, and although they put him through hell, he prevailed with the headlock choke on Kaito Kiyomiya. After the match he got on the microphone and told Kiyomiya that he wouldn't push the issue now as it was Global Tag League, but he wanted Kiyomiya to remember, that he would be coming for the title.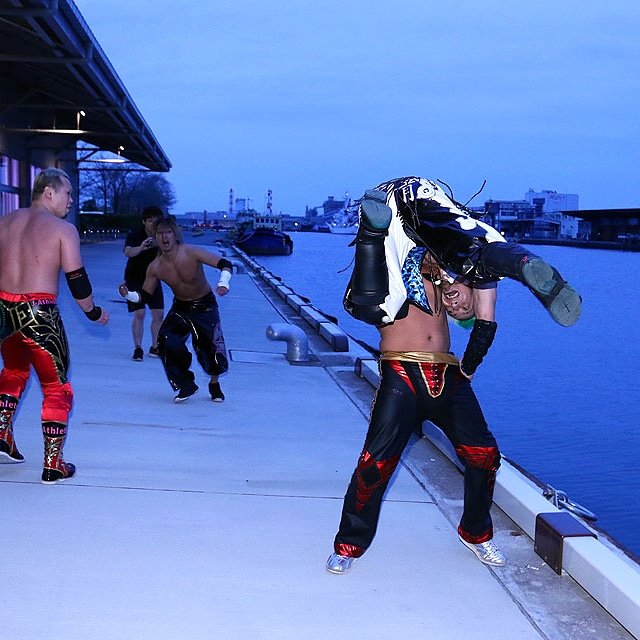 NOAH held their next event on Sunday 21st April at a new venue (which had been a former fish market) in springtime Niigata. Attendance was a full house of 865.
Naturally, being an event by the Shinano River, a fight went outside and to the riverside, and Marufuji almost threw YO-HEY in. Tadasuke thought it would have been funny, but YO-HEY said that the next time NOAH come to the venue, he is going to bring goggles and a flotation device for Marufuji.
Marufuji's response was basically, "bring them for yourself".
Fact is, that if NOAH go back there in the summer or autumn, someone will most likely go in (probably Kotoge in his cape).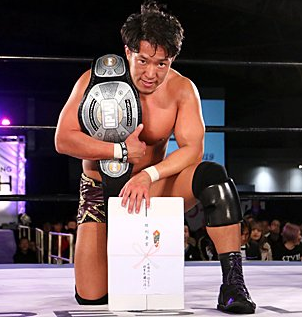 Daisuke Harada made the first defense ever of the IPW Junior Heavyweight title against Hitoshi Kumano. While I don't have too much details on the match itself, one fan did liken it to a fight that one of the Four Pillars would have put on. It was that intense.
Harada said that he wants his next challenger to be British, and said it would be interesting to see if anyone came over to NOAH. He also said that with Global Junior Tag League starting, he was equally interested to see if a team would enter.
When asked about the handshake with Ogawa, Harada walked away.
Yoshinari Ogawa had said that you could see how the situation was developing, as Kotaro Suzuki added, "If the leader's heart is swayed, then the team is over"
Kaioh were almost beaten in Global Tag League by The Inferno. That was until Kiyomiya changed the tide of the match, and got the pin via the Tiger Suplex on Maybach Taniguchi.
So far Kenoh has not managed to get a single win at Global Tag League. Once the league is over, and especially if Kaioh do not win the titles, then his resentment is going to erupt.
As of the time of writing, The Sugiura Army lead the scoreboard with eight points.

EVENT RECAPS
April 17th – Korakuen Hall, Tokyo
April 21st – Mandaijima Multipurpose, Niigata
Post match promos – April 13th, Mars Gym, Sapporo
Post match promos – April 14th, Mars Gym, Sapporo
Post match promos – April 17th, Korakuen Hall, Tokyo
NEWS
Fortune Dream6 & "TAKAYAMANIA EMPIRE 2"
On the 17th April at Korakuen Hall, Kenta Kobashi announced that Fortune Dream6 would return on June 10th. NOAH participation was announced as Go Shiozaki and Yoshiki Inamura vs Yuji Okabayashi & Kazusada Higuchi. Addtionally, Masa Kitamiya will team with Yuya Aoki against  Shoki Kitamura & Towa Iwasaki.
Yoshihiro Takayama has announced via his official blog, that "TAKAYAMANIA EMPIRE 2" will be held on Monday, August 26 2019 at Korakuen Hall.
Card to be announced.
Although Takayama cannot be at the show (although he wants to find a way to be there), there is good news on the horizon as he says that his condition is improving gradually and he can now feel the soles of his feet.
CURRENT CHAMPIONS

TOUR TIDBITS
~ Although he cannot wrestle due to concussion, Kinya Okada has been seen at ringside doing his usual duties. Poor boy looks sad, like he did when he was unable to debut due to injury.
~ Minoru Tanaka was hungover at the Niigata event. Said he hoped it would help his hangover. It didn't.
~ Each time Atsushi Kotoge went to do the "Revolutionary Hero" pose, Marufuji smacked his arm down (Yoshiki Inamura in Niigata was a little more game)
~ Takashi Sugiura said there are to be no further entries into the "Sugiura Army", he also doesn't like NOSAWA being put at the center of the group in the official photographs for the new "Sugiura Army" t-shirts.
~ I don't want to know exactly what a "YO-HEY Teriyaki McBurger" is
~ Takashi Sugiura's most infamous dog video this week was him on his lap, and chewing the cord of his tracksuit pants.

BROADCASTS
The 4th May Global Tag League finals will be broadcast at 10pm JST on Samurai TV
The 28th May show will be broadcast live at 6.30pm JST on G+ (its the first night of Global Tag League)

LINKS
King Shame, Takashi Sugiura on becoming the core of the new born Noah
PICTURE CREDITS: NOAH GHC, PKDX, Daisuke Harada