Andrew's NOAH Navigation For The Progress 2/24/2019 Ratings & Review
Andrew covers another NOAH show. Even though the main title isn't on the line, a lot of big storyline points happen today!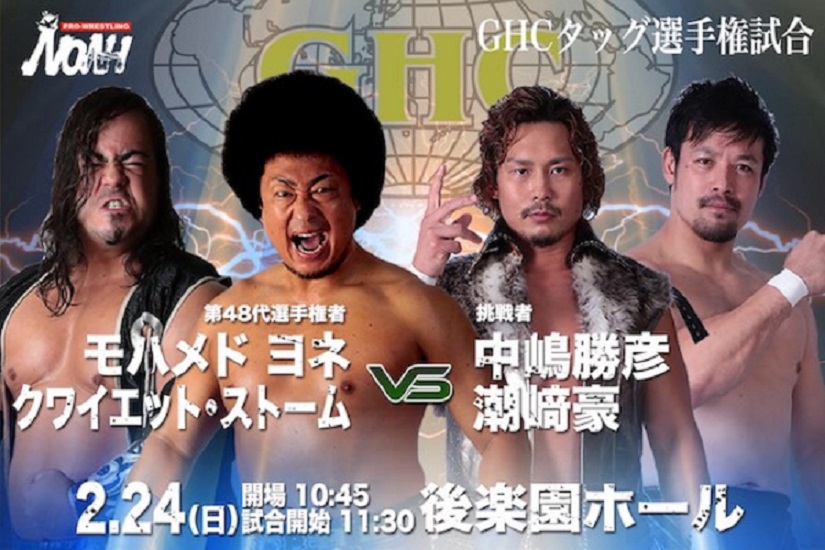 Andrew covers another NOAH show. Even though the main title isn't on the line, a lot of big storyline points happen today!
If you don't like tag team action, this won't be the show for you. Though any fans of IMPACT will be happy to see the familiar face of Eddie Edwards in a singles match!
Anyone who'd like to catch up to speed with things, check out Hisame's NOAH Newsletters!
Now let's get to the show!
Ratings:
Kenoh, HAYATA, YO-HEY & Seiya Morohashi vs Tadasuke, HI69, Junta Miyawaki & Kouki Iwasaki: YO-HEY wins via Face G @9:55 – ** 1/2
GHC Jr. Tag Team Championship Match: Kotaro Suzuki & Yoshinari Ogawa vs Back Breakers (c): Suzuki wins via Tiger Driver @14:45 – *** 1/4 – TITLE CHANGE!!
Eddie Edwards vs Masa Kitamiya: Edwards wins via Boston Knee Party @8:10 – ** 
5v5 Elimnation Match: Mitsuya Nagai, Cody Hall, Maybach Taniguchi, KAZMA SAKAMOTO & Yuji Hino vs Takashi Sugiura, Kinya Okada, Masao Inoue, Yoshiki Inamura & Akitoshi Saito: Sugiura wins via Olympic Slam @23:50 – *** 1/2
Minoru Tanaka & Naomichi Marufuji vs Kaito Kiyomiya & Daisuke Harada:  Marufuji wins via Perfect Key Lock @19:50 – *** 3/4
GHC Heavyweight Tag Championship Match: 50 Funky Powers (c) vs Go Shiozaki & Katsuhiko Nakajima: Nakajima wins via Vertical Spike @20:00 – **** – TITLE CHANGE!!!
Review:
So most people who watch wrestling can understand a multi-person tag match to open the show. There's an ongoing tension amongst all the former RATEL'S members, but it doesn't come into play often. We see the younger wrestlers taking the brunt of the punishment. Iwasaki and Kenoh had a nice back and forth with kicks, but Kenoh gets the best of it and starts using Iwasaki like a soccer ball. A few more tags, a big scramble with all men getting involved leaves YO-HEY to play with Junta, and it was only a matter of time before YO-HEY put away the younger wrestler with Face G.
Quick paced Junior match. Multiple iterations of Backbreakers from Ohara and Kumano (hence the team name), but the veteran duo of Ogawa and Suzuki were never without a trick. Kumano had a lot of nice power moments including an Argentine Backbreaker on Suzuki, and when Ogawa tried to kick him to break it up, he just threw Suzuki into him. We see the end when Suzuki hits Blue Destiny, Ogawa hits a Backdrop and then Suzuki ends it with a Tiger Driver. Not a bad match at all, but a few missteps made it score a little lower than it probably should have.
After the match, HAYATA and YO-HEY got in to congratulate their stablemates, but then Tadasuke and Daisuke Harada slide in to try and sneak attack the group that effectively broke up RATEL'S. But it's 4 on 2, so the 4 set up Tadasuke to take a Double Superkick, but HAYATA turns on his new team! The old Russo double swerve! I'm a little surprised only a few weeks after reuniting, HAYATA turns on YO-HEY. Suzuki, Ogawa and YO-HEY limp out of the ring, as three quarters of RATEL'S stands strong and declares possibly a challenge for the tag titles.
Edwards was supposed to join up with Atsushi Kotoge, but an injury to Kotoge changed plans. So instead we got a few matches between Edwards and Kitamiya, which apparently lead to them respecting one another. The interesting part here and seeing hybrid Eddie. He's wearing his green tights, but still the cut off t-shirt and short boots. So he looks ragged because of his hardcore gimmick in IMPACT, but seeing him back in the green tights is interesting. I wonder if this is a sneak peak towards the evolution of his gimmick. Not a bad match, just a very quiet crowd and not really a reason to get invested in the match.
So Hooligans vs Sugiura Army time! If Sugiura's team wins, Hooligans disbands, if Hooligans win then Sugiura is their bitch. After the typical heel group attack, Taniguchi and the young Okada are in the ring. One good lariat and the determined young wrestler is the first eliminated (Taniguchi eliminates Okada). Yuji and Saito are in and having a nice power exchange. Yuji pulls Saito to the apron and they start trading moves. Saito grabs Yuji in a Full Nelson and tells Inamura to charge them both, since they both went over the top rope. So reenacting the Goku sacrifice to kill Raditz, Inamura plays the part of Piccolo, Inamura eliminates both Saito and Hino, and Hino stares him down like " Do you know who you're screwing with". Cody Hall comes in and Inamura shows a lot of fire. Hall is easily over powering him until Inamura ducks a few lariats, runs the ropes gaining momentum and Shoulder Tackles Cody off balance. The opening allows Inamura to tag out to Inoue. Inoue low bridges Cody so Cody is on the apron. Cody stop Inoue with the big hand around the throat (for those who don't know, Cody is 6'10"). He tries to step back over the ropes, gets one leg over before Inoue breaks the grip, hits the top rope into Cody's groin and then knocks him out of the ring completely, thanks to some dirty veteran tactics. After the longest exchange so far, everyone from Sugiura's side gets a shot to lay in some offense. Inamura gets the hot tag from Sugiura as Nagai meets him with a Spinning Heel Kick. But the magical Low Bridge, works for the rookie wrestler as well as veterans! Inamura eliminates Nagai. Technically giving him 3 eliminations so far, even though one was his partner. KAZMA slides in quickly, a few strikes, Shotei, Superkick and Thrust Kick, and Inamura eats the pinfall. Inoue comes in and goes for some Cobra Clutch move, but KAZMA counters, hits the Superkick/Thrust Kick combo he just put Inamura away with, and pins Inoue. Sugiura is now alone against Maybach and KAZMA. Sugiura gets Maybach in an Ankle Lock, but Hooligans pulls their crap and grabs the referee, wipes out the eliminated member of Sugiura's team that were around the ring and all pile in the ring to beat on Takashi. Sugiura manages to duck and get Maybach to hit KAZMA, which gives him the chance to hit an ACTUAL Hurricanrana, eliminating Maybach. KAZMA tries to throw Sugiura over the rope to no avail, Sugiura gets the upper hand, instructs his team to hold back Hooligans and puts KAZMA away with an Olympic Slam. Hooligans is no more!
Marufuji and Kiyomiya started off, and the veteran definitely outsmarted the young champion early in the match. He and Tanaka took advantage of 5 counts and toyed with him a little while working over the heavily taped up arm. Once Harada tagged in against Tanaka, they really brought the energy of the match up. Nice counter exchanges, just really great fast paced action. Harada rarely puts on a bad match, Tanaka is also not too shabby, so if this is any precursor to their singles match, it will be special. Kiyomiya and Marufuji end the match, with the champion finally getting in some offense. Marufuji keeps trying to pick him apart, which causes Kiyomiya to use headbutts and a few other interesting striking attempts to keep Marufuji at bay. But the veteran catches the younger wrestler in a Key Lock, that he adjusts a few times and puts his own twist on it, being dubbed The Perfect Key Lock. Really good match setting the scene for both title pictures nicely.
We get a very early glimpse at Katsuhiko's personality. Yone does his Disco pose with Katsuhiko starts laughing uncontrollably. He tries to throw a kick while laughing and misses high, causing Yone to adjust his afro. So Katsuhiko just tags out to Go, all while still giggling. Go takes most of the big bumps in this match, but it was a damn good match. Both teams looked great, pulled off a few tandem moves each, but Kastuhiko gets the best of Quiet Storm, landing a few kicks to the head and then his Vertical Spike, to become NEW tag champions!
Eddie and Kitamiya come out afterwards to declare that after their matches, they have a respect for one another and want a shot at the tag belts. Nakajima has a lot of story here. Kitamiya is his former Aggression teammate and Eddie was the one that beat him and took the GHC Heavyweight Title in 2017. So if Go and Katsuhiko can defeat this challenge, it might be the storyline wrinkle that Katsuhiko needs to aim towards the main title scene.
Overall Score: 8/10
This was a great show, for many reasons. Not only did we get some good matches, we saw the dissolution of Hooligans and each match either had future ramifications or played a part in this show. Seeing HAYATA and YO-HEY work together, then a betrayal, Eddie and Kitamiya went from fighting one another, to teaming up, along with the main Junior and Heavyweight titles getting more heat. Nothing was time filler on this show. Yes some of the players may have just filled a slot, but I really liked how it all made sense.
If this is a harbinger for the future under new management, that even the undercard feeds into the entirety of the show – I'm all for this. It was nice that the show made logical sense, and nothing stuck out as pointless.