Cook: Top 5 King Kong Bundy Memories
Here's Steve Cook's Top 5 King Kong Bundy Memories, which is only fitting for the master of the five-count.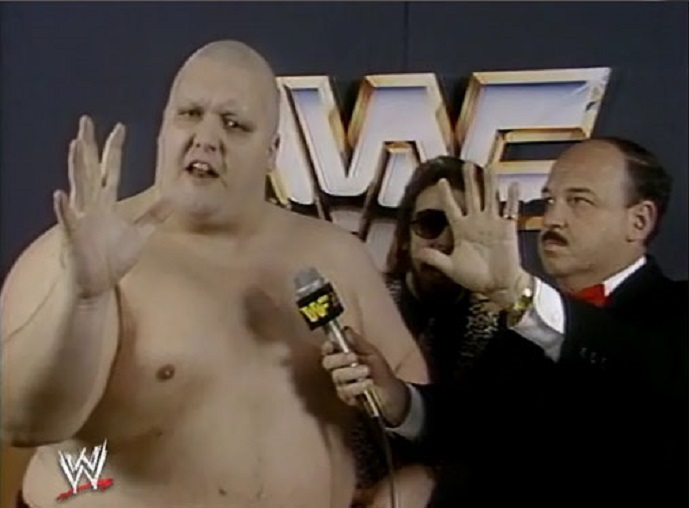 Here's Steve Cook's Top 5 King Kong Bundy Memories, which is only fitting for the master of the five-count.
It's obvious that some people were born to become professional wrestlers. Can you imagine Ric Flair, Bret Hart or Shawn Michaels doing anything other than instigating classic wrestling matches? Back in the day, folks like Flair, the Freebirds & Dick Murdoch had to be wrestlers because it was the only line of work that would tolerate their foolishness.
Some people just look like they belong in professional wrestling. King Kong Bundy was one of those people. Even in the Land of Giants, where he would regularly team with Big John Studd & wrestle the likes of Andre the Giant, Bundy stood out.
You just don't see people like King Kong Bundy every day.
His look was perfect for wrestling, as was his character. Bundy never really developed much of a character beyond "big bully", and he never really had to. He understood that pro wrestling wasn't rocket science and he didn't need to try & be something that he wasn't. He knew what he could do, and he went with it.
Bundy's career didn't last all that long in the grand scheme of things. His first run lasted from 1981 until 1988, spending a little over three years in the World Wrestling Federation. Bundy fell off the map as far as wrestling went until 1994, when he made a return to the WWF that lasted a little over a year. After leaving again, he wrestled in here & there in various northeast indies, and pursued a career in stand-up comedy. I don't know if he was the first wrestler to try that, but plenty have followed in his footsteps.
Bundy wasn't inducted into the WWE Hall of Fame before his passing. If I was voting for a pro wrestling hall of fame, Bundy would be a tough call for me. He didn't spend as much time in the business as many of the people we call all-time greats. Bundy wasn't in a ton of five-star matches, and beyond the run with Hogan in 86 there isn't much on him as a main eventer.
That being said, he did cram a ton of memorable moments into his career.
5. Being the opponent in Fritz Von Erich's first retirement match
It tells you how over Bundy was able to get in a short period of time that he's wrestling Fritz in Texas Stadium in his second year in the business. The strangest thing about this situation, other than Fritz dominating a man nearly thirty years younger than him?
BUNDY HAD HAIR. WUT DA HAIL? The first time I saw this I couldn't believe it. I just assumed the man never grew any.
4. Beating SD Jones in "nine seconds" at WrestleMania
The first WrestleManias had a few matches with glorified job guys like Special Delivery getting a chance to shine. The IWC would lose their minds if something like this was booked for WrestleMania 35, but back at 1 it gave Bundy a chance to break a record.
My internet stopwatch puts it at twenty-four seconds, but it was still an impressive showing for Bundy in his WrestleMania debut. Bundy later said that Jones made it last a little longer on purpose, which was a strategy that Daniel Bryan would utilize in his WrestleMania 28 matchup with Sheamus.
3. Main eventing WrestleMania 2 against Hulk Hogan
Back in 1986, nobody had any idea that WrestleMania would become the highlight of every pro wrestling year for pretty much the rest of time. It was a WWF show name that got over once, so they tried it again a year later. This time, they held it in three locations and had a main event for each location. Long Island got Roddy Piper & Mr. T in a boxing match. Chicago had a twenty-man battle royal featuring Andre the Giant and a bunch of NFL players. The night ended in Los Angeles with Hulk Hogan defending the WWF Championship against the latest threat to his dominance…King Kong Bundy.
They did an awesome angle to build this up on the Saturday Night's Main Event on NBC a month prior to the show.
The thing is, you can't really replicate this in 2019. Ronda Rousey beating up Becky Lynch this week on Raw was pretty awesome, but they're going to cross paths several more times before WrestleMania. In 1986, you could keep two top stars away from each other pretty easily by letting Hulk take a little time off to sell the beating & keeping him off televised events while Bundy smashes random people on his road to WrestleMania. They didn't touch again on TV until Hogan got Bundy in a cage. Can't be done in WWE in this day & age unless somebody breaks their neck.
2. Serving as the inspiration for Married…With Children's Bundy Family
Who wasn't big into the exploits of Al Bundy back in the day? Al was somebody we could all identify with, a true working-class zero. Some of us can probably identify with him even more now. Al, Peggy, Kelly & Bud can thank King Kong for their last name, as the show creators were big wrestling fans, and their favorite wrestler was King Kong Bundy. Bundy even got to make a couple of appearances out of the deal.
A lot of people thought the Bundys got their name from serial killer Ted, but apparently that's not the case. Unless King Kong took the name from Ted, which would make them third-generation Bundys by my math.
1. Beating up Little Beaver at WrestleMania III
Like many my age, one of the first videotapes I rented at my local Blockbuster Video was WrestleMania III. I'd heard so much about it & had to see it for myself. Everybody remembers Hogan vs. Andre & Savage vs. Steamboat but King Kong was involved in another memorable moment in the Pontiac Silverdome that I'll never forget. Poor ol' Little Beaver stuck his nose where it didn't belong, and the Great Bundy made him pay the price.
This probably says something not so great about me, but I always found Bundy beating Beaver absolutely hilarious. That's what I'll remember about King Kong Bundy. He was big, mean, and a pretty funny guy.
King's WrestleMania Rewind: Charlotte Flair vs. Asuka from WrestleMania 34
Chris king is back with one of the most underrated matches in WrestleMania history–Charlotte Flair vs. Asuka!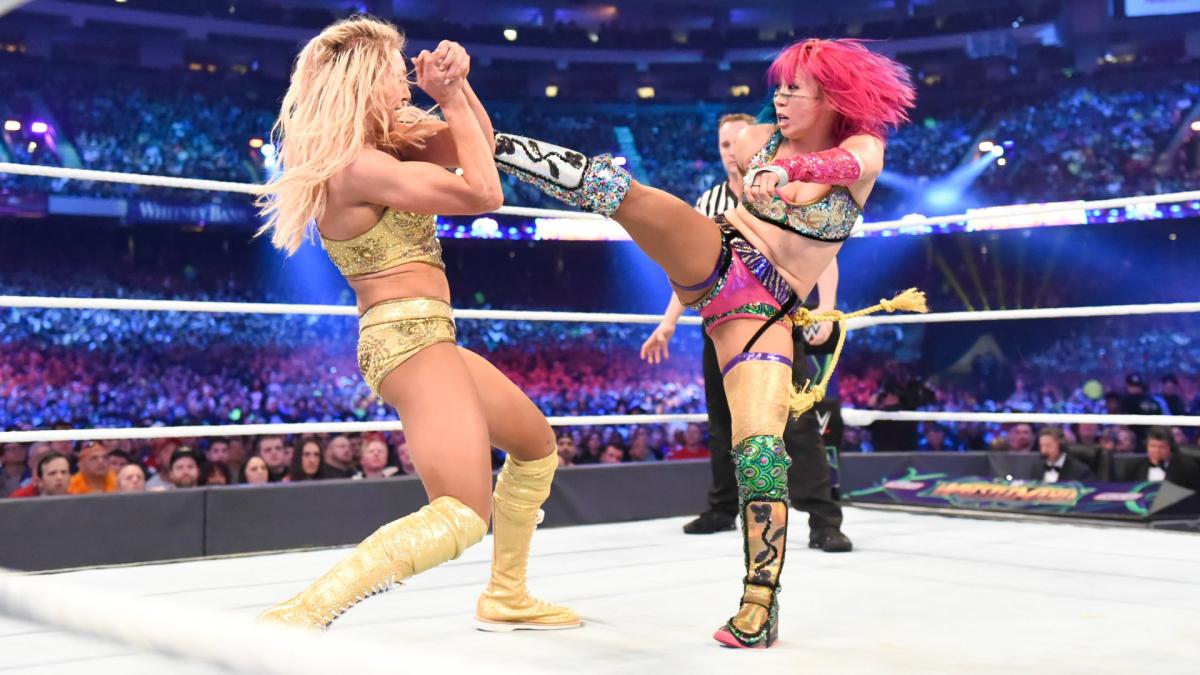 Chris king is back with one of the most underrated matches in WrestleMania history–Charlotte Flair vs. Asuka!
We look back at Charlotte Flair vs. Asuka at WWE WrestleMania 34. 'The Empress of Tomorrow' put her unprecedented and historic undefeated streak of 914 days on the line against 'The Queen's' SmackDown Women's Championship.
For years, this was considered a dream match while Asuka dominated the roster in NXT, while Flair won numerous championships on the main roster on both Raw and SmackDown. The Empress made her long-awaited debut on the September 11th episode of Raw and began to tear through the competition.
Asuka outlasted all twenty-nine other women in the historic first-ever Women's Royal Rumble match to challenge for the title of her choosing. At Fastlane, she made her choice.
The WWE Universe was so excited for this match myself included. Both superstars delivered a fantastic performance on the Grandest Stage of Them All executing counter after counter. Asuka showed off some nasty-looking kicks to her opponent, and Flair hit a thunderous Spanish Fly off the top rope. Flair was seconds away from defeat at the hands of The Empress but she locked in Figure Eight and Asuka was forced to tap out.
I can't even begin to explain how shocked I was at this outcome, as nearly everyone expected The Empress to continue her undefeated streak and walk away with the women's title. This controversial decision was the downfall of Asuka's momentum. She would ultimately win the SmackDown Women's Championship at the 2018 TLC pay-per-view in the triple-threat ladder match.
Fast forward to this year when Asuka has recently returned with her Japanese-inspired persona Kana. Kana is dangerous and ruthless and is heading into a championship with Bianca Belair at WrestleMania 39. The Empress has regained all her momentum and is highly favored to walk away with the Raw Women's Championship. Let's hope that Asuka and Belair can tear the house down and deliver an A+ grade match both women are fully capable of.
King: Dominik Mysterio Needs To Do This At WrestleMania
Chris King is here with what WWE should do with Dominik Mysterio at WrestleMania in his long-awaited match against his father Rey Mysterio Jr.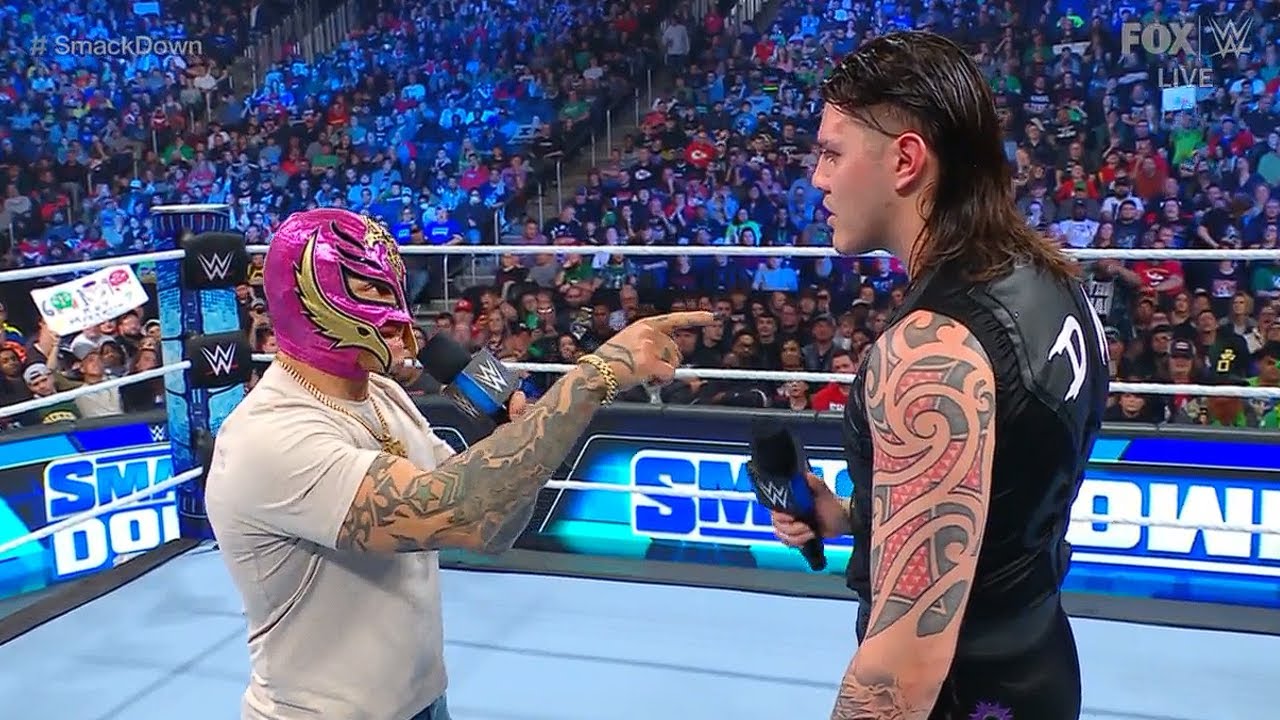 Chris King is here with what WWE should do with Dominik Mysterio at WrestleMania in his long-awaited match against his father Rey Mysterio Jr. 
On this week's episode of Friday Night SmackDown, Rey Mysterio finally snapped and beat some sense into his disrespectful punk-ass kid Dominik. The member of the Judgement Day came out to push his father again for a match on the Grandest Stage of Them All, this time with his mother and sister at ringside. The ungrateful punk told his mom to "Shut Up," as a father even I wanted to jump through the screen and whoop his ass.
Back in October of last year, Mysterio made the emotional decision to possibly quit the company but, instead, Triple H persuaded the Lucha libre superstar to move over to SmackDown to avoid his son. This came after Dominik shockingly turned on his father at Clash at the Castle. Mysterio did everything he could to refuse his despicable son's challenge for Mania but, a man can only be pushed so far. Mysterio will be inducted into the 2023 WWE Hall of Fame and I expect Dominik to embarrass his father during his speech to further this personal feud.
Yes, the WWE Universe hates Dominik and wants to see him get the ever-loving crap kicked out of him but, this feud is missing a special ingredient to capitalize on the biggest heat possible. Throughout this feud, Dominik has made mention of the legendary Eddie Guerrero on several occasions going back to the "iconic" 2005 feud.
I know WWE might not want to go this route but, Dominik MUST come out to Eddie Guerrero's theme at Mania. The disrespectful punk needs to come out in a lowrider to garner nuclear heat. It doesn't matter if The Judgement Day comes out and causes interference for Dominik to get the win, all that matters is that both superstars get the biggest payoff of this nearly year-long feud. Just imagine the Roman Reigns heat after he defeated The Undertaker and multiply that by ten. Dominik portrays the perfect heel and he truly is the missing ingredient that The Judgement Day needed to grow and evolve into a top faction.