The Good, Bad and Ugly: WWE Raw (03/11/2019)
Was Raw Good, Bad, or Ugly?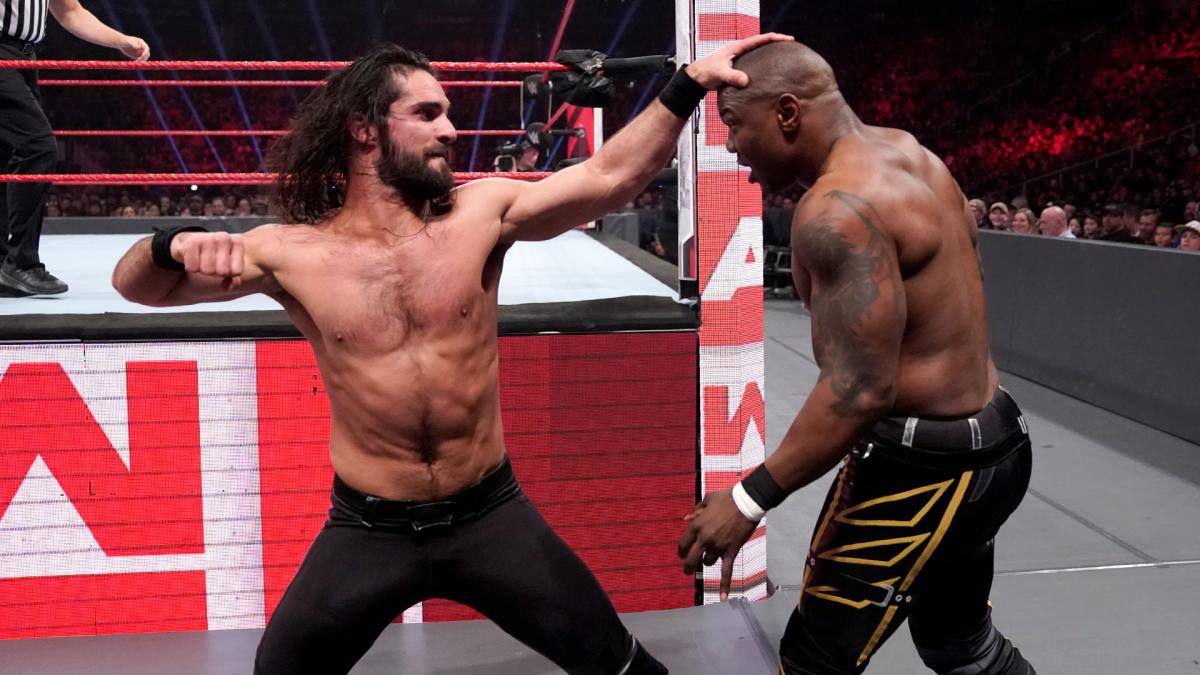 It's the WWE Raw after Fastlane, as the company kicks into high gear on the Road to WrestleMania. What stood out on the Good Bad Ugly scale?
After a red hot Fastlane Sunday Night, it is time to get serious.  The homestretch to the biggest night in Sports Entertainment, WrestleMania.  We had a lot happen at Fastlane, however nothing permanently impactful.  It was a solid show, and the Raw after should be equally impressive, if not, even a little turned up.  However will the Raw brand, continue to be "red" hot?  Or will they fissile out so close to WrestleMania?
GOOD
Ladies and Gentlemen, The Shield
Big Opening with the talk of the town, The Shield.  "The Final Ride" were the words used.  It is a farewell address of one of the most dominant groups in WWE History.  This is a great way to open things up this week.  I personally will not be surprised is the "lunatic fringe" is seen down the road as a part-timer at some point either. 
Now onto bigger business.  The Architect has a WWE Universal Championship Match at WrestleMania.  Rollins about to start getting everyone more hyped, was quickly interrupted by Paul Heyman.  Heyman hyped his boy, The Champ, the Beast.  Rollins obviously loves to talk trash as well and went back and forth.  Rollins made a good point that guys his size are Lesnar's weakness and he will Win and bring the Title back to Monday Night Raw Full Time!  A random Lesnar hype video then was played, and although it was pretty Good, it was unnecessary.  Then out of no-where Shelton Benjamin appeared and gave Rollins a little taste of the German Suplex.  This was unexpected and absolutely awesome, as anything with Benjamin and Rollins should be fantastic.      
Seth Rollins vs. Shelton Benjamin
As expected or at least, it should have been expected, this was a great showing by two tremendous athletes.  Shelton Benjamin is a freak of nature and a "beast" in his own right.  Rollins is on fire and has proven himself as a true leader in the WWE.  This was a clinic. Benjamin looked impressive in there.  He was sharp and did some pretty hard work.  Nothing is perfect but it was at the least a very solid showing.  Rollins looked to be in trouble most of the match as Benjamin was very aggressive and took him down.  Rollins had bits of hope throughout but finally got a break with a hard "superkick" to the gut followed by "the stomp" for the victory.  GOOD stuff right there!  Hell of an opening match after a decent opening segment.
Intercontinental Championship Match- Finn Balor (C) vs. Bobby Lashley
Out of everything that can happen it seems safe to say that this feud is the most unpredictable Pre-WrestleMania.  Finn Balor is a fantastic I.C. Champ, and Lashley with the strap although short lived, would have done a great job with the belt as well.  Lashley was better with Lio Rush though, but Rush was physically pushed to the limit last week with Balor.  Lashley and Balor had a Good match, as Lashley just crushed the Champion with his massive size and strength advantage.  Whenever Balor seemed to get a little steam the bigger Lashley would just get smashed down.  Out of the blue we hear the ring bell, by Lio Rush.  Lashley hits Balor with a "spear" in mid-air for the Win, and the Intercontinental Championship.  This was unexpected and insane!  Really crazy twist and I can't wait to see how this will go, and if anyone else will be involved in the feud. 
Aleister Black and Ricochet vs. Bobby Roode and Chad Gable
NXT stars Black and Ricochet have been on fire and an a pleasure to watch every week.  They bring so much to the show and have been a great addition.  NXT is huge.  Roode and Gable are pure talent, Roode is a Champion caliber Main Event talent just simply being wasted on his spot.  This was a Good Match.  Roode and Gable did all they could and controlled the match but it was a "Black Mass" to Bobby Roode's face that ended it.  Aleister Black and Ricochet Win!  Of course the heel Champs made the run in and beat the hell out of the NXT upstarts. This will be a great feud to come and we may see some Gold change hands soon enough.
Kurt Angle vs. Apollo Crews
Angle in his hometown, Pittsburgh PA, can it get better for the Olympic Gold Medalist and Hall of Famer.  Angle had a big announcement.  Angle emotionally started announcing a farewell.  With tears and thank you's.  One last match in Pittsburgh against an absolute talent, Apollo Crews.  This was a safe and solid match.  Apollo can work, Angle no question is in his element.  This wasn't supposed to blow anyone away, it was meant as a tribute to a man with a sensational career, in his hometown, doing his job well.  As it had to be, Kurt Angle Wins with an "Olympic Slam."
Roman Reigns
Set to face Baron Corbin, Roman Reigns was crushed by Drew McIntyre.  A "Claymore Kick" completely knocked the Big Dog down and out of it.  He had no chance of fighting back after that.  McIntyre loudly mocked Reigns.  A second "claymore kick" this time into the post, ended the violence.  McIntyre made his mark and set his sights on the biggest possible target.  Good move and a major rivalry. 
No D.Q. – Dean Ambrose vs. Drew McIntyre
After his boy Roman took a whooping, Ambrose demanded a No DQ/Falls Count Anywhere from HHH.  It was granted and it will be a treat.  This was Good and very physical.  These guys held nothing back.  McIntyre brutally went off on Ambrose who put him through the ringer.  Ambrose simply got his ass kicked by the bigger, stronger, and more vicious Drew McIntyre.  The beating was finally over with a "claymore kick" while Ambrose was stuck in a railing.  It was brutal.  McIntyre simply killed the "lunatic" and made huge leaps and bounds in the statement against The Shield.  This will be awesome and will catapult McIntyre to new heights.  Ambrose got up somehow from that and got another "claymore kick for his trouble to end the show. 
BAD
Raw Women's Champion Rowdy Ronda Rousey
Rousey, bad attitude and all made a fool of herself trying to heel out.  She just doesn't have what it takes to pull major promos.  She is definitely making headlines and getting a ton of attention.  It will be Good, but Rousey is horrible on the mic.  The layer of cheese like after eating a bag of Cheetos is thick.  Then everyone's hero Dana Brooke came out.  She essentially had enough of the disrespect and had enough of Miss Rousey.  This was horrendous as well though.  Dana Brooke is a great athlete, and has improved in the ring but just doesn't get any time on TV.  This was emotional but it just was very cheesy.  Brooke asked for an opportunity, and got pounced by Rousey.  She straight bitch slapped a ref and cleared out.  Rousey is a brat right now, that part is Good, the rest, not so much.   
"A Moment of Bliss" w/ Alexa Bliss
We need way more Alexa Bliss, this much is a fact, but not doing this.  We need her back in the ring.  She did all this to present that Alexa Bliss herself will be the host of WrestleMania.  We would much rather see her work it but as a host, it really is pointless.  Who cares really!  We love Alexa Bliss but this is a waste of time. 
Triple H/Batista
The machine, the King, the COO of WWE came out in a leather jacket, completely ready to throw down.  HHH was all business waiting for his rival Batista to show.  Batista was there with a full security like entourage.  This went about how it was expected too.  Batista is obviously playing the heel in the fight and of course will be showing up doing his job well.  Batista slayed on the mic and HHH is almost always pure gold.  This served its purpose and was entertaining.  HHH hit him hard with shoot like comments, and came right at the big guy.  Batista wasn't having any of it.  He wants to do it his way.  Batista wants HHH at Mania, and he will do anything for it.  The match is on!  This was bizarre and absolutely unnecessary but damn that will be Good.  The Game vs. The Animal, No Holds Barred. 
UGLY
Braun Strowman's Camaro
Braun Strowman was bought a Camaro from Colin Jost and Strowman literally went "Street Fighter" on it but it looked but and was purely for comedic value.  It was very stupid though and again was very pointless.
Nia Jax w/ Tamina  vs. Natalya w/ Beth Phoenix
FINAL
Overall
Good Raw.  However we saw a Good chunk of Bad and even a hint of Ugly this week.  The first major Raw on the final stretch to Wrestlemania was action packed and even saw a title change which was very much unexpected.  It was a Good Raw mostly because of the usual top guys that carry the show, but again it wasn't all Good stuff.  Raw squeaked by this week, but a Win is a Win! 
Next as expected is SmackDown who rarely disappoints and NXT after that who doesn't know failure.  WrestleMania is sitting on top of the mountain waiting patiently for the rest of the world to arrive on the big night, and the weekly WWE programming is sprinting toward it.  All content needs to be tight from here on out, and will be getting the highest of the "Good, Bad and Ugly" standards, only at thechairshot.com.  Stay tuned boys and girls, keep your hands and feet in the vehicle because we are on our way to the Greatest Night in Professional Wrestling!
King's WrestleMania Rewind: Charlotte Flair vs. Asuka from WrestleMania 34
Chris king is back with one of the most underrated matches in WrestleMania history–Charlotte Flair vs. Asuka!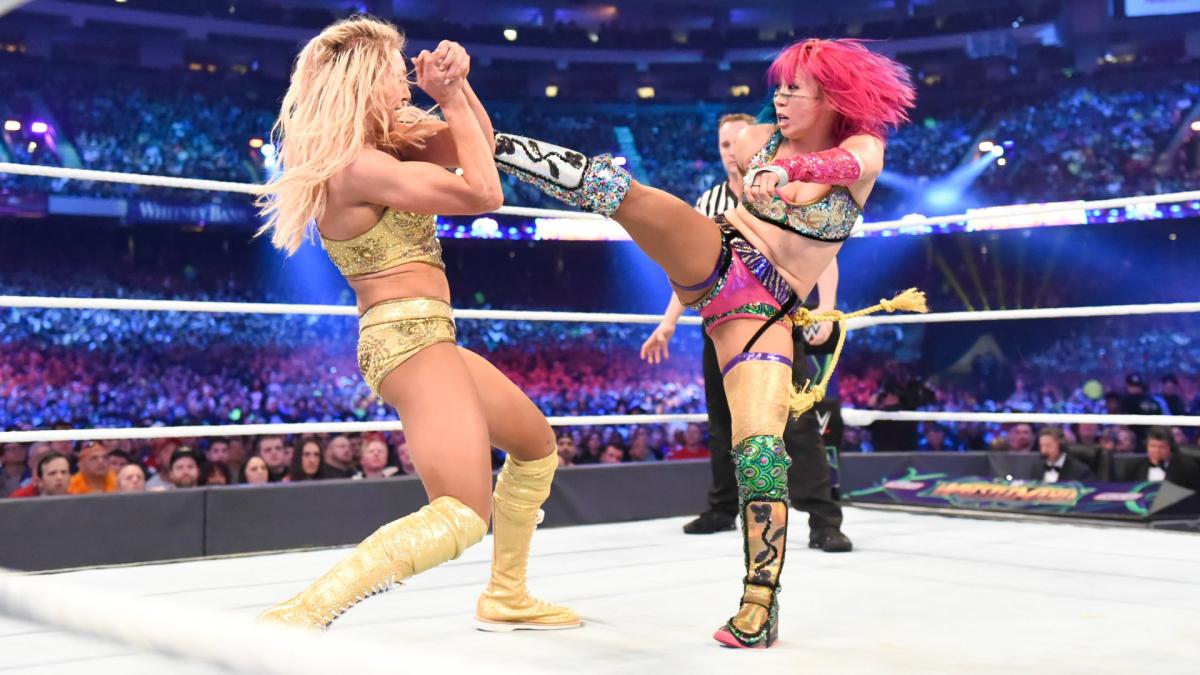 Chris king is back with one of the most underrated matches in WrestleMania history–Charlotte Flair vs. Asuka!
We look back at Charlotte Flair vs. Asuka at WWE WrestleMania 34. 'The Empress of Tomorrow' put her unprecedented and historic undefeated streak of 914 days on the line against 'The Queen's' SmackDown Women's Championship.
For years, this was considered a dream match while Asuka dominated the roster in NXT, while Flair won numerous championships on the main roster on both Raw and SmackDown. The Empress made her long-awaited debut on the September 11th episode of Raw and began to tear through the competition.
Asuka outlasted all twenty-nine other women in the historic first-ever Women's Royal Rumble match to challenge for the title of her choosing. At Fastlane, she made her choice.
The WWE Universe was so excited for this match myself included. Both superstars delivered a fantastic performance on the Grandest Stage of Them All executing counter after counter. Asuka showed off some nasty-looking kicks to her opponent, and Flair hit a thunderous Spanish Fly off the top rope. Flair was seconds away from defeat at the hands of The Empress but she locked in Figure Eight and Asuka was forced to tap out.
I can't even begin to explain how shocked I was at this outcome, as nearly everyone expected The Empress to continue her undefeated streak and walk away with the women's title. This controversial decision was the downfall of Asuka's momentum. She would ultimately win the SmackDown Women's Championship at the 2018 TLC pay-per-view in the triple-threat ladder match.
Fast forward to this year when Asuka has recently returned with her Japanese-inspired persona Kana. Kana is dangerous and ruthless and is heading into a championship with Bianca Belair at WrestleMania 39. The Empress has regained all her momentum and is highly favored to walk away with the Raw Women's Championship. Let's hope that Asuka and Belair can tear the house down and deliver an A+ grade match both women are fully capable of.
King: Dominik Mysterio Needs To Do This At WrestleMania
Chris King is here with what WWE should do with Dominik Mysterio at WrestleMania in his long-awaited match against his father Rey Mysterio Jr.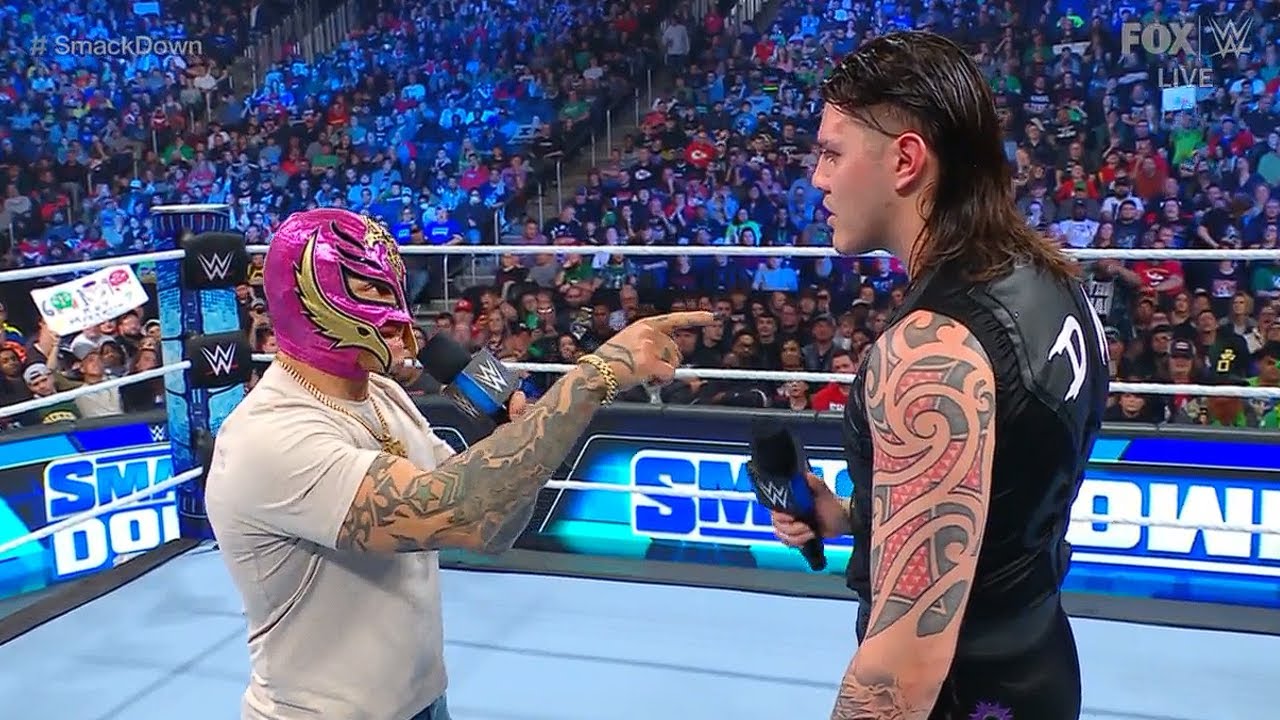 Chris King is here with what WWE should do with Dominik Mysterio at WrestleMania in his long-awaited match against his father Rey Mysterio Jr. 
On this week's episode of Friday Night SmackDown, Rey Mysterio finally snapped and beat some sense into his disrespectful punk-ass kid Dominik. The member of the Judgement Day came out to push his father again for a match on the Grandest Stage of Them All, this time with his mother and sister at ringside. The ungrateful punk told his mom to "Shut Up," as a father even I wanted to jump through the screen and whoop his ass.
Back in October of last year, Mysterio made the emotional decision to possibly quit the company but, instead, Triple H persuaded the Lucha libre superstar to move over to SmackDown to avoid his son. This came after Dominik shockingly turned on his father at Clash at the Castle. Mysterio did everything he could to refuse his despicable son's challenge for Mania but, a man can only be pushed so far. Mysterio will be inducted into the 2023 WWE Hall of Fame and I expect Dominik to embarrass his father during his speech to further this personal feud.
Yes, the WWE Universe hates Dominik and wants to see him get the ever-loving crap kicked out of him but, this feud is missing a special ingredient to capitalize on the biggest heat possible. Throughout this feud, Dominik has made mention of the legendary Eddie Guerrero on several occasions going back to the "iconic" 2005 feud.
I know WWE might not want to go this route but, Dominik MUST come out to Eddie Guerrero's theme at Mania. The disrespectful punk needs to come out in a lowrider to garner nuclear heat. It doesn't matter if The Judgement Day comes out and causes interference for Dominik to get the win, all that matters is that both superstars get the biggest payoff of this nearly year-long feud. Just imagine the Roman Reigns heat after he defeated The Undertaker and multiply that by ten. Dominik portrays the perfect heel and he truly is the missing ingredient that The Judgement Day needed to grow and evolve into a top faction.