(NOAH) WEEKLY NEWSLETTER VOL.28 ~ 24TH MARCH 2019
Hopefully the live stream peaked some extra interest in NOAH! So for everyone new or old that needs to catch up, Hisame's Newsletters are the perfect one stop shop!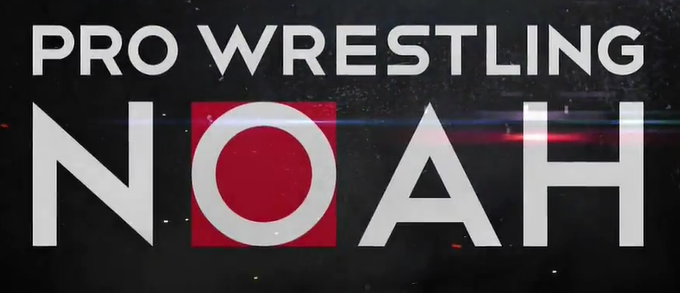 Hopefully the live stream peaked some extra interest in NOAH! So for everyone new or old that needs to catch up, Hisame's Newsletters are the perfect one stop shop!
CURRENT TOUR RECAP
After the excitement of Hakata Stalene, NOAH headed back out to Osaka, and then further into the provinces.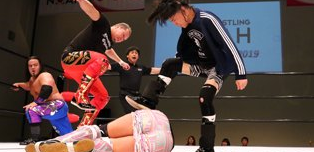 At Osaka World Pavilion, Hi69 finished the match by doing the Stuka Splash on Yoshinari Ogawa, after it Ogawa seemed to be struggling a bit and had to be helped up and out of the ring, although eventually he was well enough to walk unaided.
But when Hi69 & Quiet Storm had their first singles match ever on the 20th March at Toyonaka, after the match the ring was stormed by Stinger members Yoshinari Ogawa and Kotaro Suzuki, who beat down Hi69 in revenge. It is unusual to see this happen in NOAH, although Kotaro Suzuki is capable of it (and people getting jumped does happen), it is very rare to see Yoshinari Ogawa do it. Minoru Tanaka came to the rescue.
Hi69 says he will make weight for the tag challenge ("I will get on the scales any time. However, please tell me the day before"), and has started a weight loss diary on his
Twitter, although he did admit to eating lots of meat and going up to 105.
Minoru Tanaka and Hi69 had their own post match beat down on Stinger on the 21st in Kanazawa.
KAZMA SAKAMOTO and Takashi Sugiura teamed together for the first time before they enter Global Tag League together, they seemed to get on pretty well, with KAZMA later paying tribute to Sugiura as "a symbol of NOAH's strength".
Naomichi Marufuji, who says he is searching for a purpose, had somewhat of a comedy match in Toyonaka with disco poses being pulled and kicking Masao Inoue in the face for messing around, but a new threat appears to be emerging from the next generation of Junior wrestlers regarding their own status being less than the heavyweights, although he didn't make too much of a comment about it at the time, it does look like Daisuke Harada took on board Minoru Tanaka's comments about the GHC Junior being the main event. Marufuji in a post match interview said he could see their hostility building to something, but he didn't know yet.
A huge rivalry is brewing for Global Tag League 2019 between Kenoh & Kaito Kiyomiya and AXIZ (Katsuhiko Nakajima & Go Shiozaki), which started in Toyonaka and was heralded by a vicious kick battle between Kenoh and Nakajima. After the match, the two teams faced off, with Nakajima grinning evilly. Earlier on the tour, Marufuji (a veteran) was put in the unenviable position of teaming with them (the younger generation who are opposed to him), and at the end of a match which according to one attendee had a "sense of distance between them", got kicked in the head by Nakajima after shaking hands with him.
Then Shiozaki lariated him. 
In Kanazawa after the match (whereby Nakajima grinned in Kenoh's face), Kiyomiya and Kenoh declared AXIZ to be a "wanted" tag-team.
Yoshiki Inamura won his second victory over Kinya Okada, whom he now refers to as "my rival". He had teamed with his teacher, Masa Kitamiya, who had a big smile on his face and did genuinely seem pleased with his trainees progress. After three days of being chopped and kicked his chest was….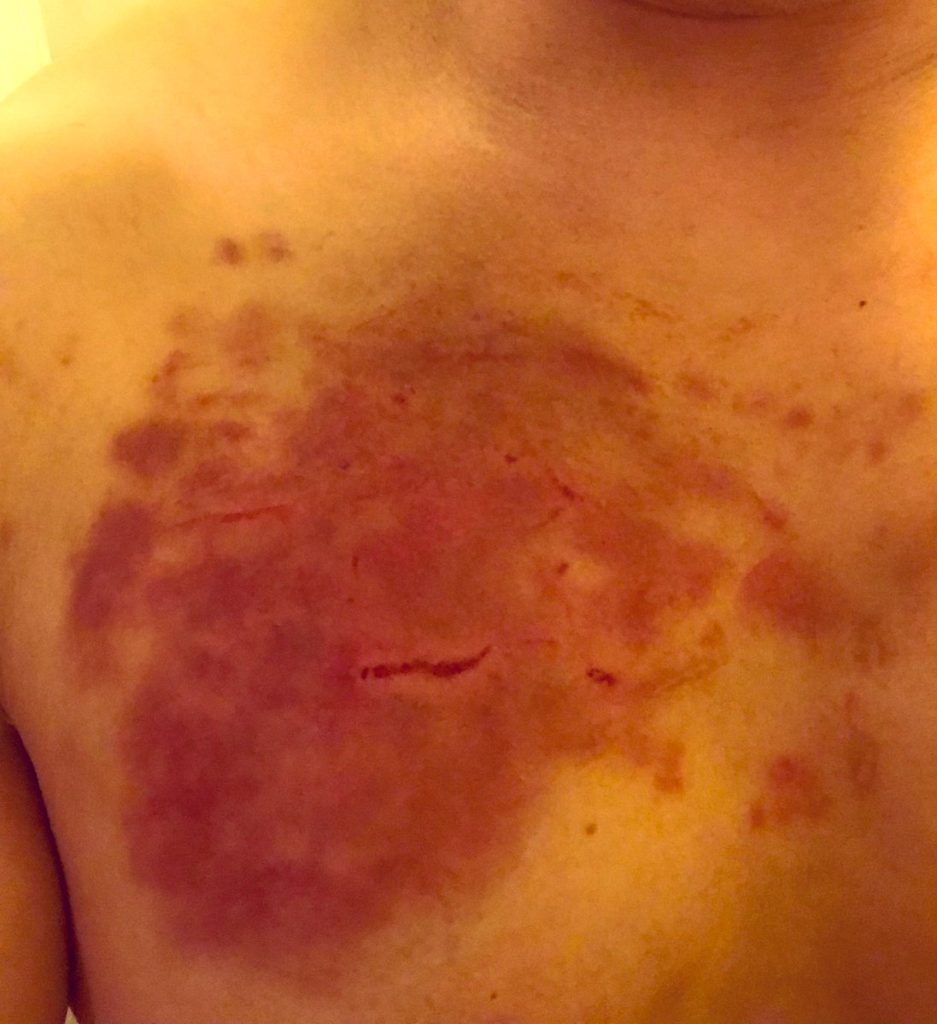 Maybach Taniguchi is still continuing in his monster mode, and refuses to change. His Sasumata is still being bought to the ring and used as a weapon, he is still attacking the ref after matches, speaking in grunts, and even Akitoshi Saito who seemed to be attempting to rehabilitate him, has given up. In Kanazawa they tagged together, but it all fell apart when they accidentally knocked each other down, got into an argument and then Taniguchi was defeated by the Funky Buster Bomb. Taniguchi stood in the ring as he and Saito pointed at each other threateningly as Saito left the ring. 
Takashi Sugiura said that this would do no him no good in the end.
NOAH will celebrate the final night of "Spring Navigation 2019" at Korakuen Hall in Tokyo on Friday March 29th.
Event recaps
March 19th: Osaka World Pavilion (post match promos)
March 20th: Toyonaka City Rose Culture Hall (post match promos)
March 21st: Kanazawa Distribution Agency (post match promos)
NEWS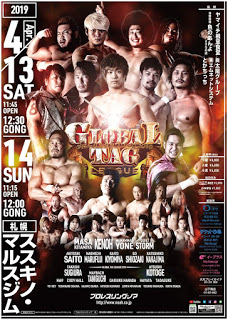 Global Tag League will return on the 6th April 2019, with the first night being held at Edion Arena Osaka on Saturday 6th April and finishing on 4th May at Korakuen Hall.
This years teams are as follows:
Katsuhiko Nakajima & Go Shiozaki (GHC Heavyweight Tag champions)
Kaito Kiyomiya & Kenoh
Mohammed Yone & Quiet Storm
Maybach Taniguchi & Yuji Hino
Takashi Sugiura & KAZMA SAKAMOTO
Atsushi Kotoge & Mitsuya Nagai
Akitoshi Saito & Masao Inoue
Masa Kitamiya & Yoshiki Inamura.
Due to being defeated by Kaito Kiyomiya for the GHC Heavyweight title, Naomichi Marufuji has said that he will not enter the league this year. However, there is a possibility that he may enter in the end, and probably with a surprise partner. Unspoken speculation has it that since KENTA's 90 day release clause is up round about the time Global Tag League starts, it may well be KENTA who he enters with.
Personally, I think it is far more likely that Marufuji will enter with Masaaki Mochizuki.
KAZMA says he fears the team of Yuji Hino and Maybach Taniguchi, as Hino knows how to work Taniguchi, however "that dick is a one-man show."
Atsushi Kotoge has named the team of himself and Mitsuya Nagai "The Revolutionary Cloak Army"
Akitoshi Saito and Masao Inoue were a comedy team last year, with Saito screwing over Inoue, and Inoue not really realizing as Saito kept denying it.
The big rivalry for Global Tag League 2019 this year is Kenoh & Kiyomiya vs AXIZ.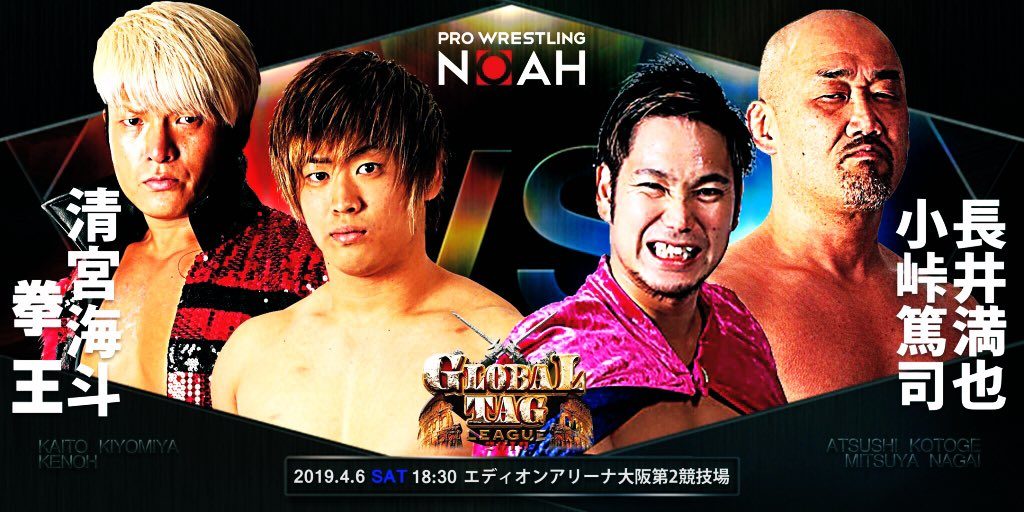 Atsushi Kotoge returns
Atsushi Kotoge will make his return in his hometown of Osaka on the 6th April. Katsuhiko Nakajima took the opportunity to take a shot at Kenoh by looking at the match ("The Revolutionary Cloak Army" vs Kenoh and Kiyomiya) to say, "you are in the opening match" (full card hasn't been announced yet).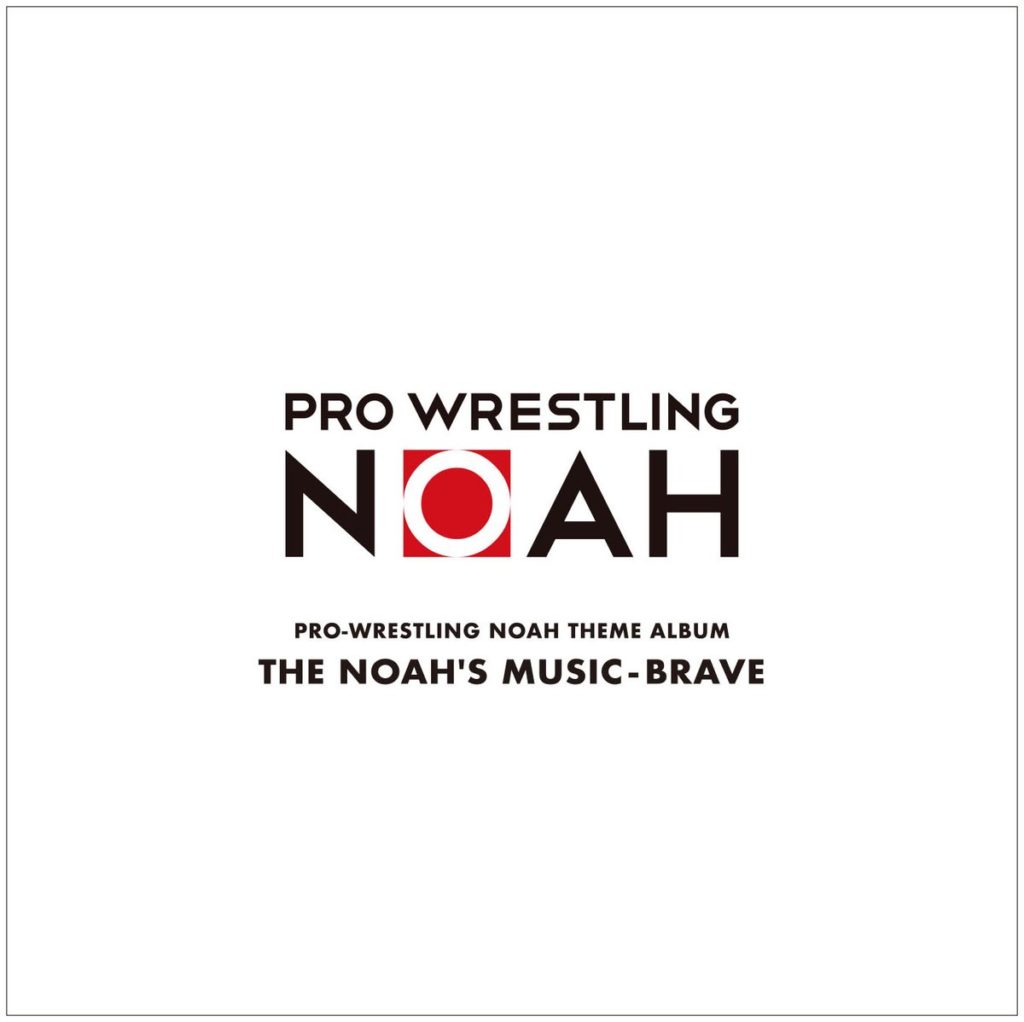 NOAH The Album
Track listing has been confirmed as:
Katsuhiko Nakajima: Genius of The Kick
Daisuke Harada: KTYM
Quiet Storm: MAD
Pro Wrestling NOAH theme: Brave
GHC Jnr Theme
GHC Tag theme
Kaito Kiyomiya: Explosion Soul
Atsushi Kotoge: Switch On
Masa Kitamiya: Go For Broke
Go Shiozaki: Enforcer
Naomichi Marufuji: Hysteric
Theme of Global League
RAN: SAKURETSU (Pro Wrestling NOAH's official song)
You can pre-order your copy here
Masaaki Mochizuki
Following his highly praised tag against Naomichi Marufuji at the Giant Baba memorial show, Masaaki Mochizuki will be making his first appearance in Pro-Wrestling NOAH on the 29th March at Korakuen Hall, he will team with Masa Kitamiya & Yoshiki Inamura against Naomichi Marufuji and 50 Funky Powers.
CURRENT CHAMPIONS
TOUR TIDBITS
~ Hitoshi Kumano says he wants to challenge for the singles belt
~ Daisuke Harada was cheered on by his nephew in Osaka
~ Kenoh has been noted to be smiling a lot more now he is teaming with Kiyomiya; but don't let this fool you. Kenoh is still after the GHC Heavyweight, Kiyomiya knows this and has said that they will never properly be friends. Despite the brotherly feeling between them, there is still a sense of rivalry underneath.
~ Katsuhiko Nakajima' reaction to Yoshiki Inamura teaming with Masa Kitamiya was, "what's his name? I don't remember, he didn't leave much of an impression"
~ Kaito Kiyomiya was again on the cover of "Weekly Pro", he's only twenty-two, but has already been on the cover about three or four times.
~ Takashi Sugiura imitated KAZMA SAKAMOTO'S scream
~ Katsuhiko Nakajima told a bald reporter that his head was "twinkling".
~ After the three day in a row tour (and a week away from home), Hitoshi Kumano returned to his "children" (his French Bulldogs), and Takashi Sugiura returned home to his own dog, who wanted to immediately go outside, despite the fact it was 1.30am. He took it for a walk the next day.
~ Despite saying that he didn't have to call Kenoh "Kenoh-san" anymore, this momentary lapse in manners is over, and Kiyomiya has gone back to calling him just that.
BROADCASTS
G+ will broadcast the 17th April show on April 20th
They will also show the 28th May Korakuen Hall show live
LINKS
Naomichi Marufuji reviews "Bomb Gum"
VENUE GUIDES
Osaka World Pavilion
Toyonaka City Rose Cultural Hall
Kanazawa Distribution Centre
Picture credits: Noah GHC, PKDX, Yoshiki Inamura
Andrew's AJPW Champion Carnival Results & Match Ratings: 4.10.2021
Day 2 of my fill in stint covering the AJPW Champion Carnival! Can Suwama get in the winner's column? Can the Ace Kento get on the board? Does anyone pull away so early?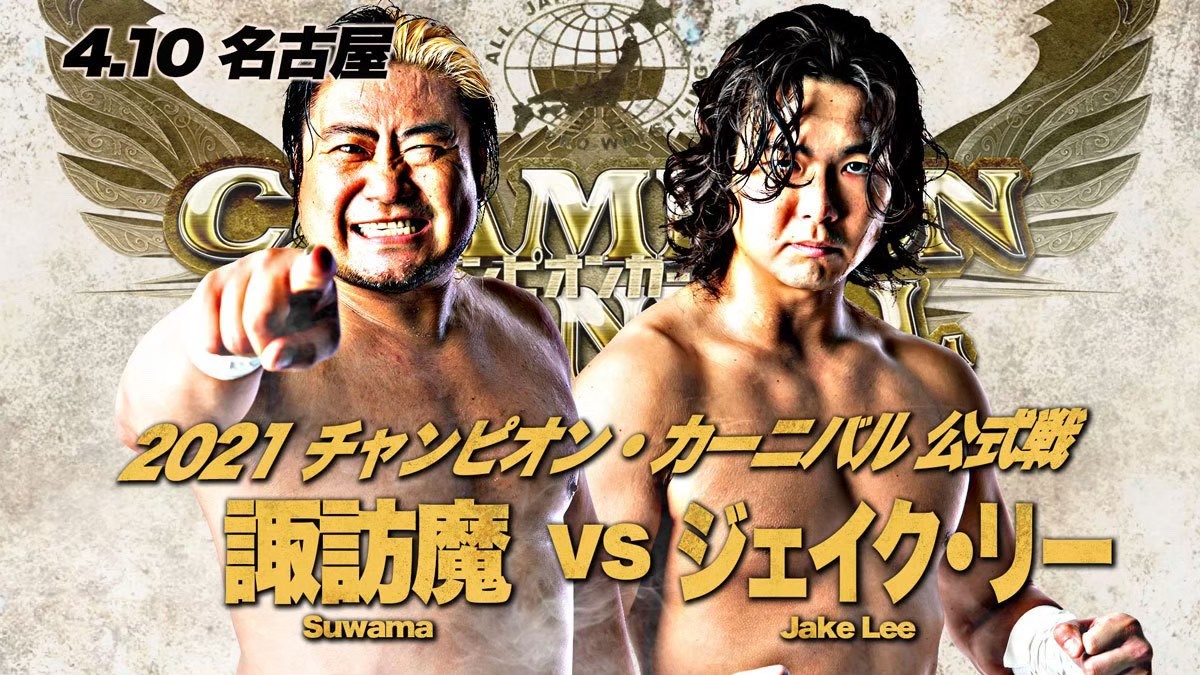 Day 2 of my fill in stint covering the AJPW Champion Carnival! Can Suwama get in the winner's column? Can the Ace Kento get on the board? Does anyone pull away so early?
Given the fact the incumbent champion lost his first round, the ace lost and there were a few main event players that picked up hard fought wins but don't have an easy day today, this should be interesting. What kind of tournament are we looking at?
Since the tournament is 1 block, each person gets 9 matches, similar to the G1. So using G1 logic, 2 losses puts you on the bubble of being out, and 3 losses is basically death with the exception of weird breakers or fun rock/paper/scissors situations.
So for everyone's sake, let's hope we end up at mostly parity to continue to keep everyone alive for most of this single block tournament!
Ratings:
Yuma Aoyagi vs Shotaro Ashino: Aoyagi wins via End Game @9:22 – ** ¾
Kohei Sato vs Koji Doi: Doi wins via Murder Lariat @4:52 – * ½
Shuj Ishikawa vs Zeus: Zeus wins via Arm Trap Facelock @10:41 – *** ½
Shinjiro Otani vs Kento Miyahara: Kento wins via Blackout @13:23 – *** ¾
Jake Lee vs Suwama: Suwama wins via Last Ride Powerbomb @18:23 – ****
Results:
Yuma Aoyagi vs Shotaro Ashino
So very similarly to the match against Otani, Aoyagi starts slow. The match begins with a handshake, then he gets driven to the ropes, Ashino slides under his legs during the break to trip him up and starts working over the leg. An early Stretch Muffler indicates that Ashino is most likely aiming to win with the Ankle Lock.
Aoyagi was on the move and constantly clawing for an opening. A few strikes and early knockdown give Aoyagi hope as he goes for End Game, but Ashino powers up and slams him into the corner. Ashino controls most of the tempo until we get a German Suplex trade off spot. Aoyagi ends up taking the worst of it, and Ashino goes for the Ankle Lock.
While in the Ankle Lock, Aoyagi tries to roll through 3 times, but Ashino moves with the roll and holds the move in place. Right before Aoyagi looks like he's going to tap, he adjusts, grabs Ashino's head for the Small Package; Ashino manages to kick out. But before Ashino can really re-orient himself, Aoyagi slaps on the full version of End Game. Ashino tries to fight through, but succumbs.
Ashino with two big losses almost writes him out already. Hopefully he makes a small run to suspend disbelief for a little bit and this isn't his swan song from AJPW.
Kohei Sato vs Koji Doi
Doi comes out of a loss to a major player, Shuji Ishikawa, of current AJPW and Sato avenged his loss to the current Triple Crown Champion Suwama. So at face value, one should think this is a perfect time for Sato to gather some momentum to make sure he gets another shot at the title.
Contrary to logic, this match was interesting. Doi starts off with a quick flurry and picks Sato up into a Torture Rack. Sato eventually fights out and then we get a chop battle, which Sato is notoriously bad at and throws some of the lamest looking chops. Granted, even though he was losing the chops, apparently a well-placed Forearm rocked Doi enough to have Doi selling the forearm for nearly the rest of the match.
Referee Nikkan Lee gets up to seven before Doi starts responding enough to be on the receiving end of a Soccer Ball Kick from Sato. Sato senses the match is over, picks Doi up real cocky for a Brainbuster, but it gets countered into a Brainbuster of Doi's own! A short range lariat rocks Sato afterward and then off the ropes for Murder Lariat! Sato is stacked up, Doi covers and Doi gets the win!
Well we look to be in an interesting starting spot so far. Who would've figured Koji Doi would have more points than Shotaro Ashino…ever. Also for clarity, the low rating is because the match was so abrupt. It wasn't inherently bad, just not really anything to sink teeth into beyond an upset win.
Shuj Ishikawa vs Zeus
There is history with these two, most notable in my head is during Zeus' only Triple Crown championship reign, Shuji was his first and only defense. So Zeus looks to continue momentum this year, possibly running back the undefeated record of last year; while Shuji is trying to protect his position and title as Gaora TV champion.
This goes the way most of their previous meetings have, where Shuji tries to overpower Zeus. Because even though Zeus is a bodybuilder, he's a bit on the short side (5'10"). So with Shuji standing about 6 inches taller and not being of a slight build, Shuji loves to buckle Zeus and play the power struggle. Tests of Strength, Shoulder Tackles, Lariat battles, it's all great power wrestler spots.
Shuji does however start to catch Zeus. So after a chagrining Lariat into the corner, the middle rope Mushroom Stomp and a few Tsunamis; it looks like Shuji is setting up to win with a Fire/Thunder Driver – but Zeus slips out the back! Zeus locks in the Arm Trap Facelock, and Shuji is dead to rights. Stuck in the middle, twisted about in the move, it only takes a few moments before Shuji is forced to tap and Zeus moves on with 4 points!
Shinjiro Otani vs Kento Miyahara
Dueling boots start the match, which Kento bails after being on the losing end of the exchange. Otani decides to remind him that recovering on the apron isn't safe, so he charges and lands the Bootwash through the bottom rope sending Kento flying. As the match plays out on the outside, Kento regains his swagger, talks smack to referee Wada and does his "headbutts around the ring" spot.
After rocking Otani, Kento gets cocky, poses back in the ring and the smug Kento from his previous Triple Crown champion days starts making a return. He gives Otani too much space though, charges the corner, and takes a Drop Toe Hold into the bottom turnbuckle, and then Otani revs up the old kicking boot across Kento's face for a few Bootwashes.
From this point, both men's stubbornness comes out in spades. Kento gets a little cocky, Otani catches him on the corner, they fight back and Otani refuses to fall before hitting Kento with a Superplex. Then we go into a strike exchange where both are just wailing on one another. Otani manages to rock Kento and then catch him with a Dragon Suplex for a near fall.
Moving quickly, Otani hits Spiral Bomb, but again only two. So he tries a Dragon Suplex again, but Kento fights out. Kento hits a Blackout to the back of Otani's head, and now they are throwing haymakers. Kento catches Otani with another Blackout, but Otani returns the favor with one of those Hashimoto Overhand Chops that put down Aoyagi yesterday! Otani goes for another, but Kento Blackouts the chop. The clash leaves Otani in more pain, another Blackout and Otani powers out of the pinfall at 1, but is scrambling and stumbling around, unable to find his feet. Kento hits one more point blank Blackout, and picks up his first points of the 2021 Carnival!
Jake Lee vs Suwama
So watching this second tournament match for Jake, I've come to realize what I'm referring to him as during this Total Eclipse gimmick. He is very much "Light Yagami" Jake Lee. He's cackling when he accomplishes something, unbridled frustration and nearly schizophrenic reactions do really scream Death Note crazy Light.
This match was interesting since early on Suwama didn't really know what to make of Jake, and Jake tried the same stuff he pulled on Ashino, where he was a little awkward, took advantage of situations and tried to bait Suwama into bad spots. The difference is, Suwama is a veteran and Triple Crown champion; so even though Jake got a few early shots, Suwama eventually forced him back into old habits.
Jake was forced to wrestle, hitting interesting flying kick and knee variations, pulled out the old Kitchen Sink and put in a lot more effort than the first match. Suwama managed to stay resilient and push our new Total Eclipse Death Note wielder. This match was built more around Jake coming into his new persona, and yet still not being able to get passed certain old hurdles.
Suwama absorbed a lot, hit some short range lariats, his Double Chop comeback, and the spinning chop. Jake hits the back of the head Giant Killing, attempts D4C, but Suwama blocks. Jake keeps the pressure up, attempts and old Giant Killing/Knee Lift, but Suwama catches the leg, lifts him into a Last Ride, and puts him away!
Suwama finally gets on the bored, and Jake is left stunned and seething. Which plays perfect for Jake to win the Carnival and earn his Suwama shot, and prove his evolution then.
Overall Score: 7.5/10
So this ended a little stronger over all than day 1, but both days so far have been a fun start. The mixture of upsets and oddly abrupt matches are perfect for a tournament even if they don't rank high. In the larger picture of things it's nice to see that a competitive match can end in less than 5 minutes without comedy tactics.
Seeing how Jake took the loss to Suwama gives me hope for this anime antagonist character. I'm honestly a little surprised that the whole tournament is knotted up except for Zeus at the 2-0 and Ashino at 0-2. I really did not think Ashino would be the slow kid in the pool right now. But I suppose since he was just betrayed he's still finding his footing. Like I alluded to before, it would be nice if he's just getting broken down to be built back up and not just putting people over on his way out.
Now since the only unique records are first and last, the rest of the tournament isn't hard to figure out, but here are the standings! Solid first 2 days so far!
Standings:
Zeus: 2-0 – (4 Points)
Shuji Ishikawa: 1-1 – (2 Points)
Shinjiro Otani: 1-1 – (2 Points)
Kohei Sato: 1-1 – (2 Points)
Jake Lee: 1-1 – (2 Points)
Kento Miyahara: 1-1 – (2 Points)
Suwama: 1-1 – (2 Points)
Koji Doi: 1-1 – (2 Points)
Yuma Aoyagi: 1-1 – (2 Points)
Shotaro Ashino: 0-2 – (0 Points)
Andrew's AJPW Champion Carnival Results & Match Ratings: 4.9.2021
All Japan's Champion Carnival kicks off today! The Triple Crown Champion Suwama is in action as well as the Ace of the company Kento Miyahara! Check it out!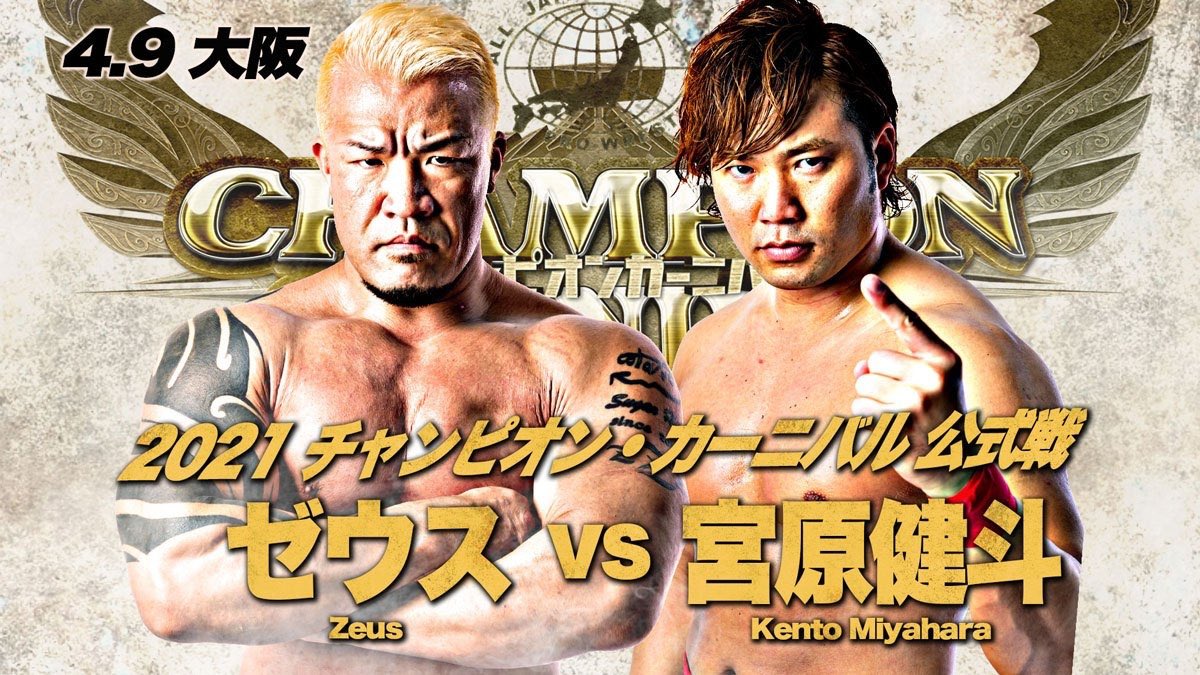 All Japan's Champion Carnival kicks off today! The Triple Crown Champion Suwama is in action as well as the Ace of the company Kento Miyahara! Check it out!
Now I haven't kept close eyes on the product last few months, because personally, they weren't grabbing my interest post Quarantine Comeback. But since my Puro Patronus Mathew Sarpraicone is having some computer issues, I guess I'm covering the first couple of these!
Let's see how the tournament starts!
Ratings:
Shuji Ishikawa vs Koji Doi: Ishikawa wins via Thesz Press @9:09 – ** ½
Suwama vs Kohei Sato: Sato wins via German Suplex Hold @10:49 – ***
Yuma Aoyagi vs Shinjiro Otani: Otani wins via Overhand Chop @9:51 – *** ¼
Jake Lee vs Shotaro Ashino: Jake wins via D4C @3:44 – **
Zeus vs Kento Miyahara: Zeus wins via Jackhammer @18:16 – **** ¼
Results:
Shuji Ishikawa vs Koji Doi
Doi is the least recognized name in the tournament this year, and last I was aware of his was during the closure of Wrestle-1. Most of his success has come in the tag team division, but he's no real slouch. Interestingly, Ishikawa is the newest Gaora TV Champion, but also was tied heavily to Suwama and their Violence Giant tag team.
We see Doi come out fast trying to throw Ishikawa into the corners and take him off his base. Ishikawa towers over Doi, so Doi was underneath, literally and figuratively the entire match. As Ishikawa hit most of his signature spots, including the Mushroom Stomp from the middle rope, Doi had a moment where he locked in the Rings of Saturn; but Ishikawa is just too big.
As Doi tried to keep the pressure up, rope runs, big strikes, Murder Lariat attempts from Doi but Ishikawa stifles the surge with a Fire/Thunder Driver. They both stumble up, run the ropes a bit trading lariats and charges, Ishikawa jumps, hits a Thesz Press and manages to keep Doi down for the 3 count!
Suwama vs Kohei Sato
An early card match gives us the Triple Crown champion against one of his more recent challengers! Falling short for the Triple Crown a few months ago, Sato has a little bit to prove.
The match opens as a slugfest, Suwama gets the best of things and rides the power advantage over Sato for a long time. Sato is taller than Suwama but Suwama is more powerful and controlled the pacing. Things went to the outside and the former Violence Giant kept up to the name.
When the match came back in to the ring Suwama looks to try and finish things, goes for the Rolling Lariat, but it gets blocked. Sato starts fighting back, hits a Falcon Arrow for a near fall, and then Suwama starts looking like he's in trouble. Suwama hits the Double Chop comeback, and tries a Powerbomb, but Sato blocks it, Sato goes for a Powerbomb, but Suwama blocks it. The power struggle is tangible, but Suwama seems to be losing some of the back and forth. Sato rocks Suwama, locks in the German Suplex, and hits the German Suplex Hold.
Kohei gets on the board and avenges his loss! Depending on how the tournament shakes out, Kohei might get another shot at the title in the future.
Yuma Aoyagi vs Shinjiro Otani
The veteran Otani is putting Yuma through the paces early. He's side stepping Dropkicks and just kicking Yuma to prove a point. Yuma tries to fire back, and then Otani continues to push off certain moves and be funny.
Yuma does manage to take advantage of his youth, but when he goes for the disrespect by attempting the Bootwash, Otani fires, lays out the younger wrestler and hits the Wash. Yuma goes to the outside, and when he turns back to the ring, Otani charges and hits a running Bootwash straight to Yuma's face.
As Otani takes the role of the cagey veteran punishing the Young Boy, Yuma tries to find ways to come back, but things Otani stays a little ahead of the younger wrestler. Yuma gets a close moment where he locks in End Game, but Otani fights to the ropes. Otani then backs the younger wrestler down, hits Dragon Suplex, then goes for another, but Yuma blocks. Otani counters the block with a lariat, then another Dragon Suplex but Yuma kicks out at 1! Refusing to stay down, Otani goes into his bag of tricks and hits Yuma twice with Hashimoto style Overhand Chops, to finally keep the younger man down.
Jake Lee vs Shotaro Ashino
So there is some fun history between these two when Ashino brought Enfantes Terrible over to AJPW and took JIN down a peg. But then recently, Jake stole the Enfantes members from Ashino and betrayed JIN. Ashino is looking to avenge the turnabout, but Jake is trying to craft his Carnival masterpiece.
Jake definitely has the swagger of an anime villain. He widens his arms like he's conducting a symphony and moves slowly yet deliberately. Ashino starts quick, hitting a Drop Toe Hold and going to the ground game, but Jake stabilizes. Ashino again brings Jake down after successive German Suplexes and goes for the Ankle Lock! Jake has trouble navigating it for a while, but eventually finds the ropes.
Retreating to the corner, Jake sees the referee, Ashino charges, Jake uses the referee shield and starts taking advantage. A few direct blows to the head, Giant Killing to the back of the head, followed by D4C. Jake drags the referee back, picks up the win and leaves cackling. He's limping heavily, selling the viciousness of the Ankle Lock even in a short match, but yeah, not what I expected.
The match was used to help build Jake's new persona and possibly give Ashino a steeper mountain to climb. But the length and abrupt end was definitely not expected. Interesting, but also a little off putting.
Zeus vs Kento Miyahara
Zeus and Kento have had great wars. There was a point a few years ago where Kento was Zeus' hurdle, but after beating him for the Tag titles, he then gathered momentum. Zeus has beaten Kento for the Triple Crown before, has beaten him in the Carnival, and this has been one of the best rivalries of the last few years in current AJPW. Kento is of course the current generation Ace, and everyone knows that; but given Zeus' track record and Kento's stagnation the last year since losing the Triple Crown to Suwama, we could get something interesting.
The match starts with their usual sarcastic respect to one another during breaks and outside the ring moments. Given that they've had 2 5 Snowflake classics in the last 3 years, this had a lot to live up to. But at no point did it feel like retreading, since they are both in different positions comparatively, this felt like a whole new book, not an additional chapter. Zeus landed a lot of power spots while Kento combated everything with his Knees.
Kento's usual attack of Blackouts from different angles rocked Zeus pretty hard. Zeus ate a few, grabbed a Chokeslam and they both landed for a rest spot. Zeus drives Kento into a corner, goes for an Outside-In Brainbuster and starts trying to end things. Kento goes for the Shutdown Suplex, Zeus fires out, a few big Lariats and a Jackhammer from Zeus…AND ZEUS WINS!
Overall Score: 7.25/10
Now this wasn't a bad start to things! Sure the Ashino/Jake Lee match did not go the way I expected, it definitely told enough of a story to prove it's going somewhere. Shinjiro Otani gets a solid start to things, Shuji Ishikawa won a match he was supposed to and Zeus/Kento ended up being a solid day 1 main event.
Kento has started on the back foot before. I guess we get to see if he wins out until the Final Day, or if he has a larger struggle. Let's check out the Day 1 Standings!
Standings:
Zeus: 1-0 – (2 Points)
Shuji Ishikawa: 1-0 – (2 Points)
Shinjiro Otani: 1-0 – (2 Points)
Kohei Sato: 1-0 – (2 Points)
Jake Lee: 1-0 – (2 Points)
Kento Miyahara: 0-1 – (0 Points)
Suwama: 0-1 – (0 Points)
Yuma Aoyagi: 0-1 – (0 Points)
Shotaro Ashino: 0-1 – (0 Points)
Koji Doi: 0-1 – (0 Points)