(NOAH) WEEKLY NEWSLETTER VOL.28 ~ 24TH MARCH 2019
Hopefully the live stream peaked some extra interest in NOAH! So for everyone new or old that needs to catch up, Hisame's Newsletters are the perfect one stop shop!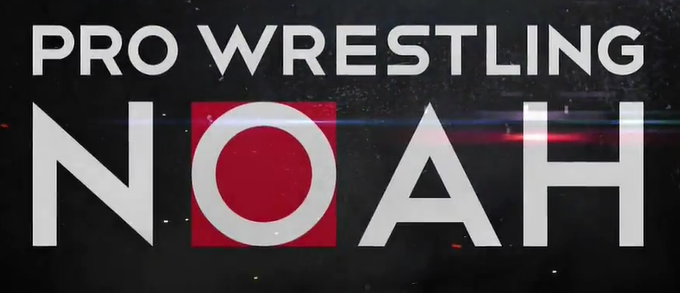 Hopefully the live stream peaked some extra interest in NOAH! So for everyone new or old that needs to catch up, Hisame's Newsletters are the perfect one stop shop!
CURRENT TOUR RECAP
After the excitement of Hakata Stalene, NOAH headed back out to Osaka, and then further into the provinces.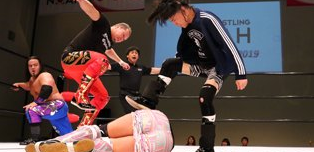 At Osaka World Pavilion, Hi69 finished the match by doing the Stuka Splash on Yoshinari Ogawa, after it Ogawa seemed to be struggling a bit and had to be helped up and out of the ring, although eventually he was well enough to walk unaided.
But when Hi69 & Quiet Storm had their first singles match ever on the 20th March at Toyonaka, after the match the ring was stormed by Stinger members Yoshinari Ogawa and Kotaro Suzuki, who beat down Hi69 in revenge. It is unusual to see this happen in NOAH, although Kotaro Suzuki is capable of it (and people getting jumped does happen), it is very rare to see Yoshinari Ogawa do it. Minoru Tanaka came to the rescue.
Hi69 says he will make weight for the tag challenge ("I will get on the scales any time. However, please tell me the day before"), and has started a weight loss diary on his
Twitter, although he did admit to eating lots of meat and going up to 105.
Minoru Tanaka and Hi69 had their own post match beat down on Stinger on the 21st in Kanazawa.
KAZMA SAKAMOTO and Takashi Sugiura teamed together for the first time before they enter Global Tag League together, they seemed to get on pretty well, with KAZMA later paying tribute to Sugiura as "a symbol of NOAH's strength".
Naomichi Marufuji, who says he is searching for a purpose, had somewhat of a comedy match in Toyonaka with disco poses being pulled and kicking Masao Inoue in the face for messing around, but a new threat appears to be emerging from the next generation of Junior wrestlers regarding their own status being less than the heavyweights, although he didn't make too much of a comment about it at the time, it does look like Daisuke Harada took on board Minoru Tanaka's comments about the GHC Junior being the main event. Marufuji in a post match interview said he could see their hostility building to something, but he didn't know yet.
A huge rivalry is brewing for Global Tag League 2019 between Kenoh & Kaito Kiyomiya and AXIZ (Katsuhiko Nakajima & Go Shiozaki), which started in Toyonaka and was heralded by a vicious kick battle between Kenoh and Nakajima. After the match, the two teams faced off, with Nakajima grinning evilly. Earlier on the tour, Marufuji (a veteran) was put in the unenviable position of teaming with them (the younger generation who are opposed to him), and at the end of a match which according to one attendee had a "sense of distance between them", got kicked in the head by Nakajima after shaking hands with him.
Then Shiozaki lariated him. 
In Kanazawa after the match (whereby Nakajima grinned in Kenoh's face), Kiyomiya and Kenoh declared AXIZ to be a "wanted" tag-team.
Yoshiki Inamura won his second victory over Kinya Okada, whom he now refers to as "my rival". He had teamed with his teacher, Masa Kitamiya, who had a big smile on his face and did genuinely seem pleased with his trainees progress. After three days of being chopped and kicked his chest was….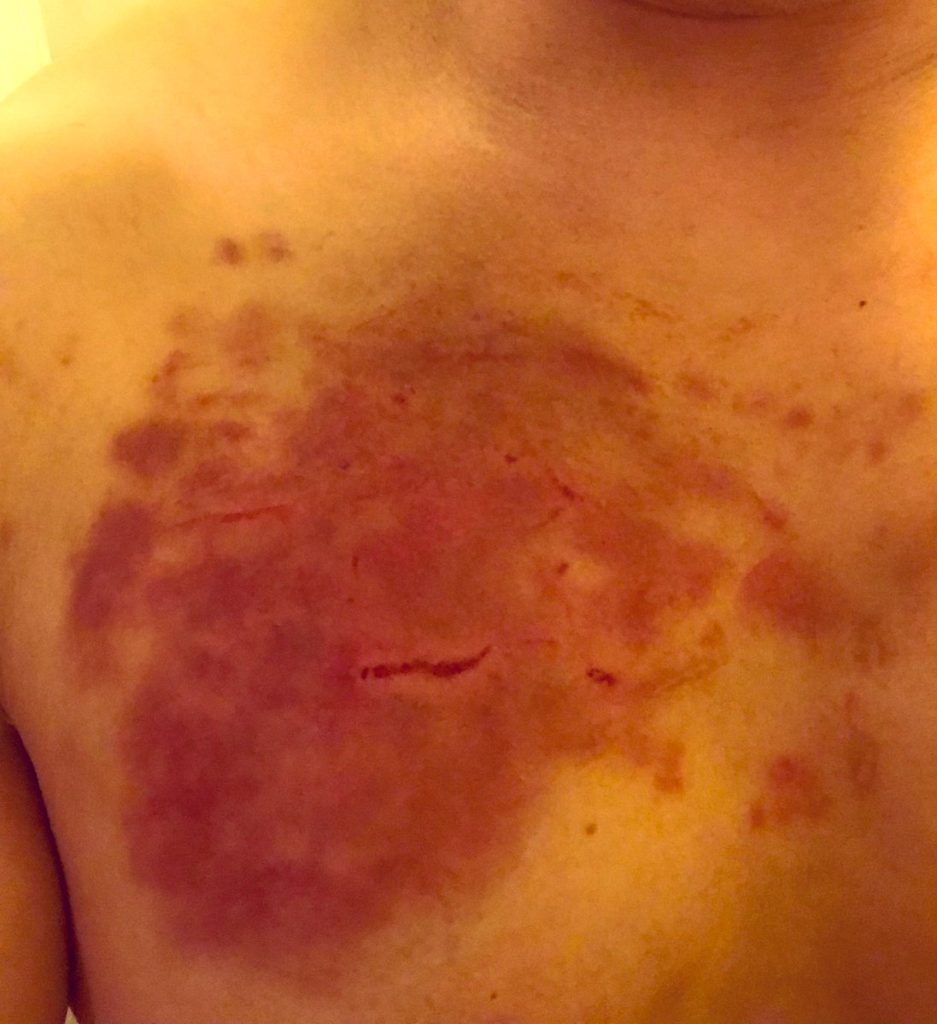 Maybach Taniguchi is still continuing in his monster mode, and refuses to change. His Sasumata is still being bought to the ring and used as a weapon, he is still attacking the ref after matches, speaking in grunts, and even Akitoshi Saito who seemed to be attempting to rehabilitate him, has given up. In Kanazawa they tagged together, but it all fell apart when they accidentally knocked each other down, got into an argument and then Taniguchi was defeated by the Funky Buster Bomb. Taniguchi stood in the ring as he and Saito pointed at each other threateningly as Saito left the ring. 
Takashi Sugiura said that this would do no him no good in the end.
NOAH will celebrate the final night of "Spring Navigation 2019" at Korakuen Hall in Tokyo on Friday March 29th.
Event recaps
March 19th: Osaka World Pavilion (post match promos)
March 20th: Toyonaka City Rose Culture Hall (post match promos)
March 21st: Kanazawa Distribution Agency (post match promos)
NEWS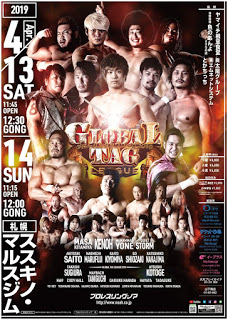 Global Tag League will return on the 6th April 2019, with the first night being held at Edion Arena Osaka on Saturday 6th April and finishing on 4th May at Korakuen Hall.
This years teams are as follows:
Katsuhiko Nakajima & Go Shiozaki (GHC Heavyweight Tag champions)
Kaito Kiyomiya & Kenoh
Mohammed Yone & Quiet Storm
Maybach Taniguchi & Yuji Hino
Takashi Sugiura & KAZMA SAKAMOTO
Atsushi Kotoge & Mitsuya Nagai
Akitoshi Saito & Masao Inoue
Masa Kitamiya & Yoshiki Inamura.
Due to being defeated by Kaito Kiyomiya for the GHC Heavyweight title, Naomichi Marufuji has said that he will not enter the league this year. However, there is a possibility that he may enter in the end, and probably with a surprise partner. Unspoken speculation has it that since KENTA's 90 day release clause is up round about the time Global Tag League starts, it may well be KENTA who he enters with.
Personally, I think it is far more likely that Marufuji will enter with Masaaki Mochizuki.
KAZMA says he fears the team of Yuji Hino and Maybach Taniguchi, as Hino knows how to work Taniguchi, however "that dick is a one-man show."
Atsushi Kotoge has named the team of himself and Mitsuya Nagai "The Revolutionary Cloak Army"
Akitoshi Saito and Masao Inoue were a comedy team last year, with Saito screwing over Inoue, and Inoue not really realizing as Saito kept denying it.
The big rivalry for Global Tag League 2019 this year is Kenoh & Kiyomiya vs AXIZ.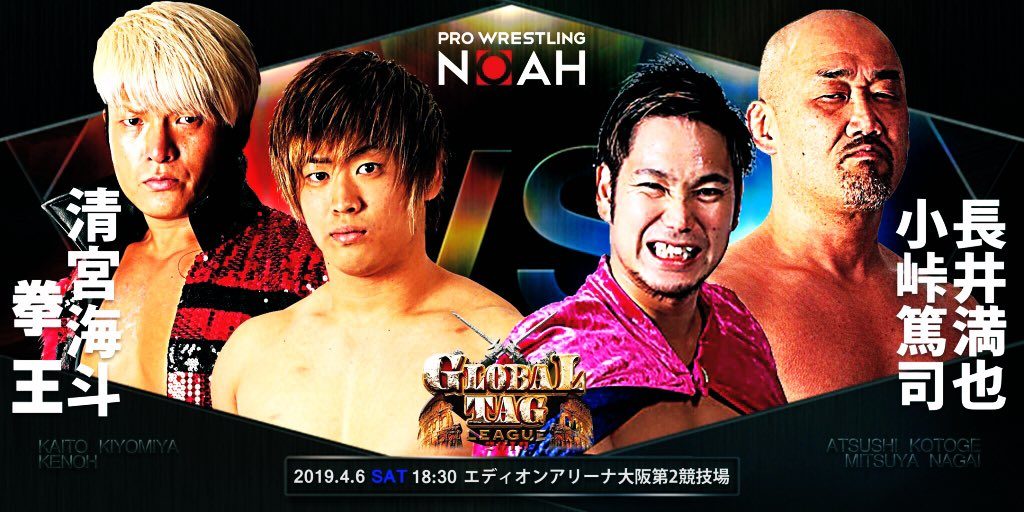 Atsushi Kotoge returns
Atsushi Kotoge will make his return in his hometown of Osaka on the 6th April. Katsuhiko Nakajima took the opportunity to take a shot at Kenoh by looking at the match ("The Revolutionary Cloak Army" vs Kenoh and Kiyomiya) to say, "you are in the opening match" (full card hasn't been announced yet).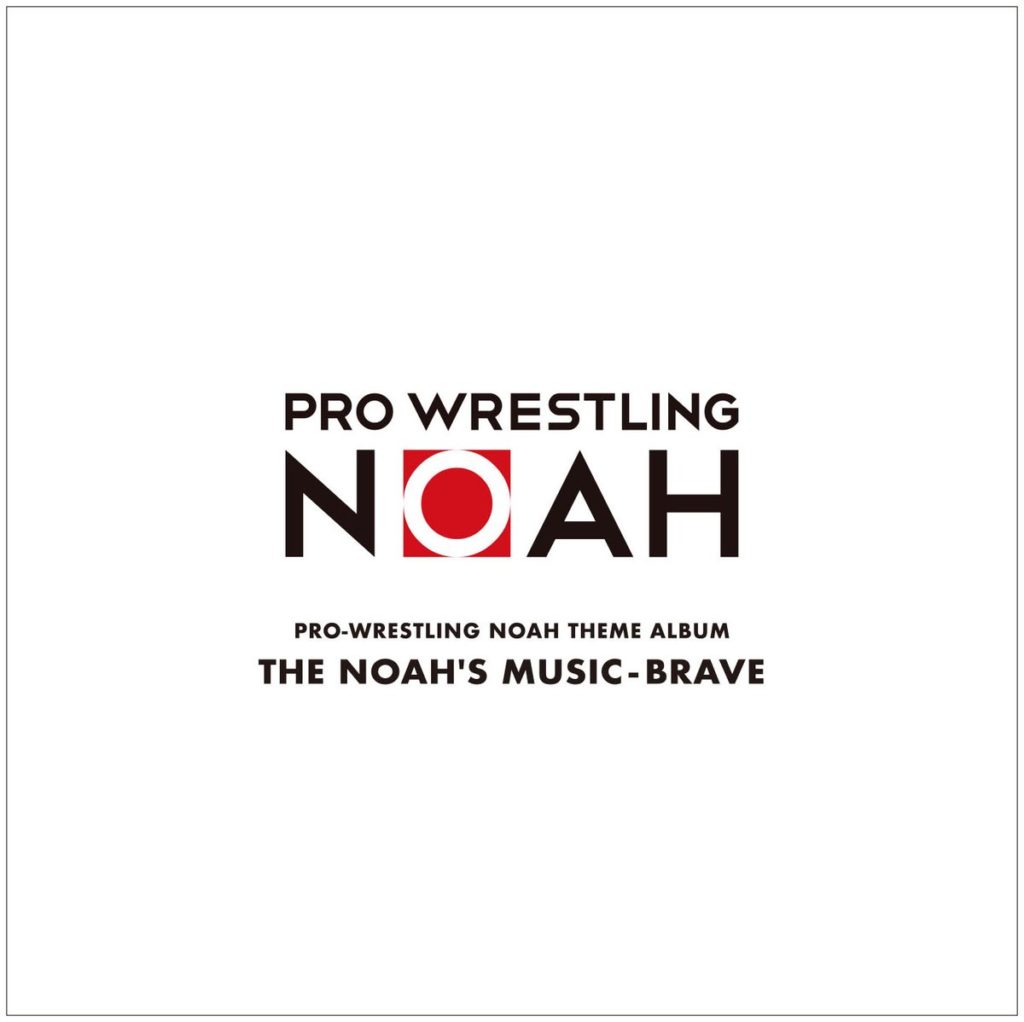 NOAH The Album
Track listing has been confirmed as:
Katsuhiko Nakajima: Genius of The Kick
Daisuke Harada: KTYM
Quiet Storm: MAD
Pro Wrestling NOAH theme: Brave
GHC Jnr Theme
GHC Tag theme
Kaito Kiyomiya: Explosion Soul
Atsushi Kotoge: Switch On
Masa Kitamiya: Go For Broke
Go Shiozaki: Enforcer
Naomichi Marufuji: Hysteric
Theme of Global League
RAN: SAKURETSU (Pro Wrestling NOAH's official song)
You can pre-order your copy here
Masaaki Mochizuki
Following his highly praised tag against Naomichi Marufuji at the Giant Baba memorial show, Masaaki Mochizuki will be making his first appearance in Pro-Wrestling NOAH on the 29th March at Korakuen Hall, he will team with Masa Kitamiya & Yoshiki Inamura against Naomichi Marufuji and 50 Funky Powers.
CURRENT CHAMPIONS
TOUR TIDBITS
~ Hitoshi Kumano says he wants to challenge for the singles belt
~ Daisuke Harada was cheered on by his nephew in Osaka
~ Kenoh has been noted to be smiling a lot more now he is teaming with Kiyomiya; but don't let this fool you. Kenoh is still after the GHC Heavyweight, Kiyomiya knows this and has said that they will never properly be friends. Despite the brotherly feeling between them, there is still a sense of rivalry underneath.
~ Katsuhiko Nakajima' reaction to Yoshiki Inamura teaming with Masa Kitamiya was, "what's his name? I don't remember, he didn't leave much of an impression"
~ Kaito Kiyomiya was again on the cover of "Weekly Pro", he's only twenty-two, but has already been on the cover about three or four times.
~ Takashi Sugiura imitated KAZMA SAKAMOTO'S scream
~ Katsuhiko Nakajima told a bald reporter that his head was "twinkling".
~ After the three day in a row tour (and a week away from home), Hitoshi Kumano returned to his "children" (his French Bulldogs), and Takashi Sugiura returned home to his own dog, who wanted to immediately go outside, despite the fact it was 1.30am. He took it for a walk the next day.
~ Despite saying that he didn't have to call Kenoh "Kenoh-san" anymore, this momentary lapse in manners is over, and Kiyomiya has gone back to calling him just that.
BROADCASTS
G+ will broadcast the 17th April show on April 20th
They will also show the 28th May Korakuen Hall show live
LINKS
Naomichi Marufuji reviews "Bomb Gum"
VENUE GUIDES
Osaka World Pavilion
Toyonaka City Rose Cultural Hall
Kanazawa Distribution Centre
Picture credits: Noah GHC, PKDX, Yoshiki Inamura
(NOAH) WEEKLY NEWSLETTER VOL.31~ 21ST APRIL 2019
With the Global Tag League in full effect, Hisame brings us those weekly NOAH updates! Read up on one of the best Japanese promotions that tends to fly under the radar!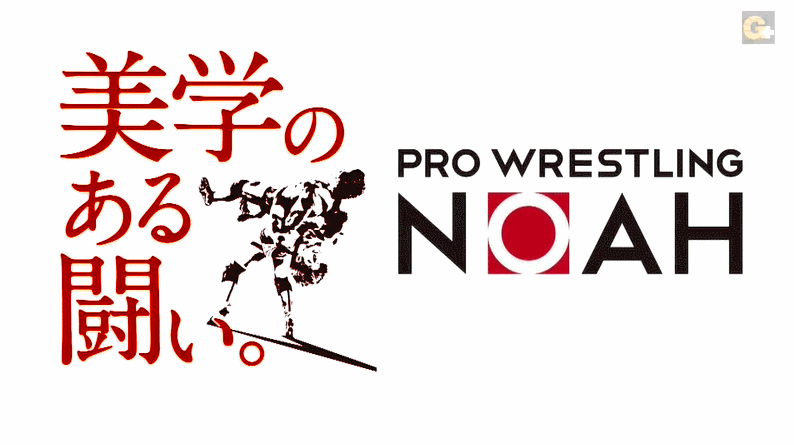 With the Global Tag League in full effect, Hisame brings us those weekly NOAH updates! Read up on one of the best Japanese promotions that tends to fly under the radar!
CURRENT TOUR RECAP
NOAH's first show back on the mainland was held on a midweek night, and while the attendance was not good (819), the show was intense and the fans that did not go were lamenting that they were prevented from going due to it being a midweek night, and therefore, a work night.
Due to Quiet Storm sustaining a concussion after receiving a kick to the head from Kenoh in Sapporo, NOAH have changed their cards (no date has been given for a return of either himself or Kimya Okada yet), and 50 Funky Powers have so far been deducted four points, as per the rules of Global Tag League which counts a team being unable to compete as an automatic loss and a win for the other team (hence the reason why The Tough have two points), and Rocky Kawamura was drafted in to compete at Korakuen Hall. His gimmick is Rocky (the character from the films), and Mohammed
Yone took his name from Mohammed Ali, so you had two boxing fans together.
Yone laughed afterwards and said that he himself might try coming to the ring in boxing gloves.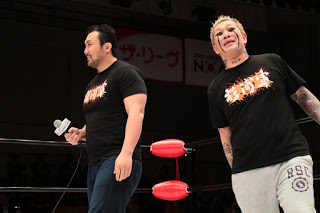 True to his word, NOSAWA Rongai bought a "friend" to Korakuen Hall.
The "friend" turned out to be Hideki Suzuki who had a match in 2018 in NOAH against Naomichi Marufuji and Atsushi Kotoge (he teamed with Jay Bradley), but wasn't seen at all again until 2019.
Suzuki got in the ring and asked for a tag match against Marufuji (Suzuki will team with NOSAWA), as he was at ringside (and all of the heavyweights are tied up in Global Tag League), Marufuji, after telling Suzuki that he should build his own gang, said "lets just have a match" and nominated Junta Miyawaki to be his partner. Miyawaki told NOSAWA that he was going to get the victory over him.
Match has been set for the last night of Global Tag League on May 4th.
When asked why he was here, Hideki said he was "job hunting" and hadn't been employed since the beginning of the year. He later admitted that he was here for himself.
As if the Korakuen Hall crowd weren't wound up enough, there was a HUGE upset for AXIZ when Masao Inoue (whom the crowd had been cheering on), got the sneak win over Katsuhiko Nakajima.
After the match, Inoue and Saito went to imitate AXIZ'S pose, but at the last moment Saito walked away leaving Inoue to crash to the floor.
The crowd laughed.
Saito laughed louder.
Nakajima, however, didn't find anything amusing and said that Masao Inoue has borrowed something big, and he will be coming to take it back.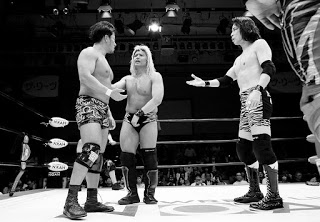 Whatever it is that is going on between Stinger and Daisuke Harada took another turn at Korakuen Hall.
Yoshinari Ogawa offered his hand to Daisuke Harada again, and Harada went to take it, but Tadasuke objected. Harada shoved him aside, and Tadasuke fell against the ropes with a look of surprise. Ogawa tried again, but this time YO-HEY came between them. After that, Harada looked at his hand and just left the ring.
AXIZ were not the only team to have a bad night at Korakuen Hall, their rivals in KAIOH did too.
Takashi Sugiura (complete with stitches after the headbutts from Atsushi Kotoge in Sapporo) stood still and staring at his two former protegees as they entered the ring.
They probably knew that it was a very very bad sign. This match was not about "The Sugiura Army" beating KAIOH, this was about Takashi Sugiura beating down two upstarts, and although they put him through hell, he prevailed with the headlock choke on Kaito Kiyomiya. After the match he got on the microphone and told Kiyomiya that he wouldn't push the issue now as it was Global Tag League, but he wanted Kiyomiya to remember, that he would be coming for the title.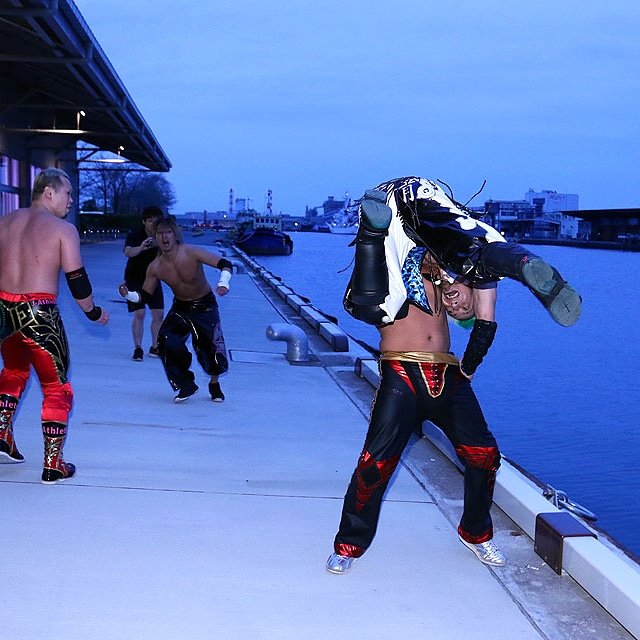 NOAH held their next event on Sunday 21st April at a new venue (which had been a former fish market) in springtime Niigata. Attendance was a full house of 865.
Naturally, being an event by the Shinano River, a fight went outside and to the riverside, and Marufuji almost threw YO-HEY in. Tadasuke thought it would have been funny, but YO-HEY said that the next time NOAH come to the venue, he is going to bring goggles and a flotation device for Marufuji.
Marufuji's response was basically, "bring them for yourself".
Fact is, that if NOAH go back there in the summer or autumn, someone will most likely go in (probably Kotoge in his cape).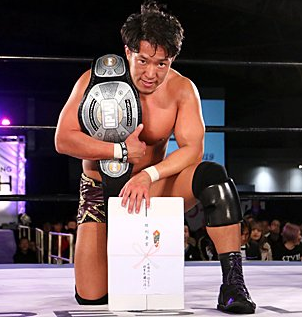 Daisuke Harada made the first defense ever of the IPW Junior Heavyweight title against Hitoshi Kumano. While I don't have too much details on the match itself, one fan did liken it to a fight that one of the Four Pillars would have put on. It was that intense.
Harada said that he wants his next challenger to be British, and said it would be interesting to see if anyone came over to NOAH. He also said that with Global Junior Tag League starting, he was equally interested to see if a team would enter.
When asked about the handshake with Ogawa, Harada walked away.
Yoshinari Ogawa had said that you could see how the situation was developing, as Kotaro Suzuki added, "If the leader's heart is swayed, then the team is over"
Kaioh were almost beaten in Global Tag League by The Inferno. That was until Kiyomiya changed the tide of the match, and got the pin via the Tiger Suplex on Maybach Taniguchi.
So far Kenoh has not managed to get a single win at Global Tag League. Once the league is over, and especially if Kaioh do not win the titles, then his resentment is going to erupt.
As of the time of writing, The Sugiura Army lead the scoreboard with eight points.

EVENT RECAPS
April 17th – Korakuen Hall, Tokyo
April 21st – Mandaijima Multipurpose, Niigata
Post match promos – April 13th, Mars Gym, Sapporo
Post match promos – April 14th, Mars Gym, Sapporo
Post match promos – April 17th, Korakuen Hall, Tokyo
NEWS
Fortune Dream6 & "TAKAYAMANIA EMPIRE 2"
On the 17th April at Korakuen Hall, Kenta Kobashi announced that Fortune Dream6 would return on June 10th. NOAH participation was announced as Go Shiozaki and Yoshiki Inamura vs Yuji Okabayashi & Kazusada Higuchi. Addtionally, Masa Kitamiya will team with Yuya Aoki against  Shoki Kitamura & Towa Iwasaki.
Yoshihiro Takayama has announced via his official blog, that "TAKAYAMANIA EMPIRE 2" will be held on Monday, August 26 2019 at Korakuen Hall.
Card to be announced.
Although Takayama cannot be at the show (although he wants to find a way to be there), there is good news on the horizon as he says that his condition is improving gradually and he can now feel the soles of his feet.
CURRENT CHAMPIONS

TOUR TIDBITS
~ Although he cannot wrestle due to concussion, Kinya Okada has been seen at ringside doing his usual duties. Poor boy looks sad, like he did when he was unable to debut due to injury.
~ Minoru Tanaka was hungover at the Niigata event. Said he hoped it would help his hangover. It didn't.
~ Each time Atsushi Kotoge went to do the "Revolutionary Hero" pose, Marufuji smacked his arm down (Yoshiki Inamura in Niigata was a little more game)
~ Takashi Sugiura said there are to be no further entries into the "Sugiura Army", he also doesn't like NOSAWA being put at the center of the group in the official photographs for the new "Sugiura Army" t-shirts.
~ I don't want to know exactly what a "YO-HEY Teriyaki McBurger" is
~ Takashi Sugiura's most infamous dog video this week was him on his lap, and chewing the cord of his tracksuit pants.

BROADCASTS
The 4th May Global Tag League finals will be broadcast at 10pm JST on Samurai TV
The 28th May show will be broadcast live at 6.30pm JST on G+ (its the first night of Global Tag League)

LINKS
King Shame, Takashi Sugiura on becoming the core of the new born Noah
PICTURE CREDITS: NOAH GHC, PKDX, Daisuke Harada
Mathew's AJPW Champion Carnival B Block Results & Review: Part 3
Another few days, Mathew brings us another part of the Champion Carnival! All Japan's biggest tournament of the year keeps churning in quality! How is B block going?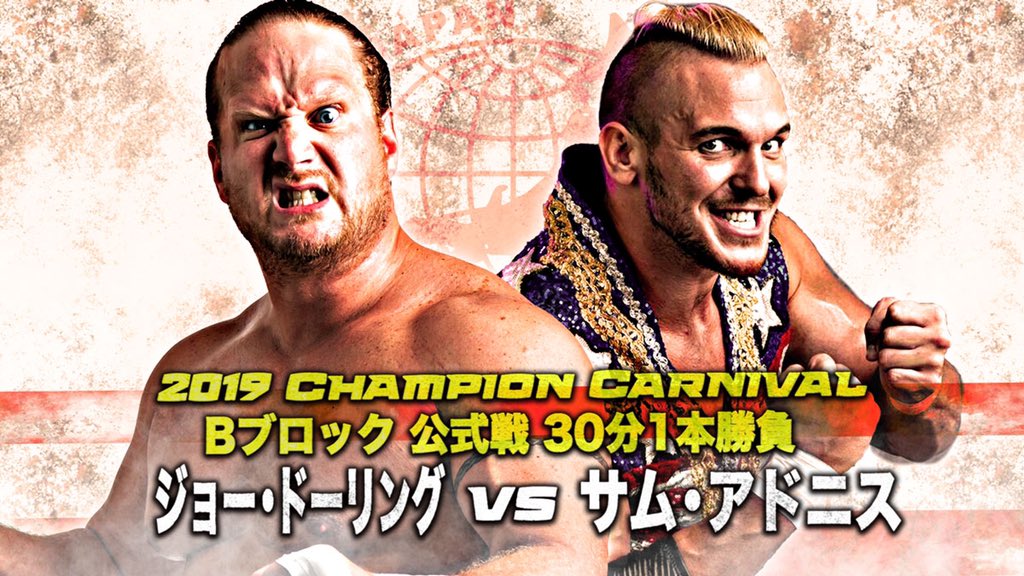 Another few days, Mathew brings us another part of the Champion Carnival! All Japan's biggest tournament of the year keeps churning in quality!
Welcome back to the Carnival, as we look at the next three shows for the part of the ongoing tournament.
The last part had a lot of solid matches and some nice victories that changed the game a little bit. As we get a little bit closer to the finals, the standings for this set of matches should be interesting.
Will Yoshitatsu remain the only one undefeated now or someone breaks that? Let's see who will move up or down in the standings as we…dive right in.
Rating System:
0 Stars: Dave Meltzer
1 Star: Vince Russo
2 Stars: Tony Schiavone
3 Stars: Eric Bischoff
4 Stars: Bruce Prichard
5 Stars: Jim Cornette
4/11/2019
Champion Carnival B Block Match
Jake Lee vs. Yoshitatsu
Review: Our first match for this show is Jake Lee taking on Yoshitatsu. Jake Lee was recently able to get his first win when he defeated Joel Redman. Yoshitatsu is currently the only one undefeated when he won against Suwama at the last show. Jake would need to have another win here to move up while Yoshi winning would move him to the top spot. Can Jake get another win or will Yoshi remain undefeated?
Yoshi, I know you spent money on Hunter Club gear and I'm sure you're very proud of yourself but I think you should let that go. You're not in New Japan anymore, no real need for it and just move forward. Anyway, I thought this was an enjoyable match but if I had to nitpick one thing, it would be that I wish there was a lot more intensity in the match since you kinda felt that when they had a tag match in the last big show I did for them and it didn't feel like a grudge match or anything for the first half of it. Yoshi having good matches back to back is a very pleasant surprise and I hope that momentum keeps on going as we go forward with the tournament. The chemistry between them was a really nice touch with a great showing by both these men. Jake psyched Yoshi out with a punch to the gut and ran towards him only to get caught in a Koji Clutch which Jake rolled him up for a two count. Yoshi would eventually hook the Koji Clutch all the way after countering his Backdrop and it looked like he had him tapped but Jake answered the referee, making him break it up and pin him for a two. Jake would deliver two knees to his chest before hitting the Backdrop Driver to get the three count, ending the only winning streak we had for B Block.
Rating: Eric Bischoff and a half
Champion Carnival B Block Match
Suwama vs. Sam Adonis
Review: Our next match is Sam Adonis taking on Suwama. Suwama recently lost to Yoshitatsu but he's still in a good position with only one win and one loss as he still has time to bounce back. Sam currently has zero wins and two losses, so he would need to get a win here if he would wanna stay in the game a little longer. Can Suwama bounce back or does Sam sweep his chances under the rug?
Suwama is a great opponent for Sam as they have similar styles, making it easier for Sam to work with and show more of what he could do in the ring as he gave a much better performance here than his previous match against Joel. They were able to showcase enough power and strikes to make it rather engaging for the audience who are fans of this type of style, to begin with. It also shows how helpful Suwama can be with his opponents to help make them look good while bringing out your potential as the match progresses. Sam would get Suwama down with a few hits such as the Blockbuster and even lifted him for a Running Powerslam as Suwama was still able to kick out and gets frustrated as he goes to grab a chair for later. Suwama would attempt another Last Ride after failing the first time as Sam would use a dirty tactic of biting his fingers to make him let go as he grabbed the chair to try and strikes him, but Suwama grabbed it and threw it to the side. When the referee wasn't looking, Sam would hit him with a low blow and roll him up for a two count. Sam isn't done as he hits a Lariat and a modified Brainbuster it looked like as he shocked the fans by picking up his first win in the tournament. More of this Sam and he'll be in good shape.
Rating: Eric Bischoff and a quarter
4/13/2019
Champion Carnival B Block Match
Naoya Nomura vs. Joel Redman
Review: Onto the next show as the one opening this up is Naoya Nomura taking on Joel Redman. Nomura recently suffered his first loss when he fought Joe Doering but he's still in a good spot as he's still in first place with the three wins he already has under his belt. Joel recently got his first win when he defeated Sam Adonis and he now has a chance to climb up the ladder a little bit more if he can take Nomura down here. Will Nomura get another win and secure his spot or will Joel pull him down a bit?
I see Joel went back to his better gear than his previous one, thank goodness because he looks a lot better without the singlet. Speaking of Joel, he delivers another great performance in his match against Nomura who also performed just as great as Joel did. Joel was able to do arm manipulation once he threw Nomura into the turnbuckle to know where he needed to take the advantage over him. Nomura did great selling the injury and getting the crowd behind him when he hits Joel with the Spear to try and get momentum back on his side. Nomura would be able to hit a Northern Lights Suplex and another Spear with a roll-up as Joel would still kick out of it. Joel was able to catch him into the Fujiwara Armbar and it looked like he had him ready to tap but Nomura would grab the ropes. Joel saw him going towards the apron and hits a Suplex from the other side and catches him for a Spinning Tombstone and Nomura would still kick out of it, but he quickly turned it back into the Fujiwara Armbar and Nomura tapped out! I know it's been 7 years since this match happened, but I would love to see Joel Redman fight Zack Sabre Jr again, like immediately.
Rating: Eric Bischoff and three quarters
Champion Carnival B Block Match
Suwama vs. Takashi Yoshida
Review: Our match to close our block for this show is Takashi Yoshida coming back as he takes on Suwama. Suwama has one win and two losses while Takashi is one win and one loss as of right now, so they're pretty much about even right now. Suwama would need to win the match here though if he can stay in the game. Which one of these two giants comes out the victor in this brawl?
I wasn't too fond of the first half of the match due to it being a little bit clunky and the fighting around the outside of the arena dragged on a little bit longer than it needed to, plus the camera angles for most of it didn't help out at all. Outside of that though, the middle of the match was a lot better than I highly anticipated since you got two giants duking it out as best they could with the throat thrusts, Lariats, and a Powerbomb from Takashi along with other power moves. While I'm still not a big fan of Takashi, he has been performing in this tournament much better than anticipated since he used this time to actually showcase his move set properly. Suwama was also able to help Takashi out in the match to make him perform better like how he did with Sam the previous night.
Takashi would have Suwama in his clutches as he hits him with a Diving Elbow Drop for a two count and would do his throat thrusts with a Lariat as Suwama would counter the Lariat with a Lariat of his own on his arm. Suwama would be able to hit the Backdrop and Takashi would be able to kick out of it and Suwama wants to call for the finish when he sets him up for the Last Ride. Once he had Takashi up for the Last Ride, he would just drop him down without doing the full move and I'm not exactly sure what happened there. Suwama would pick him up instead of pinning him as he hits one more Backdrop to get the pinfall victory in a solid match but sloppy beginning and end.
Rating: Eric Bischoff and a quarter
4/14/2019
Champion Carnival B Block Match
Joe Doering vs. Sam Adonis
Review: Our final show for this article as our opening match is Joe Doering taking on Sam Adonia. Both of these men are currently with one win and two losses under their belt, meaning one of them is going to have to suffer a third loss and be in a rather bad position with the standings. Which one of them will be in last place?
The first minute or so was basically Sam hiding behind the rope so he wouldn't be touched as you have Joe waiting by the ropes, not having any of his crap today as he just wants to beat him up. Which is exactly what he does do when they're outside of the ring for a couple of minutes as the two were back and forth, but it was mostly Joe that was getting the upper hand. Joe got him back in the ring as he would look to put him away as Sam would distract the referee long enough to kick Joe in the dick and down goes the giant. Joe is unable to move as Sam would pin him down to get the pinfall victory, leaving Joe in last place with three losses.
Rating: Tony Schiavone and a quarter
Champion Carnival B Block Match
Joel Redman vs. Takashi Yoshida
Review: Our final match for this set of matches is Joel Redman taking on Takashi Yoshida. Joel is even right now with two wins and losses while Takashi only has one win still but with two losses, meaning things aren't looking so hot for Takashi right now. Is Joel does win here, then he'll be in first place next to Naoya Nomura and if Takashi wins, the majority of them will all be tied up except for Joe and Nomura. Which one of them will get the victory?
It's so weird seeing Takashi trying to chain wrestle Joel at the beginning of the match and the shocking part of it is him doing it well on top of that, scary sight if you ask me. Joel is, of course, more technically sound compared to Takashi, so of course, he would win this part of the bout. Takashi performed a lot better here than he did in his previous match with Suwama from beginning to end while Joel keeps on proving his worth with all the matches he's been in. Joel would give Takashi a couple of kicks to take him down before he does his Diving Knee Drop off the top rope for a two count. It looked like Joel was gonna go for the Spinning Tombstone but Takashi would fight out of it to pick him up as Joel gets off him to go for a Backslide with Takashi kicking out. Takashi would hit the Kong Lariat to knock him down and Joel would still kick out, leaving Takashi frustrated and would pick him up to hit the Cyber Bomb as he gets the victory over Joel.
Rating: Eric Bischoff
Overall: Aside from one match, the rest of the show was solid again as usual as I'm very happy with my results so far as it comes to the quality of the matches with an exception for a couple that happened. Our next set of shows should give us a better assessment to see where people stand and who will have no chance of making it.
Favorite Match: Joel Redman vs. Naoya Nomura
Least Favorite Match: Joe Doering vs. Sam Adonis
Score: 7/10
Current Standings:
Naoya Nomura: (3-2) (6 Points)
Yoshitatsu: (2-1) (4 Points)
Daichi Hashimoto: (2-1) (4 Points)
Suwama: (2-2) (4 Points)
Jake Lee: (2-2) (4 Points)
Joel Redman: (2-2) (4 Points)
Takashi Yoshida: (2-2) (4 Points)
Sam Adonis: (2-2) (4 Points)
Joe Doering: (1-3) (2 Points)