The Good, Bad and Ugly: NXT (3/13/19)
The usually good NXT product gets put to the test again. Does it remain good, or is there a chance for some bad and ugly?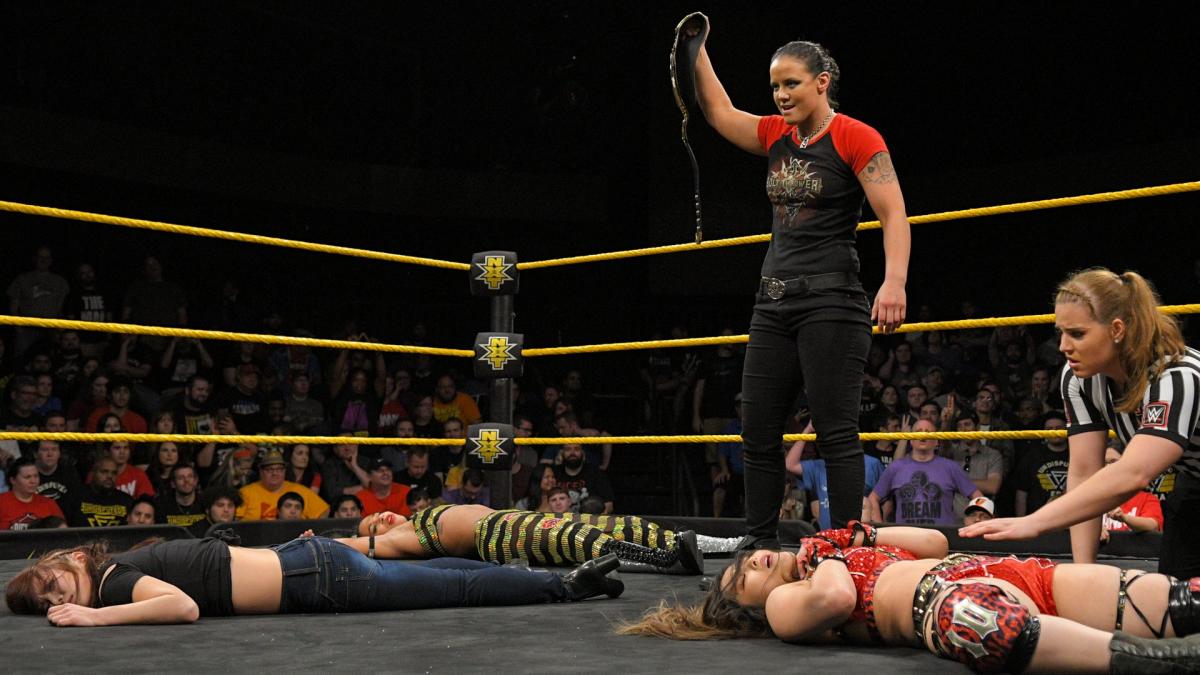 Here we Go NXT once again and this time a HUGE NXT Takeover, on WrestleMania Weekend!  This week is nothing different, a lot of potential of a Good report.  Let the Good times roll!
GOOD
#1 Contenders Match- Io Shirai vs. Bianca Belair
This match was legit!  Bianca Belair is a star, Io Shirai is phenomenal.  We had fireworks this week here.  Belair used her power and beat down the smaller foe, but not without a ton of offense by Shirai as well. We had a ton of back and forth, and a ton of action.  This really was a strong showing by both respected athletes.  Shayna Baszler who was at the Announce Table, had enough getting heated with the Announce Team and attacked Io Shirai.  Io Shirai Wins by DQ but Baszler without hesitation attacked Belair as well, knocking her out.  Kairi Sane ran in for the save but was wasted by Baszler.  Io Shirai again tried to fight back but again was down and out by Baszler.  The Champ made her statement and by far is the most dominant female in Professional Wrestling. Fatal 4-Way at NXT Takeover for the strap, it's on now!  That will be sick!  Takeover is going to be amazing. 
Dusty Rhodes Tag Team Classic (Semi-Finals)- Ricochet and Aleister Black vs. DIY
"This is Awesome."  If you have ever seen these guys work before, you already know, this was insane.  DIY was on point, Gargano just a freakishly Good talent.  Black and Ricochet shined and absolutely killed it!  These two teams are not only two of the best in NXT but two of the best in the business.  Although Black and Ricochet are different they work well, and DIY are naturals together.  DIY got the edge after a rocky start, as Black and Ricochet had a successful opening drive.  Back and forth these guys can't help but try to outdo each other.  Every single move is awesome and strong.  Every single time they go full steam.  DIY kept getting the edge but just as easily the tide turned.  NXT is at their best in these type of matches.  It could have gone to either team but Gargano seemed to have tweaked his knee leaving the NXT Champ on his own against Black and Ricochet.  Ricochet and Ciampa just went off on each other, the buildup and heart were there the entire match.  Just like Magic, "Black Mass" followed by a "630" on Ciampa for the WIN!  This was AMAZING!  Such a sick match!  This is NXT!  Don't ever stop!  DIY worked so hard and came up short but such a fantastic treat for the wrestling world!  It looked like DIY was back to being boys again as Ciampa was helping is partner walk but in true Ciampa fashion went for the heel turn, but it was Gargano playing possum.  Gargano got his revenge and 1 up'd his heated rival by not only tricking him but being one step ahead.  This was Gold! 
BAD
Dusty Rhodes Tag Team Classic- Forgotten Sons (Cutler and Blake w/ Ryker) vs. Moustache Mountain (Trent Seven and Tyler Bate)
Tyler Bate spent a decent amount of time early on both killing it and getting beat down by the larger Forgotten Sons team.  Bate was very impressive and showed he has some Good stuff.  Seven finally got the much anticipated tag and went off on his opponents, however was overpowered after some impressive offense.  There was a lot of "wrestling" here surprisingly as it would have been thought that we would have had a brawl.  Bate got the hot tag after Seven was beaten down.  Bate and Seven do some very unique things and sometimes over the top fantastic moves.  This match however was odd with a lot of Bad moments.  We may have a rare feat as the Bad column finally got some company.  Forgotten Sons got the Win! Onto the Finals. 
UGLY- No getting a Bad was shocking and traumatic enough!  Think of the children!
FINAL
Good- 2
Bad- 1
Ugly- NO!  Get out!
OVERALL
GOOD!  What? Did we have a Bad on NXT, why yes we did!  It wasn't Main Roster Bad but it wasn't Good for sure.  It certainly did not meet NXT standards.  Especially when you consider the epic Tag Match that was spotlighted in the Main Event this week.  That match was everything.  NXT is the Best! 
Closer and closer WrestleMania and Takeover Await!  Every week, matters from here out and only time will tell if it was all worth it!  WrestleMania here we come!  See you soon!
King's WrestleMania Rewind: Eddie Guerrero vs. Rey Mysterio (WrestleMania 21)
In the next WrestleMania Rewind, Chris King takes us back to WWE WrestleMania 21, and Rey Mysterio vs Eddie Guerrero in a battle of tag team champions!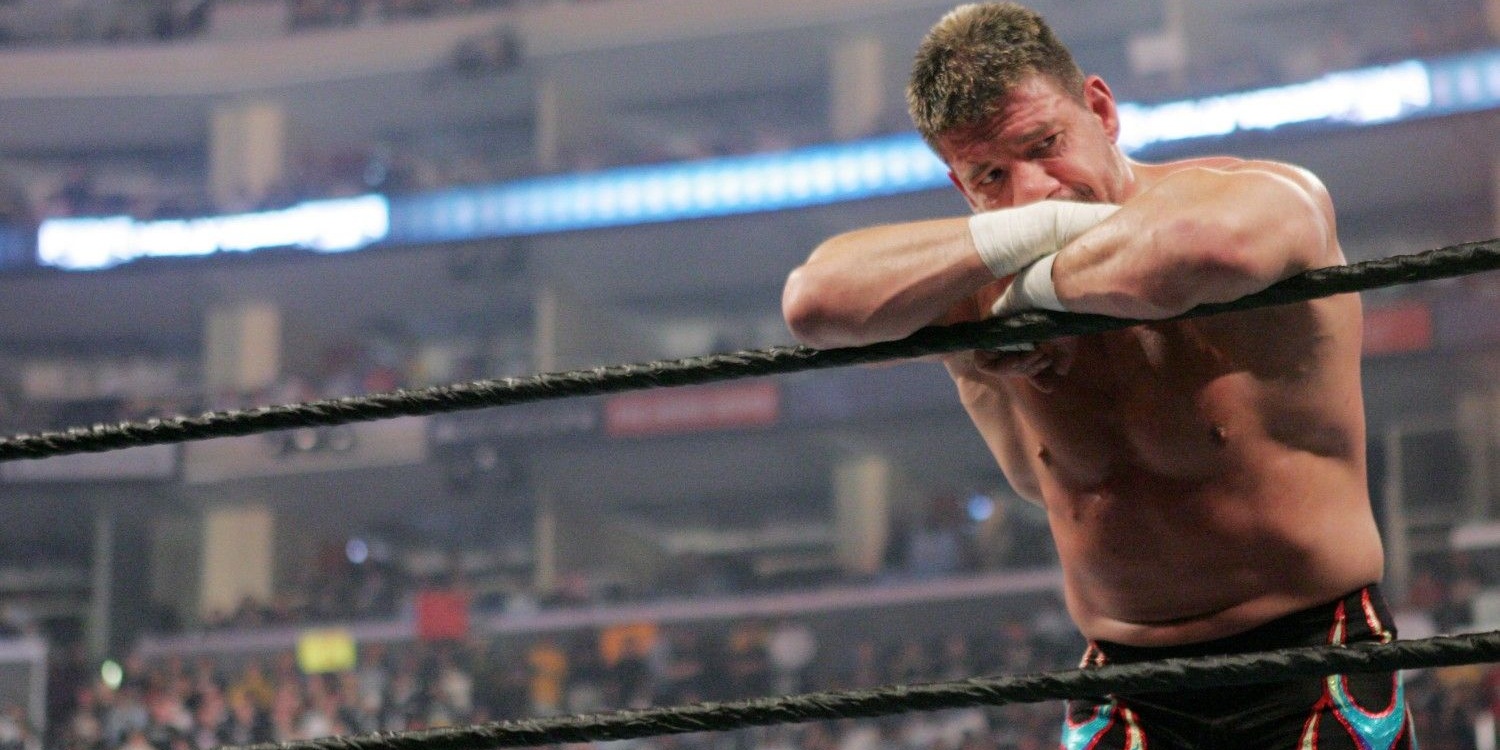 In the next WrestleMania Rewind, Chris King takes us back to WWE WrestleMania 21, and Rey Mysterio vs Eddie Guerrero in a battle of tag team champions!
Chris King is back with his third edition of WrestleMania Rewind. This week he's bringing us back to some 'Latino Heat.' We're rolling back to WrestleMania 21 where Eddie Guerrero faced longtime friend and rival Rey Mysterio.
This would be Guerrero's last Mania match caused by his unfortunate death. Over on SmackDown, Mysterio and Guerrero would become the tag team champions at No Way Out where they defeated MNM.
Chavo Guerrero would get into the head of Latino Heat by making him believe Mysterio was trying one-up his tag team partner. Chavo went as far as to tell his uncle to stop using the Guerrero name.
Guerrero would finally give in to his nephew's manipulation and went on to challenge Mysterio to a one-on-one match at WrestleMania 21. I For the first time in history, both tag team champions would face each other. Guerrero vs. Mysterio was the first match on the stacked card. Both partners threw everything at each other including the kitchen sink in a battle of one-up-manship.  In an incredible high-octane match that saw both superstars delivering counter for counter, Mysterio pulled off the win with a surprise pin roll up.
A few months later, what once was a friendly battle turned into a nasty fight involving the custody of Mysterio's real-life son Dominik Mysterio. After several torturous weeks, both former tag team champions would face off in a ladder match with the custody of Dominick on the line. I forgot how amazing this rivalry was and it's definitely worth a watch. Sadly, we would lose Latino Heat in November of 2005. There will never be another Eddie Guerrero. Viva La Raza!
King's WrestleMania Rewind: Stone Cold VS. Scott Hall (WrestleMania X8)
Chris King is back with another WrestleMania Rewind, looking at the NWO's Scott Hall battling Stone Cold Steve Austin at WWE WrestleMania X8 from Toronto!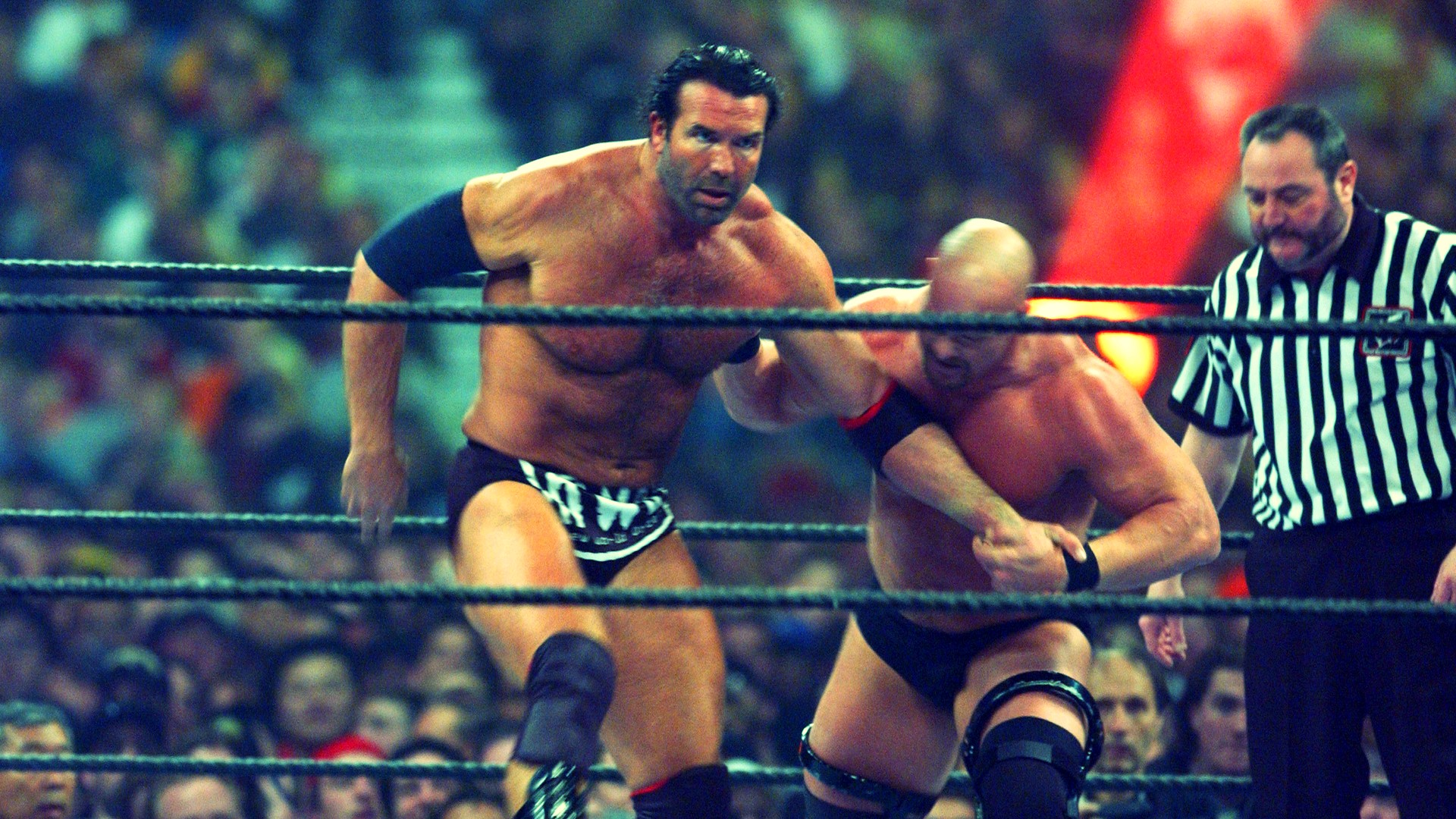 Chris King is back with another WrestleMania Rewind, looking at the NWO's Scott Hall battling Stone Cold Steve Austin at WWE WrestleMania X8 from Toronto!
Chris King is back this week with another edition of WrestleMania Rewind, where he is rewatching all the past Mania matches and feuds. This week you're in for a treat as we look back at 'Stone Cold' Steve Austin vs. Scott Hall at WrestleMania X8.
In late 2001, Vince McMahon bought out his competition WCW and acquired the rights to a plethora of talent including Booker T, Eddie Guerrero, Chris Benoit, and the iconic trio known as NWO. Hulk Hogan; Kevin Nash, and Scott Hall were hell raisers, and what better way to make a name for yourself than take out the two top superstars in the WWE The Rock, and Stone Cold?
The NWO cost Austin his chance at becoming the Undisputed Champion at No Way Out during his match with Chris Jericho. Adding insult to injury, the NWO spray-painted 'The Texas Rattlesnake' with their brand logo just like they did in WCW. As you can imagine, Austin was pissed and out for revenge against the group and primarily Scott Hall.
Hall would challenge Stone Cold to a match at WrestleMania 18. Both superstars beat the living hell out of each other leading up to this highly-anticipated match for who runs the WWE.
The glass broke and Stone Cold made his iconic entrance, and black and white NWO covered Halls' entrance alongside Kevin Nash. With the odds stacked against 'The Toughest S.O.B' could Austin or NWO prove their dominance? Sadly the NWO  broke up that very night when Hulk Hogan came to the aid of his adversary The Rock after their 'iconic' dream match. Stone Cold would ensure the victory with the Stunner. Hall would perform an Oscar-worthy sell over the finisher.
What a time to be a wrestling fan in the 2000s when nothing was impossible for WWE. Who would've thought WCW would go out of business and Hogan would make his long-awaited return to WWE?