WWE Week in Review: March 4-10, 2019
The week up to and including the last stop before WrestleMania is on the docket! Let's see how Tiffany saw it all.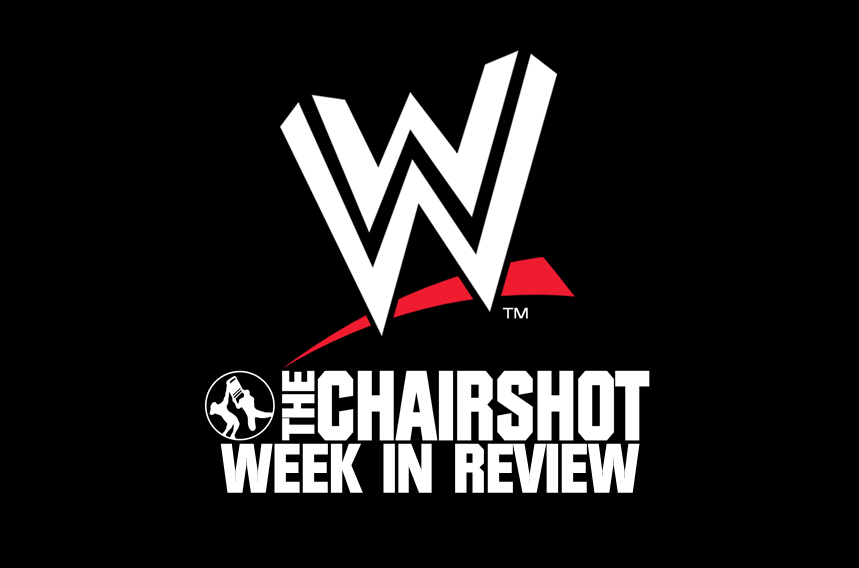 The week up to and including the last stop before WrestleMania is on the docket! Let's see how Tiffany saw it all.
RAW
The Shield: I can't say that the Shield reunion was a surprise. I think we all knew that once Roman Reigns was back, the Shield would reunite. How they went about giving us the reunion was surprising. I was hoping that the reunion build would take a little longer, but with Fastlane, WrestleMania, and Dean's possible departure looming, now was as good a time as any. Ambrose running to his brothers' rescue was extremely hilarious, but it was also very in line with how the Shield have always been with each other.
The Ambrose thing is puzzling, though. His booking says he's leaving, but WWE mentioning the departure on air and giving Ambrose a big storyline heading into WrestleMania makes me think that it's either up in the air or a total work. I will firmly believe that it's the latter until I can't anymore.
The Dogs of War 2.0 is every bit as uninspiring as the first version. You've basically got three guys with nothing in common and no personality between the three of them. Not exactly fodder for an epic rivalry.
Finn Balor, Braun Strowman, and Kurt Angle vs Baron Corbin, Drew McIntyre, and Bobby Lashley: This match was meant to get the Dogs of War 2.0 over as a viable threat to the Shield and it failed miserably. This is just not a great team. They got the win, but made everyone else, except for maybe Strowman, look bad in the process.
Heavy Machinery and The Ascension: Vince's booking struck this one. I get that Otis is great for comedy but I couldn't get into this segment. Heavy Machinery should just be beating everyone up, not making a big deal over Otis' hurt feelings.
Natalya vs Ruby Riott: Even though I like both women in this showdown, I hated this match. Ruby Riott is extremely talented, so for her to be squashed by Nattie, whom she's beaten several times, is just dumb. Add in another appearance by Lacey Evans, and this was just a bad segment for the women.
Stephanie with Michael Che and Colin Jost: I get that WWE's trying to drum up more interest in WrestleMania by having cast members of Saturday Night Live, a New York based show, on but I'm not sure that Che and Jost had any idea about what they were getting into and I hate that. If you're going to have celebs on the show, at least book celebrities that are fans of your product.
Triple H: I LOVED this segment!! Triple H is a promo master and this was a prime example of why. He absolutely ripped Batista to shreds while keeping enough humor in it to keep it from sounding like raving. My one issue is that Triple H seems to be making this about what happened to Flair than about the issues he and Batista were having back in the fall and seem to have with each other. I guess we'll have to see where this goes on Monday.
Heavy Machinery vs B-Team vs Ascension vs Major Brothers: I would've been more impressed with this match if something had been at stake instead of it being about Otis and Tucker getting back at backstage bullies. That said, it was a really good showing for Heavy Machinery, even if the other teams looked less than stellar.
Tamina vs Sasha Banks: This was a much better match than it had sounded when I saw it advertised. Tamina isn't exactly a finesse person, but she and Sasha had a really good match. Tamina getting the win wasn't a huge surprise since the Samoan Dynasty needed to look like viable contenders after being beaten in singles matches by Sasha and Bayley.
The Revival vs Aleister Black and Ricochet: I really loved this match and the contrast of styles between these two teams, but I hated the intrusion of Roode and Gable, who have been doing very little since losing the titles a few weeks ago. The assertion that Black and Ricochet don't deserve to be champions yet, because Roode and Gable say so, is eyerolling at the least. I don't think Revival's going to drop the titles just yet, but it should be an interesting match.
RAW Women's Title: To me, Stephanie's decision to vacate the RAW Women's Title and reinstate Becky Lynch and give her a match at Fastlane, is the first indication in the 'McMahon Kids Turn on Vince' storyline I see brewing after Vince's capricious title match booking. However, her basically cowtowing to Rousey's tantrum over the decision was kind of stupid. Rousey laid the belt down and walked out, what did she think was going to happen?
There have been people saying that Charlotte is the real babyface in this, but that's hard to jibe with her presumptuous and entitled attitude towards the title. The idea that she would just be handed the RAW Women's title without doing anything to earn it just because she was Charlotte Flair is NOT the attitude of a babyface.
Rousey attacked Becky, after demanding that Lynch be put back in the WrestleMania match was baffling, but I guess WWE wanted to be sure there was no question who the babyface was by having Lynch be attacked when she wasn't in a position to really defend herself.
Stephanie's post show interview was interesting and raises major questions about who will win at WrestleMania and if the McMahons will be a deciding factor. It's going to be a wild ride to WrestleMania at this rate.
SmackDown
Daniel Bryan and Kevin Owens: If there are a pair of more obnoxious opponents for any title than Bryan and Owens, I have yet to see it. Bryan's new gimmick is annoying enough, but add in 'babyface' Kevin Owens and it's almost unbearable. I did enjoy listening to Owens call Bryan out for his self-righteousness.
Rowan vs Owens was really good, but I can't say that anything really unpredictable happened. It was a very formulaic match between the 'babyface' and the heel's enforcer. Not even Bryan attacking Owens and getting Rowan disqualified was really shocking, but WWE is playing it safe right now until they can get all the ducks in order for WrestleMania.
One interesting thing was New Day's promise to be at Fastlane. There's been a rumor that the WWE Championship will be a Triple Threat and I can see Kofi costing Owens the match due to Owens stealing Kofi's opportunity, even if Owens claims that he had no say in Vince's decision, due to the fact that if Owens wins, Kofi's pinfall victory over Bryan will be null and void and thus end his chance of getting the title shot he earned fair and square.
Miz vs Jey Uso: This was another interesting, but not terribly surprising singles match for Miz and Jey Uso just before the Tag Team Championship rematch at Fastlane. The one interesting thing was the promo war between the teams about who was the real team. I think the Usos had a point about Shane and Miz not being a real team, but Miz getting the win over Jey with some help of Shane at least makes Shane and Miz look much more viable.
US Championship Open Challenge: I'm honestly not surprised that Truth lost the US Championship on Tuesday. I am surprised that Samoa Joe is the one who got the win. The match was really good, but Truth's promo before the match was kind of…weird and the appearance of Lacey Evans grows more and more annoying.
Vega and Carmella seemed to be building quite a rivalry since this week was the second time they'd clashed, so that should be an interesting non-title feud of WWE does it right.
Samoa Joe's post-match interview seems to be planting the seeds for a Cena feud at WrestleMania, which would be fun to watch, so we'll see what happens after Fastlane.
Ricochet and Aleister Black vs The Bar: After the kerfuffle of Monday, Black and Ricochet needed a big win and they got one against the Bar. This is such a great feud for both teams that I wish there were titles involved. The way they fought, you'd think they'd been rivals for years. If Black and Ricochet hang their hats at SmackDown, I hope the feud with the Bar continues.
Mandy Rose vs Naomi: I literally face-palmed over this match. I get that WWE wants to make Mandy Rose look like a viable opponent for Asuka, but having her squash Naomi was just dumb and didn't do much for either woman because it made a former 2x SmackDown Women's Champion look like an idiot and it made Mandy look like she couldn't win except by lucky and help. Even Asuka's run-in after the fact didn't really help build my enthusiasm for this match.
AJ Styles and Randy Orton: While I'm intrigued by this rivalry, I didn't get this promo. I liked Styles taking Kofi's side and pointing out that Vince's promise to listen to the fans has clearly not held up, but I don't get what Orton's problem is with Styles. Styles held the title for a year while Orton lost to Jinder Mahal. Plus, AJ Styles was a much bigger deal coming into WWE than Randy Orton has ever been in during his nearly twenty years in WWE.
RAW Women's Title: No, I didn't screw up my editing. Even though Charlotte and Becky will be fighting for the RAW Women's Championship, they are still technically SmackDown Superstars, so it made sense for them to face off on SmackDown.
As I said in the RAW section, there are people claiming that Charlotte is the real babyface, but her promo on Smackdown, where she mocked Becky's injury and belittles her former friend's wrestling ability doesn't sound like much of a babyface to me. It sounded more like a smug, entitled brat gloating over someone she's repeatedly sold short and paid for it.
Even though the whole suspension/loss of opportunity storyline was conceived to gain sympathy for Lynch, it also cost her some steam, but she got that back when she paid Charlotte's arrogance back by getting her in the Disarm-Her. Hopefully, Lynch standing tall in the ring will be the end of Fastlane too.
205 Live
Oney Lorcan vs Humberto Carrillo: I was surprised by a lot of things in this match. I had no idea that Oney Lorcan qualified as a Cruiserweight, and I didn't expect them to put an NXT guy over a 205 guy. I loved the match, Carrillo is definitely a star and him ignoring the 'corrections' of Gulak and Gallagher makes that growing feud more interesting.
Mike and Maria Kanellis: I LOVE this growing feud. I figured last week that the Kanellises would raise six kinds of hell when they realized that Maverick had no intention of putting Mike in the tournament. Also, their fourth-wall breaking reaction to dealing with local talent was very on point.
Poor Colby Corino, the son of ECW Legend, Steve Corino, seems like a talented kid, but he was basically Kanellis' punching bag. Having Kanellis basically letting Maverick know he's pissed off the wrong guy is magnificent. Can't wait to see this next week.
Tournament Promos: These were interesting but pretty standard promos for Nese and Alexander. Alexander acknowledging that people were getting tired of Alexander being in the title picture was interesting to hear because there's probably more than a grain of truth in the statement.
Cedric Alexander: This match, which we just saw a month or so ago, was really good, but there was nothing surprising about it, especially since Alexander won, he seems to be 205's top guy and WWE seems to want to keep him in the title picture to anchor all the guys who haven't been champion. I was a little disappointed that Tozawa lost, but since he just faced Murphy a while back, I'm not surprised. Round 2 is next week.
NXT UK
Ligero vs Joseph Conners: I enjoyed this match for the simple fact that I really like Ligero, but I'm not crazy about him winning two straight falls. I would've rather seen Conner win and extend this feud, but we'll have to see what's in the cards.
Toni Storm Interview: I've said before that I don't get Jinny and don't see why she's getting a push, but it seems that they're at least going to get her feud with Toni Storm started, so maybe that will change my outlook.
Gallus: I really enjoyed this promo. It SORT of feels like they're trying to recreate the Shield in NXT UK with this family/brothers thing. The whole thing about this being about respect run a little hollow, but I'm glad they're doing something with Gallus for now.
Sam Stoker and Lewis Howley vs European Alliance: This sounded like a squash on paper and while it wasn't a steamroller, Aichner and Barthel definitely smushed Stoker and Howley, which gives them an advantage in the Dusty Rhodes Classic.
Nina Samuels vs Charlie Morgan: After a couple of weird promos, Nina Samuels debuted her new show against Charlie Morgan, who we've only seen once before. I liked the match, I wish it could've been longer, but they're clearly building Samuels to be a contender for Toni Storm, so her winning wasn't a shock. Morgan was protected by her loss being more a matter of bad luck than lack of skill.
Pete Dunne: Honestly, I'm kind of sick of Dunne and WALTER teaming up, I wish they'd just get on with this feud so we can get it over with because I'm not a WALTER fan and I'm getting bored with it.
Jordan Devlin vs Travis Banks: I'm getting to the point where if I see Jordan Devlin has a match, I automatically assume it'll be fantastic. He always delivers and this match was no exception. This was such a great match was so good and both guys gave it everything they had. I was a little mad that Devlin won, but I have a feeling that this feud isn't over just yet. I hope not, at least.
NXT
Dusty Rhodes Classic: I love the little tribute to Dusty Rhodes in the Tag Team Classic. I also loved that they're giving it an old school treatment and making the tournament feel important.
Aleister Black and Ricochet vs Fabian Aichner and Marcel Barthel: This was such a good match and it could've gone either way. I'm not surprised that Black and Ricochet won, since they're clearly getting a push and European Alliance is still new and getting the hang of things, but they're as clearly contenders as Black and Ricochet because they've really meshed as a team.
Performance Center: I'm glad that they're continuing the Lee/Dijakovic rivalry. I'm not a fan of either guy but they put on a good match last week, so might as well do it again.
The Forgotten Sons vs Oney Lorcan and Danny Burch: One problem I'm having with having two NXT shows is that it gets hard to keep track of how people are doing when they keep crossing over. However, this was a really great match. Forgotten Sons REALLY needed a win and they go a big one over Lorcan and Burch, though it was just by the skin of their teeth. I really enjoyed this match and hope Burch and Lorcan have better luck down the road.
Velveteen Dream: I was 'meh' about this since it involved two people in NXT I don't care about, so I just tuned out most of the segment.
Sky Pirates: I don't like Bianca Belair, but her mental gymnastics are truly something to behold. Her twisting herself into a pretzel to explain why Io Shirai pinning Shayna Baszler shouldn't count because they were in a tag match was hilarious. Hopefully, Shirai will come out on top in the #1 Contender's Match next week.
Street Profits vs Moustache Mountain: I'm a little 'eh' on the Street Profits, mostly because their appearances on NXT are so infrequent, it's hard for me to get behind them. However, they are amazingly talented and that definitely showed in this match against Moustache Mountain. I was a little surprised that they had Moustache Mountain win, but I'm guessing that it's going to come down to NXT US vs NXT UK in the final.
DIY Vs Kyle O'Reilly and Bobby Fish: DIY is back and it looks like they split up and fought like rats in a barrel for a couple of years. That was bad news for O'Reilly and Fish of Undisputed Era, who found themselves outmatched on wiliness with O'Reilly taking a nasty double team and eating the pinfall. I actually want them to go to the final just so I can see them square up with War Raiders.
Fastlane
Daniel Bryan vs Kevin Owens vs Mustafa Ali: Turns out, Vince is a man of his word…kind of. We did get a Triple Threat Match at Fastlane for the Eco-Friendly WWE Championship, but Mustafa Ali, a fan darling, was put in in place of Kofi Kingston. The angry audience didn't refrain from making their displeasure known, booing Ali…LOUDLY.
It was a fantastic match and it looked like Ali was going to pull off a shocking victory by pinning Bryan, but Rowan was there to make the saves. Bryan would retain by pinning Ali, but only after Rowan neutralized Owens. The Planet's Champion is still the Man, but will Vince's conniving rebound on Bryan?
The Shield vs Baron Corbin, Bobby Lashley, and Drew McIntyre: After five months, the Shield was back in action that was billed as 'One Last Ride' for the Shield. If it was the last ride, it was everything you could hope it could be. The Shield and the Trio of Doom, who deserved to get beat up just for that stupid name, pulled out every stop and tore the place down. The Hounds pulled out all their greatest hits, reminding us of just why the Shield became the most dominant faction to hit WWE in at least a decade. The Shield won and hugged it out in the ring. If that was the last ride, it was the best ride of all. Thank you, Shield.
Charlotte Flair vs Becky Lynch: After months of attacks and the whims of the McMahon family, Charlotte Flair and Becky Lynch faced off to decide whether or not Becky would get her Mania match against Ronda Rousey.
The match was every bit as epic as you'd expect from these two. Becky was working 'hurt' and had to sign and 'hold harmless' contract, but she fought as hard as ever. Charlotte played the opportunistic heel to perfection, but it was Ronda Rousey who would play the deciding role in this contest, attacking Becky and giving her rival a DQ victory that secured Becky's rightful place in the RAW Women's Championship Match.
Asuka vs Mandy Rose: After Mandy Rose's shocking win over Asuka, with some help from Sonya Deville, it looked like the self-proclaimed Golden Goddess was just a lucky shot away from being SmackDown Women's Champion. However, in a short, but brutal match, Asuka proved why you always need to be ready for her and took Mandy down after what looked like a miscued trip by Sonya (who wasn't there). Afterwards, Rose and Deville argued all the way up the ramp, putting more strain on their strained relationship.
Samoa Joe vs R-Truth vs Rey Mysterio vs Andrade Almas: Samoa Joe shocked the WWE Universe by winning the United States Championship on Tuesday night, his first main roster title win since his call up. After Carmella petitioned for R-Truth to get his rematch, it was decided that we would have a repeat of Tuesday's Fatal Four Way match at Fastlane.
It was a great match! All four guys, and their managers, left it all in the ring. It looked like Joe was going to sneak out the retain when a fistfight between Vega and Carmella distracted Almas and R-Truth. Joe would retain by locking in the Coquina Clutch on Rey Mysterio. Now the question is: Who will face Joe at WrestleMania?
The Usos vs Shane McMahon and Miz: If there is one place Miz is guaranteed to be the babyface, it's in Cleveland. Miz and Shane McMahon took on the Usos in a rematch for the SmackDown Tag Team Championships in an amazing match that featured Shane McMahon countering a Splash with Coast to Coast. However, Jey Uso countered Miz's Frog Splash with his knees into a roll up and the Usos are still the SmackDown Tag Team Champions.
Biggest shock was Shane knocking the living snot out of Miz after the match, though I'm not sure that will make Miz the face anywhere but Cleveland.
The Revival vs Ricochet and Aleister Black vs Bobby Roode and Chad Gable: After Roode and Gable screwed Black and Ricochet out of the RAW Tag Team Championship on Monday, WWE gave the Unlikely Duo a second chance and gave Roode and Gable a chance they didn't really deserve in a triple threat match.
This match was amazing on all sides and it looked like Ricochet and Black were going to pull one out after Buzz of the Revival got a blind tag on Gable, but the Revival would hang on to retain their tag team titles.
However, there were several sore losers, including Roode, Ricochet, and Black, who got their revenge on the Revival and each other in the aftermath.
Boss-Hug Connection vs Nia Jax and Tamina Snuka: Well, it finally happened. Sasha Banks broke her curse of losing first title defenses by retaining the Women's Tag Team titles in a brutal match. The Samoan Dynasty fought hard, but Boss-Hug were able to survive and retain.
Furious at their loss, Jax and Snuka attacked Bayley and Sasha and then picked a fight with Beth Phoenix, who was doing commentary. Phoenix retaliated and then suffered a beat down. Natalya rushed out to defend her long-time best friend, only to suffer her own beatdown. The Samoan Dynasty picked a fight with the Divas of Doom, will they regret that?
New Day vs Rusev and Shinsuke Nakamura: The unlikely pairing of Rusev and Shinsuke Nakamura took on Big E and Xavier Woods of the New Day in a pretty physical kickoff show match. Despite the best efforts of Rusev, Lana, and Nakamura, New Day was able to pick up the win
Kofi Kingston vs The Bar: It looked like Vince McMahon had finally seen the error of his ways after screwing Kofi Kingston out of his hard-earned WWE Championship match by promising to put him back in the title picture, there was just one little catch: Kofi had to earn it…again, by facing the Bar in a trainwreck of a handicap match that also involved Rusev and Nakamura attacking New Day when they came out to help. Looks like the McMahons aren't done toying with Kofi just yet, but did they go too far?
King: Top 5 Championship Matches in WWE Royal Rumble History
Chris King looks at the best championship matches that have taken place at a WWE Royal Rumble event!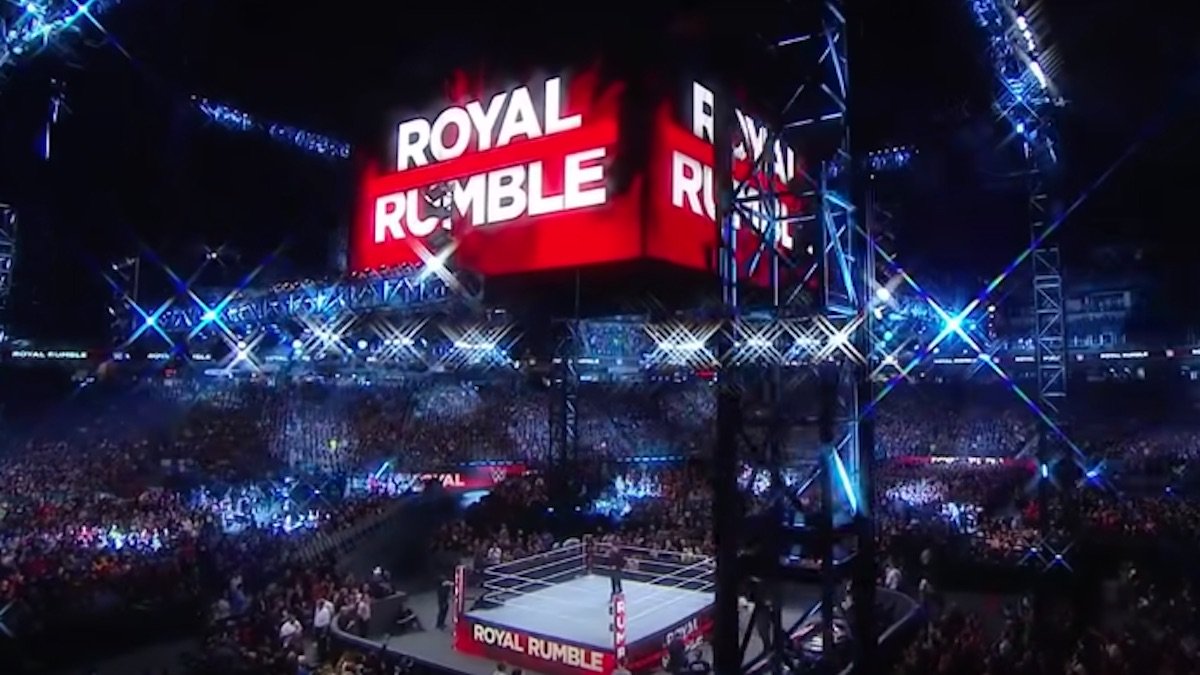 Chris King looks at the best championship matches that have taken place at a WWE Royal Rumble event!
I have gone back in time to reflect over Royal Rumble's over the last decade. From 2012 to 2022 the WWE Universe bared witness to some amazing matches including AJ Styles defending his WWE Championship against Kevin Owens & Sami Zayn, The Rock defeating CM Punk and ending his historic championship reign, and even the 'Beast Incarnate' Brock Lesnar successfully defending his WWE World Heavyweight Championship against John Cena & Mr. Money in the Bank Seth Rollins in a classic triple-threat match.
Here are the top five championship matches at the Royal Rumble over the last decade.
Honorable mentions:
Brock Lesnar VS. Finn Balor (Universal Championship): Royal Rumble 2019
Brock Lesnar VS. Kane VS. Braun Strowman (Universal Championship): Royal Rumble 2017
Randy Orton VS. John Cena WWE World Heavyweight Championship (Royal Rumble 2014)
Daniel Bryan VS. AJ Styles (WWE Championship): Royal Rumble 2019
Top 5 Royal Rumble Championship Matches 
5. Kevin Owens vs. Roman Reigns (Universal Championship): Royal Rumble 2017
In August of 2016, the WWE Universe was shocked when Triple H turned on his former protege Seth Rollins and essentially handed the Universal Championship to Kevin Owens in a crazy fatal-four-way match. Over the next few months, Owens and Chris Jericho would become best friends and true enemies of Rollins and former Shield-mate Roman Reigns. After Reigns was screwed out of the title at Roadblock they would deliver a Shield bomb through the announce table to Owens.
Reigns and Owens would battle again at the Royal Rumble this time, Jericho would be locked inside of a shark cage to prevent interference. Both superstars delivered an impressive performance and threw out everything to defeat one another. Reigns was minutes away from winning the Universal Championship until Braun Strowman obliterated him, which allowed Owens the conniving champion to keep his title.
4. CM Punk vs. The Rock (WWE Championship): Royal Rumble 2013
The self-proclaimed 'Best in the World' CM Punk was on a complete tear going through the roster successfully holding the title for a historic 434 days. At Raw 1000, The Rock came back and challenged whoever was the champion at the time to a WWE Championship match at Royal Rumble. Later in the night, Punk would turn heel attacking 'The People's Champion' and aligning himself with Paul Heyman shortly afterwards.
The Shield would work as mercenaries for Punk to retain his title since the 2012 Survivor Series where they debuted. Vince McMahon informed Punk that if The Shield got involved in the championship match he would be stripped of the title. After twenty minutes of back and forth action between champion and challenger, the lights went out and The Shield interfered yet again. McMahon came out to strip Punk of his championship but, The Rock had other plans and the match was restarted. The People's Champion would deliver the People's Elbow to end the historic reign of Punk.
3.  Roman Reigns vs. Seth Rollins (Universal Championship): Royal Rumble 2022
'The Head of the Table' Roman Reigns had conquered all of his challengers on Friday Night SmackDown, so a handpicked wild card was chosen from Monday Night Raw to challenge for the Universal Championship. Enter Seth 'Freakin' Rollins. The two former Shield-mates had faced each other in the past but, this time felt different. Reigns was the arrogant and cocky heel while Rollins portrayed more of a tweener character. Rollins mocked the champion's historic title reign and infuriated Reigns the go-home episode of SmackDown.
The Universal Championship match was the first match to open the show to a white-hot crowd. Reigns made his long grand entrance waiting for his challenger until a familiar theme erupted throughout the WWE Universe. Rollins not only mocked The Shield's old entrance through the crowd but, was also decked in full Shield attire which pissed off the champion.
I feel like it's impossible for these two superstars to have a bad match. They have incredible chemistry whether as partners or rivals. Reigns locked in his challenger with the Guillotine Choke but Rollins made it to the ropes. The Tribal Chief was relentless and would not break the hold so Rollins won by disqualification.
2. AJ Styles vs. John Cena (WWE Championship): Royal Rumble 2017
Let me start of by saying this was a very difficult choice to make because I went back and forth on making this number one. 'The Phenomenal' AJ Styles shocked the world in 2016 not only for turning heel on John Cena but, beating him at Money in the Bank via shenanigans and SummerSlam completely clean in the middle of the ring. Styles went on to have an incredible run as WWE Champion over on SmackDown Live.
Cena went off and did his own thing after a devastating loss to his rival but, came back returned in time to challenge for the title to not only become a sixteen-time champion but to tie the illustrious record held by Ric Flair. Both superstars used every maneuver in their arsenal to win the match, but it came down to the final sequence to understand where Cena's passion lies. Mr. Never Give Up hit the Attitude Adjustment and deadlifted Styles to deliver another thunderous AA to become the sixteen-time WWE Champion. What a freaking match!
1. Brock Lesnar vs. Seth Rollins vs. John Cena (WWE World Heavyweight Championship): Royal Rumble 2015
Even though the match before was tieing the legendary Ric Flair's championship record, I still can say with full confidence that this triple threat match is one of the best matches in Royal Rumble history. Brock Lesnar had an impressive 2014 starting off with ending The Undertaker's undefeated streak at WrestleMania, and then obliterating John Cena at SummerSlam to win the WWE World Heavyweight Championship.
At Night of Champions Cena was minutes away from winning the title and defeating 'The Beast Incarnate' until the arrogant Mr. Money in the Bank Seth Rollins caused a disqualification. Leading up to the Royal Rumble, Cena and Rollins would face off in a tables match at the TLC pay-per-view, while Lesnar vanished. A huge triple threat match was set for the 2015 Royal Rumble pitting all three superstars against each other. Rollins who was still holding the briefcase bragged about if he didn't win the title with Plan A, he would just cash-in and become the champion with Plan B.
From the moment the bell rang, the action began between Cena and Lesnar. Rollins played the manipulative cocky heel picking his moments to strike. Rollins and Cena took out The Beast on the outside to make it one-on-one. Lesnar was stretchered out of the match but miraculously came back and displayed his freakish strength taking anyone who moved to Suplex City. Rollins hit the champion twice with his briefcase and set up for the Curb Stomp. Lesnar bounced up and delivered a thunderous F5 to retain in a fantastic match.
I love this match so much because it was the first time that I believed Lesnar can deliver a great match and good story when he wants to. We've experienced this in his matches against AJ Styles, Daniel Bryan, and even Finn Balor. The Beast is a very smart performer and knows how to sell for his opponents to make them look like a megastar.
There you have it, those are my top five championship matches at Royal Rumble. Let me know what you think!
Greg DeMarco's Top 5: WWE WrestleMania 39 Opponents For Roman Reigns Not Named The Rock
The Road to The Royal Rumble is here, which means we will soon have an opponent for The Tribal Chief! Greg DeMarco explores potential candidates…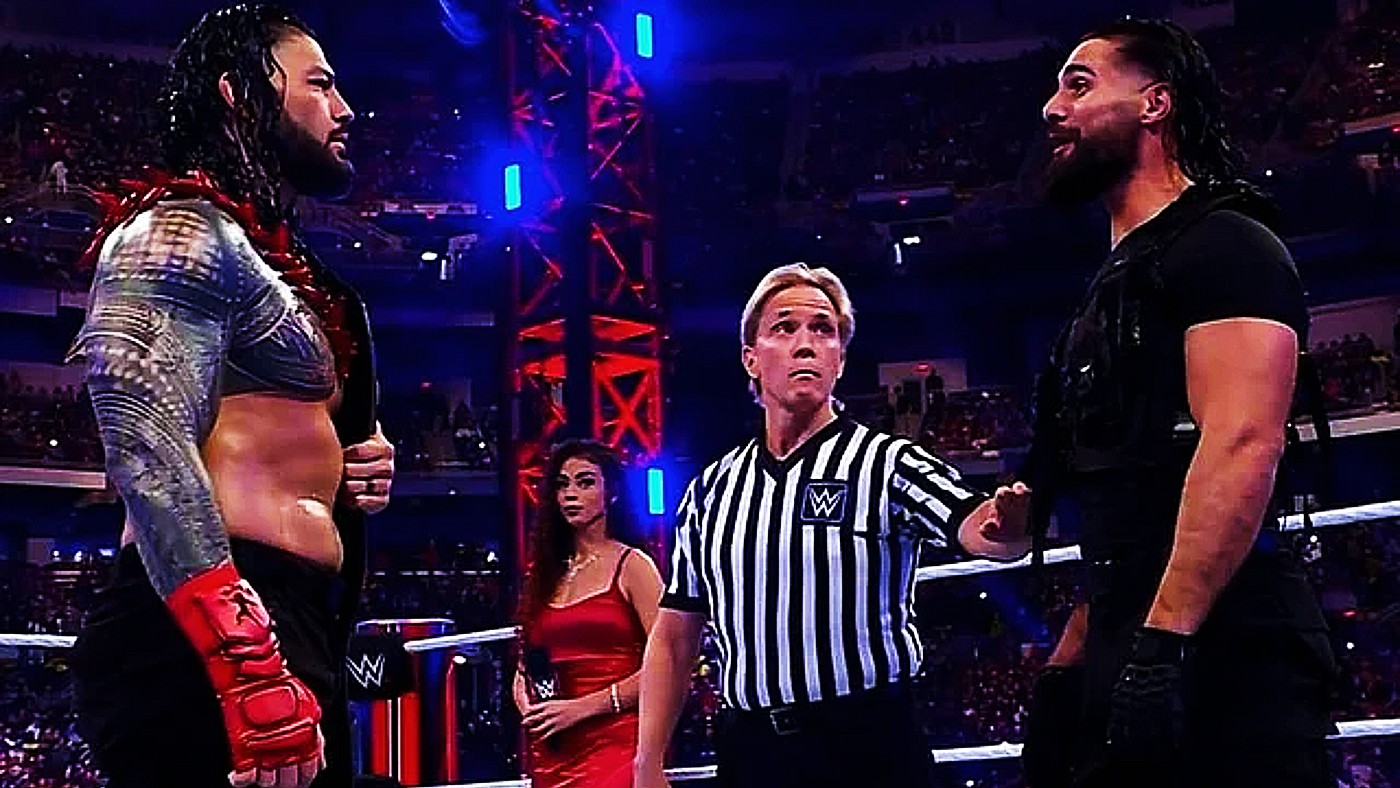 The Road to The Royal Rumble is here, which means we will soon have an opponent for The Tribal Chief! Greg DeMarco explores potential candidates…
Daddy's back with something for you that is meant to be fun–and a distraction from the news surrounding Vince McMahon's (likely terrible) return to WWE. Being a fan is meant to be fun, and one of the most fun things we get to do is look ahead to WrestleMania.
The main question, for this article at least, is who will be Roman Reigns' opponent at The Granddaddy Of 'Em All? Now everyone wants it to be The Rock, so we will explore the alternatives to that match.
In order to do that, I am making the following assumptions, even if some might not be true in the end:
Roman Reigns only wrestles one match, the final match on Night 2.
Roman Reigns is defending both the WWE and the Universal Championships in that match.
Roman Reigns–and this is just purely me–is not losing.
Honorable Mentions
I did have a few ideas who simply didn't make the list. Check 'em out:
Drew McIntyre – Simply put: Why? Why would we put Drew McIntyre against Roman Reigns in a football stadium when we just saw him against Reigns in a football futbol stadium last fall?
Kevin Owens – Similarly, why would we do this right after we do it at the Royal Rumble?
Karrion Kross – Ok, now I'm just trolling you. He ain't the guy, brother–not with this gimmick.
Ricochet – Personally, as an underdog babyface against Roman Reigns, I love Ricochet winning the Royal Rumble and challenging The Tribal Chief. But we have a better underdog on the list already.
With that all out of the way, it's time to have some fun. I give you…
My Top 5 WWE WrestleMania 39 Opponents For Roman Reigns Not Named The Rock
5. Sami Zayn
The bloom is off the rose for Sami Zayn, at least in the eyes of The Tribal Chief. The eventual turn is one of the most telegraphed things in recent memory, and in this instance that is perfectly fine. Sami Zayn is insanely over, and him fighting the uphill battle with The Bloodline would get him Daniel-Bryan-Danielson-at-WrestleMania-30 levels of heat along the way.
People love Sami Zayn. His awkward charm and seemingly unlimited charisma won over the audience so well that his storyline with The Bloodline had to get extended multiple times over. However, it's obviously coming to an end.
The obvious match is Kevin Owens & Sami Zayn against The Usos, but you could also slot Kevin against Solo Sikoa if Sami were to indeed get the nod.
4. Bron Breakker
You probably think I'm crazy, and I totally get it. Bron Breakker comes from NXT and goes right to the WrestleMania main event?
If you want to create a new star in Bron Breakker, this is how you do it. (At least, it's one way you can do it.) Look at Roman Reigns himself–part of the story of his WrestleMania 31 challenge of Brock Lesnar was that he was growing into the role. JBL told the story on commentary, and the match was all about Roman ascending to the level of Brock.
Of course it was all the perfect set-up for Seth Rollins to give us the greatest Money In The Bank cash-in in WWE history, but in the process Roman proved that he belongs.
So make this year's Royal Rumble the ultimate opportunity–the most shocking winner since Rey Mysterio, the NXT Champion Bron Breakker.
3. Seth (Freakin') Rollins
Seth Rollins seems to be in a never ending program with Austin Theory, and it's time to move on. Seth is an automatic main eventer in WWE at this point. He's a made man, probably the next biggest star (on the men's side) in WWE after Roman Reigns.
And he also has a very specific distinction that no one else has: a singles victory over Roman Reigns since he made his huge return in 2020. Yes, it was by disqualification, but he has proven his abilities to get inside the head of the Tribal Chief.
And Seth Rollins is going to have a match at WrestleMania, and 50,000+ in Sofi Stadium are going to be singing his song. Might as well be in the match that closes WrestleMania Night 2.
2. Sheamus
This is purely a match on my playlist–but this is MY list. And to me, Sheamus makes perfect sense.
In fact, I thought the feud between The Bloodline and The Brawling Brutes would lead to Sheamus challenging Roman Reigns at the Royal Rumble. And had Sami Zayn's involvement in The Bloodline not taken off the way it did, we still may have.
Sheamus is more popular now than ever, and at 44 years of age he is doing some of his best work. Sheamus winning his second Royal Rumble and challenging Roman Reigns would be the Lifetime Achievement Award he deserves.
But it's more than that! The match? It would deliver in a big way. History? There's plenty between Sheamus and Roman, going back to when Sheamus cashed in Money In The Bank on Reigns, and when Reigns eventually beat The Celtic Warrior to win one of his world championships. The fans? They would be solidly behind Sheamus, and would go nuts for every near fall. Don't sleep on Sheamus as your WrestleMania 39 main event opponent for Roman Reigns.
1. "Stone Cold" Steve Austin
Full credit for this idea belongs to PC Tunney and Dave Ungar, as shared in the Chairshot Radio Twitter DM thread. And it's steal-worthy indeed.
Three major legendary names are rumored for WrestleMania 39: The Rock, John Cena, and Steve Austin. All three make sense for a multitude of reasons. But The Rock will be launching a football league (which might be a reason to do this–the publicity), and is still in insane demand in Hollywood. Cena seems to be free at the present time, and we've seen the videos of Austin working out.
Remember, I am assuming Roman Reigns is going to win. If that's the case, then this WrestleMania is but another moment in Reigns' legacy. Why not add Steve Austin to his list of victories?
It would sell. ✅
The fans would buy it. ✅
Austin proved he can go. ✅
This type of match is what WrestleMania is all about. If it's not The Rock, it should be "Stone Cold" Steve Austin.
And there you have it, my list of–
Wait a minute Greg, what about Cody Rhodes?!?!
Man, I thought I could slip this one past the goalie!
Cody Rhodes is a great question. But you have to look at my assumptions above. I am assuming Roman only wrestles one match, defends both championships, and–most importantly–doesn't lose. Given those assumptions, you want Cody Rhodes as far away from this match as possible.
If we do split the titles, then Cody needs to be the guy to walk away with the WWE Championship. He does that either over Seth Rollins, or in a triple threat on Night 1 against Reigns and Rollins–but Rollins still eats the fall.
But under my conditions, losing at WrestleMania doesn't do anything for Cody.
---
What do you think? Let me know on social media!
Hit me up:
Until next time, remember: enjoying wrestling is a choice…make the right choice!