WWE Week in Review: March 4-10, 2019
The week up to and including the last stop before WrestleMania is on the docket! Let's see how Tiffany saw it all.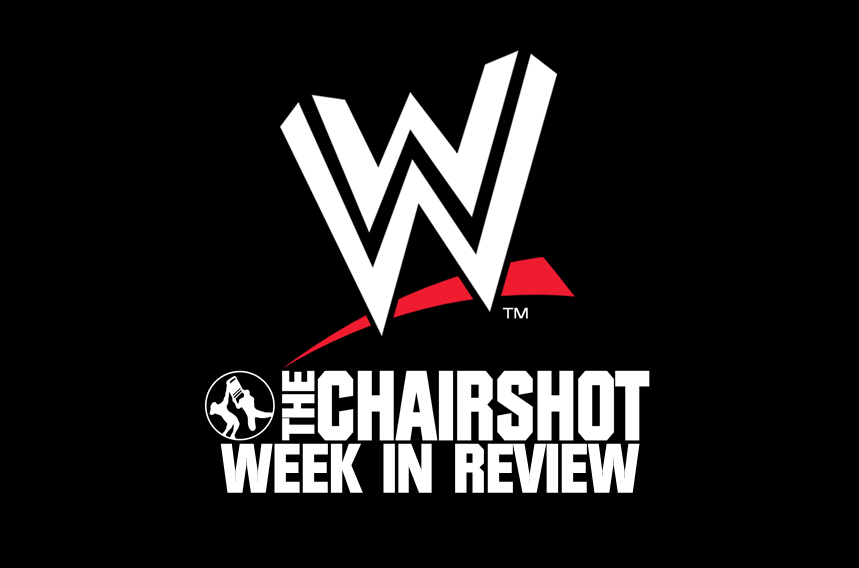 The week up to and including the last stop before WrestleMania is on the docket! Let's see how Tiffany saw it all.
RAW
The Shield: I can't say that the Shield reunion was a surprise. I think we all knew that once Roman Reigns was back, the Shield would reunite. How they went about giving us the reunion was surprising. I was hoping that the reunion build would take a little longer, but with Fastlane, WrestleMania, and Dean's possible departure looming, now was as good a time as any. Ambrose running to his brothers' rescue was extremely hilarious, but it was also very in line with how the Shield have always been with each other.
The Ambrose thing is puzzling, though. His booking says he's leaving, but WWE mentioning the departure on air and giving Ambrose a big storyline heading into WrestleMania makes me think that it's either up in the air or a total work. I will firmly believe that it's the latter until I can't anymore.
The Dogs of War 2.0 is every bit as uninspiring as the first version. You've basically got three guys with nothing in common and no personality between the three of them. Not exactly fodder for an epic rivalry.
Finn Balor, Braun Strowman, and Kurt Angle vs Baron Corbin, Drew McIntyre, and Bobby Lashley: This match was meant to get the Dogs of War 2.0 over as a viable threat to the Shield and it failed miserably. This is just not a great team. They got the win, but made everyone else, except for maybe Strowman, look bad in the process.
Heavy Machinery and The Ascension: Vince's booking struck this one. I get that Otis is great for comedy but I couldn't get into this segment. Heavy Machinery should just be beating everyone up, not making a big deal over Otis' hurt feelings.
Natalya vs Ruby Riott: Even though I like both women in this showdown, I hated this match. Ruby Riott is extremely talented, so for her to be squashed by Nattie, whom she's beaten several times, is just dumb. Add in another appearance by Lacey Evans, and this was just a bad segment for the women.
Stephanie with Michael Che and Colin Jost: I get that WWE's trying to drum up more interest in WrestleMania by having cast members of Saturday Night Live, a New York based show, on but I'm not sure that Che and Jost had any idea about what they were getting into and I hate that. If you're going to have celebs on the show, at least book celebrities that are fans of your product.
Triple H: I LOVED this segment!! Triple H is a promo master and this was a prime example of why. He absolutely ripped Batista to shreds while keeping enough humor in it to keep it from sounding like raving. My one issue is that Triple H seems to be making this about what happened to Flair than about the issues he and Batista were having back in the fall and seem to have with each other. I guess we'll have to see where this goes on Monday.
Heavy Machinery vs B-Team vs Ascension vs Major Brothers: I would've been more impressed with this match if something had been at stake instead of it being about Otis and Tucker getting back at backstage bullies. That said, it was a really good showing for Heavy Machinery, even if the other teams looked less than stellar.
Tamina vs Sasha Banks: This was a much better match than it had sounded when I saw it advertised. Tamina isn't exactly a finesse person, but she and Sasha had a really good match. Tamina getting the win wasn't a huge surprise since the Samoan Dynasty needed to look like viable contenders after being beaten in singles matches by Sasha and Bayley.
The Revival vs Aleister Black and Ricochet: I really loved this match and the contrast of styles between these two teams, but I hated the intrusion of Roode and Gable, who have been doing very little since losing the titles a few weeks ago. The assertion that Black and Ricochet don't deserve to be champions yet, because Roode and Gable say so, is eyerolling at the least. I don't think Revival's going to drop the titles just yet, but it should be an interesting match.
RAW Women's Title: To me, Stephanie's decision to vacate the RAW Women's Title and reinstate Becky Lynch and give her a match at Fastlane, is the first indication in the 'McMahon Kids Turn on Vince' storyline I see brewing after Vince's capricious title match booking. However, her basically cowtowing to Rousey's tantrum over the decision was kind of stupid. Rousey laid the belt down and walked out, what did she think was going to happen?
There have been people saying that Charlotte is the real babyface in this, but that's hard to jibe with her presumptuous and entitled attitude towards the title. The idea that she would just be handed the RAW Women's title without doing anything to earn it just because she was Charlotte Flair is NOT the attitude of a babyface.
Rousey attacked Becky, after demanding that Lynch be put back in the WrestleMania match was baffling, but I guess WWE wanted to be sure there was no question who the babyface was by having Lynch be attacked when she wasn't in a position to really defend herself.
Stephanie's post show interview was interesting and raises major questions about who will win at WrestleMania and if the McMahons will be a deciding factor. It's going to be a wild ride to WrestleMania at this rate.
SmackDown
Daniel Bryan and Kevin Owens: If there are a pair of more obnoxious opponents for any title than Bryan and Owens, I have yet to see it. Bryan's new gimmick is annoying enough, but add in 'babyface' Kevin Owens and it's almost unbearable. I did enjoy listening to Owens call Bryan out for his self-righteousness.
Rowan vs Owens was really good, but I can't say that anything really unpredictable happened. It was a very formulaic match between the 'babyface' and the heel's enforcer. Not even Bryan attacking Owens and getting Rowan disqualified was really shocking, but WWE is playing it safe right now until they can get all the ducks in order for WrestleMania.
One interesting thing was New Day's promise to be at Fastlane. There's been a rumor that the WWE Championship will be a Triple Threat and I can see Kofi costing Owens the match due to Owens stealing Kofi's opportunity, even if Owens claims that he had no say in Vince's decision, due to the fact that if Owens wins, Kofi's pinfall victory over Bryan will be null and void and thus end his chance of getting the title shot he earned fair and square.
Miz vs Jey Uso: This was another interesting, but not terribly surprising singles match for Miz and Jey Uso just before the Tag Team Championship rematch at Fastlane. The one interesting thing was the promo war between the teams about who was the real team. I think the Usos had a point about Shane and Miz not being a real team, but Miz getting the win over Jey with some help of Shane at least makes Shane and Miz look much more viable.
US Championship Open Challenge: I'm honestly not surprised that Truth lost the US Championship on Tuesday. I am surprised that Samoa Joe is the one who got the win. The match was really good, but Truth's promo before the match was kind of…weird and the appearance of Lacey Evans grows more and more annoying.
Vega and Carmella seemed to be building quite a rivalry since this week was the second time they'd clashed, so that should be an interesting non-title feud of WWE does it right.
Samoa Joe's post-match interview seems to be planting the seeds for a Cena feud at WrestleMania, which would be fun to watch, so we'll see what happens after Fastlane.
Ricochet and Aleister Black vs The Bar: After the kerfuffle of Monday, Black and Ricochet needed a big win and they got one against the Bar. This is such a great feud for both teams that I wish there were titles involved. The way they fought, you'd think they'd been rivals for years. If Black and Ricochet hang their hats at SmackDown, I hope the feud with the Bar continues.
Mandy Rose vs Naomi: I literally face-palmed over this match. I get that WWE wants to make Mandy Rose look like a viable opponent for Asuka, but having her squash Naomi was just dumb and didn't do much for either woman because it made a former 2x SmackDown Women's Champion look like an idiot and it made Mandy look like she couldn't win except by lucky and help. Even Asuka's run-in after the fact didn't really help build my enthusiasm for this match.
AJ Styles and Randy Orton: While I'm intrigued by this rivalry, I didn't get this promo. I liked Styles taking Kofi's side and pointing out that Vince's promise to listen to the fans has clearly not held up, but I don't get what Orton's problem is with Styles. Styles held the title for a year while Orton lost to Jinder Mahal. Plus, AJ Styles was a much bigger deal coming into WWE than Randy Orton has ever been in during his nearly twenty years in WWE.
RAW Women's Title: No, I didn't screw up my editing. Even though Charlotte and Becky will be fighting for the RAW Women's Championship, they are still technically SmackDown Superstars, so it made sense for them to face off on SmackDown.
As I said in the RAW section, there are people claiming that Charlotte is the real babyface, but her promo on Smackdown, where she mocked Becky's injury and belittles her former friend's wrestling ability doesn't sound like much of a babyface to me. It sounded more like a smug, entitled brat gloating over someone she's repeatedly sold short and paid for it.
Even though the whole suspension/loss of opportunity storyline was conceived to gain sympathy for Lynch, it also cost her some steam, but she got that back when she paid Charlotte's arrogance back by getting her in the Disarm-Her. Hopefully, Lynch standing tall in the ring will be the end of Fastlane too.
205 Live
Oney Lorcan vs Humberto Carrillo: I was surprised by a lot of things in this match. I had no idea that Oney Lorcan qualified as a Cruiserweight, and I didn't expect them to put an NXT guy over a 205 guy. I loved the match, Carrillo is definitely a star and him ignoring the 'corrections' of Gulak and Gallagher makes that growing feud more interesting.
Mike and Maria Kanellis: I LOVE this growing feud. I figured last week that the Kanellises would raise six kinds of hell when they realized that Maverick had no intention of putting Mike in the tournament. Also, their fourth-wall breaking reaction to dealing with local talent was very on point.
Poor Colby Corino, the son of ECW Legend, Steve Corino, seems like a talented kid, but he was basically Kanellis' punching bag. Having Kanellis basically letting Maverick know he's pissed off the wrong guy is magnificent. Can't wait to see this next week.
Tournament Promos: These were interesting but pretty standard promos for Nese and Alexander. Alexander acknowledging that people were getting tired of Alexander being in the title picture was interesting to hear because there's probably more than a grain of truth in the statement.
Cedric Alexander: This match, which we just saw a month or so ago, was really good, but there was nothing surprising about it, especially since Alexander won, he seems to be 205's top guy and WWE seems to want to keep him in the title picture to anchor all the guys who haven't been champion. I was a little disappointed that Tozawa lost, but since he just faced Murphy a while back, I'm not surprised. Round 2 is next week.
NXT UK
Ligero vs Joseph Conners: I enjoyed this match for the simple fact that I really like Ligero, but I'm not crazy about him winning two straight falls. I would've rather seen Conner win and extend this feud, but we'll have to see what's in the cards.
Toni Storm Interview: I've said before that I don't get Jinny and don't see why she's getting a push, but it seems that they're at least going to get her feud with Toni Storm started, so maybe that will change my outlook.
Gallus: I really enjoyed this promo. It SORT of feels like they're trying to recreate the Shield in NXT UK with this family/brothers thing. The whole thing about this being about respect run a little hollow, but I'm glad they're doing something with Gallus for now.
Sam Stoker and Lewis Howley vs European Alliance: This sounded like a squash on paper and while it wasn't a steamroller, Aichner and Barthel definitely smushed Stoker and Howley, which gives them an advantage in the Dusty Rhodes Classic.
Nina Samuels vs Charlie Morgan: After a couple of weird promos, Nina Samuels debuted her new show against Charlie Morgan, who we've only seen once before. I liked the match, I wish it could've been longer, but they're clearly building Samuels to be a contender for Toni Storm, so her winning wasn't a shock. Morgan was protected by her loss being more a matter of bad luck than lack of skill.
Pete Dunne: Honestly, I'm kind of sick of Dunne and WALTER teaming up, I wish they'd just get on with this feud so we can get it over with because I'm not a WALTER fan and I'm getting bored with it.
Jordan Devlin vs Travis Banks: I'm getting to the point where if I see Jordan Devlin has a match, I automatically assume it'll be fantastic. He always delivers and this match was no exception. This was such a great match was so good and both guys gave it everything they had. I was a little mad that Devlin won, but I have a feeling that this feud isn't over just yet. I hope not, at least.
NXT
Dusty Rhodes Classic: I love the little tribute to Dusty Rhodes in the Tag Team Classic. I also loved that they're giving it an old school treatment and making the tournament feel important.
Aleister Black and Ricochet vs Fabian Aichner and Marcel Barthel: This was such a good match and it could've gone either way. I'm not surprised that Black and Ricochet won, since they're clearly getting a push and European Alliance is still new and getting the hang of things, but they're as clearly contenders as Black and Ricochet because they've really meshed as a team.
Performance Center: I'm glad that they're continuing the Lee/Dijakovic rivalry. I'm not a fan of either guy but they put on a good match last week, so might as well do it again.
The Forgotten Sons vs Oney Lorcan and Danny Burch: One problem I'm having with having two NXT shows is that it gets hard to keep track of how people are doing when they keep crossing over. However, this was a really great match. Forgotten Sons REALLY needed a win and they go a big one over Lorcan and Burch, though it was just by the skin of their teeth. I really enjoyed this match and hope Burch and Lorcan have better luck down the road.
Velveteen Dream: I was 'meh' about this since it involved two people in NXT I don't care about, so I just tuned out most of the segment.
Sky Pirates: I don't like Bianca Belair, but her mental gymnastics are truly something to behold. Her twisting herself into a pretzel to explain why Io Shirai pinning Shayna Baszler shouldn't count because they were in a tag match was hilarious. Hopefully, Shirai will come out on top in the #1 Contender's Match next week.
Street Profits vs Moustache Mountain: I'm a little 'eh' on the Street Profits, mostly because their appearances on NXT are so infrequent, it's hard for me to get behind them. However, they are amazingly talented and that definitely showed in this match against Moustache Mountain. I was a little surprised that they had Moustache Mountain win, but I'm guessing that it's going to come down to NXT US vs NXT UK in the final.
DIY Vs Kyle O'Reilly and Bobby Fish: DIY is back and it looks like they split up and fought like rats in a barrel for a couple of years. That was bad news for O'Reilly and Fish of Undisputed Era, who found themselves outmatched on wiliness with O'Reilly taking a nasty double team and eating the pinfall. I actually want them to go to the final just so I can see them square up with War Raiders.
Fastlane
Daniel Bryan vs Kevin Owens vs Mustafa Ali: Turns out, Vince is a man of his word…kind of. We did get a Triple Threat Match at Fastlane for the Eco-Friendly WWE Championship, but Mustafa Ali, a fan darling, was put in in place of Kofi Kingston. The angry audience didn't refrain from making their displeasure known, booing Ali…LOUDLY.
It was a fantastic match and it looked like Ali was going to pull off a shocking victory by pinning Bryan, but Rowan was there to make the saves. Bryan would retain by pinning Ali, but only after Rowan neutralized Owens. The Planet's Champion is still the Man, but will Vince's conniving rebound on Bryan?
The Shield vs Baron Corbin, Bobby Lashley, and Drew McIntyre: After five months, the Shield was back in action that was billed as 'One Last Ride' for the Shield. If it was the last ride, it was everything you could hope it could be. The Shield and the Trio of Doom, who deserved to get beat up just for that stupid name, pulled out every stop and tore the place down. The Hounds pulled out all their greatest hits, reminding us of just why the Shield became the most dominant faction to hit WWE in at least a decade. The Shield won and hugged it out in the ring. If that was the last ride, it was the best ride of all. Thank you, Shield.
Charlotte Flair vs Becky Lynch: After months of attacks and the whims of the McMahon family, Charlotte Flair and Becky Lynch faced off to decide whether or not Becky would get her Mania match against Ronda Rousey.
The match was every bit as epic as you'd expect from these two. Becky was working 'hurt' and had to sign and 'hold harmless' contract, but she fought as hard as ever. Charlotte played the opportunistic heel to perfection, but it was Ronda Rousey who would play the deciding role in this contest, attacking Becky and giving her rival a DQ victory that secured Becky's rightful place in the RAW Women's Championship Match.
Asuka vs Mandy Rose: After Mandy Rose's shocking win over Asuka, with some help from Sonya Deville, it looked like the self-proclaimed Golden Goddess was just a lucky shot away from being SmackDown Women's Champion. However, in a short, but brutal match, Asuka proved why you always need to be ready for her and took Mandy down after what looked like a miscued trip by Sonya (who wasn't there). Afterwards, Rose and Deville argued all the way up the ramp, putting more strain on their strained relationship.
Samoa Joe vs R-Truth vs Rey Mysterio vs Andrade Almas: Samoa Joe shocked the WWE Universe by winning the United States Championship on Tuesday night, his first main roster title win since his call up. After Carmella petitioned for R-Truth to get his rematch, it was decided that we would have a repeat of Tuesday's Fatal Four Way match at Fastlane.
It was a great match! All four guys, and their managers, left it all in the ring. It looked like Joe was going to sneak out the retain when a fistfight between Vega and Carmella distracted Almas and R-Truth. Joe would retain by locking in the Coquina Clutch on Rey Mysterio. Now the question is: Who will face Joe at WrestleMania?
The Usos vs Shane McMahon and Miz: If there is one place Miz is guaranteed to be the babyface, it's in Cleveland. Miz and Shane McMahon took on the Usos in a rematch for the SmackDown Tag Team Championships in an amazing match that featured Shane McMahon countering a Splash with Coast to Coast. However, Jey Uso countered Miz's Frog Splash with his knees into a roll up and the Usos are still the SmackDown Tag Team Champions.
Biggest shock was Shane knocking the living snot out of Miz after the match, though I'm not sure that will make Miz the face anywhere but Cleveland.
The Revival vs Ricochet and Aleister Black vs Bobby Roode and Chad Gable: After Roode and Gable screwed Black and Ricochet out of the RAW Tag Team Championship on Monday, WWE gave the Unlikely Duo a second chance and gave Roode and Gable a chance they didn't really deserve in a triple threat match.
This match was amazing on all sides and it looked like Ricochet and Black were going to pull one out after Buzz of the Revival got a blind tag on Gable, but the Revival would hang on to retain their tag team titles.
However, there were several sore losers, including Roode, Ricochet, and Black, who got their revenge on the Revival and each other in the aftermath.
Boss-Hug Connection vs Nia Jax and Tamina Snuka: Well, it finally happened. Sasha Banks broke her curse of losing first title defenses by retaining the Women's Tag Team titles in a brutal match. The Samoan Dynasty fought hard, but Boss-Hug were able to survive and retain.
Furious at their loss, Jax and Snuka attacked Bayley and Sasha and then picked a fight with Beth Phoenix, who was doing commentary. Phoenix retaliated and then suffered a beat down. Natalya rushed out to defend her long-time best friend, only to suffer her own beatdown. The Samoan Dynasty picked a fight with the Divas of Doom, will they regret that?
New Day vs Rusev and Shinsuke Nakamura: The unlikely pairing of Rusev and Shinsuke Nakamura took on Big E and Xavier Woods of the New Day in a pretty physical kickoff show match. Despite the best efforts of Rusev, Lana, and Nakamura, New Day was able to pick up the win
Kofi Kingston vs The Bar: It looked like Vince McMahon had finally seen the error of his ways after screwing Kofi Kingston out of his hard-earned WWE Championship match by promising to put him back in the title picture, there was just one little catch: Kofi had to earn it…again, by facing the Bar in a trainwreck of a handicap match that also involved Rusev and Nakamura attacking New Day when they came out to help. Looks like the McMahons aren't done toying with Kofi just yet, but did they go too far?
Elisa: Women Are Headlining WWE WrestleMania, And Will Deliver
The women are headlining, will they deliver?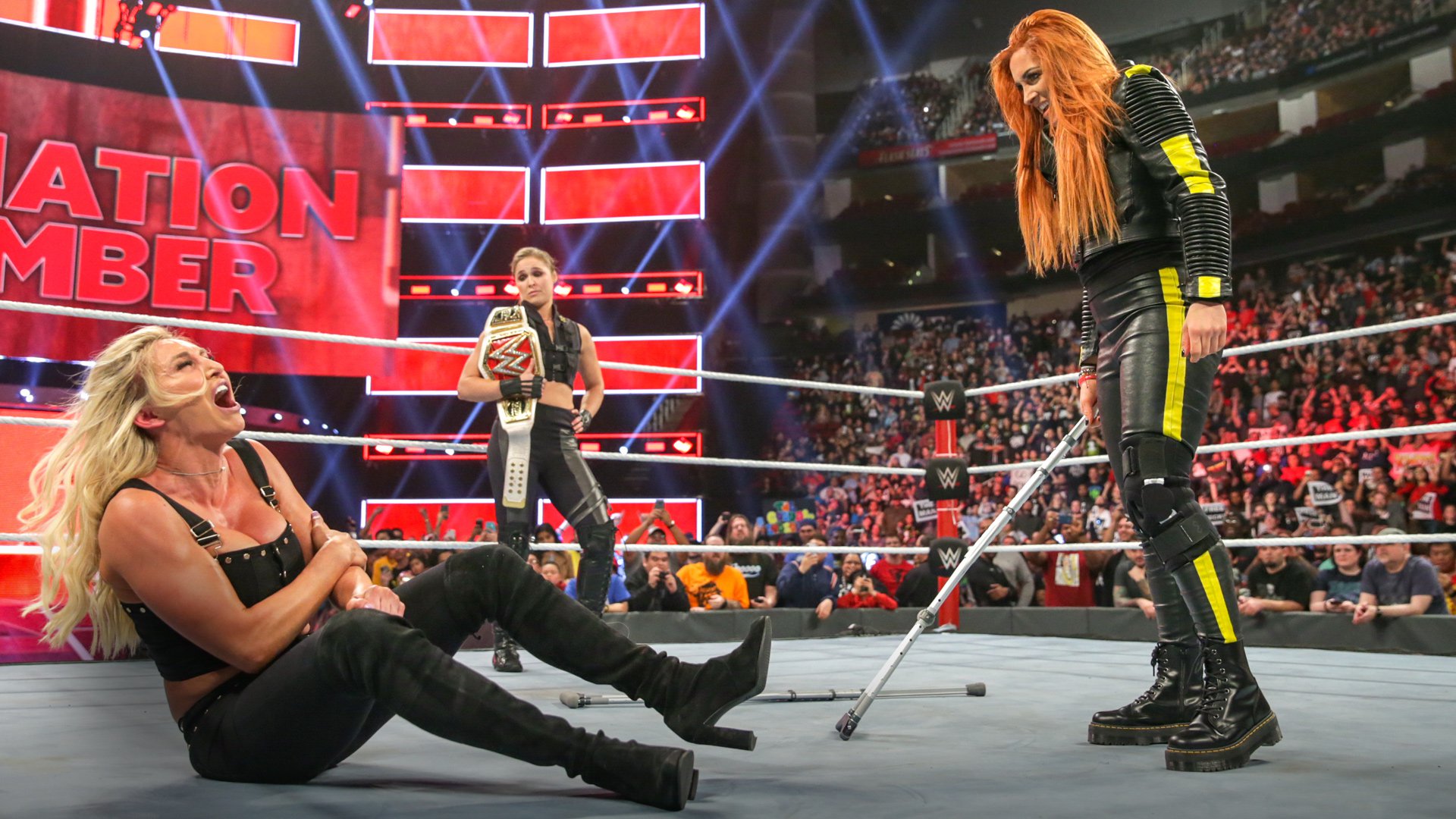 Elisa Maria shares in the joy that women are headlining WrestleMania, and why the women will deliver.
Even though wrestling fans kind of heard the rumors a few months ago, it became reality today when WWE announced that the main event of WrestleMania will be the triple threat match between Charlotte Flair, Ronda Rousey and Becky Lynch. For me as a fan growing up, I would have never thought this would be even remotely possible. It was a long time coming but this women's evolution, these group of women deserve it. They fought and proved that women can wrestle with the men, put on a show just like the men but have been doing it better than all the main roster combined. On a personal note, I am even more excited that I will be there to witness this spectacle. It's exciting!
There have been many things that have influenced me to open up my blog, but I must say a good chunk of it has been watching the whole women's revolution develop and flourish to become such a necessity that even ratings depend on it. If we were to look at this from the outside, WWE has survived the past year due to what the women on the roster has brought to the table not necessary the men. The chances and risks that these women have taken, it is unbelievable. They are taking chair shots, kendo stick shots, elimination chambers, and iron man matches, I mean – what haven't they done? Even their promos are way more interesting than what they men have put out there in recent months. One name to prove this is – Becky Lynch. She is just constantly dominating the promo and "talking shit" game that it reminds me of legends such as the Rock and Stone Cold Steve Austin during the attitude era, where "talking shit" was at it's finest. In the past, where it was damn near impossible to believe that a woman in wrestling can take the same force of a chair shot straight to her back like a male wrestler can – these group of women are doing it like nothing and I am proud.
Can these three extremely talented and gifted women put on a show worthy of a main event to close out this year's WrestleMania in the biggest city of them all, New York? Hell yeah they can! Let me explain why…
Let's get the stats going shall we. Ronda Rousey, the current WWE Raw women's champion, joined WWE in January 2018 after a groundbreaking career in the UFC, where she was the first UFC women's bantamweight champion. Not only was Rousey the first women's champion in UFC history, she also main-evented two of the top 10 UFC pay-per-view events (by buy rate) in that company's history. Next, Charlotte Flair, a seven-time WWE women's champion, and Lynch, a two-time SmackDown women's champion, helped foster dramatic changes in the WWE's women's division over the past six years. As part of a group that called itself the "Four Horsewomen" — a callback to Flair's father, Ric Flair, and his rotating quartet of industry-defining compatriots in the 1970s, '80s and '90s -Charlotte Flair and Lynch, along with Bayley and Sasha Banks, promoted a more physical style of performance.
The Four Horsewomen reshaped and built up NXT, WWE's training ground for upcoming superstars that has become a global brand of its own, through a series of "TakeOver" specials that redefined the style of women's wrestling on display in WWE. At WrestleMania 32, the women's championship belt was created to replace the existing Divas championship belt that was a huge symbolism for the direction of women's wrestling in the company.
If that is not proof enough that these women can outright perform, then re-watch last year's first women's pay per view Evolution and Survivor Series. For the Evolution pay per view, Becky Lynch vs. Charlotte Flair, considered as a brutal, violent and nearly perfect match performance. It was a memorable feud between two of WWE's most important members of its current "women's revolution," former best friends Lynch and Flair took things to an entirely new level. The duo set new standards in terms of high spots, physicality and outright carnage for a main roster women's match in what is undoubtedly in the conversation for best WWE match of 2018, regardless of gender.
Survivor Series saw Ronda Rousey vs. Charlotte Flair in another grade A+ match that had a great heel turn and one of the most brutal post-match beat downs I have ever seen. Flair looked like a woman possessed as she unleashed on Rousey, pummeling her with weapons and assaulting her on a level unlike anything she has ever experienced before. In the process, she set in motion the storyline in which Rousey, Flair and Lynch would clash in the biggest show in wrestling's history.
What Can We Expect During The Main Event At WrestleMania in MetLife Stadium?
I'll tell you what I expect: I expect that these three amazing women will go all out to not only entertain the fans but to show that women's wrestling is the REAL DEAL on the same stage and in the same building last occupied by The Rock and John Cena–think about that! This match will be a match to remember and probably in contention to be the match of the year for 2019. Whether you're a wrestling fan or not, you have to admit this is intriguing and exciting. Non- wrestling fans will probably tune into WrestleMania just to view this match and I would not blame them. I personally am appreciative of what all women in the WWE roster has brought to the table and for all women of sports. This could be the main event to rival all main events. In short, I am proud to be a woman, in a generation where we have Ronda Rousey, Becky Lynch and Charlotte Flair.
Until then Fans, farewell.
---
Follow Elisa Maria:
Chairshot Classics: The Streak Part 13 – Riding Into The Sunset (2017-2018)
The end of The Deadman's run at WrestleMania…?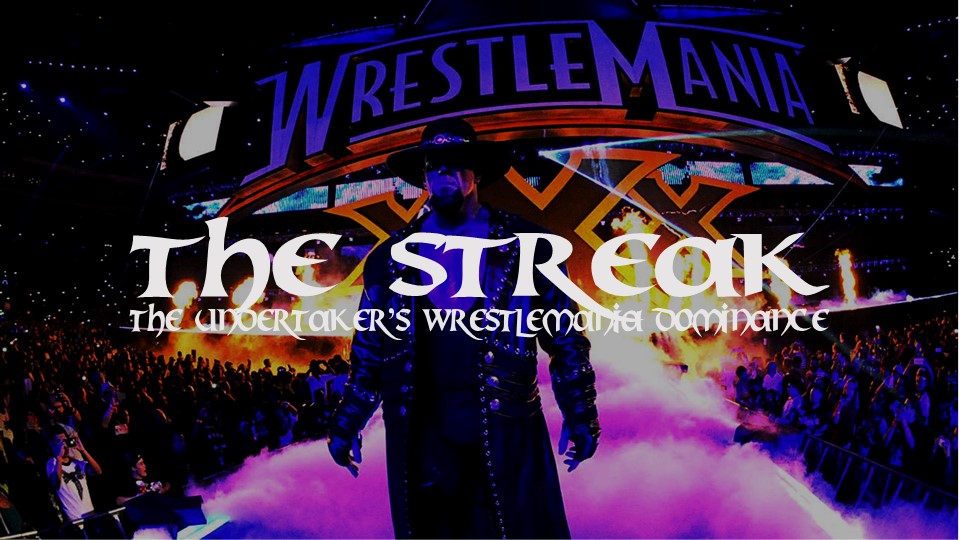 Tiffany takes a look back at The Undertaker competing at the last two WrestleMania events, against Roman Reigns and John Cena.
As 2017 dawned, it became clear to many WWE fans that the Undertaker's 30 year ride in the WWE seemed to be coming to a close. The Deadman was visibly slowing down, but his drive to remain the Big Dog in the Yard was as strong as ever. However, there were new and older dogs in the Deadman's yard now and they each wanted to stake their own claims on the Yard…and the WrestleMania Streak.
Roman Reigns, the controversial Guy of WWE, staked his claim when he eliminated the Undertaker at the 2017 Royal Rumble and refused to back down, even spearing the dreaded Deadman, vowing to be only the second man in history to beat the Undertaker at WrestleMania.
In 2018, John Cena, the long-time face of WWE, found himself on the Road to WrestleMania without an opponent after failing to capture the WWE Championship from AJ Styles. Determined to NOT miss the Show of Shows, he set his sights on getting the match that had always eluded him: The Streak.
WrestleMania 33 – Battle of the Big Dogs
The Undertaker vs. Roman Reigns
This battle for the yard started at the 2017 Royal Rumble. Taker and Reigns were entered when Reigns eliminated the Deadman, mouthing to the stunned Phenom that 'It's my yard now'. That seemed to be the end of until Taker attacked Roman a month later. The stage was set for a National Geographic level fight to see who would run the yard, Undertaker or Roman Reigns.
As a special surprise, this match was called by Good Ol' JR! Jim Ross hadn't been part of WrestleMania for a few years and it's great to see him back, especially since he'd just lost his beloved wife, Jan, a few weeks before. Ross got such a huge pop, you almost couldn't hear Jojo's announcing. JR was greeted by Cole and JBL with hugs and a good wishes from the the crowd.
Reigns came out to a LOUD chorus of boos, but didn't seem that concerned about it. He punched the ground and flames shot down the ramp and ignited the fireworks set up for him. It was announced that the match would be No Holds Barred. Reigns was the picture of cool confidence, seemingly unaffected by the huge match or the reaction of the crowd. However, as his music ends and we wait, the nerves began to set in.
The Deadman Cometh. There's been a little dispute about where Taker appeared from in his entrance, but it LOOKED to me like he rose from about halfway down the ramp, but didn't really matter, the entrance was still all the Undertaker in his creepy glory. Reigns had his 'Oh shit, here he comes moment' but was still stoic in the ring. It was time to decide who really owns this yard.
I'm going to be honest, this was the hardest match of the Streak for me, as a life-long Taker fan, to watch. WWE had been able to really disguise how limited Taker was becoming in the last couple of WrestleMania matches, especially the one with Shane, but there was no hiding it in this match. Taker could barely move, none of his signature moves, outside of a few moves were in this match. This was a fight, pure and simple. It was a fight straight out of a National Geographic documentary about lions fighting for dominance.
Roman Reigns took a LOT of heat from smarks about his performance, but watching it back after two years' time, it's clear that Roman was doing everything he possibly could to hide Taker's limited ability, but there's only so much you can do with a 52 year old man who needs a hip replacement.
Roman really got into this match after he speared Taker through the Spanish announce table. After Taker sat up, Reigns got MAD and just beat the shit out of Taker. Taker would turn it around with a Last Ride, but Reigns kicked out.
One of the things the smarks most complained about was a botched spot where Reigns tried to Tombstone the Undertaker, the ultimate act of disrespect that has been performed by almost every major rival of Taker's since Kane in 1998. However, watching that spot back a few times, I think I've figured out what went wrong: Reigns was exhausted and had taken quite a beating from Taker and couldn't quite get a grip on Taker and Taker couldn't help him as much as he normally would have.
Towards the end, Reigns begged Taker to stay down, but the old lion refused, forcing Reigns to beat Taker into submission with a steel chair and countless Superman Punches before finishing the match with a spear and becoming only the second man in WWE history to defeat the Undertaker at WrestleMania.
Roman Reigns vacated the ring, and the significance of what had just happened began to hit the audience. Undertaker was seemingly done. It took several minutes, but Taker got to his feet and put on his coat and hat, then slowly took them off, folding his coat and leaving it in the middle of the ring, along with his iconic hat and his gloves. The crowd chanted 'Thank you, Taker' as the Deadman made what seemed to be his final walk away from a WWE ring, pausing to kiss his wife, Michelle McCool, and taking one last look at the crowd that he'd entertained for nearly thirty years before disappearing in a wave of smoke.
Rating: 8/10 This match wasn't pretty by any stretch of the imagination, but it told a great story.
Hightlight: Taker sitting up. Reigns begging Taker to stay down. Taker's final farewell.
WrestleMania 34 – Be Careful What You Wish For
The Undertaker vs. John Cena
As the Road to WrestleMania 34 got underway, John Cena, the once untouchable face of WWE found himself sitting on the sidelines after failing to capture the WWE title from rival AJ Styles. Determined to not miss WrestleMania, Cena set his eyes on the one WrestleMania opponent that had always eluded him: The Undertaker. When Taker seemed deaf to Cena's pleading, the leader of Cenation resorted to taunting Taker like a petulant child who wasn't getting his way.
Finally frustrated that he didn't seem to be getting his way, Cena 'bought' a ticket to WrestleMania and sat in the audience, oohing and awing over the superstars of WWE pulling out all the stops. As Charlotte vs Asuka was finishing, one of the WWE refs approached and told Cena something and Cena went into the back. Mr. Cena was about to learn why it is always wise to be careful what you wish for, especially when dealing with the Undertaker.
Cena comes back to the ring later in the show, and unlike most people in the Streak, Cena seemed extremely excited by the prospect of facing the Undertaker. Then another ref comes and says something like Taker's NOT there or he changed his mind.  Poor Cena is dejected, but the crowd isn't giving up. As Cena leaves, the lights go out.
The Deadman Cometh. Wait, that's Elias. The crowd is FURIOUS over the trick, but Elias doesn't care, claiming that he's better than the person everyone wanted to see. The crowd gets even angrier and I can't repeats some of what they seemed to be saying. Enraged, Cena leaves while Elias mocks him in song. Finally sick of this, Cena beat Elias like he owed him money. Kudos to the kid smack talking Elias.
The crowd won't give up, even when Cena's music hits again. Frustrated, Cena prepares to take his leave, but then…the music stops and it takes Cena a moment to realize it and now…
The Deadman FINALLY Cometh. A spotlight hits the ring, revealing the folded hat and coat Taker left in the ring the year before and lightning strikes and the items are gone. It finally, FINALLY hits Cena just what he's getting himself into and it's too late to change his mind.
Out of the gates of Hell comes the Undertaker. Back to the arena where the Streak ended four years before. Cena's 'Oh Shit!' hits and it is time.
For all the anticipation, the years of waiting, and having to sit through Elias, this match was kind of an 'eh'. It was the shortest match of the Streak and I can't say it was a shining moment for either man. To give Cena his due, he sold the return of Undertaker like he should have. He LEGIT looked scared out of his wits to FINALLY be getting this match.
As if to exorcise the previous loss in New Orleans, and pay Cena back for his remarks, Taker dominated the match from the start. Taker did hit most of the greatest hits of his arsenal, almost like he'd never had a bad hip, including Old School. Still, this wasn't a great match by any stretch of the imagination, sadly. Though Cena tripping and falling when Taker sat up was hilarious. One tombstone later, and it was over. The dream match finally happened, but it could've been so much more.
Rating: 6/10 This match could've been so much more if it had happened a few years earlier, but it was an okay match for what it was.
Highlight: Elias getting cussed out by the crowd. Taker's entrance. Cena falling on his ass when Taker sat up.
Post-Script: As of 10pm, March 25, 2019, while I'm writing this final part to the Streak rewatch, Undertaker has not been scheduled for a match of any kind at WrestleMania. As of now, the match against Cena was the final match of the Streak and the Deadman walked off with his head held high. Thanks for the memories, Taker.