WWE Week in Review Special Edition: WRESTLEMANIA!!
Tiffany gives you a special Week In Review…just for WrestleMania 35!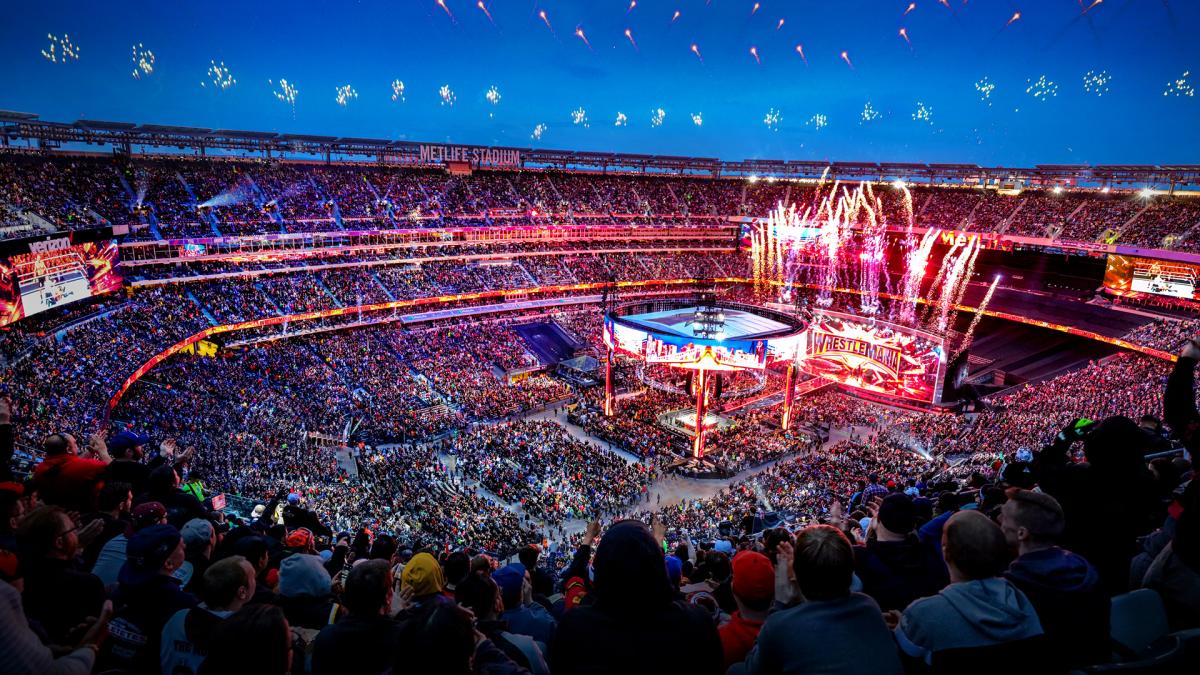 Tiffany gives you a special Week In Review…just for WrestleMania 35!
It's that time of year again. It's time for WRESTLEMANIA!!! And since this WrestleMania has a STACKED card, it's been decided that we will put out a special Week in Review just for the Show of Shows! So sit back, relax, and let's see how WWE did with their biggest show of the year.
Triple Threat Match for the RAW and SmackDown Women's Championships – Ronda Rousey vs Charlotte Flair vs Becky Lynch: When it was announced that Ronda Rousey, Charlotte Flair, and Becky Lynch were going to have to absolutely tear the place down to justify their getting that spot and they did that. They left MetLife standing, but they absolutely tore it down and Becky Lynch is now the NEW RAW and SmackDown Women's Champion!
There's some controversy about how the finish went because Rousey's shoulders were't completely down at first, but the ref looked right at it and counted the three and Lynch shifted so Rousey's shoulders were pinned completely at the three. Personally, I think this was intentional so that Flair and Rousey were protected but it still stands that Becky Lynch is a double champion and was the woman who got a pinfall win on Ronda Rousey. The Man came back around and WON!
Universal Championship Match – Seth Rollins vs Brock Lesnar: Holy God, it finally happened! Seth Rollins BEAT Brock Lesnar, battling through a sneak attack by Lesnar and showing why the size in the fight in the dog is more important than the size of the dog in the fight. Seth Rollins is the NEW Universal Champion and it's going to be a wild night on RAW.
WWE Championship Match – Daniel Bryan vs Kofi Kingston: What a match! A lot of people, myself included, thought there were going to be McMahon shenanigans over the contract date or something, but there weren't, at least on Sunday. Kofi Kingston overcame the odds and beat Daniel Bryan to become the NEW WWE Champion in an amazing, main-event worthy match. After eleven years, Kofi Kingston is a Triple Crown and Grand Slam Champion, and he and Bryan made a huge statement about the ability of the smaller guys to put on a WrestleMania Main Event on their own. Congrats, Kofi!
WWE Cruiserweight Championship – Buddy Murphy vs Tony Nese: I actually really enjoyed this match. I was worried that the rushed build for Murphy vs Nese would make it an afterthought in WrestleMania, but they did a great job of advertising why too many people are sleeping on 205 Live. The fact that Nese actually won, was the biggest surprise. I figured they were going to have Murphy drop the title back to Alexander, but I'm not complaining, this is going to be a fun feud coming out of WrestleMania.
Intercontinental Championship – Bobby Lashley vs Finn Balor: When Balor announced that the Demon would be making his…its WrestleMania debut, we all knew this was going to be a short match because the Demon doesn't fuck around, but I was expecting a longer match than we got, but I guess it doesn't matter. Demon Balor overcame Lashley and Rush and we have a NEW Intercontinental Champion..or Champions.
United States Heavyweight Championship – Samoa Joe vs Rey Mysterio: That was a waste of time and Rey Mysterio. The entrances took longer than the match. Rey is dealing with an ankle injury, but surely they could've put someone else in and at least had a match worth the name.
RAW Tag Team Championship Match – The Revival vs Zach Ryder and Curt Hawkins: What the actual hell was that?! Who hates the Revival this much that they'd have them lose to Ryder and Hawkins AND lose the belts. I get that they wanted to end Hawkins' streak at WrestleMania, but they didn't have to make the Revival look stupid to get it done! This could easily been a DQ win for Ryder and Hawkins or let Hawkins somehow win the Battle Royal. Ending the streak this was was just dumb.
SmackDown Tag Team Championship Match – The Usos vs Aleister Black and Ricochet vs The Bar Vs Rusev and Shinsuke Nakamura: I'm honestly surprised that the Usos got the win since this seemed to be booked to punish the Usos for forfeiting their match against Big E and Woods. The match was great, Black and Ricochet really showed how great they were in big matches and it looked like they were going to pull of the upset, but Usos showed why they were the best team in WWE and the Penitentiary is still open for business!
Women's Tag Team Championship Match: Under normal circumstances, I'd be FURIOUS over Boss-Hug losing the Women's Tag Team Titles, but I really like the IIconics and them crying with joy when they won after a very hard fought match makes it hard to be mad. The match wasn't the greatest, but it wasn't the worst match on the card. Beth Phoenix did a lot better than I thought she would given that she hadn't wrestled for seven years. Samoan Dynasty were rough as cobs, but they weren't awful. Congrats to the IIconics on winning the titles on their first WrestleMania!
No Holds Barred Match – Triple H vs Batista – If Triple H Loses, He Must Retire: This match was shocking because it was so brutal, something that hadn't really seen in WWE in over a decade since WWE entered the PG Era. That said, it was a great match for all the brutality, though watching Trips rip Batista's nose piercing out is still super gross. There was a lot of speculation that DX would help Triple H win, but I like that Ric Flair is the one to help him win the match, getting revenge on Batista for the attack on Flair two months ago. Triple H's career will go on and he and Batista had a really good match to give Batista a great send off.
Retirement Match – Kurt Angle vs Baron Corbin: Well, John Cena didn't save us from Angle vs Corbin and we all suffered or it. Angle, quite honestly, can't go like he used to even five years ago and Baron Corbin isn't a skilled enough competitor to cover for that, so Kurt Angle's Retirement match wasn't close to being a good one, sadly. Thanks for the memories, Kurt, you've definitely earned the accolades you've gotten.
Roman Reigns vs Drew McIntyre: I'm going to preface this by saying, I'm a huge Roman Reigns fan, but I was very disappointed in this match for many reasons, mainly that it was so short and felt flat. With the build of it being Reigns' first singles match since his cancer announcement back in October, and the constant assaults by McIntyre, the match should've been longer or something.
I know a lot of people were expecting McIntyre to win, but the return of Roman Reigns was a much bigger deal than the Scottish Psychopath, who proved that, like Braun Strowman, while he has a great look and a respectable skill set, he's not the answer to Roman Reigns that a lot of smarks want to believe he is. McIntyre got little reaction and was as interesting as paint. The important thing is that Reigns made his triumphant return to WrestleMania and put away a despised rival as only he can. Welcome back, Big Dog!
Falls Count Anywhere Match – The Miz vs Shane McMahon: Did we honestly think a Falls Count Anywhere Match with Shane McMahon wasn't going to be crazy? This was another match I wasn't totally sold on as being a big enough deal for WrestleMania, but I was proven wrong. This match was so good and so crazy that it doesn't matter than Miz lost because he lost by fluke, rather than Shane somehow being the better competitor. Also, George Mizanin being game to get in the ring and get the shit kicked out of him by Shane was actually hilarious. If there was a flaw in this match it's that it was on such a stacked card, so it wasn't the highlight of the night like it should've been.
AJ Styles vs Randy Orton: This was one of the matches where the build was rushed and I couldn't really get into it, but Styles and Orton did a great job with this match and told a great story of why dismissing someone's pre-WWE career is a bad idea and why Styles is one of the best wrestlers on the planet, hands down.
Andre the Giant Memorial Battle Royal: This match I didn't like nearly as much as the Women's Battle Royal since there was no real suspense, everyone knew Strowman was going to win and it went down basically like it was being built to be: It came down to him and the SNL guys and Strowman won.
Women's Battle Royal: I LOVED this match! The women of WWE having their own battle royal at WrestleMania isn't new, but it being taken seriously is and they did a great job. I did feel for Sarah Logan a little since winning the battle royal would've been a huge step up for her, but after what happened with the SmackDown Women's Championship a couple of weeks ago, the SmackDown Women's Division needed a big moment and Carmella gave them that with that surprise win!
Elias and John Cena: The doctor is in the house! The Doctor of Thuganomics made his surprising return to WrestleMania by beating the tar out of Elias, who was set to make his musical debut. The Doctor showed no sign of mic rust and the crowd had a blast, so everyone, but Elias, was happy.
Overall Thoughts: So, how was WrestleMania? I have to say that this was one of the best WrestleManias in a long time. The three major titles got fairy-tale endings and there were very few clunkers. I was disappointed that Ambrose wasn't featured at all in either the Rollins or Reigns match and there were a couple of other minor things that weren't the best, but weren't bad enough to warrant complaining about.
I loved the return of Thuganomics John Cena and the bloody and brutal Triple H/Batista match seems to be signalling a return to some more adult storytelling, which is nice. Overall, I really enjoyed this WrestleMania, it shows what great storytelling WWE is capable of when they put the effort in, if they could put this kind of effort in the rest of the year, the whole fanbase would be much happier…probably.