Chairshot Wrestling News Shuffle: Tag Teams Leaving WWE, Kurt Angle, New WWE Signings and More!
News involving Tag Teams Leaving WWE, Kurt Angle, New WWE Signings and More!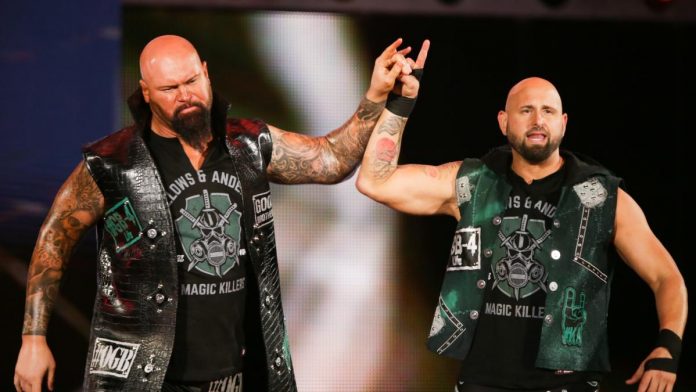 News Here! Tag Teams Leaving WWE, Kurt Angle, New WWE Signings and More!


Gallows And Anderson Leaving WWE?
On this week's episode of RAW, we saw Gallows and Anderson move over to the red brand in a loss to the Uso's. PWInsider is reporting that their contracts are expiring this fall, and the plan still is for the team to leave WWE.
Jason's Take
Many fans, and writers here at the Chairshot, have voiced their displeasure with the tag team division in WWE. The company seems to have never really done much with the team, or the division, creatively. With all the names rumored to be interested in a jump to AEW, Gallows and Anderson do make a lot of sense. I wouldn't rule out a possible return to Japan either.
The Revival Turns Down Large Offer
One of the other tag teams that have voiced their displeasure with WWE, and have long been rumored to be leaving, is the Revival. According to Dave Meltzer, the team turned down $500,000 each to re-sign with the company. The team reportedly turned down the offer due to lack of a creative direction for the duo. Meltzer also reported that the comedy skit involving Dawson and Wilder may be WWE's response to the team turning the offer down.
Jason's Take
You would think a long term program between The Club and the Revival would be good business for WWE. But what do I know? Dawson and Wilder's contracts do not expire until 2020, so I wouldn't be surprised if they continue to job the tag team out and make a joke out of them until then.
Latest Performance Center Talent Announced
One of the things WWE does actually have going for them is the Performance Center in Orlando, FL. It's a much different time then the late 90's, as the company has a system for building homegrown talent. The Performance Center has a new group of WWE hopefuls that includes some familiar names. Some of the hopefuls are:
-Former NFL running back James Wilder currently plays in the CFL with the Toronto Argonauts. The 6-foot-3, 225-pounder spent three years in the NFL.
-Third-generation wrestler Lance Anoa'i. The son of former WWE Tag Team Champion Samu and grandson of WWE Hall of Famer Afa the Wild Samoan, Anoa'i won last weekend's 23rd annual ECWA Super 8 Tournament, the same event in which Superstars like Daniel Bryan, The Hardy Boyz and Tommaso Ciampa have competed. He attended a WWEPC tryout in February 2017.
-Former WWE Tough Enough competitor and NXT Superstar Ivelisse Velez. A 15-year ring veteran, Velez was known as Sofia Cortez during her tenure in Florida Championship Wrestling and NXT in 2011-2012. She brings international experience to the camp, having wrestled in China, the U.K., Australia and Ecuador.
You can read the complete list of talent on WWE.com
Jason's Take
An interesting, and deep group of talent making its way through the performance center this month. I'll be keeping an eye on Lance Anoa'i and Ivelisse Velez.
Kurt Angle's WWE Role Revealed?
Kurt Angle wrestled his last match at WrestleMania 35, but it had been reported that he will stay with the company in a non-performing role. Angle has elaborated a bit on his role:
"I'm going to help the wrestlers with their technique. I'm going to help them structure their matches. It's something I'm very good at and I thought I'd be able to contribute to the company."
Jason's Take
Angle is considered by many to be one of the top five pure wrestlers in the history of WWE. I can't think of too many others that would fit this role.