Joe's Lucha Libre Weekly: News & Analysis (5/22/19)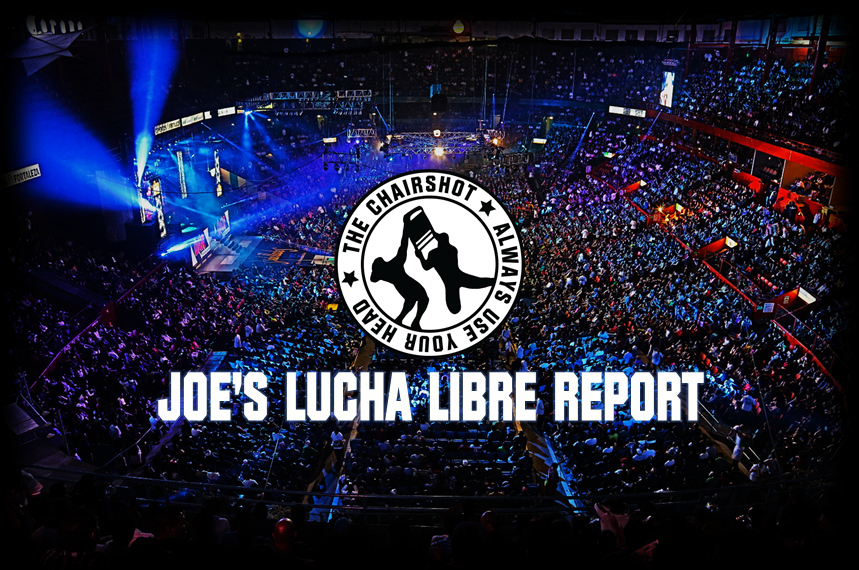 Joe Dinan gets you caught up on all things Lucha Libre in his latest Lucha Libre report!
CMLL
So May 31st we will have hair vs hair for Ultimo Guerrero and Mascara Ano 2000. We have another one for Kaho Kobayashi vs Amapola. As noted in my review, the CMLL show wasn't available in this country on VOD for some reason. Either a new thing or a copyright problem. If it persists I'll figure it out.
Arena Puebla Monday
The story of this show and this isn't gonna be long is. They had a random tag team tournament. Volador and Mephisto defeated Angel de Oro and Euforia in the finals. They somehow compressed 7 matches into 38 minutes. Impressive.
Arena Mexico Tuesday
Atlantis, Angel de Oro, Niebla Roja faced Rush, Terrible, and Bestia. This was actually a fun match. Los Ingobernables won the match. The post match was fun too. Lots of brawling and challenges that won't happen. Eventful for Tuesday. Truth be told there wasn't anything else important on the show.
Arena Mexico Friday
Obviously as mentioned before I didn't watch this show but I know what happened. It was a skippable show. Basically a hold me over. They set up Cavernario vs Mistico next week. They advanced the Ultimo Guerrero Mascara Ano feud. And they did the same with Kaho Kobayashi and Amapola. There was a fun lightning match with Negro Casas and Soberano. Casas did a Canadian Destroyer to facilitate the win.
AAA
Young Bucks had promo videos in the preshow for the 5/19 AAA show this weekend. They explain why they're the best tag team which is all you needed to do but it took them a while to do it. They say they'll beat the Lucha Brothers at Double or Nothing and again in Mexico. Them and Cody are booked for the 6/16 show. Basically AAA's Summer Slam. Cody is suspected to face Taurus.
Live on Twitch 5/18
Dr. Wagner Jr wasn't at any of these shows which I guess is fine because his brother had just died so who knows what he had to do for all of that. They continued the Lady Maravilla, Big Mami, and Nino Hamburguesa story which seems like it's been going on for months. Which it has. Tessa Blanchard made her debut teaming with Hiedra defeating Shani and Faby. It was a quick count by heel ref Hijo Del Tirantes. Tessa got the pin. There was storyline advancement between Kross and Puma King. Not much else because Wagner wasn't there. They're continuing the Escorpion Psycho Clown angle. A potential hair vs mask one day.
Live on Twitch 5/19
Show starts with a match involving Maravilla and Big Mami. Paired with Halcon 78 and Dragon Bane respectively. Mami cuts a promo and Maravilla attacks her. Then calls her fat and ugly over and over again. Big Mami pinned Halcon though. Konnan cuts a promo about Fenix not defending his Mega Championship. The Mercenarios is basically a fusion of the old MAD group now with Kross being there with Konnan. A 6 man between Faby, Astrolux, Nino Hamburguesa facing Chik Tormenta, Tessa Blancard, and Hijo del Tirantes. Tessa pinned Astrolux in this match. But it was basically another segment to advance Mami, Nino, and Maravilla. Maravilla came out to distract Nino and Mami came out. Nino left with Maravilla. There was a 5 way match to be the number one contender for Drago's Latin American Belt. Australian Suicide won the match against, Golden Magic, Myzteziz, Flamita, and Villano III Jr. Pagano beat Chessman in a sloppy and dangerous TLC match. Texano, Rey Escorpion, and Hiedra beat Vikingo, Laredo Kid, and Lady Shani in a match. They completely brutalized Shani at the end of this match. Finishing move after finishing move with Hiedra pinning her with a shield power bomb. The main event was a match. Get heat on the baby faces and the young kids Vikingo and Laredo Kid come out to help post match. Tecnicos stood strong for once despite losing.
Their next show is this Saturday. Dr. Wagner, Psycho Clown, and Puma King vs Blue Demon Jr, Rey Escorpion, and Texano Jr. Drago, La Parka, and Murder Clown vs Taurus, Daga, and Chessman to name the top matches. Tessa will be there again. Honestly AAA false advertises so much there's no point of previewing some matches.
Others
AEW is on TNT so that's a big deal because you'd think sometimes AAA guys will get the biggest exposure of their life.