Kevin: Another Saudi Show? Yawn.
Another show in Saudi Arabia, set for the locals paying for seats. Does it matter what Western fans think when the WWE Network subscription is paid for?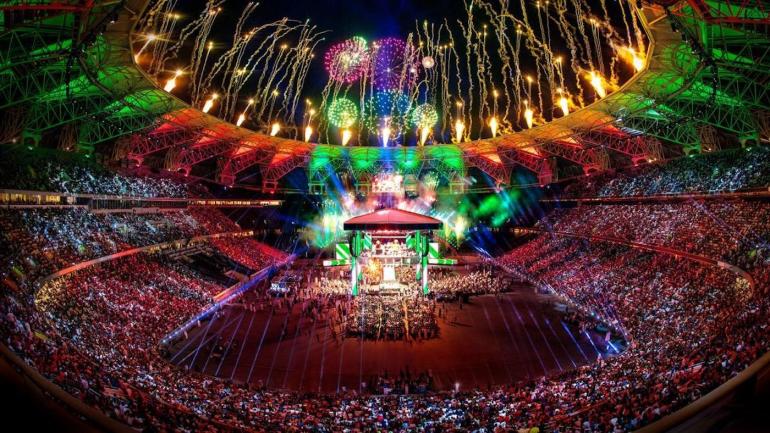 Another show in Saudi Arabia, set for the locals paying for seats. Does it matter what Western fans think when the WWE Network subscription is paid for?
We're going (going), back (back) to Saudi (Saudi).
Yes, that's right. In just under a month's time, the WWE will make yet another sojourn over to the Middle East for Super Showdown.
This is the third show to take place in Saudi Arabia over the last 13 months, following the Greatest Royal Rumble last May, and Crown Jewel in November.
The WWE has been widely criticized for holding these Saudi Arabia shows, largely because the regime over there is known for oppression of women and homosexuality, and for the murder of Jamal Khashoggi last year.
Many people wonder why Vince McMahon would see fit to sign a contract binding him to multiple Saudi shows, but you know what they say: money talks.
Yes, Vince is receiving a substantial amount of cash (some may call it blood money) from the Saudi government to make these shows happen. I don't think any amount of righteous complaining is going to change the old man's mind, so that's not what I'm here to do.
No, I'm here to talk about the way that Vince crafts these shows, because I think we could all be in agreement here: The Saudi shows have all SUCKED.
Does anyone even remember the Greatest Royal Rumble?
It offered literally nothing of value, and I am so hard-pressed to even remember the match card. I remember the cruiserweights in action, the whole Lesnar-Reigns steel cage debacle, and the 50-man Royal Rumble main event, which is probably the most boring Rumble match to ever take place.
I mean, seriously. I could rant on this Rumble for hours upon end. Remember when they did a 40-man Rumble back in 2011, and almost everyone universally agreed that it was bad and too long?
Well, that clearly didn't deter WWE from saying "hey, let's make it a 50-man Rumble filled with mainly jobbers and bad surprise guests! That'll score with the crowd!"
Spoiler alert: It didn't.
And don't even get me started on what they did to Rey Mysterio's longevity record. Look, I like Daniel Bryan, and that record was meant to be broken at some point. I get that.
But to waste what should have been a groundbreaking achievement on a show that no one was going to care about? And to make the record virtually untouchable in the process, almost guaranteeing that the record will stand during the worst Rumble of all time? That's not going to do anybody any favors.
But that was that. The Greatest Royal Rumble wasn't good, but it looked like Wrestle-freakin'-Mania compared to Crown Jewel.
Ohhhh, Crown Jewel. I'm boiling over just thinking about it.
Shane McMahon, Best in the World? I don't care if we got a really good storyline out of it, in a vacuum, that was a borderline-offensive booking decision to make.  
Braun Strowman-Brock Lesnar? Terrible. Terrible terrible terrible. Brock Lesnar's had someduds in the past, but it was clear he wasn't even trying here. As for Strowman? This was the end for him.HE gotso thoroughly dominated by Lesnar that he basically disappeared after that.
Strowman used to be this monster that everyone feared, and it took one match to strip all that away from him.
And the main event? DX-Brothers of Destruction? WHAT YEAR IS IT, FOR GOD'S SAKE.
The match was bad, you wasted a pure retirement to bring Shawn Michaels to Saudi Arabia, and that's the match you're going to have?
Gimme a break. I'll even give HBK some credit, he had to pull a lot of weight after Triple H went down with an injury. Still, he should have never been in the match to begin with.
These shows are very clearly intended for a certain kind of audience, one that enjoys watching 50 year-olds try their best to entertain a crowd. That's very evident in the announced matches for Super Showdown.
Triple H-Randy Orton? A match people wanted to see in 2009.
Goldberg-Undertaker? A match people wanted to see in 1999.
We've also got a 50-man battle royal, which I'm sure will be fun and not a total clustershmuck.
I'll forgive you if you tune out of the Super Showdown when it rolls around.