Taking Over: Greg DeMarco's Look at WWE NXT Takeover I (5/24/14)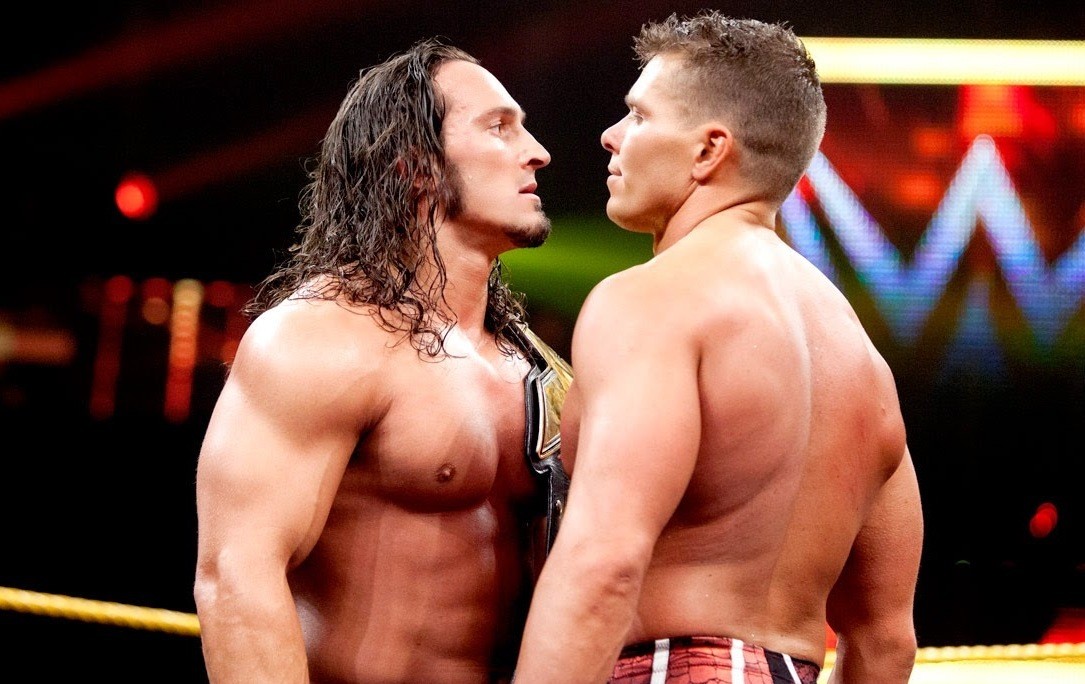 Greg DeMarco takes a look back at the first NXT Takeover in the first edition of "Taking Over" as we march towards WWE NXT Takeover XXV!
WWE NXT Takeover is turning 25 on June 1! Well, sort of… On June 1, WWE NXT will present the 25th Takeover event, a stand-alone show from Connecticut–which I wouldn't call the heart of WWE, but the brain. I am taking a look back at the first 24 to see just how far we've come. Join me for "Taking Over," my look back at the first 24 Takeover events.
NXT Takeover
Saturday, May 24, 2014
Full Sail University, Winter Park, Florida
Commentary Team: Tom Phillips, William Regal, and Byron Saxton
Adam Rose beat Camacho – A solid opener, which was more about furthering the character of Adam Rose and the Rosebuds. Notable Rosebuds on this night included Ryan Katz (currently Creative Producer for WWE/NXT), Becky Lynch (just main evented WrestleMania), Carmella (she's F A B U L O U S, and is a former Smackdown Women's Champion), and Braun Strowman (he's in the Andre The Giant role).
NXT Tag Team Championship: The Ascension (Konnor & Viktor) successfully defend against Kalisto & El Local – This was  a step above a glorified squash. The world likely won't remember them this way, but The Ascension were total bad asses in NXT.
NXT Championship #1 Contender: Tyler Breeze beat Sami Zayn – Both guys were on their game here. Zayn of course went on to be NXT Champion and Breeze was called up to NXT too soon. Zayn would lose this match to Breeze, but both men would compete for the NXT Championship at the next Takeover. The crowd was insanely into this match, and it build beautifully to the finish. the finish, by the way, was amazing as Breeze blocked the Helluva Kick but inadvertently low-blows Sami in the process. One Beauty Shot later and Tyler Breeze is the #1 contender to the NXT Championship.
Rusev promo, with Lana, that's interrupted by Mojo Rawley – I am pretty sure this is where Rusev's theme introduction comes from. Mojo wasn't ready yet, but he still owned his character…which at this point was a bargain basement "hype" John Cena. Rusev was already looking like the man.
Vacant NXT Women's Championship: Charlotte Flair beat Natalya – Ric Flair accompanied Charlotte to the ring, who wasn't taking the "Flair" name yet. Natalya was accompanied by Bret Hart because, well, symmetry. Charlotte was obviously green here, and didn't have nearly the work done she has now. Natalya is actually in better physical condition now, five years later. The match served as a vehicle to get the NXT Women's Championship onto Charlotte, and it served that purpose. Charlotte Flair would obviously grow into her role and is not one of the best performers on the main roster.
NXT Championship: Adrian Neville successfully defended against Tyson Kidd – Given their leadership roles on the main roster today, it's no surprise that Natalya and Tyson Kidd were a part of the early success of NXT. The crowd was hot for this match, and both men delivered. Of note: before Neville hits the Red Arrow on Tyson, Tom Phillips notes that Kidd is in the drop zone. Take that, Michael Cole!
Where are they now:
Adam Rose – About to wrestle his last match, ever, against Bull James.
Camacho – One half of the Guerrillas Of Destiny as Tanga Loa, along with his adoptive brother Tama Tonga, running wild in Bullet Club and New Japan Pro Wrestling.
The Ascension – Konnor & Viktor are on Raw, and are basically an afterthought after being repackaged as a ripoff of late 80s/early 90s tag teams like The Road Warriors.
Kalisto – Doing very little as a member of the Lucha House Party on Raw, but he's also a former NXT Tag Team Champion and 2-time United States Champion, along with a former Cruiserweight Champion.
El Local – The former Ricardo Rodriguez is no longer with the company, and is working the California independents.
Sami Zayn – A mid-card player on the main roster, just recently returned from injury and is doing some great character work on Raw. Also (briefly) held the NXT Championship but was just the transitional champion from Neville to Kevin Owens.
Tyler Breeze – Moved to the main roster too soon, found some critical success with Fandago as the Fashion Police, has floundered during Fandango's injury recovery, is back in NXT and working a program with Velveteen Dream.
Rusev & Lana – Multiple time United States Champion, feuds with John Cena and AJ Styles just to name a few, and sadly not a lead heel on either brand like they should be. They're also not supporting Russia, like, at all.
Mojo Rawley – Moved up in the first draft of the modern era, teamed with Zack Ryder before breaking up, cut a series of intriguing mirror promos, but hasn't really done much. He did win the Andre The Giant Memorial Battle Royal at WrestleMania 33, though.
Charlotte Flair – Just main evented WrestleMania, is an 8-time Women's Champion, and is one of the very best performers of either gender on the main roster.
Natalya – Back on the main roster and serves as the veteran presence, and delivers in a big way nearly every time out.
Tyson Kidd – Career cut short by injury after holding tag team gold, and now works as a producer behind the scenes.
Neville – Had a respectable main roster run before taking over (pun intended) WWE 205 Live. That alignment led to his eventual downfall when he didn't want to put Enzo Amore over strong after being pushed to the kickoff in his match with Austin Aries. He's currently preparing to face Adam Page at All Elite Wrestling's Double Or Nothing event.
Overall Impression of WWE NXT Takeover I
For starters, I love hearing William Regal on commentary–he adds so much. Nigel McGuinness should be playing this exact role. The commentary team also had longer spells where they let the action speak for itself, and it really worked (especially in the main event). Byron Saxton is also quite underrated as he was money tonight. Overall, this was a really good that followed the NXT Takeover 5-match format. The first two matches weren't really in doubt, but things really kicked up for the last three. Great show.