The Doc Says: Rapid-fire, content-laden analysis of All Elite Wrestling's maiden voyage, AEW Double or Nothing. Listen in now!
This week, The Doc makes his debut on The Chairshot Radio Network, pushing his proverbial chips "All In" on a new podcasting endeavor. The topic of the day is All Elite Wrestling, which debuted on Saturday night with both the weight of the diehard wrestling world on its shoulders and the freedom to be different and to embrace originality all at once, creating an interesting internal dichotomy. Accordingly, Doc gauges the success of the event on several levels.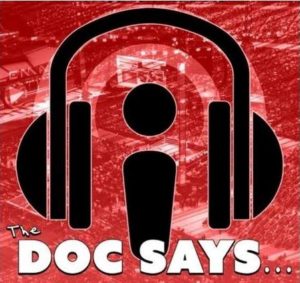 Did AEW Double or Nothing offer anything particularly unique stylistically, both in terms of presentation and performance? Was the in-ring action praiseworthy? Did the booking throughout the card leave fans with more than just praiseworthy wrestling, creating a hook that will make people want to watch more AEW at a later date? These questions and more are evaluated. Then, briefly, The Doc shares his thoughts on WWE Money in the Bank.
If you want to discuss AEW or WWE with Doc, follow and tweet @TheDocLOP !
---
Elisa looks great in her Chairshot gear.
You can, too!
Be like Elisa and get yours at:
https://www.prowrestlingtees.com/related/thechairshot.html