Tiffany's Takes: WWE 205 Live (5/7/19)
Are you watching 205 Live? You should be!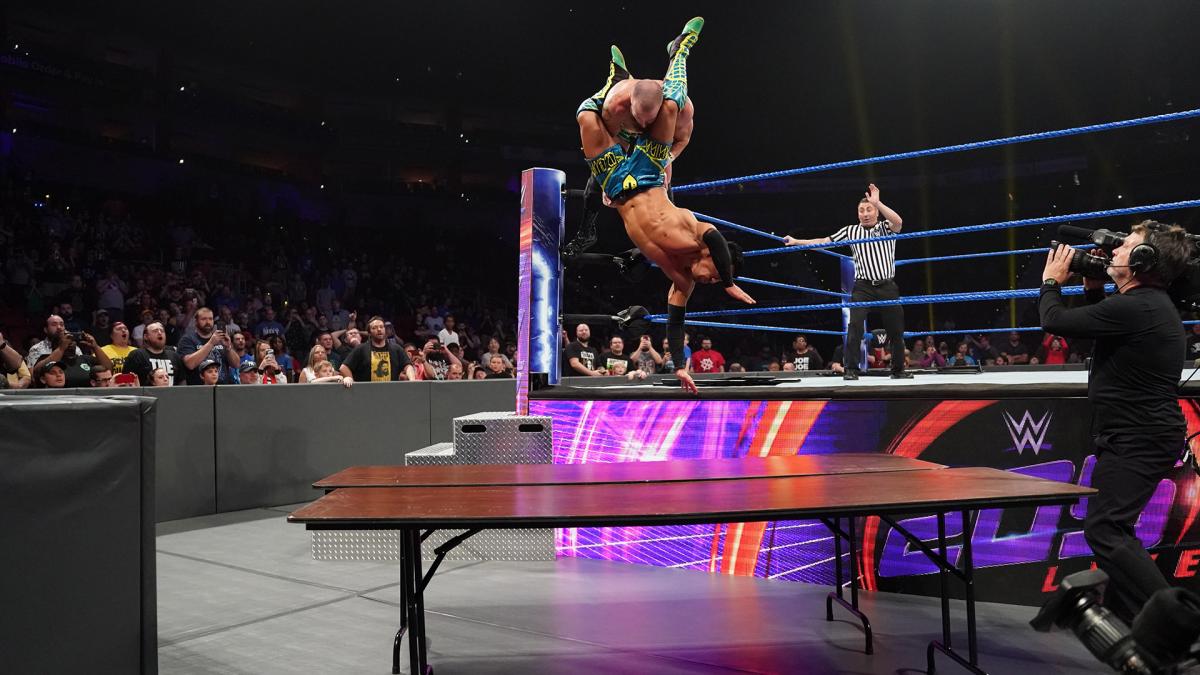 The war of words and cheapshots between Mike Kanellis and Akira Tozawa comes to a climax tonight on WWE 205 Live!
Mike Kanellis vs Akira Tozawa
I was super excited about this match, and it didn't really disappoint me, except that Kanellis lost! The way it was set up with Maria banned from ringside, along with Brian Kendrick, should've been the set up for Kanellis to beat Tozawa fair and square. Don't get me wrong, it was a fantastic match, but it feels like WWE doesn't know what to do with Kanellis. He's easily one of the best talents on the show, but WWE doesn't seem to want to use him to his full potential.
ALWAYS USE YOUR HEAD – and get a shirt!
---
Elisa looks great in her Chairshot gear.
You can, too!
Be like Elisa and get yours at:
https://www.prowrestlingtees.com/related/thechairshot.html
---
WWE 205 Live top Contender Ariya Daivari vs Noam Dar
I was thrilled to see Noam Dar back on 205 Live after his scary injury in NXT UK. I have to say, though, I found myself chuckling a few times during this match, especially during the do-si-do neckbreaker (I assume) attempts that made both guys dizzy. I wasn't shocked that Daivari won, they needed to make him look good before Money in the Bank, but at least they didn't make Dar look bad in the process. I also loved the mind games between Nese and Daivari, this is going to be a great match at MitB.
Oney Lorcan
I really wish they'd decide if Lorcan is a face or a heel on 205 because it's hard to cheer for him on NXT while he's a heel on 205. I hope he becomes #1 Contender after Money in the Bank.
Singh Brothers vs David Kaufman and Kevin Lee
I was so happy to see the Singhs back in 205 last week, I didn't register the absolutely ridiculous ring gear they were wearing. Not a great look guys. As for the match, I'm glad we at least got the jobbers' names this week and they did a really good job, but the Singhs are trying to get on a roll. I can't wait for the rematch the Singhs demanded against the Lucha House Party.
Jack Gallagher
I'm very intrigued by the frenemy status of Gallagher and Carrillo, it's interesting to see Gallagher as a tweener rather than an out and out heel. Plus, his moustache is okay, so all's right with the world!
Overall Comments
So, how was 205 Live this week? It was very good. It's clear that they're on a smaller crew due to the upcoming European tour that is also affecting RAW and SmackDown, but 205 did a better job of covering it up without the wild card nonsense. All the matches were good, and built on the storylines. Even the Tozawa/Kanellis match made both guys look good, even if Kanellis got robbed.
One thing that has been intriguing is the crossover with NXT UK that was being advertised for next week. I could be wrong, but it LOOKS like we'll be getting Ligero vs Nese and a Fatal Four Way of Mark Andrews vs James Drake vs Humberto Carrillo vs Jack Gallagher. I'm not entirely sure what's at stake in the Fatal Four Way, but it should be a fantastic match and a chance for NXT UK to show off to a wider audience.
That's it for Tiffany's Takes. Tune in tomorrow for our NXT & NXT UK coverage!