Tiffany's Takes: WWE 205 Live (5/14/19)
It's WWE 205 Live UK, at least for this week! How will the Cruiserweights fare against their international colleagues?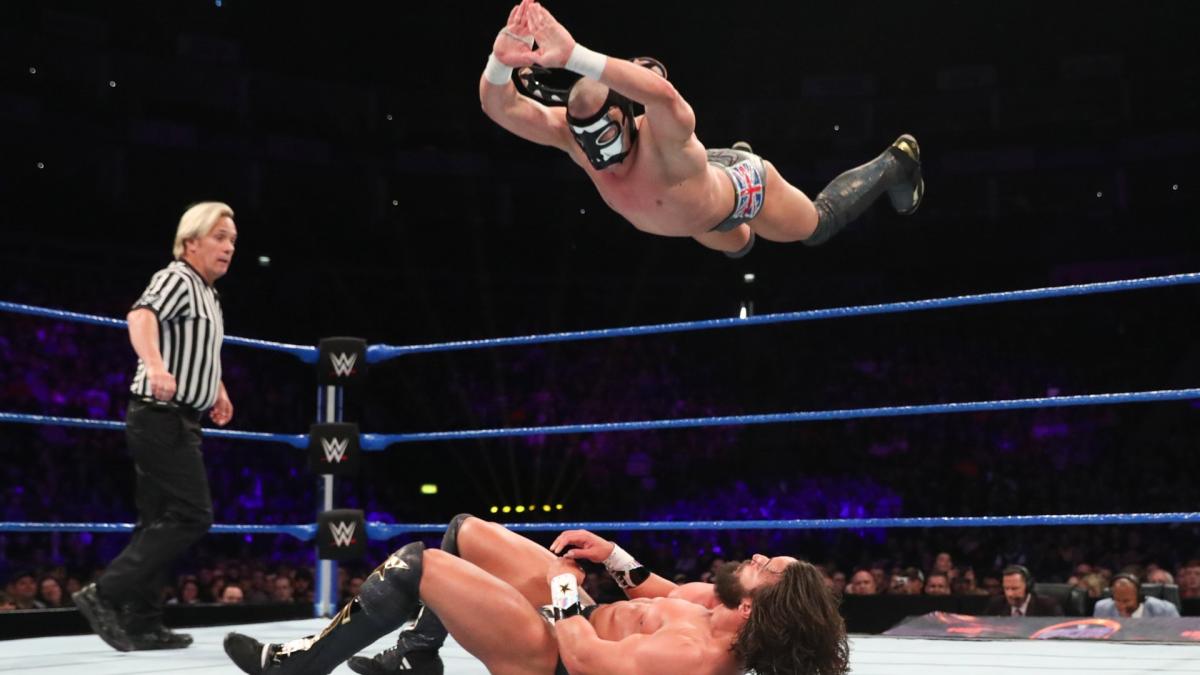 It's WWE 205 Live UK, at least for this week! How will the Cruiserweights fare against their international colleagues?
Tony Nese vs Ligero (and Ariya Daivari): This was another fantastic match. I'm a big fan of Ligero and loved that he really got a chance to show how good he was, even with the weird mask. I really loved that Nese showed good sportsmanship and helped Ligero to his feet and raised his hand. I so want to see Ligero on 205 more often.
As for Ariya Daivari, he played the asshole heel very well by attacking Ligero and Nese because who does good sportsmanship anymore? I really wish I was more invested in this feud but I think Daivari is a time filler for something else. Also, why was he in a tanning bed? Hasn't anyone told him how bad those things are for your skin and what kind of douche bag cuts a promo while broiling himself in a tanning bed?
Jack Gallagher vs Humberto Carrillo vs Mark Andrews vs James Drake: WHAT A MATCH!!!! This fatal four way was what I'd hoped the SmackDown one would be. I was happy to see Gallagher get a good pop in London and that William III made an appearance.
Andrews and Drake made a huge impression on the Main Roster fans and really showed off their skills, which was a lot of fun to watch. I hope this leads to Andrews and Flash Morgan Webster getting a title shot at Grizzled Young Veterans down the line.
I was a little surprised that Carrillo won, I figured that they'd give the win to one of the Brits, but it's pretty obvious that WWE is high on Carrillo. I was surprised by Gallagher's reaction. He did the gentlemanly thing by shaking Carrillo's hand, but he was clearly pissed.
Lucha House Party vs Singh Brothers: I'm actually really into this feud and hope the Singhs win next week just so the feud will continue, the Singhs have been so underused while they were lackeying for Jinder Mahal that they've really earned the chance to shine on 205 Live.
Overall Thoughts: How was 205 Live International? As usual, it was a great show and better than RAW or SmackDown. The Fatal Four Way, even though it wasn't for anything, which is ALWAYS a pet peeve of mine, was WAY ahead of similar matches on RAW or SmackDown.
I really wish I was more into Nese vs Daivari for the Cruiserweight Championship than I am. Nese has done a good job as Cruiserweight Champion, but there just doesn't seem to be any fire to the feud.
I hope we get more of the NXT UK guys on 205 Live, they were definitely a breath of fresh air and London was definitely behind them.
I'm very intrigued by Lucha House Party vs Singh Brother part III. I REALLY want the Singhs to win this since they've been so underused and Lucha House Party's gimmick has gotten really stale. However, I have a feeling that LHP will make a clean sweep next week and that's a real shame.
That's it for Tiffany's 205 Takes. Tune in tomorrow for the NXTs!