Tiffany's Takes: WWE RAW (5/13/19)
It's the go home Raw for Money In The Bank…how did it land?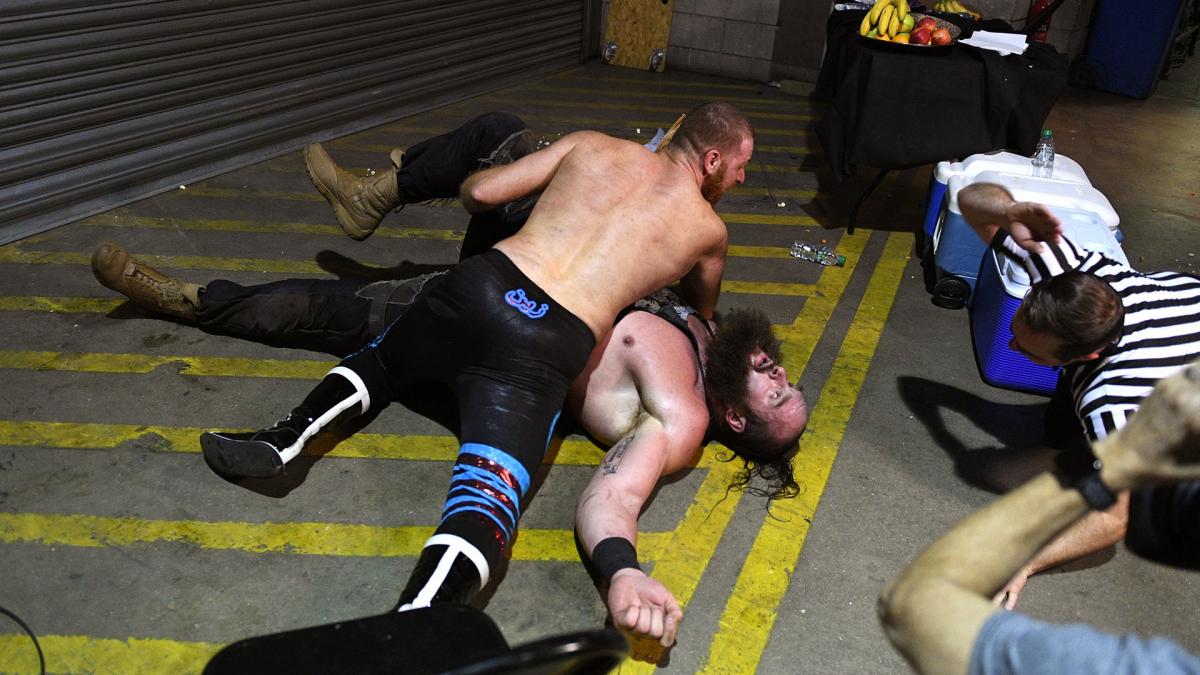 After weeks of lackluster shows, will WWE RAW finally get its act together in the Money In The Bank go home show in London? Tiffany checks in!
WWE Raw returned to Europe this week for the go home show for Money In The Bank pay-per-view. Tiffany has all the info you need on last night's show!
Universal Championship: I was honestly surprised that Rollins and Styles didn't have a confrontation, but I guess they got that out of their systems last week or so. One thing I like about this feud is that this could almost be the pupil overtaking the master since Rollins and Styles are so much alike in their ring styles. It's not a super personal feud, it's mostly business, but that's not taking away from the story. The story almost doesn't need for them to do cheap shots or attack each other, it's simply about who is the better man. I like that.
Miz and Roman Reigns vs Shane McMahon and Company: I'm sorry, you can try and make Miz the biggest babyface since Hulk Hogan and I'll still say he's the biggest douche to walk God's Green Earth. That said, the MizTV segment between Miz and Roman was fun and Roman has definitely come a long way in being comfortable on a mic.
I can't say I was surprised that Shane and his goons showed up or that we got a tag team match, or that Shane got his team DQ'd, beat them down, and got his ass beat in the process, that's pretty standard. What did surprise me is how much I didn't really care about Miz's beef with Shane anymore. I'm glad they're finishing it, but I'm not eager to see it continue past Sunday.
Women's Championships: I hate these contract signings and I hate that WWE made Becky look ridiculous by having Evans and Charlotte, two people who shouldn't be in the championship conversation, standing tall, but I'm hopeful that Becky 2 Belts will still have her double belts after Sunday.
Women's Money in the Bank: Okay, WTF is up with Nikki Cross? Why was the Queen of the Purge acting like a somewhat normal, fairly well-adjusted person to Alexa Bliss? Also, Alexa thinking she, or Kim Kardashian, are bigger deals than Meghan Markle, the Duchess of Sussex, is hilarious and eye-rolling. The Fatal Four way was pretty good, even though I hate multi-person matches with nothing on the line. Dana Brooke has improved a LOT since her sidekick days. I love that Nikki won, since she's been very underutilized on RAW, and that she's still crazy, but I'm puzzled over this alliance with Alexa Bliss. This could be interesting or a disaster.
Braun Strowman vs Sami Zayn: I have absolutely no idea what was going with this tonight. I'm guessing that either Strowman's hurt again and got written out of the show to let him heal, or they're trying to reignite the feud between him, Corbin, and McIntyre, which was never red hot to begin with. Zayn will be in Money in the Bank, but I'm honestly not sure why or why WWE had to put him in this way instead of doing qualifiers in the first place.
Baron Corbin vs Ricochet: This was  a really good match, but I'm disappointed that Ricochet lost to Corbin, who he easily outclassed the whole time. Feels like one of those 'You're pushing the wrong guy' situation, but we'll see after Sunday.
Mojo Rawley vs Apollo: That happened. Rawley's every bit as annoying as a heel as he was as a face and this match felt like a time filler for something much more important.
Cesaro vs Rey Mysterio: This was match of the night, as far as I was concerned. Even though the stupid premise of Cesaro bringing up the 2005 storyline that Dominic was Eddie's son, even though no one with eyes could say Dominic was Eddie's son with a straight face, got on  my nerves, it was a fabulous match. I loved that Mysterio beat Cesaro with the 619 after Cesaro co-opted it and couldn't do it nearly as gracefully. Hope this feud continues.
The Revival vs The Usos: I love the Usos, but I'm definitely on the Revival's side on this one. The way the Usos have been acting is dumb and beneath such an accomplished tag team. I can't wait to see the 1 v 1 between these teams, whether its Sunday or next Monday.
Firefly Fun House: What in the absolute, actual, living, fucking, hell was that?! Like, did this NEED to be even creepier and disturbing?
Overall Thoughts on WWE Raw
So, how was RAW UK? It was a lot better than the last few weeks, but it definitely didn't feel like a go-home show. All the matches were built, but nothing felt really…urgent. Granted, they're on a whirlwind European tour but it would've been nice to feel like everyone was really excited.
The Strowman situation is puzzling. I haven't heard anything about there being problems with Strowman, but pulling him from MitB at the last minute and in such a 'Writing someone off TV' kind of way is just odd. I honestly wonder if they're going to have Zayn win, cash in on either Kofi or Owens and have him feud with them. Odder things have happened.
I'm really hoping Becky Lynch retains both her belts, and not just so I can bask in the outrage of her detractors and drink their tears. I'm tired of Charlotte being in the title picture and Lacey Evans shouldn't have been in the picture at all. If nothing else comes out of Sunday, PLEASE have someone new win the Women's Money in the Bank and take this division in a new direction.
I honestly don't care who wins Rollins vs Styles. I want Rollins to win, obviously, but I'm more excited to see two great high-flyers square off. Them putting on a great match is more important than who wins, though if they book a stupid finish, I'll be pissed.
That's it for Tiffany's WWE RAW Takes, tune in tomorrow as I look at SmackDown and 205 Live!