Andrew's Impact Wrestling Ratings & Analysis 6/14/2019
The first episode from the Melrose Ballroom in New York! Let's see how the first step to Impact Wrestling Slammiversary goes!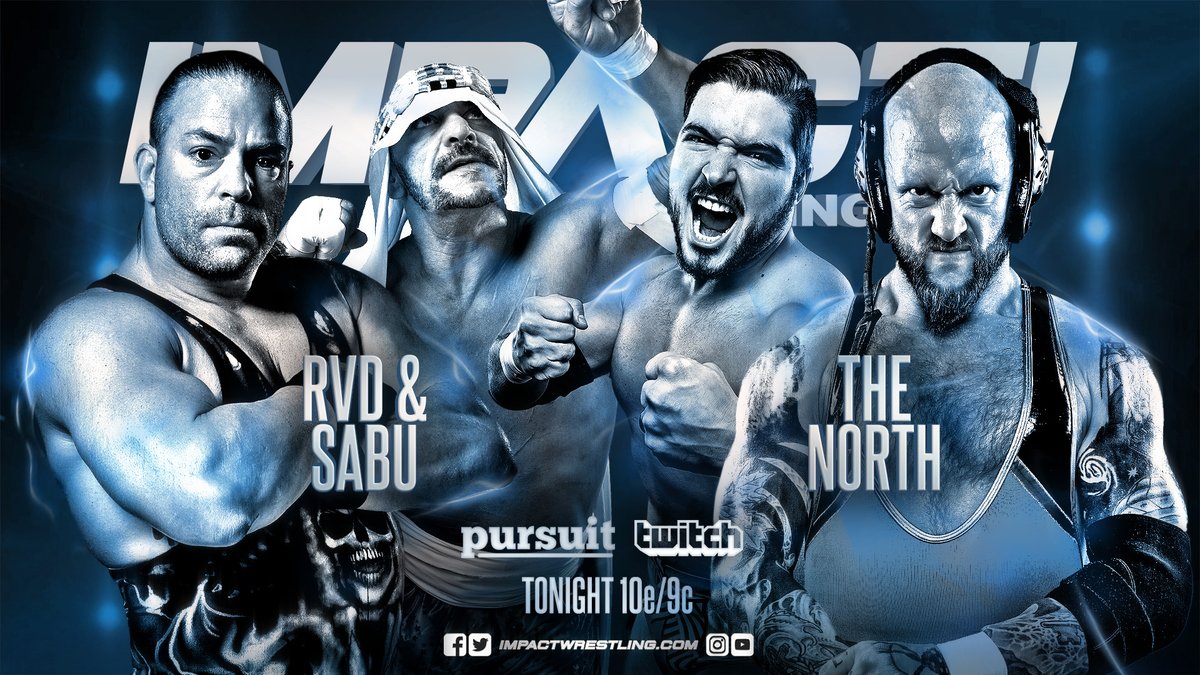 The first episode from the Melrose Ballroom in New York! Let's see how the first step to Impact Wrestling Slammiversary goes!
After some of the shenanigans from last week with Sandman bringing back Kenny, drunk Trey almost winning the tag titles for The Rascalz and Fulton and Sami Callihan trying to steal Melissa; this week has a lot of moving pieces.
Tessa also started a bit of an angle with oVe, which I'm curious about. It's one thing to beat up on Disco, but a bunch of degenerates led by Sami Callihan could be dangerous.
If you're still not sold on the Impact product, you need to learn respect like The Rascalz.
A huge BRAWL breaks out between LAX and The Rascalz! They want another shot at the Tag Team Championships! @SantanaLAX @Ortiz5150 @Konnan5150 @DezmondXavier @zachary_wentz @TheTreyMiguel #IMPACT

▶️ – https://t.co/sWu6SEAzEF pic.twitter.com/vQpZKUwBFl

— IMPACT (@IMPACTWRESTLING) June 15, 2019
Ratings:
The North (Ethan Page & Josh Alexander) vs RVD & Sabu w/Super Genie: The North win via Tandem Inverted Mat Slam – ** 1/2
Jessica Havok vs Nasha Slammovich: Havok wins via Tombstone Piledriver – *
Raj Singh vs Cody Deaner: Raj wins via Step Over Arm Wringer Driver – * 3/4
Jordynne Grace vs Madison Rayne: Rayne wins via CrossRayne – ***
Killer Kross vs The Sandman: Kross wins via Kross Jacket Choke – N/A
Michael Elgin vs Willie Mack: Elgin wins via Elgin Bomb – *** 1/4
Analysis:
Kid Ref allowed a lot in this match. He takes a very Japanese referee mentality when it comes to these matches, like he expects chairs so he just allows them. Sabu and RVD had a lot of classic offense, but Moose interfering on behalf of the North, was too much. Alexander caught Sabu, threw him around a little and then used a Tandem Inverted Mat Slam to finish him off. Apparently this sets up The North for a title shot at Bash at the Brewery.
Moose and The North are no longer buddies after The North allowed the ECW Originals to get a little revenge on Moose.
This was just a job match of destruction. Masha, Nasha, Asha…why give the girl such a dumb name when she's just jobbing. Sheesh. I do hope that was a bad name Impact just threw on her and it's not her working name. Havok just demolished the poor girl. Afterwards James Mitchell hops on the stick and says Havok is going to be the next Knockouts Champion after she dismantles Rosemary. He also called her the Kaiju Queen…which I like as a nickname.
Gimmicky match. Raj broke his nose at some point, Cody did some Redneck Hulk Up thing, heel interference, Gama faked a heart attack…kind of paint by numbers gimmick match to get to what I'm assuming is a tag match between the two in a couple weeks.
Rosemary with a good promo, and she looked quite good as well. Just all Aces for Rosemary.
Impact Plus Flashback: Dixie Goes Through a Table, IMPACT, August 7,2014
.@TheSamiCallihan barges into the WOMEN'S LOCKER ROOM but @Tess_Blanchard is right there to answer the door!#IMPACT

▶️ – https://t.co/sWu6SEAzEF pic.twitter.com/GIdlwp3lFL

— IMPACT (@IMPACTWRESTLING) June 15, 2019
Solid match. Scary moment when Madison looked like she was supposed to float over the top rope and land on the apron, but she over shot and just fell into the barricade. Luckily it didn't look to hurt too much and could be argued that Jordynne is so powerful it was meant to happen. Aside from that and a small slip in the corner, the match was pretty good. Kiera Hogan coming out with her new bad girl Blue Flame persona on commentary was great. She looked fantastic in her dress with her new personality.  A subtle distraction from Kiera costs Jordynne the match, but she didn't physically interfere.
Sandman tried to jump Kross mid entrance, bit Kross was keen to the tactic. Sandman did get in a few shots with the fists and the cane, but Kross locks in the choke and as Josh Matthews said, " Exit light". Eddie Edwards makes the save when Kross won't let go of the hold, so it's continuing the build for their blow off.
A little Smoke Show backstage moment with Fallah, Scarlett, Taya and John E. Bravo. More comedy driven than Scarlett being sexy, and it's actually really awesome. Scarlett comes off more adorable/endearing, but Taya's bitchiness is a little forced. Watch this for Scarlett and Fallah.
.@Lady_Scarlett13 informs @TheTayaValkyrie that she has to defend her Knockouts Championship against @realsuyung NEXT WEEK or risk losing it! #IMPACT

▶️ – https://t.co/sWu6SEAzEF pic.twitter.com/8l1Qw2akCN

— IMPACT (@IMPACTWRESTLING) June 15, 2019
Solid match for what felt like an 8 minute match. Willie and Big Mike put in great work, and Willie getting distracted since Mike attacked Rich Swann protects him a little. Also Johnny Impact eating a German Suplex from Big Mike at least makes it obvious he's not allied with Johnny.
Overall Score: 6.75/10
This was a good show, but some of the finer points didn't seem as good as previous weeks. The fact it took Impact 1 hour to figure out the sound for the Twitch interaction was amusing yet dumb. Don Callis and Melissa were supposed to do it together, but Melissa loses against technology most weeks and this was such a big loss she just stopped trying to call in through Skype.
We had a few decent matches, but most of them felt like matches to get to the next story point. So a few short worthless matches, a few gimmicked matches, and we have an entertaining, yet a little flat episode. I'm just really amused by Scarlett being more charming and funny…hell Laredo Kid robbing the Rascalz after the bar fight was great too.
Twitch Views:
5/3/2019 – LOW: 4,000/HIGH 6,550
5/10/2019 – LOW: 3,800/HIGH: 7,130
5/17/2019 – LOW: 6,900/HIGH: 12,220
5/24/2019 – LOW: 5,200/HIGH: 10,070
5/31/2019 – LOW: 4,550/HIGH: 8,075
6/7/2019 – LOW: 7,100/HIGH: 13,606
6/14/2019 – LOW: 3,400/HIGH: 8,250
Okay so after so really solid weeks, this was one of those slow burn episodes. The show gradually built the viewership as the show went on, but didn't really hold like most weeks. Most weeks I say " It started off low but never dropped below 6,000 once it got there". This week was just a slow increase and never had one of those obvious benchmarks. A little weird, but the numbers remain within that 6-8,000 consistent viewers.
Andrew's Impact Wrestling Hard to Kill Results & Match Ratings: 1.16.21
Three title matches, the return of Decay, Barbed Wire Massacre and a main event with Kenny Omega. Impact Wrestling's Hard to Kill definitely sounds like it's got a little bit of everything. Check out how it went!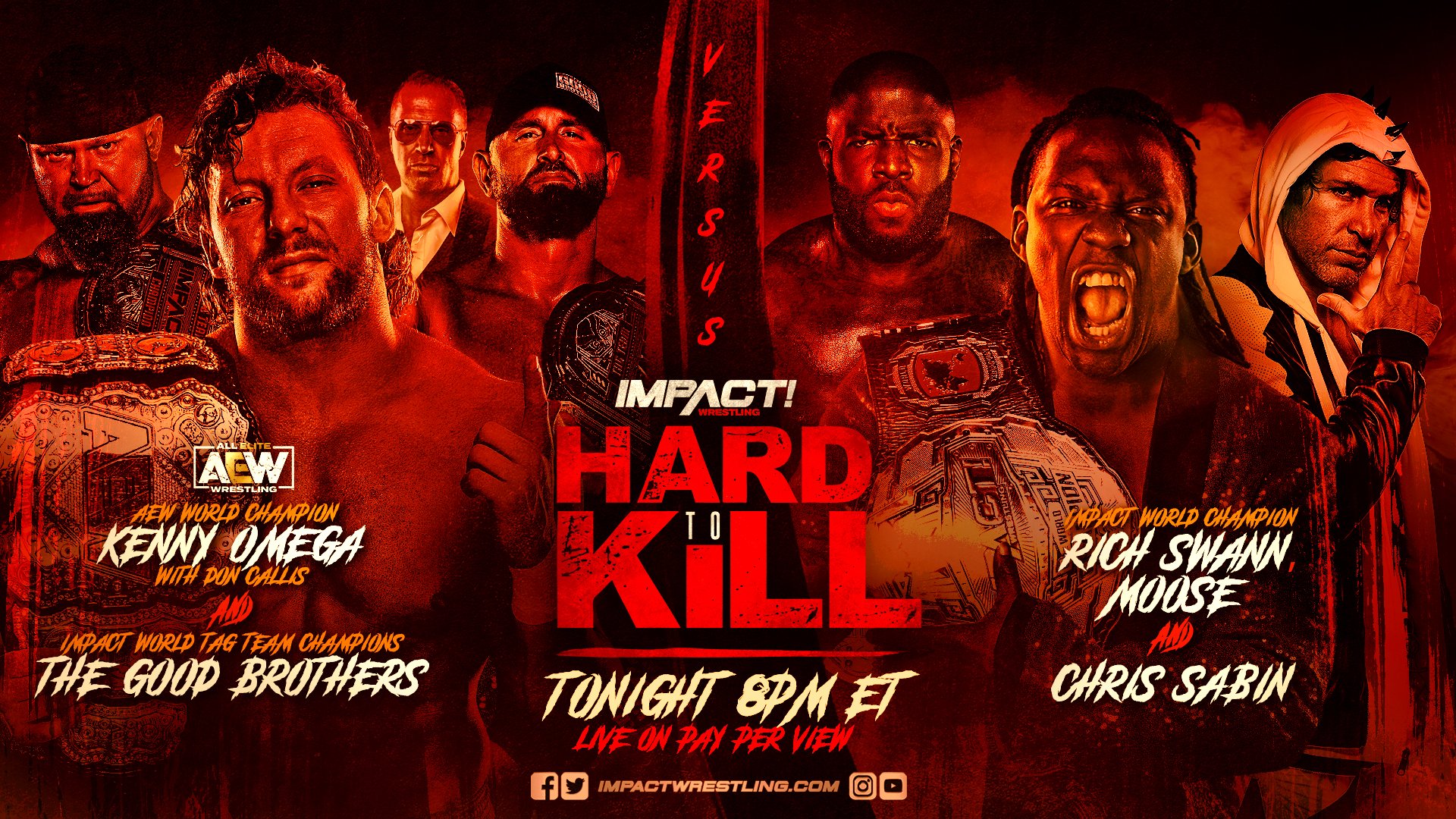 So the news that made many people cry a few days ago, was that Alex Shelley would be out of the main event. He went out of his way to film a response/promo/apology so fans knew it was something non-pandemic related, so that was an effort that wasn't necessary, though appreciated.
Aside from losing it's "Dream Match" luster, we get Moose as a replacement, which could really work for the cold calculated persona he's taken on after his EC3 encounter. We also get to crown Knockouts Tag Team champions for the first time in seven and a half years. Let's also not forget, this could end up being Taya's swan song from Impact, so we should expect a good match but no Wera Loca victory.
Let's see if we get any surprises!
Ratings:
Decay (Rosemary & Crazzy Steve) vs Tenille Dashwood & Kaleb: Steve wins via King Kill 33 @8:55 – * ½
Old School Rules Match: Violent by Design (Joe Doering, Eric Young & Deaner) vs Tommy Dreamer, Rhino & Cousin Jake: EY wins via Piledriver @9:55 – ** ½
Knockouts Tag Team Title Finals: Fire & Flava (Kiera Hogan & Tasha Steelz) vs Nevaeh & Havok: Kiera wins via Face the Music @8:40 – *** – TITLE CHANGE!!
Ace Austin w/Madman Fulton vs Matt Cardona: Cardona wins via DQ @2:30 – N/A
X Division Championship: Manik (c) vs Rohit Raju vs Chris Bey: Manik retains via Ole Cradle @13:50 – *** ½
Knockouts Championship: Deonna Purrazzo (c) w/Kimber Lee & Susan vs Taya Valkyrie w/ Decay: Deonna retains via Venus de Milo @11:40 – *** ¼
Ethan Page vs The Karate Man: Karate Man WINS…Fatality – 200 Stars
Barbed Wire Massacre: Sami Callihan vs Eddie Edwards: Eddie wins via Diehard Flowsion @18:50 – *** ¾
Moose, Rich Swann &Chris Sabin vs Kenny Omega, Karl Anderson & Doc Gallows: Kenny Omega wins via One Winged Angel @20:30 – ****
Results:
During the last few moments of the Countdown, Madison Rayne officially retired from wrestling and from Impact Wrestling. Not sure how long she'll stay a house wife, but good for her. She did great to actually prove to people she was a decent wrestler since her run during the WOH tournament, she was a fun commentator, so good for her.
Decay (Rosemary & Crazzy Steve) vs Tenille Dashwood & Kaleb
The weird thing about this match was the dynamic between who was involved and what went on.  Crazzy Steve showed a very high work rate in this match, with his strikes and moves looking fantastic. But Rosemary got exposed a bit on still being less than 100% with the knee and generally sloppy on a lot of spots.
Kaleb and Tenille definitely tried to add comedy and their quirky personalities, but the fact that we saw a lot of sloppiness, Steve working his ass off and just comedy spots or gimmick spots too often; this was a giant mess of a match. It also didn't help that D'lo and Striker are still getting used to each other, so the announcing was distractingly bad.
It can only get better from here!
Old School Rules Match: Violent by Design (Joe Doering, Eric Young & Deaner) vs Tommy Dreamer, Rhino & Cousin Jake
This starts the same way every Tommy Dreamer match starts, with a brawl and weapon use.  This wasn't a terrible match, but it's really not anything worth going deeply in to. EY did the flair corner to top rope spot, which ended with Dreamer hitting him with a cookie sheet. We had a Tower spot in the corner, with Joe Powerbombing a Suplex, and it landed right into Dreamer's face.
Doering got to look like a beast when the entire team took the chairs to him, and he still fought back, ending up in control. Dreamer introduced tacks, then we saw the Signature/Finisher spam which ends with EY breaking up the pinfall and hitting Cousin Jake with the Piledriver.
Again, decent enough, but nothing really special.
Knockouts Tag Team Title Finals: Fire & Flava (Kiera Hogan & Tasha Steelz) vs Nevaeh & Havok
Oh, Brian Hebner is back for this match. Slightly surprising.
Kiera and Tasha try to start fast, but the bigger women over power the smaller team and throw them around a little bit. Havok beats up on both of them, Neavaeh comes in to keep up the momentum, but eventually Tasha and Kiera start making a comeback. We see Fire and Flava go for a lot of quick spots, fast tags and trying to spin around the larger women, but they just get taken for a ride more often than not.
It's not until Kiera hits a High Round Kick, followed by Tasha with the Springboard Neckbreaker actually takes Havok off her feet. Nevaeh tries to make a save and get things back on track, but Tasha picks her leg, Havok gets wiped out after a great Super Kick from Kiera, Tasha and Kiera use some tandem attacks on Nevaeh, then Tasha slows down Havok as Kiera hits Face the Music and we have new Knockouts Tag Team Champions!
Ace Austin comes out to declare himself into the X Division Triple Threat to make it a 4 way! D'Amore comes out, says he can have a match, just not the title match. Matt Cardona comes out.
Ace Austin w/Madman Fulton vs Matt Cardona
Ace tries to go at Cardona before the ring jacket is off, but Cardona absorbs some offense and then fires back a bit. Fulton gets in the way quite often during this match, so the finish is a little telegraphed. But right as Cardona starts building momentum; Fulton slides in to cause the DQ.
Decent enough way to protect Ace and give Cardona quick win.
X Division Championship: Manik (c) vs Rohit Raju vs Chris Bey
Rohit went after Manik to try and prove his point that it's TJP. Bey seemed dead set on finding a way to win, and as we expected in an X Division match; there were a lot of spots, but they all made sense. Rohit does manage to take off the mask, but TJP painted his face under the mask, so it still throws off Rohit. TJP strings together a few moves, goes for the Mamba Splash, but gets caught by Bey with a Cutter. Bey then hits a Double Art of Finesse, but his brief moment of not knowing who to pin, caused the pinfall breakup.
Rohit almost won the title back after his call back to hitting his Tiger Knee after a Mamba Splash but Bey kicked out. Haymakers get thrown, Rohit hits the Dragon Stomp on Bey, and looks to finish things, but TJP slides in for the style of Cradle he's used a bit lately, and retains his title after a fun, hard fought match.
Knockouts Championship: Deonna Purrazzo (c) w/Kimber Lee & Susan vs Taya Valkyrie w/ Decay
Early on all of the seconds get kicked out, with the beauty of the situation being that Susan pulls out her phone and says she's filming the whole thing. So Susan, really may be a middle aged transformation of Su Yung. Susan might as well be named Karen.
EVERYBODY has been ejected from ringside.

(and Susan is recording everything) #HardToKill pic.twitter.com/9Bh5HwusLy

— IMPACT (@IMPACTWRESTLING) January 17, 2021
As we focus on the actual match, Deonna starts slowly picking apart Taya. Going after her left arm, then her left knee and just trying to apply submission and weaken different limbs. Taya was able to push back and have her own submission attempt moment. Taya went for an STF, but the submission game isn't her wheelhouse.
Deonna was able to pick her apart, counter a pinfall attempt and keep Taya grounded long enough to work in some holds. The normal Fujiwara didn't get her submit, so Venus de Milo followed up and Taya verbally submitted.
Ethan Page vs The Karate Man
Since this is cinematic or at least green screen, I won't rate this as a real match. But it was amazingly entertaining. Dragon Ball Z references, Karate Kid, and Mortal Kombat references, it was just amazing.
GET HIM A BODY BAG! #HardToKill @The_KarateMan @OfficialEGO pic.twitter.com/lcBAX90Sj6

— IMPACT (@IMPACTWRESTLING) January 17, 2021
Barbed Wire Massacre: Sami Callihan vs Eddie Edwards
Interesting pacing to get across the familiarity, twisted respect and love for punishment between these two. We saw Barbed Wire Tables, Chairs, Baseball Bats, Kendo Sticks and even an…N64 Controller!
Sami took a ton of punishment, but the story was basically playing with Eddie's emotions to bait him into bad dives, and openings for Sami to move out of the way, or sneak in a barbed wire shot. Eddie hit a Blue Thunder Bomb on a barbed wire chair, Sami hit an Avalanche Piledriver through a barbed wire table, but none of this was enough. If anything, the Piledriver just pissed Eddie off.
Going for the callback that started it all, Sami tries to hit a Barbed Wire Chair into Eddie's face with a Barbed Wire Bat, but Eddie hits a low blow to get a moment. Sami tries to bring himself up with a chair, Eddie hits the Boston Knee Party, then the Diehard Flowsion for the win!
Eddie hasn't hit that Flowsion in a long time. I did appreciate Sami paying homage to Cactus Jack and Striker acknowledging Jun Akiyama and Mitsuharu Misawa on commentary though.
Moose, Rich Swann &Chris Sabin vs Kenny Omega, Karl Anderson & Doc Gallows
The early onset is interesting. Karl Anderson and Chris Sabin start off and there's some solid technical counter wrestling, and it's fast paced action. Moose and Gallows come in to do a big boy showdown which worked fairly well, where Swann and Omega had a brief lockup before the Brothers come in to start heeling it up.
We get a lot of Japanese tag stylings, from the triple team that Team Impact pulls off, to the way the Club breaks up any type of momentum with their own train attacks into the corner. Moose looked amazing in this match. He went toe to toe with everyone, pulled off great moves like a Standing Moonsault, leaped to the top rope for a Spanish Fly and was a really good teammate, regardless of his issues with Rich Swann. Hell Swann and Moose even hit a Doomsday Device variant together. Small aside, I did like seeing Chris Sabin pull off Cradle Shock, which just doesn't happen often enough anymore.
Omega almost has the match one on Rich, but the only one able to break it up was Moose, and he did so. Omega went into V-Trigger spamming mode to wipe out Moose, rock Rich and then a One Winged Angel won the match for the Bullet Club former members.
Overall Score: 6.75/10
Well this started off pretty bad, but at least it built upwards. The main even had a lot of fun wrinkles which increased the storytelling, psychology and overall enjoyment of the show. Hell even when Callis nearly jumped into the ring to break up a pin on Kenny was a good little nugget.
As I said in the weekly coverage, this is probably Taya's final match, or at least one of the last, especially since they logically moved Rosemary back to Decay with Crazzy Steve. Eddie and Sami had a hell of blood feud and it was nearly cathartic. Let's also not overlook the fact that Tasha and Kiera actually won the Knockouts Tag titles. I almost thought they wouldn't win just because they are so charismatic and attractive without the titles, where Havok and Nevaeh don't exactly have electric personalities. But I'm ecstatic that Kiera finally has a title in Impact!
With the pretty awful start for the wrestling and the commentary, which put the show behind the eight ball; but it did recover fairly well. Not nearly as good as Genesis, but it managed to keep the stories rolling and end on an interesting note. A pretty good show after all was said and done.
Andrew's Impact Wrestling Results & Match Ratings: 1.12.21
The Go Home to Hard to Kill! After The Good Brothers made an appearance on Dynamite; do we see any new AEW talent invade Impact before the PPV?
Coming off a Genesis event that ended with some nice matches and story wrinkles, we come into the Go Home for Hard to Kill! The Impact PPV that will feature Kenny Omega in the main event.
We will probably see something looking like a end to the feud between Eddie Edwards and Sami Callihan, Cody Deaner gets to work out more of his new persona and we might finally see Joe Doering murder someone! Deonna Purrazzo has her hardest challenge to date with Taya Valkyrie, which could be one of Taya's last matches in Impact if contract questions are to be believed. Rohit Raju and Chris Bey will try to get one step closer to unmasking and unseating the current X Division champion Manik.
Let's also not forget we get the finals for the Knockouts Tag Titles at Hard to Kill! Inactive for 7 1/2 years, we'll get a new champion since ODB and Eric Young! Take a look at the redesigned titles, then lets get to the show!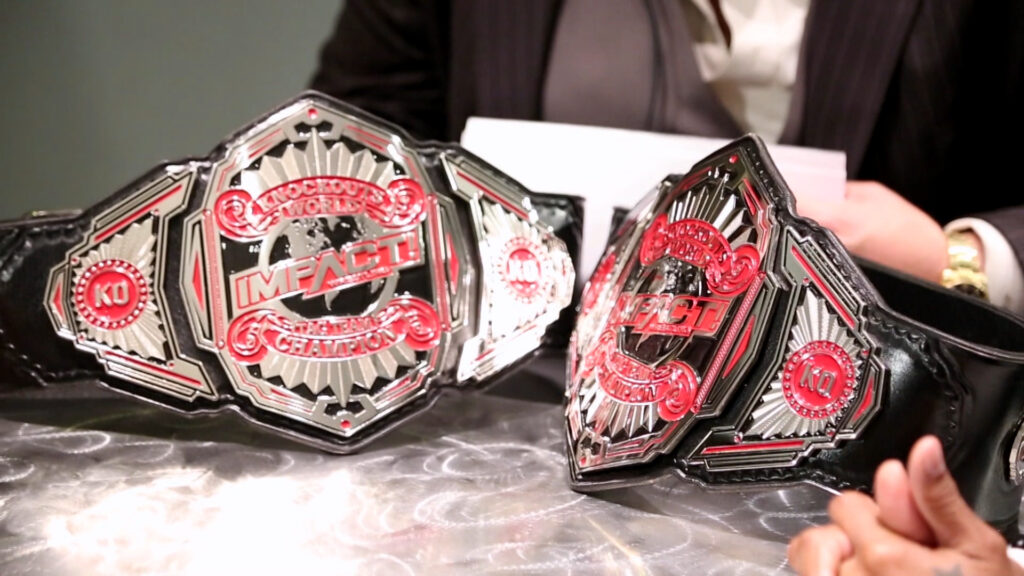 Ratings:
Taya Valkyrie w/Rosemary vs Kimber Lee w/Deonna Purrazzo: Kimber wins via Double Leg Cradle – ** ¾
Rohit Raju & Chris Bey vs Manik & Suicide: Bey wins via Art of Finesse – *** ¼
Deaner w/Eric Young & Joe Doering vs Tommy Dreamer w/Rhino & Cousin Jake: Deaner wins via DQ – *
Tenille Dashwood w/Kaleb vs Rosemary: Rosemary wins via Spear – ***
Moose vs Matthew Palmer: Moose wins via Referee Stoppage – *
Rich Swann vs Karl Anderson: Rich wins via School Boy – *** ½
Results:
Taya Valkyrie w/Rosemary vs Kimber Lee w/Deonna Purrazzo
Kimber comes out with instructions and goes right after Taya. Kimber is one of the few Knockouts that Taya isn't significantly taller or stronger than. Taya kept fighting from the back foot, but Kimber showed some really good aggression and the ability to keep the pressure believable.
Taya started turning things around after she got the knees up to counter a Swanton, but Deonna had a few tricks up her. Taya has Kimber seeing shadows, and Deonna puts her hand on the ropes. Rosemary tries to back Deonna back up the ramp, but before she can do any real damage we see…Susan?!
Susan has Deonna hold her glasses, and she cold cocks Rosemary and they start the beatdown. They hold Rosemary to watch the ring, Taya gets distracted with what's going on outside, so Kimber grabs her, trips her up and sits down into a cradle.
If the cradle wasn't a little awkward/sloppy then this would've rated higher. Honestly not terrible in-ring and story stuff.
.@KennyOmegamanX and The Good Brothers want momentum heading into #HardToKill on Saturday.#IMPACTonAXSTV @The_BigLG @MachineGunKA @TheDonCallis pic.twitter.com/PWyw4BiOSt

— IMPACT (@IMPACTWRESTLING) January 13, 2021
God I hate these stupid paid ads. Tony Khan is not tolerable to listen to, not even from a smarmy heel perspective; he's just an annoying human. Schiavone of course makes this palatable, but Khan is more cringe than uWu voice.
Rohit Raju & Chris Bey vs Manik & Suicide
The heels take it to TJPs two masked personas! Early on it takes the masked marvels a little bit of time to recover, but when they do we see a lot of signature poses and maneuvers. Pump kicks, lead to planchas and springboards and we just get a lot of good fun from Manik and Suicide while Bey and Rohit keep things grounded, aggressive and story driven.
Rohit is hell bent on taking off Manik's mask and that does cost him at different points. Suicide goes for Suicide Solution, but Bey hits the Art of Finesse for the pinfall! Manik avoids the pinfall, but his opponents technically pick up momentum.
Deaner w/Eric Young & Joe Doering vs Tommy Dreamer w/Rhino & Cousin Jake
Well Cody Deaner went full WWE and done lost his first name! It's not a name I would pick, but I guess Cody was already taken by someone else.
While not a bad match to add more interaction between the participants of the 6 man at Hard to Kill, it was really not anything to talk about. Rhino and Doering got caught interfering and thrown out, but then after a few moves Deaner and Jake have a moment. Jake tries to reason with him, Deaner smacks him so Jake takes him out.
Disqualification happens and we get a brawl eventually between all six when Rhino and Doering return.
Tenille Dashwood w/Kaleb vs Rosemary
Tenille applied her usual level of quirky humor to this match. She tried to offer friendship in the beginning, but got sucked in to a little bit of a rag doll from Rosemary. Which continued for a little bit until Kaleb got involved and Hairsprayed Rosemary early in the match.
That gave Tenille a near fall, but the match kept rolling along. Solid action mixed in with Kaleb's own bumbling because he would've been more useful if he put his phone down. When it looks like Rosemary is about to win, Kaleb hits the apron, but Crazzy Steve appears behind him to even the odds. Kaleb manages to sneak the hairspray in to Tenille as Steve runs him off. Tenille is shaking the hairspray but Rosemary sees her, tilts her head and Tenille gets sheepish. Rosemary turns the hairspray on Tenille.
So hairspray plus a Spear equals Rosemary wins. We get a nice little tease to maybe an official Decay reunion. I guess only time will tell.
With The Motor City Machine Guns, @KennyOmegamanX and @The_BigLG all banned from ringside, @GottaGetSwann gets @MachineGunKA man to man tonight. #IMPACTonAXSTV pic.twitter.com/gKTxdGO1c4

— IMPACT (@IMPACTWRESTLING) January 13, 2021
Moose vs Matthew Palmer
This was a match for Moose to prove his sadistic side and take advantage of a weaker challenger that got one over him last week. Palmer gets occasional flurries, but it's not believable. Commentary bills him as out of his depth and he's just an example.
Since the match was intended to make Moose seem vicious and just murder the poor enhancement talent, it did its job. But at no point was the finish in doubt.
Rich Swann vs Karl Anderson
The entire time Kenny's been in the picture, they've put a lot of spotlight on some of Karl's singles accolades in Japan. So it should come as no surprise that Karl actually came in with a plan and dominated for a good portion. Karl focused on the shoulder and it worked really well for him.
Rich was selling and getting caught by Shotgun kicks and a bunch of other moves, but at least proving to be resilient. Rich manages to catch Karl as Karl starts looking to finish things. A few nice strikes, the over the shoulder back kick and finally Swann's got something. Karl does stabilize and look for the Gun Stun, but Rich ducks the Gun Stun with a School Boy Rollup and that's the match!
After the match we get a dressing room brawl between all six heading towards Hard to Kill.
THEY'RE NOT WAITING UNTIL #HardToKill!

A CHAOTIC brawl ensued between @KennyOmegamanX, The Good Brothers, @GottaGetSwann and The Motor City Machine Guns as IMPACT went off the air. #IMPACTonAXSTV @SuperChrisSabin @fakekinkade @MachineGunKA @The_BigLG pic.twitter.com/56r4FcC9CC

— IMPACT (@IMPACTWRESTLING) January 13, 2021
Overall Score: 6.25/10
So this was a mixed bag of either predictable matches or solid to good matches. But the segments between were filler video packages recapping stories, and the fact that we got an old TNA or current AEW finish to the episode of a brawl…just because, it's a played out ending. With that, the episode felt like it was decent, but nothing really special, even though it was a Go Home. To be fair, Hard to Kill probably had all the needed hype off of the card itself, so I'm not sure what more they could've done, but something more clever than a dressing room attack to send us home would've been cool.
Again, this doesn't really take away from Hard to Kill, an the announcement of Eddie Edwards vs Sami Callihan being a Barbwire Massacre match is…okay? I mean the last one Impact did was between oVe and LAX; and honestly, it wasn't that great. I have a little more faith in Eddie and Sami, but death matches are usually all sizzle and no steak in the States. So it doesn't add anything to Hard to Kill for me, but who knows, maybe it peaked some CZW fans attention somewhere.
Hard to Kill should be a good PPV and here's to hoping that there's no awkwardness because it'll be live (they tend to have audio issues or something technical happens) and please no stupidity with AEW talent. If any more show up, I hope it's logical and actually kind of cool.