Andrew's NJPW Dominion 2019 Ratings & Analysis
NJPW's second biggest show of the year! A few former WWE names and five championship matches should bring some excitement! Let's see how the show played out.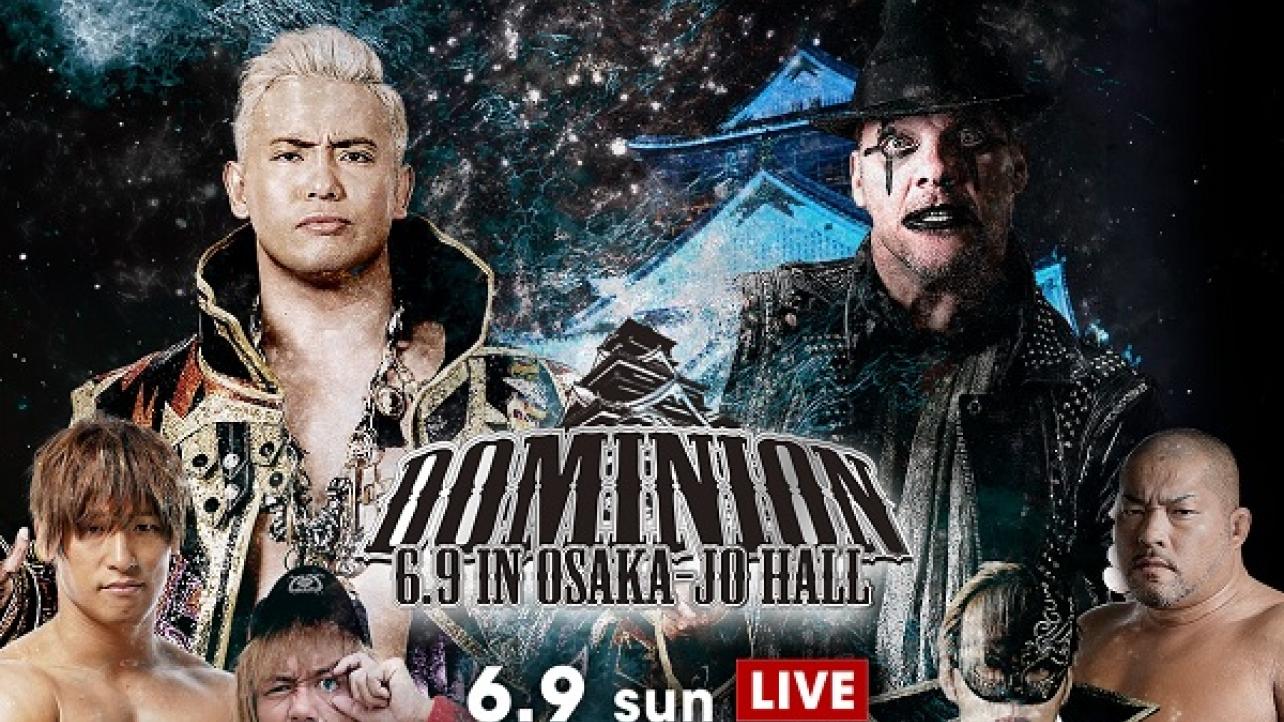 NJPW's second biggest show of the year! A few former WWE names and five championship matches should bring some excitement! Let's see how the show played out.
People that follow New Japan know this is one of the bigger shows of the year. We also know that the build hasn't exactly set the world on fire.
A few rematches, the big question of what kind of match Jericho will put on and mixed reactions to the two earliest matches on the card really set an odd tone.
Will the show overcome a lackluster buzz?
Ratings:
Jon Moxley vs Shota Umino: Moxley wins via Double Arm DDT @4:10 – * 1/2
Shingo Takagi vs Satoshi Kojima: Takagi wins via Last of the Dragon @11:15 – ***
YOSHI-HASHI & Jyushin Thunder Liger vs Minoru Suzuki & Zack Sabre Jr: YOSHI wins via Roll-Up @9:50 – ** 1/2
Chase Owens, Jay White & Taiji Ishimori vs Hiroshi Tanahashi, Juice Robinson & Ryusuke Taguchi: Tanahashi wins via Dragon Swing @10:00 – ** 1/2
NEVER Openweight Championship: Tomohiro Ishii vs Taichi (c): Ishii wins via Vertical Drop Brainbuster @16:15 – **** – TITLE CHANGE!!
IWGP Heavyweight Tag Team Championship: Guerrillas of Destiny (c) vs EVIL & SANADA: G.o.D. retain via Roll-Up with Tights @16:45 – *** 1/2
IWGP Junior Heavyweight Championship: Will Ospreay vs Dragon Lee (c): Ospreay wins via Stormbreaker @20:05 – **** 1/4 – TITLE CHANGE!!!
IWGP Intercontinental Championship: Kota Ibushi (c) vs Tetsuya Naito: Naito wins via Destino @22:10 – **** 1/2 – TITLE CHANGE!!!
IWGP Heavyweight Championship: Chris Jericho vs Kazuchika Okada (c): Okada retains via Double Leg Cradle @23:50 – *** 3/4
Analysis:
Shota had a quick flurry, starting off before the bell. But Moxley was just too much, Shota got in an occasional shot, but this match was just to make Mox look really good. He then declares his desire to be in the G1. Then to continue his bouncing between good/bad guy, he helps the decimated Shota Umino back to the locker room.
This was a good measuring stick for Shingo. He attacked Kojima the same way he would go after a Junior, and Kojima stood his ground on numerous occasions. Kojima even rocked Shingo to the point of being a bit rubber legged. Our favorite Dragon overcame the leader of Bread Club though after a Last Falconry and then a Last of the Dragon. Very solid match and now Shingo announces he wants in the G1.
The most intriguing part about this match is the Liger and Suzuki feud that's been bubbling up over the last few months. YOSHI-HASHI has gotten the best of Sabre before and has a challenge to for Undisputed British Championship. YOSHI was getting handled for most of this match; so much so, that Liger came in and kicked YOSHI as a way to try and motivate him to stop sucking. YOSHI really didn't have much offense and it was just hard to care about him being involved, plus the Roll-Up he won with just looked like a messy La Magistral. So not really anything to care about, but a decent enough match for what it was.
Well this 6 man was odd. Tanahashi really looks to be struggling in the ring, and it's causing the matches just to look bad. Could this be part of his storytelling? Sure, it could. But between Juice coming off a bad loss, Taguchi missing nearly every hip attack and Tanahashi looking embarrassingly mortal, the match was honestly a little sad. Not a bad match, the story being told is interesting leading into G1, but even Tanahashi pulling out a Dragon Swing, which I haven't seen in a while, still just looked messy and weak. But the good guys got the win, even though they did not look good during the match.
Ahh the Holy Emperor's entrance and singing voice are always a highlight of the show. Taichi really does tend to fight Ishii well. Ishii throws away Taichi's weapons, and challenges him as a man. This was a great hard hitting match. The chops of Ishii versus the kicks of Taichi. All in all, this was just one of those great strong style NEVER matches that we grew to love and expect when Ishii and Makabe were trading the belt back and forth.
In what felt like a place holder match for the tag titles, we got a solid match that wasn't overly surprising. All four put in good work, Jado gets involved, but BUSHI makes the save for the LIJ team. The momentum seems to be with SANADA and EVIL, they go for Magic Killer, but Tama kicks SANADA away and rolls up EVIL with some leverage. Not bad, not amazing.
Katsuyori Shibata's music hits and he walks out, with a friend. Slowly following Shibata out is KENTA (Hideo Itami), who declares his intent for the G1 Tournament.
Well this match was more of a typical Junior style match. Numerous huge excessive moves, flipping out of maneuvers, not a ton of selling. It was fun, there was high work rate, but not much anything else. People will love this match, some may hate it, but it was entertaining for the style of match it was. Ospreay challenged Robbie Eagles to be the first one to step up during the Southern Showdown tour in Australia.
This started off as a normal hard hitting affair between the two. Business didn't pick up until a dangerous Release German Suplex from the apron, where Ibushi's head clipped the apron on the way to the floor. These matches are beautifully reckless, frenetic and just something to watch. They definitely need space away from each other as to reignite interest in future matches, but this was great. Naito gets the best of the current rivalry, Naito reclaims the belt that speaks to him, yet he tends to shun all at the time. Moving into the G1, we'll see what lies in store for both men for the rest of the year.
Given that this was a normal match with no gimmick, there were a lot of questions to how things would go. Jericho did his classic spots in Japan of taking a camera to flip off the crowd, a DDT on the table, and some good heel tactics. As for the match, it was surprisingly good. Jericho countered Okada a few times with a Codebreaker, hell they even tried to do each other's moves and Okada hit a Codebreaker. A solid match, it just never felt like it got out of first gear. Okada went for his neckbreaker,Jericho tried to get a roll-up but Okada sat down into a Double Leg Cradle for the pinfall. Jericho beats the hell out of Okada afterwards with a chair and lands his Judas Effect elbow before spilling outside. Jericho is about to put Okada through a table, but Tanahashi jumps the barricade from commentary and makes the save.
Not sure if this is hinting to more Jericho in Japan, just keeping the door open like when he attacked Naito, or maybe even hinting towards an AEW partnership. Either way, it was a very WWE end to the show, even with Jericho punctuating his promo by saying "Happy Championship, Bitch".
Overall Score: 8/10
Damn good show even if the build up seemed a little muted between a great BOSJ and seemingly easy way out booking with rematches. KENTA's appearance was a fun surprise that doesn't indicate anything serious, but it will be a good way to get him into a large spotlight to see how he reacts to being freed from WWE.
Also to clarify, I say KENTA declaring for the G1 isn't necessarily serious because it's not unprecedented to have Free Agents or outside wrestlers join the tournament. This could be just the beginning, maybe it's kind of a try out to test his durability, who knows. Either way, good show that ended in a sports entertainment way instead of an expected New Japan way.
The G1 will do a lot in setting up the title matches moving throughout 2019.
Andrew's New Japan Cup 2019 Final Day Ratings & Analysis
New Japan Cup comes to an end! SANADA versus OKADA! Who goes to MSG? How was the rest of the show?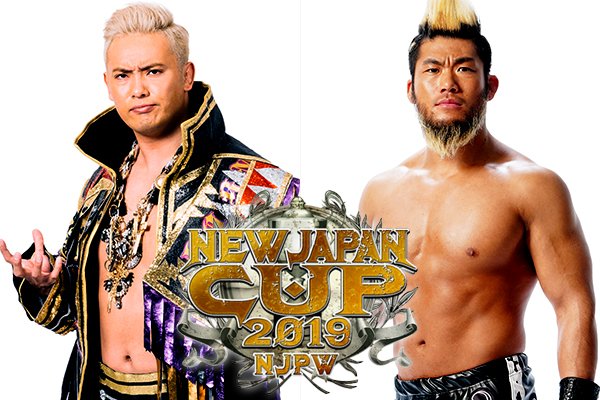 New Japan Cup comes to an end! SANADA versus OKADA! Who goes to MSG? How was the rest of the show?
Okada was the favorite going into this Cup since he's…well…Okada. Many close calls and rough matches brought up the question of who would meet him in the Finals. SANADA overcame Minoru Suzuki, Hirooki Goto, Colt Cabana and Hiroshi Tanahashi to get here. Even though Okada is the favorite, SANADA has done a lot to establish himself in this tournament.
That's enough typing, let's see how the show went.
Ratings:
Yuji Nagata & Manabu Nakanishi vs Yota Tsuji & Yuya Uemura: Nagata wins via Nagata Lock 2 @6:30 – **
Michael Elgin, Toa Henare & Colt Cabana vs Hiroyoshi Tenzan, Satoshi Kojima & Shota Umino: Elgin wins via Elgin Bomb @8:20 – ** 1/4
Minoru Suzuki & Killer Elite Squad vs Tomoaki Honma, Togi Makabe & Toru Yano: Suzuki-Gun wins via Killer Bomb @7:30 – ** 1/2
Tomohiro Ishii, Ren Narita, Ryusuke Taguchi & Kota Ibushi vs Tetsuya Naito, BUSHI, EVIL & Shingo Takagi: Shingo wins via Pumping Bomber @11:40 – *** 1/4
Taichi & Zack Sabre Jr vs Hiroshi Tanahashi & Will Ospreay: Taichi wins via Gedo Clutch @10:20 – ***
Mikey Nicholls, YOSHI-HASHI & Hirooki Goto vs Hikuleo, Bad Luck Fale & Jay White: White wins via Blade Runner @9:45 – *** 
IWGP US Title Match: Juice Robinson (c) vs Chase Owens: Juice retains via Pulp Friction @22:10 – ***
NJ Cup Finals: Kazuchika Okada vs SANADA: Okada wins via Rainmaker @33:05 – *****
Analysis:
We get the usual veterans versus Young Lion match. You could tell the length of the New Japan tour wore on the veterans a little since early on the moves were slow and a little sloppy. But once the Young Lions turned up the aggression, the Veterans put them in their place well enough.
Solid 6 man action. TenCozy worked with Colt and Henare mainly, then when Elgin and Umino got tagged in, there was an almost obvious sense of "oh okay, the finish will be soon". Shota keeps showing great fire and resilience, he must be slated to go on an excursion soon. He's the most elevated Young Lion at the moment, and the fans really do seem to appreciate him.
Suzuki-Gun pick up the win in a rather one sided affair. Makabe had a small flurry, but the usual outside of the ring shenanigans and overpowering the opponents put the match away pretty easily for Suzuki-Gun. With a win over two-thirds of the NEVER Openweight 6 Man Tag champions, the MSG could schedule Taguchi Japan vs Suzuki-Gun. However, it seems Lance Archer wants to murder Rocky Romero in a cage…so I'm not sure if that's foreshadowing.
Well now, we get a few nice wrinkles here. Ibushi and Naito are headed for an Intercontinental Championship match, and there's a lot of good tension there. Ishii didn't really want to participate with Taguchi's bullshit, but once EVIL hit him on the apron there was a fire started in Ishii, aimed directly at EVIL's head. Ren Narita even got some good offense in for a Young Lion against Shingo. However, after a big pile up in the ring, Shingo ducks under a lariat from Ren Narita and lands Pumping Bomber with authority. Good match, and a lot of tension to build towards matches.
Zack and Tanahashi have heat from the fact Tanahashi beat him in the New Japan Cup. Taichi apparently wants a shot at Ospreay for the NEVER, but Ospreay told him Jeff Cobb comes first, then we'll see. So after a solid match and Taichi spinning the ref around, he connects with a low blow on Ospreay and then applies the Gedo Clutch for the pinfall victory. So Taichi should be in line for a future shot.
This was a fine match. Not a lot of weight beyond Goto being perceived as a possible threat for White. YOSHI-HASHI continued to show some of the aggression he found in the New Japan Cup, Mikey Nicholls looked…like he's still getting used to Chaos/New Japan. Early tandem moves looked awkward like he was a step behind or in the wrong spot. It'll get better with time of course, but he was noticeably out of place. Goto had a nice false hope moment went YOSHI bailed him out with an Axe Bomber on Jay, Goto hit the Ushigoroshi and went for GTR, but Jay countered it into a Blade Runner for the 1-2-3. So in typical Goto fashion, close, but no cigar.
We got to see a rare side of Juice Robinson with this match. He slid in and immediately starting throwing bombs with Chase. Juice doesn't often lose his cool, but the matches are usually interesting when he's not as goofy and aloof. Chase had some great moments where he swept Juice's legs on the top rope and hung him over the turnbuckles for a nice Running Kneelift. But this turned into one of those heavy interference matches.  Jado was annoying very early on, Red Shoes was distracted or bumped constantly and even Bad Luck Fale came in and hit a Spear on Juice. Malfunction at the junction though when Chase tried to hit Juice with title and missed, hitting Fale (which was just a bad looking spot anyway). So Juice overcame the odds, but the excessive interference made me go from invested, to not caring pretty quickly. Also Mikey Nicholls making the save for Juice is…odd…since Mikey is Chaos and Juice is not. This whole match went from being pretty solid, to benefiting from a good beginning but the end was marred in garbage.
WOW! This was a fantastic match that felt like it told the story of their perception. SANADA was on the receiving end of Okada's offense for the first about third of the match. SANADA hit a few desperation moves, Dropkicks, Misawa Feint into Cannonball off the apron, even a big Rolling Forearm to stop the Rolling Rainmaker at one point. Hell SANADA even pulled out the Tiger Suplex, so there was a lot of Misawa nods from SANADA's offense, and I'm not sure if there's a deeper story. SANADA and Okada took turns trying one another's moves, but never successfully pulling off either. The crowd was solidly behind SANADA for most of the match, and it seemed to play well for Okada to pull out a few more arrogant moves, like a Draping DDT from the barrier. This was great, and SANADA wasn't as desperate to throw Moonsaults at Okada, but he still wasn't able to land one. SANADA did attempt a Shiranui (most likely to get in position for Skull End), but Okada stopped it, hit a Jumping Tombstone, and Okada lands the Rolling Rainmaker and classic Rainmaker to win the Cup! What I meant by a story of their perception, is that Okada was easily on top early in the match, and then SANADA proved himself over and over to be more of an equal than many probably assumed.
Overall Score: 7.25/10
The New Japan Cup Final match was tremendous, and there were a few wrinkles in other matches that seem to be leading to something, but overall the show was as to be expected. Decent undercard, great main event, but the US Title match was painfully underwhelming. Now in the last few years, the runner up does tend to get title shots if the winner is unsuccessful (which they are more often than not, I believe Cup winners are only 4-13 in title matches). So this tournament could've easily solidified SANADA as an up and coming main eventer.
Also, since a little bit of prediction never hurt anyone, I'm think Jay White retains at MSG. Coming off of a 2 year reign Jay White is the only new challenge to appear, and Okada has a tendency to have long programs overcoming Bullet Club leaders when they get the best of him early (look at the AJ Styles feud). Jay could hold it for a while, if G.o.D. win the Title vs Title match, that could play well into them helping Jay White win. That way Okada and Tanahashi could challenge G.o.D. for both belts, which keeps them both heavily involved in the Bullet Club angle, but removes them from the IWGP Heavyweight championship.
So even though the Finals were fantastic, and Okada is still the best wrestler in the business currently, Jay White should win at MSG.
Andrew's Quarterfinals & Semifinals New Japan Cup 2019 Ratings & Analysis
Andrew's combines the New Japan Cup Quarters and Semis out of necessity. Who made the finals? How were the matches leading up?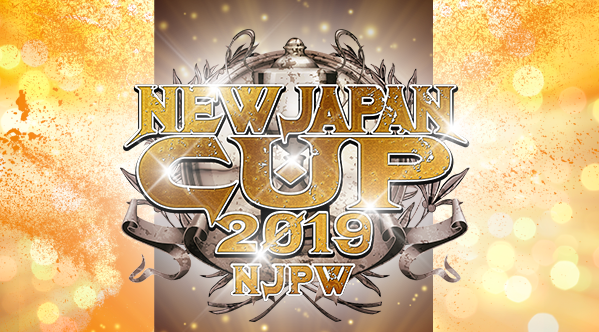 Andrew's combines the New Japan Cup Quarters and Semis out of necessity. Who made the finals? How were the matches leading up?
Due to personal plans, I figured it would be best to group these two and cover the Finals show in full on Sunday. So this way no article looks awkwardly short.
Now after an interesting first 2 rounds, we saw some upsets and some favorites pushed harder than expected.
Many of the usual suspects made the Quarters, so let's see who gets out alive!
Quarterfinals Ratings:
Tomohiro Ishii vs YOSHI-HASHI: Ishii wins via Vertical Drop Brainbuster @20:25 – ****
Kazuchika Okada vs Will Ospreay: Okada wins via Rainmaker @20:10 – *** 3/4
Colt Cabana vs SANADA: SANADA wins via Skull End @14:55 – ** 1/4
Zack Sabre Jr vs Hiroshi Tanahashi: Tanahashi wins via Leg Clutch @21:10 – *** 1/2
Quarterfinals Analysis:
YOSHI had something to prove, and being that he and Ishii are stablemates, it felt almost personal. YOSHI came out with more fire and resiliency than we're accustomed to expect from him and had a few nice near falls. Never really being able to hit Karma, and trying to go toe to toe with Ishii on strikes was his undoing. You don't trying to go blow for blow with the Stone Pitbull.
Okada and Ospreay are great together. As much as I was previously against Ospreay, after his neck injury he seems to actually be doing more than just a plethora of pointless flips. Ospreay has started to become more calculated and Okada keeps getting pushed harder and harder each time these two get together. Though I feel their 46th Anniversary was better, this was still a damn good match. New Ospreay is best Ospreay.
Colt and SANADA. What can I really say. Colt tried to outsmart SANADA on multiple occasions but seemingly gassed himself out being quirky. He overshot the Superman Pin once allowing SANADA to roll out of it and then he just missed, leaving himself wide open for the Skull End. Hopefully we see SANADA get over the hump in the semis, but he's in some pretty elite company.
Sabre and Tanahashi was a deliberately paced match with Tanahashi trying to keep Zack away from his legs. I'm surprised that Zack didn't immediately go after the legs when we all know Tanahshi has two bad wheels. So something about Zack seemed to not be nearly as sharp and calculated as usual, so Tanahashi was able to land an Inverted Slingblade and squeak out the pinfall with a Leg Clutch, much to Zack's chagrin.
Quarterfinals Overall Score: 6.75/10
After a first day of two great matches, the second was bound to not live up to the bar that was set because of well, Colt Cabana. No knock on Colt because he is a well rounded wrestler, but because he was basically Gaijin Yano in this tour, he wasn't going to put on  a classic. Honestly, even Tanahashi and Sabre was a little underwhelming. When YOSHI-HASHI is a participant in the best match of this section, some soul searching might be in order.
Semifinals Ratings:
Kazuchika Okada vs Tomohiro Ishii: Okada wins via Rainmaker @21:10 – **** 1/4
SANADA vs Hiroshi Tanahashi: SANADA wins via Skull End @24:10 – ****
Semifinals Analysis:
Okada and Ishii was a hell of a slobber knocker. Ishii does have a G1 victory over Okada, so it wasn't a foregone conclusion that Okada was going to win, and there were plenty of callbacks to the match where Ishii won. Okada saved the match for himself a few times with desperation Dropkicks, as Ishii just kept coming at him and avoiding the Rainmaker attempts for the most part. A multitude of headbutts and attempted Tombstones is where the match swayed to Okada. Ishii kept trying to hit the Tombstone to weaken the neck for the Vertical Drop Brainbuster, but Okada was wise to it and hit a Jumping Tombstone of his own, to set up the Rainmaker finish. Solid match, with the type of aggression you'd expect from two men who really wanted the chance to beat the hell out of Jay White.
Tanahashi and SANADA is interesting. They have similar teachers and harken back to both for their distinctive style. Tanahashi has been referencing Fujinami a lot to avoid knee damage and SANADA loves himself some Mutoh. We saw this match be a little more of a mat based chess game, with both finding ways to work over the other. Tanahashi went through the litany of the moves he used in the tournament thus far, only to have SANADA either break out, or outright counter. Tanahashi tried to use the Leg Clutch he used against Zack Sabre, but SANADA blocked it and sunk in the Skull End. Which marked the end for Tanahashi.
Semifinals Overall Score: 7.5/10
These matches were great and lead to a rematch between Okada and SANADA. In what was one of Okada's better title defenses last year, SANADA is a year older and hopefully with a new trick. The excessive attempts at the Moonsault, are what spelled SANADA's doom last year.
See you tomorrow for the New Japan Cup Finals! Does SANADA or Okada face Jay White in MSG?