Andrew's WWE Raw and SmackDown Live Ratings & Analysis (6/10 + 6/11/2019)
Does Raw continue to be more enjoyable than SmackDown? Do they both suck? Where in the world is Carmen San Diego?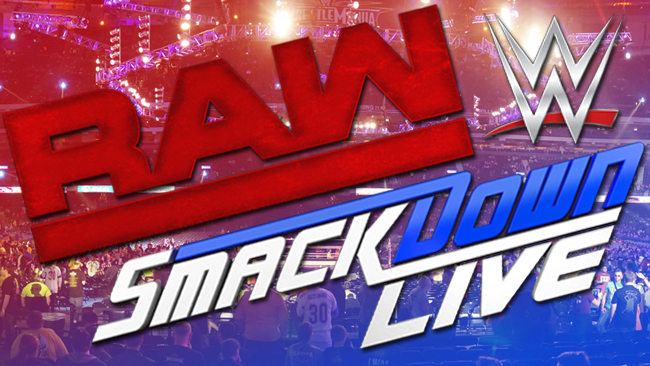 Does Raw continue to be more enjoyable than SmackDown? Do they both suck? Where in the world is Carmen San Diego?
Last week did a lot for character work. Sometimes I appreciate good story telling moments, even if the wrestling was lacking.
With that said, SmackDown only having 19 minutes of wrestling last week, was awful. So maybe they can go back to being the ring work focused brand.
Raw Ratings:
3 vs 1 Handicap Elimination Match: Lars Sullivan vs Lucha House Party: Sullivan wins easily – -** (that's negative 2)
Bobby Lashley, Samoa Joe & Cesaro vs Ricochet, The Miz & Braun Strowman: Ricochet wins via 630 Senton – *** ¼
Lacey Evans & Alexa Bliss vs Becky Lynch & Bayley: Lacey wins via The Woman's Right – **
IIconics vs 2 Jabronis from San Jose: IIconics win because it's a job match – N/A
Raw Tag Team Championship Match: The Revival vs The Usos vs Curt Hawkins & Zack Ryder (c): Dawson wins via Splash – ** ½ – TITLE CHANGE!!
Seth Rollins vs Kevin Owens w/ Sami Zayn special referee:  Owens wins via DQ – * ½
Analysis:
The open is a typical opening segment. Sami and Kevin just happen to ally a bit, a fairly throw away promo for everyone, but it feeds towards the main event and maybe the Stomping Grounds stuff. But my desire to care about any of this is pretty low.
Now it's the dumbest most worthless bunch of 4 pieces of crap on the roster. I'd rather drink ram urine, while being held upside down in Thailand with my legs on fire.  This was a travesty. You've got a dumb monster guy, against 3 guys with no personality, no desire to care and the crowd was dead.  Raw is off to such a great start…ugh.
Cole asks like half a question, and then Lacey Evans and Becky Lynch drive the interview. It wasn't a bad, but didn't really add anything. Lacey knows her character and Becky added a few cute Irish flairs to her comments, like "Dirt before the bush" feels very not American, yet adorable. So this didn't add much, but did grant some entertainment.
Alexa and Nikki have another interesting moment. Alexa apologizes for getting the number one contender spot on SmackDown, and tries to start painting Bayley as fake. Nikki doesn't seem to totally buy it, but she and Alexa are still friends, so she's not turning her back on her now. This will be interesting since it seems like Alexa is just being manipulative but Nikki could always be waiting out the advantages to the friendship. Hopefully they don't take an easy way out.
Miz TV starts out interesting with Samoa Joe being the guest. Joe and Miz start what could've been a nice promo, but then it turns into "Oh Captain My Captain", but a bunch of people suddenly caring about the US Title. It devolves into a 6 man because, it always does, but I really would've been more invested if it was Joe and Miz.
Surprisingly, the 6 man for how poorly it was set up was a damn good match. Lashley looked great, Braun even looked more competent than usual, just generally a nice match. Yes the finish looked a little rough, but I didn't like how Cesaro was tilted on his side to take the 630. So that looked like a few weird elements.
This women's tag match was more of a story telling match than a ring work match. Yes a few spots seemed awkward, but the way everyone played off of each other was great. Lacey getting the win and also using Nikki as a weapon during an out of the ring portion was great. Nikki gave Lacey the stink eye, and Alexa had to snap Nikki out of it, as the reverse of what happened last week. Nikki and Alexa's subtle threads are what are really driving the Raw Women's division current.
Heyman says things, which are usual Paul Heyman things. I can't say I cared nor paid much attention, but it's always "Lesnar is impending doom, maybe he'll be there, but be scared, blah blah".
Oh yeah there's been an ongoing trapped in an elevator section with the 24/7 Champion and a few challengers. Cedric Alexander, Drake Maverick, Carmella, R-Truth, Heath Slater and EC3 are all having quirky comedy moments.  I wasn't bothered by the whole elevator thing. It was a different take on the 7/11 European Television Championship and I was okay with the pivot.
IIconics face jobbers. IIconics are adorable; I appreciate their obnoxious, mean yet cute thing. Their matches tend to be a rough watch, but they know their characters.
Best in the World celebration time! Now, I don't mind Shane winning with McIntyre's help and being delusional. The biggest issue I have with it is that no one cares. The crowds tend to die for the most part; there isn't that palpable heat that Vince used to have. So if it was more effective, I'd be all for it. But this seems to have outlived its usefulness.
It's disappointing to admit the Triple Threat wasn't exactly impressive. It was fine for what it was, and the finish is what made everything better. A solid underhanded victory from The Revival that screwed over The Usos. So it all works itself out decently.
So as per usual, Firefly Fun House has become the highlight of Monday Night Raw. From the sign on the door, to the referencing of the first murder, to Bray murdering Rambling Rabbit again and then making some kind of breakfast spread…it's just good dark twisted entertainment.
Now I appreciate Kevin Owens as much as the next guy, but Sami Zayn took things to a different level in this match. Not only was he just being a heel, but he even bumped like a referee and played the part of weak/easily intimidated. It works well with his character and it was the best aspect of the match. The match was nothing special, but Sami was tremendous.
Overall Score: 4/10
Now the show wasn't good, or bad, just so average it was mind numbing. My final score is purely because of my own amusement math that I do. So a 5, minus 2 because of Lucha House Party, plus 1 because of the Fun House, is 4. Now where's my ram urine…
SmackDown Live Ratings:
The Miz vs Elias: Miz via Skull Crushing Finale – N/A
The Miz vs Drew McIntyre: McIntyre via Claymore – **
Shane McMahon vs The Miz: Shane wins via Triangle Choke – N/A
Jobbers vs Heavy Machinery: Come on now, don't ask dumb questions – N/A
Sonya Deville vs Carmella:  Sonya wins via Step Up Knee Strike – * ¼
Bayley vs Nikki Cross: Bayley wins via Bayley to Belly -**
New Day vs Dolph Ziggler, Kevin Owens & Sami Zayn: Kofi wins via Trouble in Paradise – ** ½
Analysis:
Miz TV opens SmackDown Live, and it's bad when I feel like Miz is just being wasted the last few weeks. This goes back to what I said on Raw, when I don't mind Shane winning, but the crowd doesn't seem to be into it, and they don't seem to lead anywhere. On Raw Miz is now shoehorned into the US Title picture and Shane gives Miz a shot at redemption by telling him he has to get through Elias and Drew to get to him. Ugh.
This goes the way we all expected. Miz beats Elias and then gets outclassed by Drew McIntyre. Shane, as the classic heel he is, decides to give Miz a match while he's basically dead and makes quick work of him. The tactics employed are fine, but the fact the angle doesn't have any real fan engagement makes it harder to watch.
So I guess Ember Moon is a nerd with a short fuse? That's her gimmick? Deville and Mandy Rose just keep picking on her choice of reading material, and she gets huffy. Wow, I guess the WWE primarily watch anime geared towards teenage girls.
Rowan and Daniel Bryan come out against the Yolo County Tag Team Champions (real county in California, not real belts). Heavy Machinery, another duo of winners (big oof), wants a shot at the SmackDown belts. So Rowan and Bryan tell them to go through the jobbers first to earn their shot.
UUUGHHH! Yes that's my analysis for this crap job match.
R-Truth accidentally gets himself stuck in a trunk whilst hiding from the horde of challengers.
Sonya Deville and Mandy continue their feud with Carmella. The numbers get the best of the Princess and Sonya lands a Step-Up Knee to knockout Carmella. The obvious path is Carmella getting annoyed that the numbers game keeps getting the best of her, so Ember will probably offer her services.
Again we have Alexa trying to manipulate Nikki, but you keep seeing that Nikki isn't totally under her spell since she asks the logical questions. Alexa trying to get Nikki to soften up Bayley is obvious, so again, we'll see how this story continues.
New Day comes out since Big E is back and healthy. These are always amusing and the fact that Ziggler, Sami and Kevin are involved mean only good things.
Aleister Black says nothing again. For someone who wants a conflict, he apparently needs to be approached, like he's special. This is dumb because it's counterproductive. In a fighting world, even a scripted fighting world, someone who runs their mouth for a month, but wants people to come to him, is a punk ass bitch. People don't fear you, people don't care about you.
Bayley versus Nikki was more of a statement to Alexa. It was competitive for a while, but towards the end Bayley proved she's not the same softie that couldn't pull the trigger during the Kendo stick on a pole match. Alexa didn't really look shaken, but she also didn't look like she was expecting such a different Bayley.
The main event was entertaining. A full blown Unicorn Stampede, solid ring work, good character work from everyone. Not bad at all. Kofi clearing out the last few problems by himself continued to make him look good.
Overall Score: 4/10
Well, I think I've figured out what it is. SmackDown just feels like a continuation of Raw anymore. It doesn't feel unique, it hasn't really focused on the in-ring work in a while and it's just looking bad. Ratings reflect a disinterest in the new format, and I can't really tolerate it. SmackDown used to be a nice palate cleanser after the overblown mediocrity that Raw usually is (it's been better more or less lately, I mean in general), but now SmackDown is just lame.
NXT Minus 6: Too Early To Fantasy Book War Games?
Everyone loves fantasy booking. Right?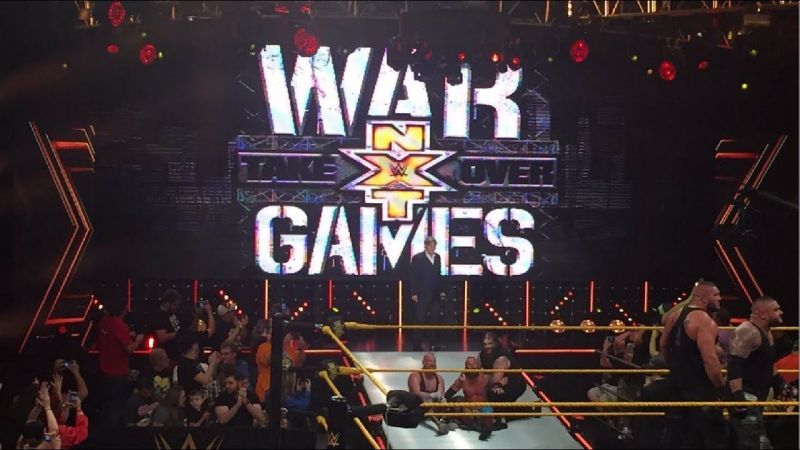 The answer is No. It's not too early.
6. NXT teases us with a Matt Riddle-Arturo Ruas match that went 3 minutes? I know it's not happening, but those guys deserve a Takeover spot. Kudos to NXT for playing up the mma aspect. Everything from Mauro's commentary to the ref stoppage made this feel like it should have been in an octagon. If you haven't already seen it, check out Ruas' match from the Evolve 10th Anniversary show. Dude is a killer.
5. We got the final opening round match of the Dusty Rhodes Everyman Classic. Bronson Reed is good. He delivered what might be the biggest frog splash I've ever seen. There is always a place for athletic big men, but he's not the story.
4. Dexter Lumas is creepy. The key to wrestling is to crank your personality up to 11. If this creepy thing is any part of Dexter Lumas, I don't want to be in a room with him. I don't trust him around my kids. I wonder how many crimes against humanity he's already committed. Creepy in a way that Bray Wyatt can only hope to be.
3. Tyler Breeze enters the running for Savage Burn of the Year. He looked at Jaxson Ryker and asked "Weren't you Buddy Murphy?" Brutal. That line alone is worth the return of Prince Pretty.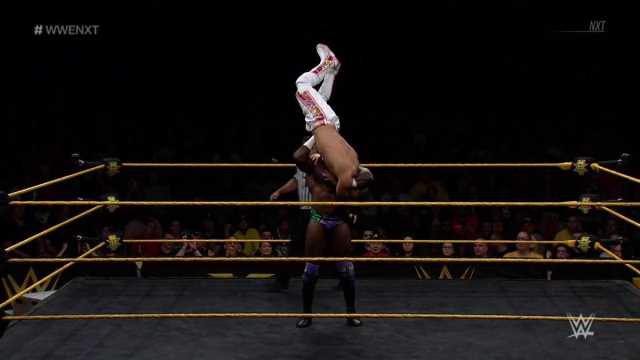 2. I finally got the moment I was waiting for: an interesting KUSHIDA match. I was ready to send him to 205 in exchange for Akira Tozawa. And if this is Apollo Crews, I will gladly take him back full time in NXT. Stellar matchup and worth watching. 4.4 stars. 
1. Oh no, this cannot be happening. They're turning Keith Lee into Kassius Ohno 2.0? He's talking about getting passed over for the new guys? And he's jobbing to Damian Priest next week? Been here a year and zero Takeover matches? The Ridiculous Keith Lee deserves better. THIS…CAN…NOT…BE…HAPPENING!!!
Bonus time: Old school versus new generation. Tyler Breeze heads up a cast of NXT OGs to take on Undisputed Era in (cue William Regal voice) War Games to determine NXT supremacy. Keep Apollo around. Throw in Cesaro and Harper, maybe even Samoa Joe, and you've got yourself one hell of a brawl. Either that or Undisputed Era versus the Club. I'm cool with both.      
Tiffany's Takes: WWE NXT (7-17-19)
Who will be the first to challenge Adam Cole for the NXT Championship?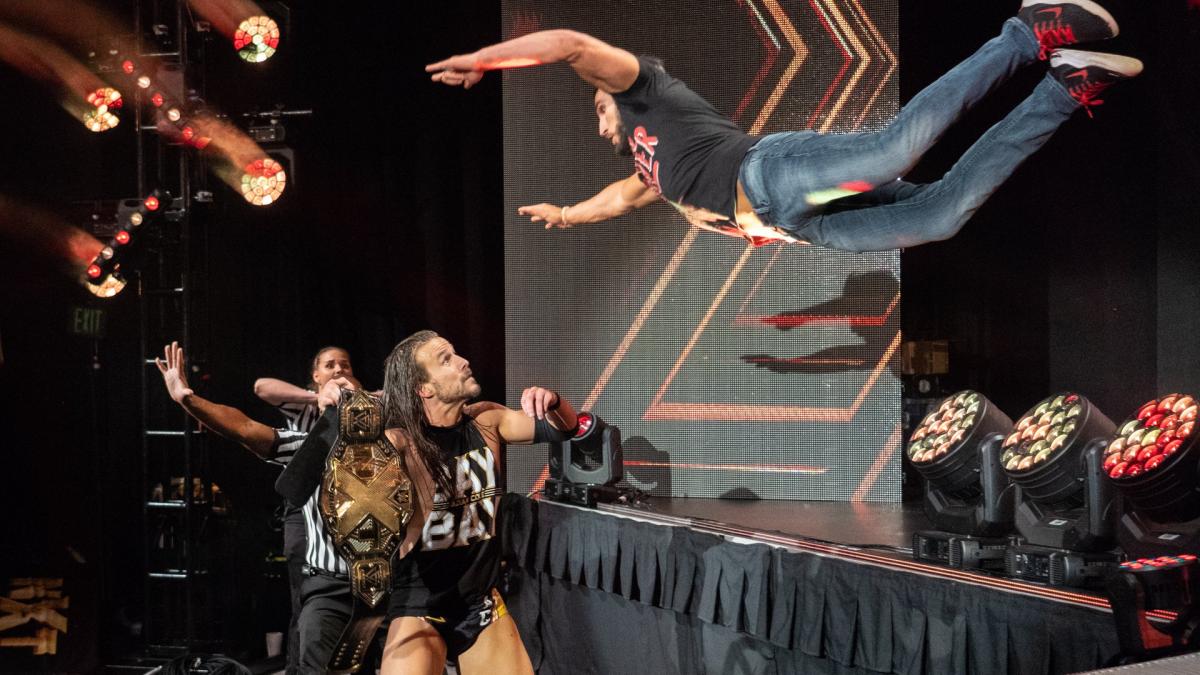 Who will be the first to challenge Adam Cole for the NXT Championship?
Have I ever told anyone that I can't stand Matt Riddle? I have? Okay. I don't even know what it is, but he sets my teeth on edge. I will give him props for having a good match with Arturo Ruas, but I'm not sure what they're doing with his character, except teasing a heel turn after that NASTY beatdown of Ruas. I am here for Killian Dain vs Riddle, that even sounds like fun!
Looks like we are going to Undisputed Era vs Street Profits at some point, but I'm waiting for UE to make a big deal about Street Profits being on the Main Roster for the last couple of weeks.
I love that Mia Yim is learning from everyone's mistakes in dealing with Shayna Baszler and is going after Baszler's friends, who are the real reason she's stayed on top for so long. This feud is going to get nasty in a hurry and I can't wait!
The next match of the NXT Breakout Tournament  had a lot to live up to after two AMAZING matches and one not so amazing. I'm not sure what in the world Australian Strong Styles is, I'm guessing it's like any 'Strong Style' in that it's pretty hard hitting. I also didn't know Australia had a Black Forest, it was never on 'Crocodile Hunter'. I did like this match, however. I can't say it was as amazing as some of the other matches, but it was really good. Bronson Reed won the match for Australia, so we'll see what happens in Round 2.
Someone should tell Tyler Breeze that having a beard doesn't make you a man. I've seen teenagers with better facial hair. I did love the little dig at Forgotten Sons, but I don't think Breeze really wants to pick a fight with Jaxson Ryker, that's not going to end well.
Well, it looks like we'll likely get a confrontation between Io Shirai and Candice LeRae next week, unfortunately for Kacy Catanzaro, she's going to be Shirai's punching bag before that.
I wasn't really into KUSHIDA vs Apollo Crews. I'm just not a huge fan of either guy. The match was really good, but I don' t think anyone really thought Crews was going to beat KUSHIDA, who is getting built into a title contender, but it was a longer match than Crews has been having for most of his WWE run, so there's that.
I'm still not into Keith Lee, I just don't get it, but I'm super stoked  about the prospect of Lee vs Damian Priest, that promises to be a wild match.
So, it's officially official, we WILL be getting Adam Cole vs Johnny Gargano III and it sounds like it's going to be the last one. I did like Gargano comparing his victory tour of trying to inspire young people in Cleveland with Cole's obnoxious antics at the Gargano restaurant. Also, love the 'Johnny Badass' thing, very cool. NXT TakeOver: Toronto II is going to be a wild ride in that Three Stages of Hell match! Thank you, William Regal for booking that!
That's it for Tiffany's Belated NXT Takes! Tune in Monday for Monday Night RAW!