Jon Moxley vs. Kenny Omega at 'All Out' will Set the Tone for AEW's Future on TNT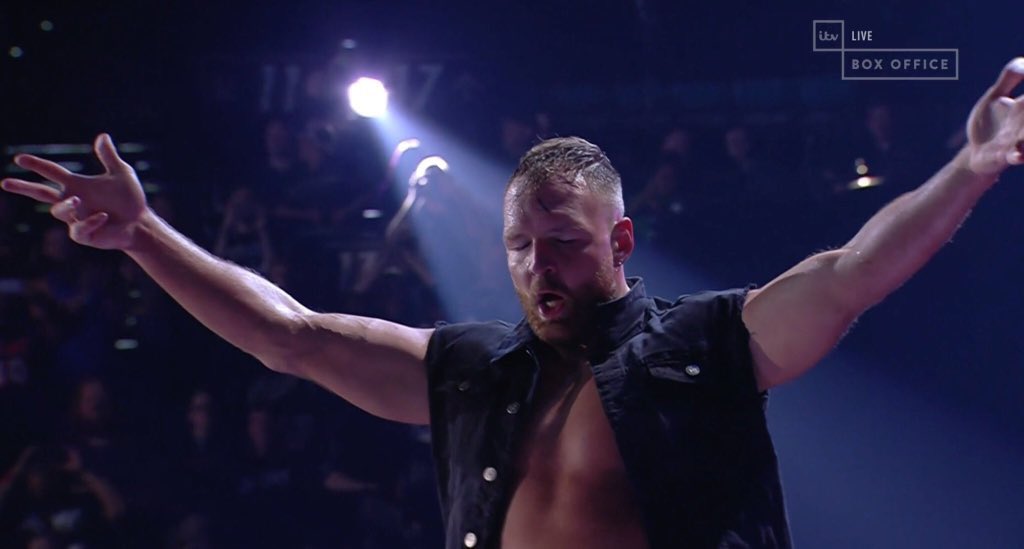 The news of Kenny Omega versus Jon Moxley at AEW's All Out on August 31 came as no surprise to pro wrestling fans. The match was setup perfectly on May 25, when Moxley made his shocking debut at the company's Double or Nothing event in Las Vegas.
The Death Rider brawled with Omega following the main event match with Chris Jericho. Moxley left Kenny for dead outside of the ring and in doing so, laid the foundation for the inevitable war that was to come. Now the two men will indeed battle one-on-one and their match will set the tone for AEW's immediate future. 
That future will begin this fall on the TNT Network. Cody Rhodes and The Young Bucks' company will go live every week on the same network that WCW once called home. It's a fact that's not lost on longtime fans. For them, the similarities between AEW and WCW are many and they're only increasing as the days go by.
Both companies shared the same goal of running in direct opposition to WWE and they're doing so in a very brazen fashion. WCW was not intimidated by WWE and truth be told, the Atlanta-based promotion often had more moxie than it should have. Eric Bischoff grew more and more confident with each small victory that WCW had, until the company was running full throttle over WWE.
Common sense says that the men in charge of WCW should have realized that Vince McMahon would only take so much until he fought back. Perhaps the knowledge was there and WCW just didn't know what to expect. That was certainly true for fans, who tuned in every week to see what each company would do to gain forward momentum in the ratings war.
Maybe WCW knew full well what McMahon was capable of, but were unprepared to stop it. WCW's focus had become so razor-sharp on the performance of Monday Nitro, that no one seemed to notice WWE's slow burn that eventually erupted in a fire that could not be extinguished.
But WCW's mistakes and ultimate failure are well documented. They serve as a warning to any pro wrestling company that seeks to make waves in the industry. This includes AEW, who has been fearless thus far in its early growth. The promotion is trying to make a statement by taking a different direction with its product. 
It's s smart move, because meeting Vince McMahon head-on is simply not a good idea. That's especially true now, because of Triple H's current place in the company. He could be the one major factor that keeps WWE rolling along over AEW, or anyone else that wants to create legitimate buzz in spite of the odds being against them.
But a great number of AEW's stars have publicly said that they do not view their new effort as competition for WWE. AEW wants to carve out its own niche and be as successful as possible based on the support of its ever growing fanbase. But that's not what Jon Moxley is saying.
Moxley is as ambitious as they come right now and with good reason. The former WWE Superstar was saddled with one silly bit of comedy after another. His entire existence became an uphill battle to try and avoid that comedy, but it was a futile attempt in many regards. Dean Ambrose was a goofy, unbelievable buffoon. 
But Jon Moxley is free and he's ready to deliver a punishing blow to the company that turned him into a clown. So his mindset heading into the match with Omega is perhaps different than Kenny's. Kenny Omega is a major star, a pillar of AEW's structure. The Best Bout Machine could have plied his craft in any company in the world. But he chose to remain with his friends.
More importantly, he chose to take a risk. AEW, though heavily financed, is still an unproven commodity as a full-time pro wrestling company. AEW's events are drawing good numbers and positive fan response, but that does not mean the company will succeed on TV. AEW must bring its current fan following along for the ride. But it must also establish new fans as well.
That is where Jon Moxley comes in. Mox believes that WWE fans will find him on TNT and he may very well be right. Whether or not that will make a longterm difference for AEW is unknown. But generating interest in the new company is vital to AEW's early success. If enough WWE fans are drawn to AEW because of Moxley, then it could be a great starting point for the future.
Then there's the match itself. Moxley is bringing all of his pent-up frustration, as well as his desire to prove something to WWE, with him against Omega. Kenny is the cornerstone of AEW, the man that will likely become the face of the company. He and Jon are surely anxious to show what they can do on the worldwide stage and fans are undoubtedly ready for it.
What sort of product will AEW offer when the company lands on TV? What level of intensity and drama will AEW give the audience that's been sorely missed by the WWE faithful? All of those questions and many more could be answered when Kenny Omega and Jon Moxley step into the ring on August 31. 
There's plenty of time for AEW to build itself up. But for the company that wants to change the world, each event is the most important of them all. Moxley and Omega must certainly feel that way as well and it will show at All Out.