Kevin: Jon Moxley Is Home
They say home is where the heart is. If that is indeed the case, then I think the newly-reborn Jon Moxley has found his way home, and he's found his heart again.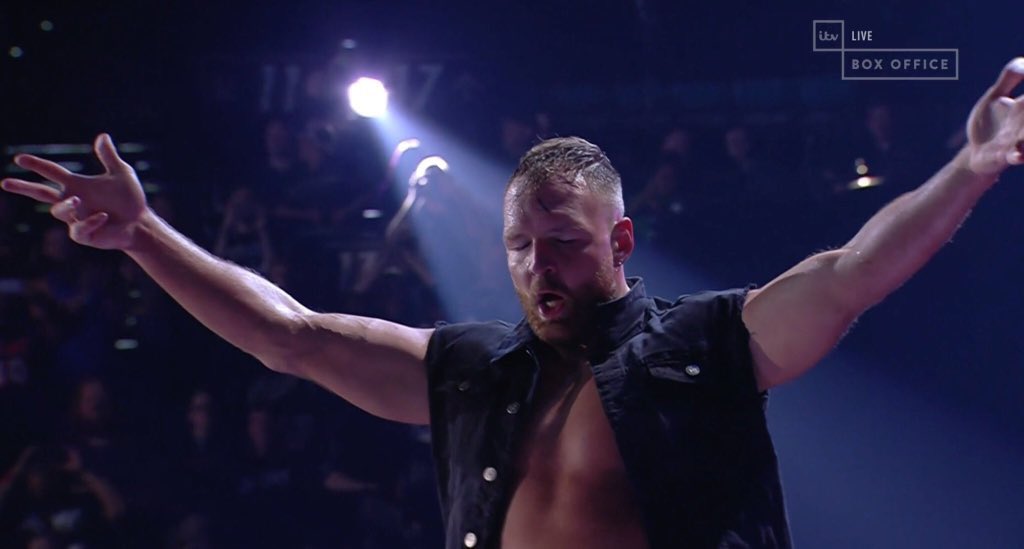 They say home is where the heart is. If that is indeed the case, then I think the newly-reborn Jon Moxley has found his way home, and he's found his heart again.
On an already-raucous Saturday night in Las Vegas, the man formerly known as Dean Ambrose made his presence felt in the main event of All Elite Wrestling's debut PPV, Double or Nothing. The scowling Moxley made his way through the crowd into the ring, and enjoyed a wonderfully tense stare down with Chris Jericho, another former WWE performer who made his way to the possibly greener pastures of AEW.
Snarling, brooding and full of manic energy, this Jon Moxley was as far from Dean Ambrose as you could possibly get. He had the crowd eating out of the palm of his hand from the minute they first caught sight of him. All respect to all of the other impeccably talented performers that took to the ring on Saturday night, but the singular lasting image of the evening was a man who didn't even fight.
When's the last time that Dean Ambrose ever left that indelible of a mark on a WWE show? How many times did we see a major pay-per-view come to a close with Dean Ambrose standing tall?
That's the Jon Moxley effect.
A switch flips, a light bulb burns bright and the man that became famous working for CZW and putting his body through hell has returned to us, just as nasty and dangerous as he was once upon a time.
His passion and drive for this business was readily apparent at Double or Nothing, and he looked every bit the part of a superstar as he stood in the center of that ring as 20,000 strong went absolutely ballistic.
It was a side of Jon Good (the real name behind the many monikers) that we just didn't get to see all that often in WWE.
Now, don't get me wrong, I'm not knocking the success that Dean Ambrose had as a member of the WWE locker room. The man's a Grand Slam champion, former Money in the Bank winner, had matches with the likes of Triple H and Brock Lesnar. He came in with one of the biggest factions in WWE history. The man's had a great damn career under the WWE umbrella.
But was his heart in it? Was that same passion and drive really there for Dean Ambrose?
Character changes can be hard on pro wrestlers, especially when they're accustomed to doing business on way, and then have to pivot and work completely differently.
Ambrose went from being this vicious, sinful being into a bit of a goofball, and that's the way he stayed for roughly three years while in WWE. It was as if they had neutered Jon Moxley, stripped away all of the characteristics that had made him a bonafide star on the independent circuit, and transformed into just another product of the WWE machine.
There was no uniqueness to Dean Ambrose, no matter how hard Jon Good tried to bring it out of him. Upon his debut, he was heralded as the star of the Shield; by 2014, he had been surpassed by his colleagues Seth Rollins and Roman Reigns. All of the mesmerizing character work that Moxley had put in had slowly seeped away.
Dean Ambrose was generic. Dean Ambrose was a little bland, a little too normal.
Dean Ambrose is not Jon Moxley.
But now Mox is back among the living. He has risen again from the ashes, and boy oh boy does he look ready for a fight.
No more games. No more "Lunatic Fringe," one of the worst nicknames I've ever heard. Jon Moxley is a madman, pure and simple, and he's out for blood.
Back working outside the rigid confines of WWE, Mox has the freedom to do what he does best: bring a dark, twisted character into the world the way Vince McMahon never allowed him to do.
The spark is back. The light bulb is on. The torch is lit.
Welcome home, Jon Moxley.