Kevin: Jon Moxley Is Home
They say home is where the heart is. If that is indeed the case, then I think the newly-reborn Jon Moxley has found his way home, and he's found his heart again.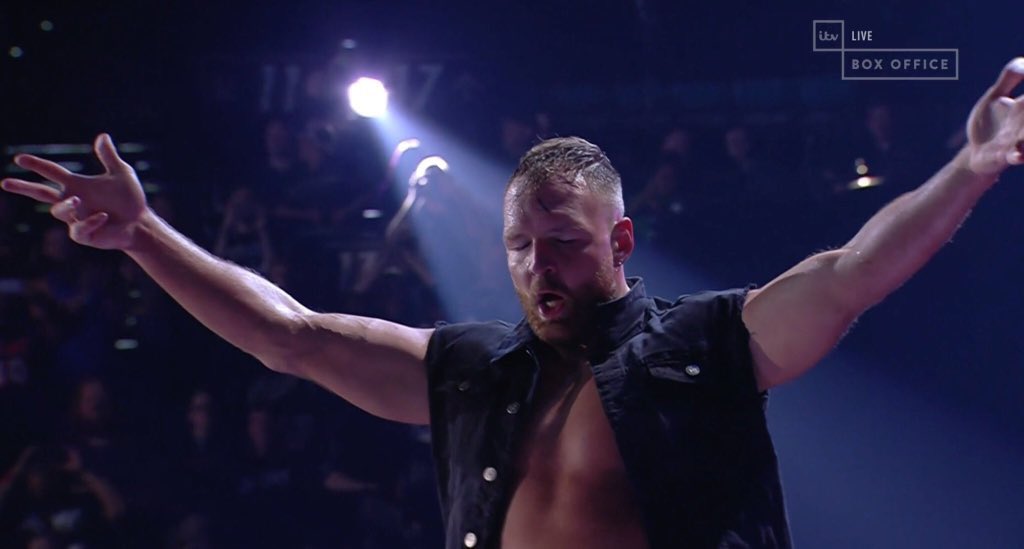 They say home is where the heart is. If that is indeed the case, then I think the newly-reborn Jon Moxley has found his way home, and he's found his heart again.
On an already-raucous Saturday night in Las Vegas, the man formerly known as Dean Ambrose made his presence felt in the main event of All Elite Wrestling's debut PPV, Double or Nothing. The scowling Moxley made his way through the crowd into the ring, and enjoyed a wonderfully tense stare down with Chris Jericho, another former WWE performer who made his way to the possibly greener pastures of AEW.
Snarling, brooding and full of manic energy, this Jon Moxley was as far from Dean Ambrose as you could possibly get. He had the crowd eating out of the palm of his hand from the minute they first caught sight of him. All respect to all of the other impeccably talented performers that took to the ring on Saturday night, but the singular lasting image of the evening was a man who didn't even fight.
When's the last time that Dean Ambrose ever left that indelible of a mark on a WWE show? How many times did we see a major pay-per-view come to a close with Dean Ambrose standing tall?
That's the Jon Moxley effect.
A switch flips, a light bulb burns bright and the man that became famous working for CZW and putting his body through hell has returned to us, just as nasty and dangerous as he was once upon a time.
His passion and drive for this business was readily apparent at Double or Nothing, and he looked every bit the part of a superstar as he stood in the center of that ring as 20,000 strong went absolutely ballistic.
It was a side of Jon Good (the real name behind the many monikers) that we just didn't get to see all that often in WWE.
Now, don't get me wrong, I'm not knocking the success that Dean Ambrose had as a member of the WWE locker room. The man's a Grand Slam champion, former Money in the Bank winner, had matches with the likes of Triple H and Brock Lesnar. He came in with one of the biggest factions in WWE history. The man's had a great damn career under the WWE umbrella.
But was his heart in it? Was that same passion and drive really there for Dean Ambrose?
Character changes can be hard on pro wrestlers, especially when they're accustomed to doing business on way, and then have to pivot and work completely differently.
Ambrose went from being this vicious, sinful being into a bit of a goofball, and that's the way he stayed for roughly three years while in WWE. It was as if they had neutered Jon Moxley, stripped away all of the characteristics that had made him a bonafide star on the independent circuit, and transformed into just another product of the WWE machine.
There was no uniqueness to Dean Ambrose, no matter how hard Jon Good tried to bring it out of him. Upon his debut, he was heralded as the star of the Shield; by 2014, he had been surpassed by his colleagues Seth Rollins and Roman Reigns. All of the mesmerizing character work that Moxley had put in had slowly seeped away.
Dean Ambrose was generic. Dean Ambrose was a little bland, a little too normal.
Dean Ambrose is not Jon Moxley.
But now Mox is back among the living. He has risen again from the ashes, and boy oh boy does he look ready for a fight.
No more games. No more "Lunatic Fringe," one of the worst nicknames I've ever heard. Jon Moxley is a madman, pure and simple, and he's out for blood.
Back working outside the rigid confines of WWE, Mox has the freedom to do what he does best: bring a dark, twisted character into the world the way Vince McMahon never allowed him to do.
The spark is back. The light bulb is on. The torch is lit.
Welcome home, Jon Moxley.
Steve Cook's Top 5: STOMPS!
Given the current Universal Champion, and the name of the most recent PPV, stomps make sense. Steve Cook thinks so too! Check out his Top 5!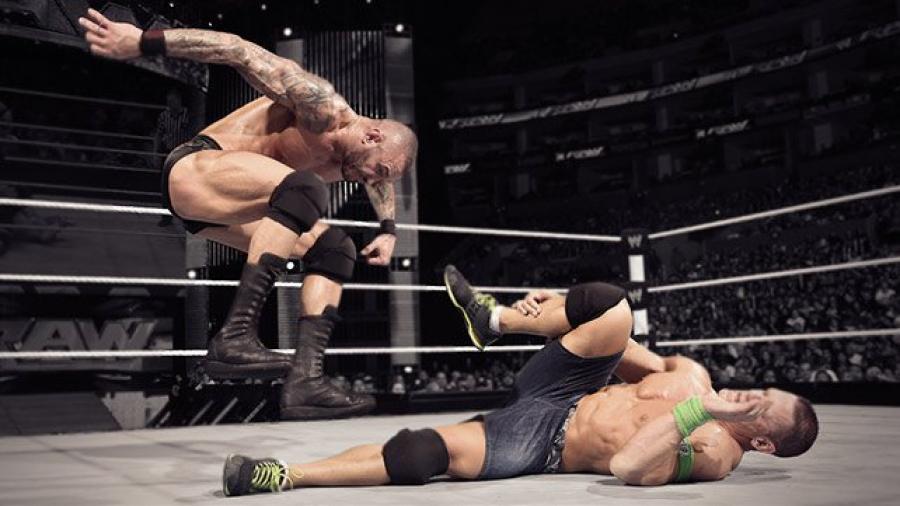 Given the current Universal Champion, and the name of the most recent PPV, stomps make sense. Steve Cook thinks so too! Check out his Top 5!
I've been sitting here all week thinking of things to write about relating to WWE Stomping Grounds.
The other Chairshot writers have taken every take possible on Shane McMahon, and he's not even on the show. Most of the matches are lame rematches from Saudi Arabia, and I get yelled at every time I talk about that area of the world. The show is in Tacoma, Washington, and the only interesting wrestler from that state is Daniel Bryan so it's not like we can make a top 5 out of that.
OK, there might be two. Jack Evans has been billed from Parkland, Washington. But a Top 2 column would be even lamer than the column I've cooked up for today.
It's Stomping Grounds Sunday, so we're talking about stomps! Yeah buddy! Top 5 Stomps for ya!
5. Shawn Michaels Tuning Up The Band
HBK was known for his finishing superkick known as Sweet Chin Music. Sometimes he'd just blast somebody with it, but often he would set up the move by repeatedly stomping the mat. If you go to 18:30 & 27:00 of that classic match up there you'll see it. The fans would get all excited since they knew what was coming. It seemed to me like Michaels was telegraphing the move, and sometimes people would manage to avoid it after the band was tuned up. But as far as fan excitement while a finisher was set up goes, few finishing moves can compare to Sweet Chin Music.
4. Seth Rollins' Stomp
The current Universal Champion is known for stomping his opponents into oblivion, so you knew he would have a place on this list.
Back on the indies, he would do some crazy stomps in the corner before hitting the Buckle Bomb, which I'm pretty sure was banned after he killed Sting with it. Not the best of ideas hitting a Social Security recepient with it.
3. Super Dragon's Curb Stomp
I'm guessing that Super Dragon's work hasn't aged well. I haven't watched any of his matches in a very, very long time. But back in the mid-2000s, he was a guy that got a lot of hype, and for good reason since he curb stomped fools.
Yes, he wore a mask & pajamas. But he was still a fearsome man. Just ask any fans that tried to get frisky with him.
2. The Garvin/Orton Stomp
How can you not love a man that tries to stomp every single joint on a person's body? Well, after watching most of Randy Orton's career, I can kind of understand. But back when Ronnie Garvin did it, it was pretty awesome.
I'm pretty sure Bristol falls in the old Southeastern territory region, so that's a perfect choice of song.
Honorable Mention: Rhea Ripley's Entrance Stomp
I wish I had a better YouTube video available of this, or a GIF or something. If NXT UK gets more popular we can make it happen. Just take my word for it that it's a pretty badass entrance stomp on television. I'm still very high on the 22 year old Australian and buying all of her stock. I'm not as high on the guy that tried to take his shot here and got nothing in return.
1. The Mongolian Stomper's Stomps
When somebody is nicknamed "The Stomper", you have to respect their stomps. Archie Gouldie was a legend in Calgary & Knoxville, which are two random places to be a legend in but it happened. The Stomper was a legit top heel in the territories he frequented, mostly because he would stomp the bejeezus out of whoever was in his path.
Interesting story behind the headgear shown in some portions of that video. The gimmick was that Stomper had an inner ear problem, so the more noise the fans made, the more difficulty he would have doing things. What a great way to get heat! Jim Cornette has told tales about how Stomper would lose matches in seconds in more podunk places to make sure he would get out of the building alive. I'm not even sure if I believe these stories, but they sound really good!
As I said in a recent 411 column, Cornette would have named a Smoky Mountain Wrestling show Stomping Grounds and put Stomper in the main event against more current heels and it would have worked.
Andrew's Top 5 Matches: Week Ending 6/23/2019
We know the drill by now. Top 5 Matches of the week. Do you agree or disagree? Let your opinion be known!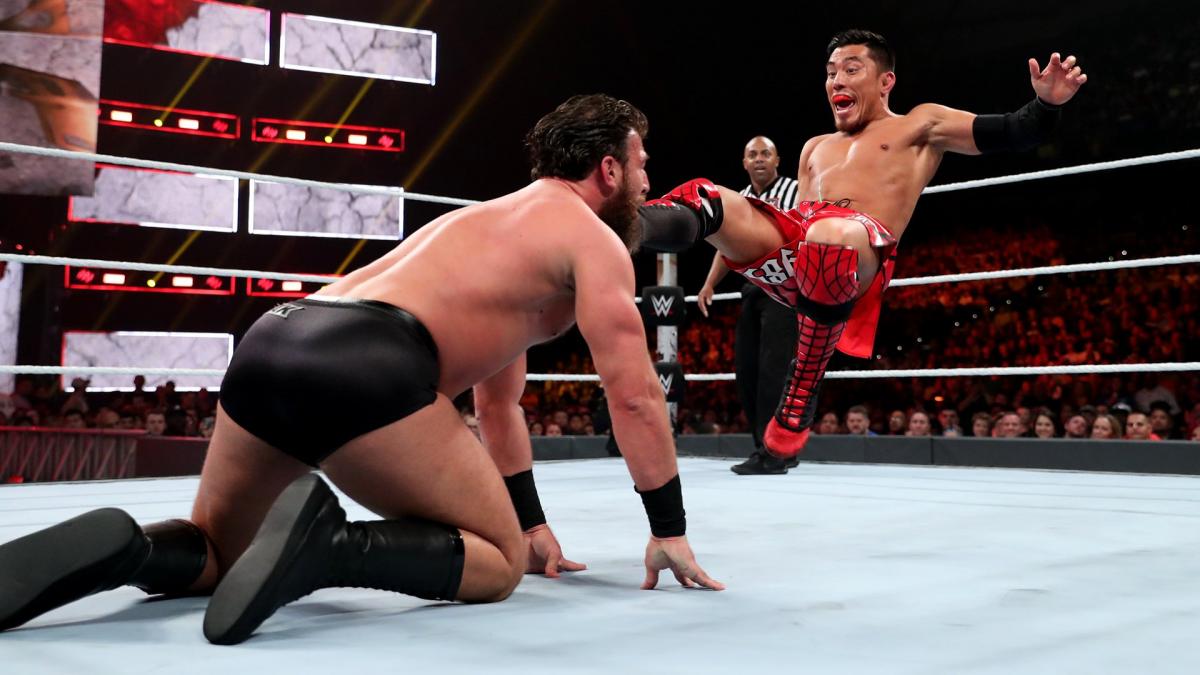 We know the drill by now. Top 5 Matches of the week. Do you agree or disagree? Let your opinion be known!
Covering Stomping Grounds meant I couldn't see WrestleCircus. So let's just hope nothing great happened there.
Last week's vote was a nail biter. The variety of product spread out a lot of votes but two rose to the top. Winning by one vote, AAA Tag Team Championship: The Young Bucks vs Lucha Bros.
So with all that out of the way, let's see what we got out of Stomping Grounds and others, during a fairly quiet week.
5. NXT: Adam Cole, Bobby Fish & Roderick Strong vs Velveteen Dream, Tyler Breeze & Matt Riddle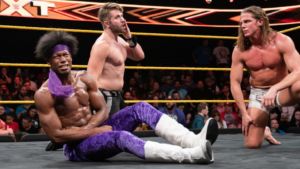 Snippet from Mitchell's Review:
Riddle pries his way out and throws elbows, but Fish rakes the eyes. Fish stomps Riddle down then tags Cole. Cole gives Riddle stomps then taunts him. Cole hits Dream hard just because! Riddle CHOPS Cole and throws big hands from all sides! But Cole stomps the bare feet. Cole fakes Riddle out with the muel kick, but leaps into a Bro Trigger! Hot tags to Fish and Breeze! Breeze rallies on the Undisputed Era! Forearm, forearm and SUPER MODEL KICK! Fish mule kicks and runs but into an enziguri! Fish flounders and Breeze hits another forearm. Breeze reels Fish in but Fish counters to a fireman's carry. But Breeze slips out to give Fish a Beauty Shot! Cover, but Strong drags Fish to safety! Or so they think, as Breeze builds speed. But Dream tags in!?
Dream and Breeze argue and they don't see Strong tag in. Cole SUPERKICKS Riddle down! Breeze and Dream double SUPERKICK Cole! But Strong's super knee hits Breeze into Dream! Then Strong drags Dream up for End of Heartache!! Cover, the Era wins!!
Winner: Strong via End of Heartache
Rating: *** 1/2
4. IMPACT: Rich Swann vs Johnny Impact vs Michael Elgin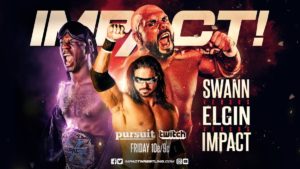 From My Analysis:
Impact main events have been really impressive last few weeks and this one fell a little short of that mark, but not by much. Many moves missed by just a hair or looked too cooperative to really get full marks, but it was a fun match. Swann getting the pin on Johnny was a spot. John E. Bravo comes out to help Johnny beat down Rich. Elgin doesn't want Johnny to use the big red X, but doesn't seem against destroying Swann. But Brian Cage's music hits, and comes out with a plan. Gorilla Press tosses Johnny out of the ring, has a quick back and forth with Elgin and then does the full Kevin Nash putting the cigarette out flair, before hitting a Jack Knife Powerbomb on Elgin.
Winner: Swann via 450 Splash
Rating: *** 1/2
3. AJPW Dynamite Series Day 2: Yusuke Okada vs Hikaru Sato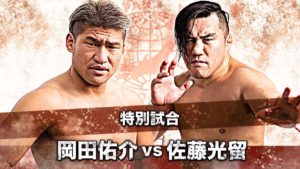 This was a special singles match. Special because Okada and Sato requested this match, in honor of Atsushi Aoki. Aoki was a fellow stablemate, friend, and to Okada, a mentor. He was head trainer in the dojo, a corner stone wrestler since Akiyama returned to AJPW. This was their gift, to their fallen friend.
During introductions Okada was crying, the crowd was crying, and notably, the referee came out in an all blue outfit as his own dedication. We got a match that Aoki would be proud of. Even though he was a Junior, Aoki was very technical and mat based in his approach. He would only go to the top ropes on occasion, and his proteges did the same.
The weight and significance of it all must've continued to hit Okada during the match. He wasn't as crisp, attempted a very sloppy Step Up Tornado DDT from the ropes and just generally seemed to not be there. It was all understandable, and the match was still very good and showed they both learned a lot from Aoki and cared deeply. So from an emotional aspect, this match was a 10 out 5. But from a technical aspect, the hiccups did hurt it a little.
After the match, they had words for their friend, they played Aoki's music, Dory Funk sent a video message and all of Evolution posed together one last time: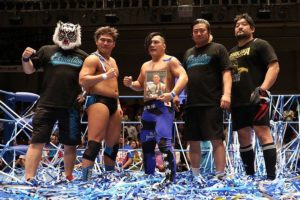 Winner: Sato via Ude-Hishigi-Gyaku-Juji-Gatame
Rating: *** 3/4
Honorable Mentions:
AJPW Dynamite Series Day 2: All Asia Tag Titles: Jake Lee & Koji Iwamoto vs Kazumi Kikuta & Ryuichi Kawakami (c)
Winner: Lee via High Angle Backdrop
Rating: *** 1/2
WWE Stomping Grounds: Sami Zayn & Kevin Owens vs Xavier Woods & Big E
Winner: Owens via Stunner
Rating: *** 1/2
AJPW: Nobe Bryant, Odinson & Parrow vs Shuji Ishikawa, Suwama & Super Tiger
Winner: Suwama via Manriki Sleeper
Rating: *** 1/2
WWE Stomping Grounds: Steel Cage WWE Championship Match: Dolph Ziggler vs Kofi Kingston (c)
Winner: Kofi via Escaping the Cage
Rating: *** 1/2
GCW Crushed Up: GCW Championship: Nick Gage(c) vs Tony Deppen
Winner: Gage via Chokeslam onto back of chairs
Rating: *** 1/2
WWE Stomping Grounds: Raw Women's Championship: Becky Lynch (c) vs Lacey Evans
Winner: Becky via Disarm-Her
Rating: *** 1/4
IMPACT: Jake Crist vs Tessa Blanchard
Winner: Tessa via Magnum
Rating: ***
SmackDown Live: Dolph Ziggler vs Xavier Woods
Winner: Ziggler via Superkick
Rating: ***
WWE Stomping Grounds: SmackDown Live Women's Championship: Alexa Bliss vs Bayley (c)
Winner: Bayley via Bayley to Belly
Rating: ***
WWE Raw: Seth Rollins vs Daniel Bryan
Winner: Rollins via Stomp
Rating: ***
GCW Crushed Up: Dan Maff vs Mathew Justice
Winner: Maff via Burning Hammer through Door
Rating: ***
WWE Stomping Grounds: SmackDown Live Tag Team Titles: Heavy Machinery vs Rowan & Daniel Bryan (c)
Winner: Bryan via Small Package
Rating: ***
2. WWE Stomping Grounds: Cruiserweight Championship: Akira Tozawa vs Drew Gulak vs Tony Nese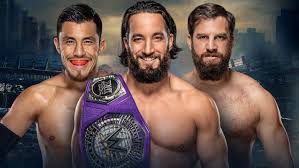 From my Analysis:
Constant action defined this match. Gulak kicked things off with a Dropkick at the bell, and it was pedal to the metal from there. Tozawa breaks up the Gu-Lock with his Top Rope Senton, which the camera didn't focus on, so it was cool to see Tozawa just crash down from the sky. Each man had a legitimate shot at different points in the match. Gulak however took advantage of the situation, tried to TKO Nese, but Nese wiggled out to the apron, Drew dodged Tozawa's Dropkick, grabbed Tozawa and hit the TKO for the win. Gulak finally gets the belt, which is a bit overdue, and he didn't win via submission. Things should be interesting on 205 Live. Great start.
Winner: Gulak via TKO
Rating: ****
1. WWE Stomping Grounds: United States Championship: Samoa Joe (c) vs Ricochet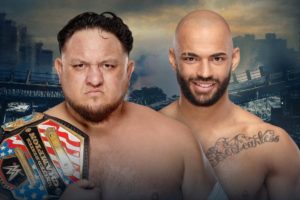 Snippet from Mitchell's Coverage:Ricochet keeps his cool as he heads for another corner. He climbs up and aims, but Joe gets up. Ricochet jumps over but Joe scoops him for a powerslam! Cover, TWO! Joe grows frustrated, but keeps his eyes on Ricochet as Ricochet stirs. Joe drags Ricochet up but Ricochet throws forearms and CHOPS! But Joe CHOPS back again! Ricochet stands so Joe whips, Ricochet handsprings, but into a full nelson! Ricochet breaks free but still gets a German Suplex! Joe runs as Ricochet rises to LARIAT! Cover, TWO!! Ricochet survives and Joe is shocked. Joe glares at Ricochet as he clamps hands on the shoulders. Joe drags Ricochet up for another urenage, but Ricochet fights out! Ricochet boots but Joe blocks it, to FLIP Ricochet!
Joe puts on the Coquina Clutch! But Ricochet climbs the ropes! Ricochet hotshots Joe down! Joe is in the drop zone, and Ricochet climbs up again! Ricochet 630 but he has to roll through! Joe LARIATS Ricochet, but Ricochet springs back up! CODE BREAKER! Ricochet keeps going and gets back up top! Ricochet tries again, 630 SENTON! Cover, Ricochet wins!!
Winner: Ricochet via 630 Senton
Rating: ****
Thoughts:
Well the B-rated PPV ended up taking the top 2 spots this week! That could say something about the level of competition this week, but let's look at the positive!
My vote goes to the Cruiserweight Triple Threat. I'm happy Gulak finally won the belt, hopefully he can help bring a level of excitement/interest back to 205 Live. Since it really seemed to lose it's luster after Cedric and Buddy were called to the main roster.