(NOAH) WEEKLY NEWSLETTER VOL.38 ~ 9TH JUNE 2019
The busy week that was in NOAH! The first Misawa memorial show and thoughts on the KENTA situation!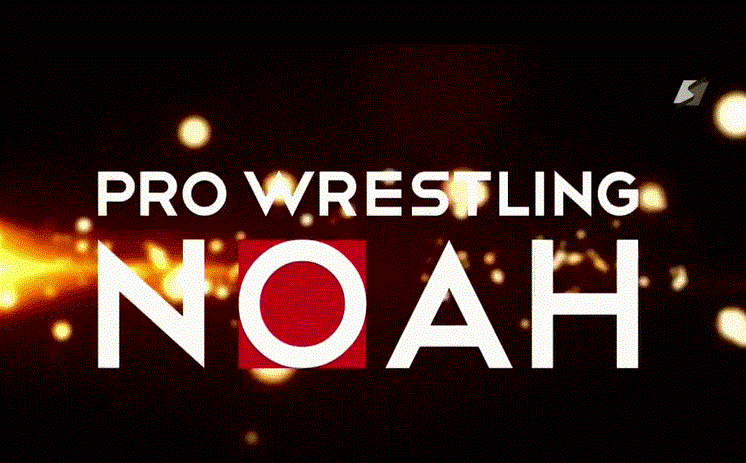 The busy week that was in NOAH! The first Misawa memorial show and thoughts on the KENTA situation!
CURRENT TOUR RECAP
Global Junior Tag League 2019 held its final two nights before the big finals in Osaka, on the 8th June in Yokohama, and the 9th June in Tokyo (the 9th June being the Mitsuharu Misawa memorial show).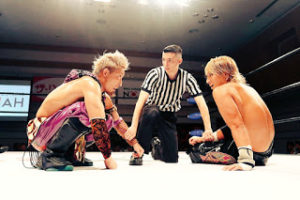 The RATELS seesaw bought Daisuke Harada and Tadasuke down with a bump, while at the other end of the scale rose, bringing YO-HEY & HAYATA up. On the 8th in Yokohama, Tadasuke fell to Hajime Ohara after ten minutes, and Daisuke Harada fell to Yoshinari Ogawa's sneak schoolboy pin on the 9th. This now means that they are out of the league.
YO-HEY & HAYATA however, on the rising end, won against Hitoshi Kumano & Chris Ridgeway (and eliminating them in the process) and the following night, won against Hi69 & Minoru Tanaka (who despite this loss, have said that they will be challenging for the GHC Junior Heavyweight tag belts). The finals of Global Junior Tag League 2019 in Osaka will be Stinger vs YO-HEY & HAYATA.
The main event of the Yokohama evening was called "The Mitsuharu Misawa Memorial Pre-match" which pitted the veteran team of Naomichi Marufuji, Takashi Sugiura & Shuhei Taniguchi against AXIZ (Go Shiozaki & Katsuhiko Nakajima) & Kaito Kiyomiya.
As Shuhei Taniguchi is going to be Marufuji's opponent on the 13th in Osaka, there were tensions between the two, although fans did report that there was tension between all the the vets.
During the match, Naomichi Marufuji worked on Go Shiozaki's shoulder (Shiozaki was to be his opponent for the 9th June), while Shuhei Taniguchi concentrated on everyone else, and Takashi Sugiura against Kaito Kiyomiya in particular. Sugiura managed to destroy him, and later commented that he would be very disappointed if the title match turned out the same way.
NOAH held the first night of the Mitsuharu Misawa memorial show on June 9th (Misawa actually died on the 13th June, when NOAH will be in Osaka) in Tokyo. The memorials are always a moving event with the flower altar arranged for him where fans leave gifts of flowers, his favorite food, drink and even cigarettes, and the traditional ceremony when he is welcomed to the green ring as the GHC Heavyweight Champion while "Spartan X" plays. The event was sold out with even the standing room tickets going quickly.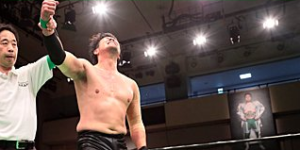 Naomichi Marufuji had a singles match against Go Shiozaki.
This match was symbolic as Shiozaki has never ever beaten (until now) Marufuji in a singles match, but in a hard fought fight, he managed to get the win over him by a Gowan Lariat\Emerald Fusion combination. Marufuji slunk away to lick his wounds, while Shiozaki spoke in the ring, thanking Marufuji for keeping NOAH alive, and Misawa for creating NOAH. Marufuji, in the post match promo, swore to become "the wall that Misawa was".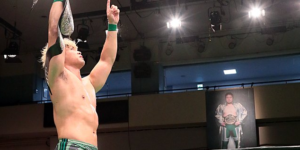 The GHC Heavyweight match started off civilly, with a handshake between the young champion and the veteran challenger, then all gloves were off, and Takashi Sugiura battered him for the best part of the match. Kiyomiya endured everything; the Olympic Slam, vicious elbows, the DDT avalanche, apron suplexed, speared, and that match finisher that has taken out other older, hardened and more experienced challengers, the front neck choke-hold.
The match finished after 33 minutes and 53 seconds, with Kaito Kiyomiya using the Tiger Suplex.
There was no immediate challenger after the match, (although both Kenoh and Naomichi Marufuji had hinted at a challenge), and Kiyomiya had no speech either, simply holding the belt up and pointing to the ceiling.
Elsewhere on the card that evening, Junta Miyawaki got his second win, and the biggest win of his career when he schoolboy pinned NOSAWA Rongai in the league, it was too late for either team to win, but the effects on Miyawaki's confidence was immense.
It was hoped that KENTA would make his return to NOAH on this night, but instead he appeared at a New Japan show in Osaka, and announced he would be competing in the G1 Climax. NOAH fans are naturally disappointed, as it was hoped that he would come home to NOAH first. Naomichi Marufuji posted on Twitter (without directly naming anyone, but it was obvious who he meant), saying to the effect that on this day of all days, he chose to do this. He wished him luck, and said "don't get buried".
EVENT RECAPS
Post match promos ~ Hamamatsu City
EVENT RECAP: Global Junior Tag League 2019 – 8th June, Yokohama Radiant Halls
POST MATCH PROMOS: Global Junior Tag League 2019 – 8th June, Yokohama Radiant Halls
EVENT RECAP: Global Junior Tag League 2019 – 9th June, Korakuen Hall (Mitsuharu Misawa Memorial night)
NEWS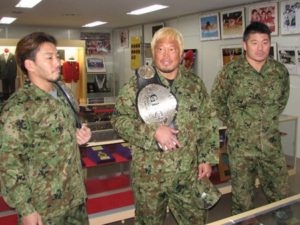 ATSUSHI AOKI PASSES AWAY
It was announced on June 3rd that All Japan (and NOAH born) wrestler, Atsushi Aoki, had been killed in a motorcycle accident in Tokyo. His bike had failed to take a swerve correctly, and he had crashed into a side wall.
Although he was an All Japan wrestler at the time of his death (plus their junior heavyweight champion, and a trainer in the dojo), Atsushi Aoki had actually started his career in Pro-Wrestling NOAH. A friend of Takashi Sugiura from their days in the JSDF (Japan Special Defense Forces), he had entered the NOAH dojo after an introduction to Naomichi Marufuji in Aomori, and graduated on the same date as Shuhei Taniguchi, December 24th 2005. He stayed with NOAH until 2013 when he walked out to All Japan with his trainer, Jun Akiyama (alongside Yoshinobu Kanemaru, Kenta Kobashi, Go Shiozaki and Kotaro Suzuki) in protest over NOAH's firing of Kobashi due to injuries. During his time in NOAH he had held the GHC Junior Heavyweight Tag Team championship twice, once with Kotaro Suzuki and once with Naomichi Marufuji. Jun Akiyama called him one of his most talented students who had a remarkable capacity for remembering advice about technique and carrying it out, what you told him after one match, he would remember in another.
After the walk out to All Japan, Aoki would return to NOAH one last time in September 2018 when he faced Takashi Sugiura and Daisuke Harada, while teaming with Jun Akiyama at Naomichi Marufuji's "Flight".
He was forty-four years old at the time of his death.
NOAH held a commemoration service for him at Yokohama, with old dojo friend and fellow trainee, an emotional Shuhei Taniguchi holding his picture.
NOAH'S PHOTO EXHIBITION
Pro Wrestling NOAH have announced that another photo exhibition will take place on Saturday September 14th until Monday September 16th at the ROJI Gallery in Osaka. The exhibition will be known as "NOAH the BEST 2019". There is no word as of yet whether another photo book will be released.
"COME AT ME YOU BASTARDS" ~ Kenoh's column
Kenoh's column this week dealt with one of his favorite subjects, not his hatred of Naomichi Marufuji, Takashi Sugiura or his hate\love\older brother relationship with Kaito Kiyomiya, or LIDET, but his beloved car.
"BEYOND MISAWA AND KOBASHI" ~ Interview with Go Shiozaki
Go Shiozaki gave an interview to "Weekly Pro" in which he speaks about AXIZ, Shuhei Taniguchi, Sugiura, the new NOAH and other subjects.
CURRENT CHAMPIONS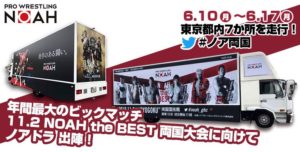 TOUR TIDBITS
~ To hype the Sumo Hall show on the 2nd November (which I will be attending), NOAH have commissioned a truck with artwork advertising the event, to drive around Tokyo on a schedule in June. Fans have been asked to photograph it, hash tag it and put it on Twitter.
~ Takashi Sugiura got home from the event at Korakuen Hall and saw his two dogs play fighting, he took a picture, put it on Twitter and said, "I also lost today, and so did you".
BROADCASTS
The 9th June show (the Misawa Memorial from Korakuen Hall, Tokyo and the second to last night of Global Junior Tag League) will be broadcast by G+ on Thursday 13th at 8pm JST.
The 13th June Mitsuharu Misawa memorial show from Osaka, will be shown on the 22nd at 10pm on Samurai TV. This will be the final night of Global Junior Tag League 2019.
Riki Choshu's Power Hall (featuring Go Shiozaki and Yoshiki Inamura) will be broadcast live on the 26th June on Samurai at 6.30pm
PICTURE CREDITS: YO-HEY, NOAH GHC, PKDK
Newsletter by Hisame