Rob: What Are They Gonna Do?
Will a sports-oriented wrestling product appeal to a mainstream TV audience?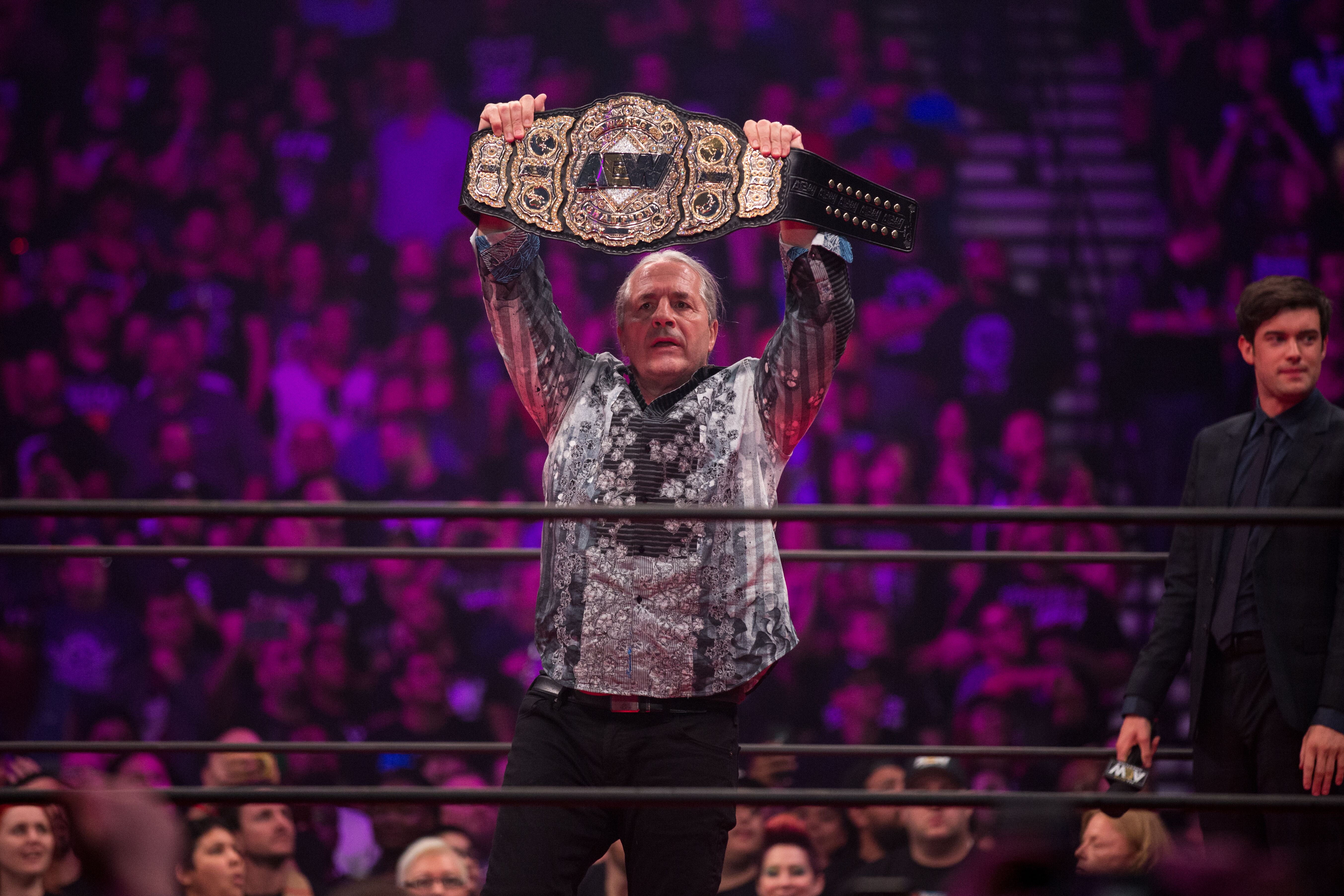 Rob takes a look at AEW, and their mission to deliver a more realistic and sports-oriented wrestling product. Will it work for the TV audience?
Hey everyone, it's me again.  I figured that with all the buzz about AEW going that I needed to tackle it at least a little.  I've said a few times here and on Twitter that I'm more interested in how AEW operates structurally than in any of the actual content they put out, and now that they've shown they can do Pay Per View the next big question is how are they going to handle TV.  I have a few questions to start with because I'm genuinely curious, so here they are:
How much wrestling?
Tony Khan has said more than once that they intend to more sports oriented and focused on the in-ring action than other stuff.  Now while that may be music to the ears of many who have grown to hate goofy skits and such on Monday nights, color me skeptical.  Why?  Here are a few YouTube numbers to chew on:
Brock Lesnar and Paul Heyman's comedy routine – 5.8 million views
R-Truth defending the 24/7 title at the Memorial Day cookout – 1 million views
Seth Rollins vs Sami Zayn – 691,000 views
Ricochet vs Cesaro – 257,000 views
What does this mean?  Well, the comedy stuff got way more views than the workrate stuff.  And you can go beyond those examples.  Becky Lynch getting in fights usually results in more views than Becky Lynch in the ring.  Braun Strowman destroying things backstage is usually good for a high number.  The Mandy Rose-Naomi hotel fight got more views than any match featuring either woman.  And lastly, the wild and crazy three way fight between Becky, Charlotte, and Ronda Rousey the week before WrestleMania that was straight out of an episode of Live PD has 9.7 million views, more than any televised match featuring any of the three women.  We can go on about workrate all we want but the other stuff gets more people's attention.  What do YouTube views have to do with TV?  Well, they show what people choose to look at when things are entirely in their control.  It's one thing to sit through R-Truth at the cookout in order to be there for the next match but choosing when you can pick any other part of the show is more telling.
Rob has more after the ad! Buy a shirt!
---
Time to pick up a new Chairshot shirt!

Get yours at:
https://www.prowrestlingtees.com/related/thechairshot.html
---
So what does that have to do with AEW?  Well as much as Tony Khan says that they're going to focus more on in ring action than backstage skits and such, there really isn't much evidence to support that as the way to go as far as drawing an audience, the exception being matches that involve people who have a following.  Roman Reigns' and R-Truth's tag team main event on Smackdown, which involved the top guy in the company and one of the most crowd/audience pleasing guys teaming up, has done over 2 million views this week.  So in the short run they may end up working the biggest names there (Moxley, Jericho, Omega, Cody, and the Bucks) a whole lot on TV, because lesser known people having even the greatest of matches just isn't going to hit like you might hope.  I can almost guarantee that an in ring promo that leads to a fight between Moxley and Omega will probably work better for the TV audience than a match between either guy and someone else.  If you want a non-WWE example when I was watching ROH last year I found Bully Ray's in ring rants more compelling that a whole lot of their matches, as good as many of them were.  Good wrestlers having good matches just isn't the draw some people think it is, otherwise you wouldn't be seeing or hearing any disingenuous ratings takes about RAW every week.
And oh yeah, the highest rated segment in the history of Monday Night Raw isn't a match, it isn't any of the Austin-McMahon stuff, it's…..wait for it………This is Your Life with the Rock and Mick Foley, which is exactly the kind of thing that would spawn a million rants on YouTube and podcasts were it to take place in 2019.  As for the idea that they'll do the goofy stuff and setup pieces on YouTube and stick to the serious stuff on TV, good luck with that.  Broadcast TV is for people who largely don't devote as much attention to other mediums, so to tell people that they need to go watch this other thing first to be ready for TV, as opposed to going there to catch up on some TV clips that I may have missed….that sounds like homework to me.  My kids watch almost zero broadcast TV now, and the stuff they do watch is in one place be it YouTube, Netflix, or whatever.  Watching pieces of a show in one place in order to understand some other pieces that are in another place, all in time for the live weekly broadcast, is asking a lot.  So to cut to the chase, here's what I'm guessing eventually happens: they scrap all that and go with a similar model to WWE, maybe with fewer replays during the show, but one where the meat of what's going on is all on TV with the YouTube/social media stuff serving as an add on.  So in other words, when the rubber meets the road don't expect the wheel to get reinvented.
Who gets on, and who gets stuck in catering?  Who wins and who loses?
Oh don't think that it won't happen here, too.  Assuming they're getting two hours of TV that's still not enough to give everyone time every week.  In the early going they're gonna have to use the people with the most name recognition simply to get attention, along with people that look like they could be a quick hit like MJF or Orange Cassidy.  And you have to assume that anyone who comes over from WWE and has any 'oh sh@#! They're here!' potential is going to be given time as well.  If some of their buddies from ROH come over like Marty Scurrl or Flip Gordon then they're going to get some TV time, too.  That's not going to leave a lot of time to develop people who don't catch on as quickly.  There is going to be a hierarchy no matter what anyone tells you and some really talented people are not going to get as much time as you think they should, because maximizing your audience requires you to use the people who draw eyeballs the fastest, and in two hours that space is going to get crowded really fast.
Putting people on because they 'deserve a chance' sounds really great in theory but in practice not so much.  Familiarity matters more than you think so running unknown people out there for long stretches just is not the move.  Now the obvious answer is to put those kind of folks in the ring with your established names so they can get a rub. But if they're losing all the time then don't we have the same problem that guys like Chad Gable have, where no one believes that anything is going to come of their good showing with the top guys?  If Sonny Kiss puts on a great match against Moxley, and then with Cody, and with Hangman Page but all in defeat are we really gonna hold on for the day that he might start winning those, all while there are six or seven guys who will be holding the keys to the kingdom for the foreseeable future?  Let's be real there's a top tier of the Elite plus Jericho and Moxley and then there's everyone else who will largely be fighting each other for the right to lose to them.  It may not be that way forever but in the early going that's what I expect, and to be fair it's probably the best move for business.  But of course that means that they're not really changing the world they're just sitting at the head of their own table instead of just another seat at someone else's.  Which of course was the plan all along.
Am I being really cynical here?  Yes.  Now I'm not saying they won't have good TV or that they won't find some innovative things to do (which of course will be imitated by WWE in due time).  But the path to successful  TV is going to require a lot of the same decisions that we get mad about when you know who does it.  And at the end of the day they're doing a TV show that includes wrestling and not a wrestling show on TV.  There's a difference and ultimately for them succeed over the long haul they're going to have to treat it as such.
Top 5 World Championship Reigns In The WWE Modern Era (1984 to Present)
See the lists developed by PC Tunney, Greg DeMarco, and Patrick O'Dowd as they determine the five best world championship reigns in the modern era of WWE!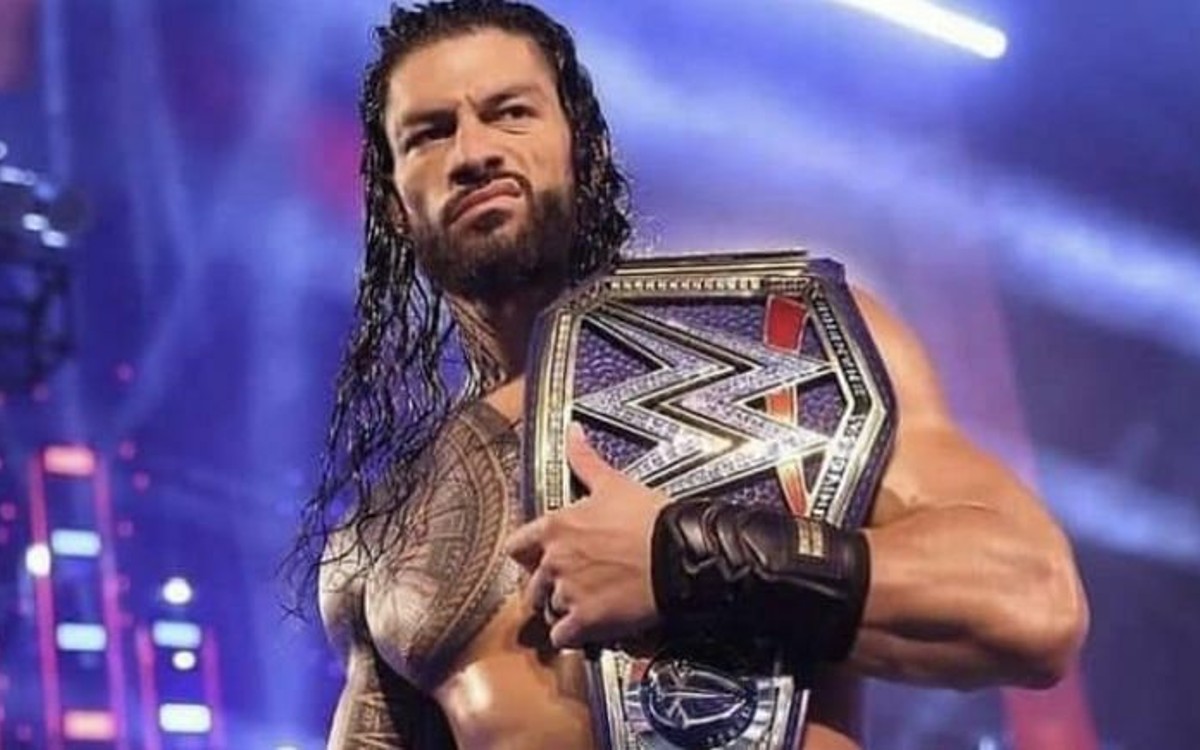 See the lists developed by PC Tunney, Greg DeMarco, and Patrick O'Dowd as they determine the five best world championship reigns in the modern era of WWE!
Wrestling is one of the most fun topics under which we can rank nearly everything. A simple Google search will reveal entire websites devoted to rankings–wrestling or otherwise.
PC Tunney devised an idea, and I developed a name. Thus, the Impromptu Wrestling Convo (aka, The IWC) was born. The first topic? Top 5 World Championship Reigns In The WWE Modern Era.
PC Tunney, Patrick O'Dowd, and myself each came up with our Top 5, and came together to reveal them on this special podcast (see it above, and below). Definitely give it a listen. But here you can also read our composite list, and see who ranked in our Top 5.
Grading Criteria:
Points were assigned for the rankings: 5 points for #1, 4 points for #2, and so on.
Ties would likely have been left as ties, but (luckily for me) there were no ties in the Top 5, making that part easy.
Any reign starting with Hulk Hogan's first was eligible to be included.
And now, the list!
Powered by RedCircle
Top 5 World Championship Reigns In The WWE Modern Era
5. Brock Lesnar, 2014
Starting with his dismantling of John Cena at SummerSlam (which was supposed to be Daniel Bryan), Brock Lesnar had a reign that included an incredible triple threat match with Seth Rollins and John Cena at the 2015 Royal Runble, and of course the WrestleMania 31 main event clash with Roman Reigns that ended in Seth Rollins' iconic cash-in. This reign is mainly notable for how it starts and how it finishes, as there was but one bright spot in the middle.
4. John Cena, 2005
Not the longest John Cena world title reign, but Cena's run as WWE Champion started at WrestleMania 21 and ended with the first ever Money In The Bank cash-in at New Year's Revolution. This cemented Cena as the top dog in WWE, complete with a move to Raw in the draft, and the emergence of "Super Cena."
3. CM Punk, 2011
454 Days that no one will ever forget, CM Punk dominated WWE television in a reign that was ultimately cut short by The Rock. Punk didn't main event WrestleMania 28, facing Chris Jericho before the "Once In A Lifetime" clash between The Rock and John Cena. This ended at the following Royal Rumble at the hands of The Rock, who would go on to lose that title to Rumble winner John Cena at WrestleMania 29.
2. Roman Reigns, 2020
The present-day WWE Universal Champion nearly tops the list, but what remains to be seen is just how long he holds the title, and how it ends. Roman Reigns is on a monumental ride, with no signs of slowing down. We will see if the emergence of a new megastar ends this journey, or if Hollywood comes calling first. Either way, this will end up being acknowledged as one of the all time great championship reigns.
1. Hulk Hogan, 1984
Hulk Hogan began his 1,474 day reign as WWF Champion on January 23, 1984, defeating The Iron Sheik in Madison Square Garden. Hogan would kick off the Rock-N-Wrestling Era, launching WWE into a stratosphere not seen by any other wrestling company, ever. Outside of an 83 week stretch, no one could touch WWE, and that stretch was fronted by Hogan himself. His reign ended in controversy (something about Andre The Giant selling the championship to Ted Dibiase, evil twin referees, and a tournament at WrestleMania IV), but it still goes down as the greatest ever.
Others getting mentioned:
Jinder Mahal, 2016 (yes, that was mine)
Brock Lesnar, 2017 (by PC Tunney)
Randy Savage, 1988 (Patrick O'Dowd's)
John Cena, 2006 (by Tunney)
To see how each talent was listed, and by who, I made this chart. Keep in mind, a "5" means they were #1 on that person's list, a "4" is #2, "3" is #3, "2" is #4, and a "1" is #5.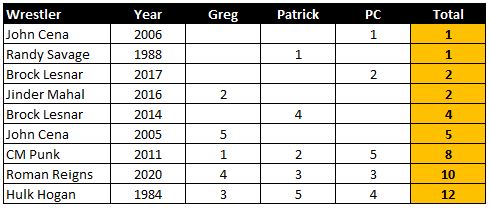 What are your thoughts? Drop them in the comments below, or on social media! Also, give the podcast a listen, it's streaming throughout this article.
News From Cook's Corner 1.17.22: Gory Self-Mutilation
AEW tried to catch lightning in a bottle for the second time. Did it work? What other news struck last week?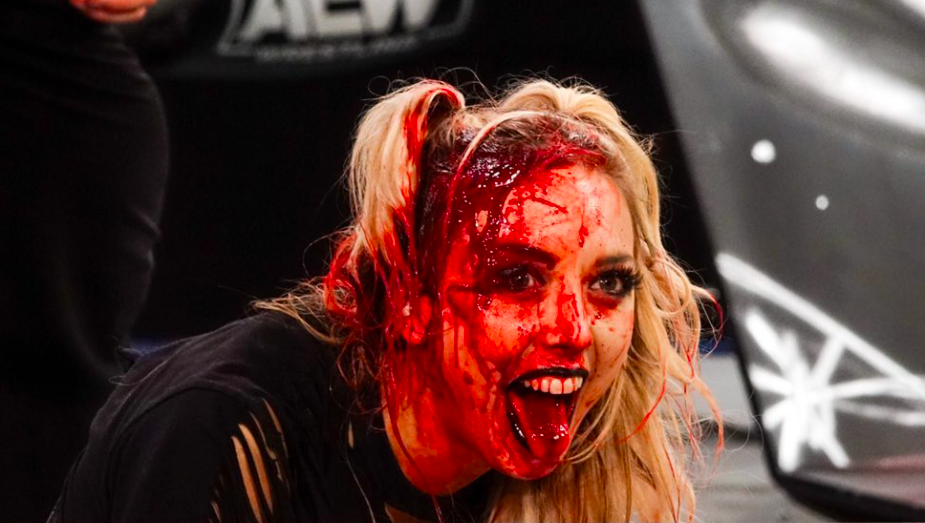 Hi, hello & welcome to News From Cook's Corner! We've got a short column for you this week, which most of you were probably expecting when the Cincinnati Bengals actually on a playoff game. Nah, I didn't party too much, just had an allergic reaction with my eye again. We've done this before. This time I'm pretty sure it had something to do with cleaning my bookshelf and rearranging my books. Hadn't done that in awhile, so there was a ton of duct. Sitting down and looking at a computer screen sucks, so we have to limit it as much as possible.
There's still a couple things that warrant discussion though, so let's get to it.
WWE On The Offensive
Looks like this week's top stories are about WWE trying to do things to undermine wrestling promotions. We start with Major League Wrestling, who has filed a federal anti-trust lawsuit against WWE claiming that WWE has interfered with their ability to make various media rights deals.
Some of the highlights:
-Former WWE executive Susan Levison allegedly warned an executive from VICE that Vince McMahon was "pissed" they were airing MLW programming. MLW claims that WWE had leverage over VICE due to the Dark Side of the Ring series often being focused on WWE subject matter.
-MLW alleges that when WWE found out about their agreement with Tubi, WWE threatened to stop doing business with Fox. The fallout from the Tubi agreement falling through led to a drop in ticket sales & event cancellations & delays.
-As an example of WWE's anticompetitive behavior, MLW cited AEW being held out of two arenas in the Cincinnati market due to pressure from WWE. Jon Moxley wrote in his book that the Heritage Bank Center on Cincy's riverfront refused to book AEW due to WWE influence. I don't know the other, could be the BB&T Arena across the river on the campus of Northern Kentucky University where WWE has held house shows. AEW wound up running the Fifth Third Arena on the campus of the University of Cincinnati, and outdrew the Raw taping held at the HBC just prior.
-Apparently starting in early 2020, WWE started trying to poach MLW wrestlers that were under contract, and aired footage of an MLW wrestler without MLW's consent. (Somebody would have to fill me in on this one, I haven't the slightest idea who this would be.) MLW also claims that WWE sought to prevent wrestlers from working with MLW by refusing to hire wrestlers that had worked there, and that one MLW wrestler demanded to be released early from his contract so he could join WWE.
Do I think that at least some of these allegations are true? Having followed pro wrestling for over thirty years and having read up on the history of WWE…you betcha!
I don't think there's a question that WWE has resorted to any means necessary to drive potential competitors out of their market. They've been doing this since taking most of the territories' top stars back in the mid-1980s. It's been a monopoly for nearly two decades for a reason. The main question I have: Will a judge actually care, or will they throw it out of court because it's silly pro wrestling?
How do you think WWE slips under the radar on things that other media companies & sports leagues actually have to deal with? People have been trained to not take WWE seriously. As much as people like us obsess over the rasslin' business, people that don't "get it" are happy to ignore it. Vince McMahon can do any darn thing he wants, and the reaction from folks outside the wrestling bubble will be non-existent. It's wrestling! To outsiders, the whole damn thing is an outlaw mudshow.
AEW = Gory Self-Mutilation
The Toronto Sun did an article on All Elite Wrestling over the weekend, talking about their status as a competitor to WWE. They asked WWE for comment & got one:
"If you look at the gory self-mutilation that bloodied several women in the December 31 event on TNT, it quickly becomes clear that these are very different businesses. We had an edgier product in the `Attitude' era and in a 2022 world, we don't believe that type of dangerous and brutal display is appealing to network partners, sponsors, venues, children, or the general public as a whole."
A few notes here:
1. I've been doing this stuff longer than I care to admit, and I never thought of asking WWE for comment on something. Should I start asking people for comments on topics I'm writing about? I doubt I'd get any answers, but it might be worth a shot.
2. This has been WWE's strategy when asked about AEW for some time now. We remember Vince McMahon using the phrase "Blood & Guts" to describe the promotion on a conference call. They know that people get squeamish about blood, especially when it comes to blood coming from women. The Fabulous Moolah never busted anybody open on television, and she trained most of the women for years. People aren't used to seeing it, and they often get uncomfortable with things they aren't used to seeing.
3. Most people find other people bleeding pretty gross. There's a reason why deathmatch wrestling is a niche produxct. People that love it really, really love it, but it's a very small percentage of the marketplace.
4. WWE's belief is that advertisers & media companies aren't big on blood, so they make sure to mention AEW's apparent lust for the red stuff whenever the subject comes up. Their hope is that advertisers will shy away from advertising with AEW, and media companies won't give AEW big money when their current deal with WarnerMedia is up.
5. Thus far, whenever Tony Khan is criticized on something, he doubles down on it. So there's a pretty good chance that we're going to see even more matches with female bleeding. AEW's female workers seem happy to do it.
🐇🔪🖤 pic.twitter.com/WswDnqeKQ5

— The Bunny 🐇 (@AllieWrestling) January 15, 2022
6. WWE could be called out as being hypocritical on this front, but there aren't many people that will hold them accountable.
It'll be interesting to see how this goes. All I know for sure is that the smack talk between these two promotions and their fans is just beginning. Think it's tocic now? Wait a couple of years.
Welp, that's all for this week. Thanks for reading! Join me later in the week for some Divisional Round picks. Until then, keep your stick on the ice.
In Memoriam: Pete was a longtime reader from back in the day. From my dealings with him he was a kind person that knew how to use his head. When you've written things on the Internet as long as I have, you learn that's a rare thing. From what I've read from people that knew him in real life, he was the same way off the computer. Sadly he passed away from cancer on Friday night. Pete was always about serving others, as he was a U.S. Air Force veteran & a regular blood donor. He will be missed.