Rob: What Are They Gonna Do?
Will a sports-oriented wrestling product appeal to a mainstream TV audience?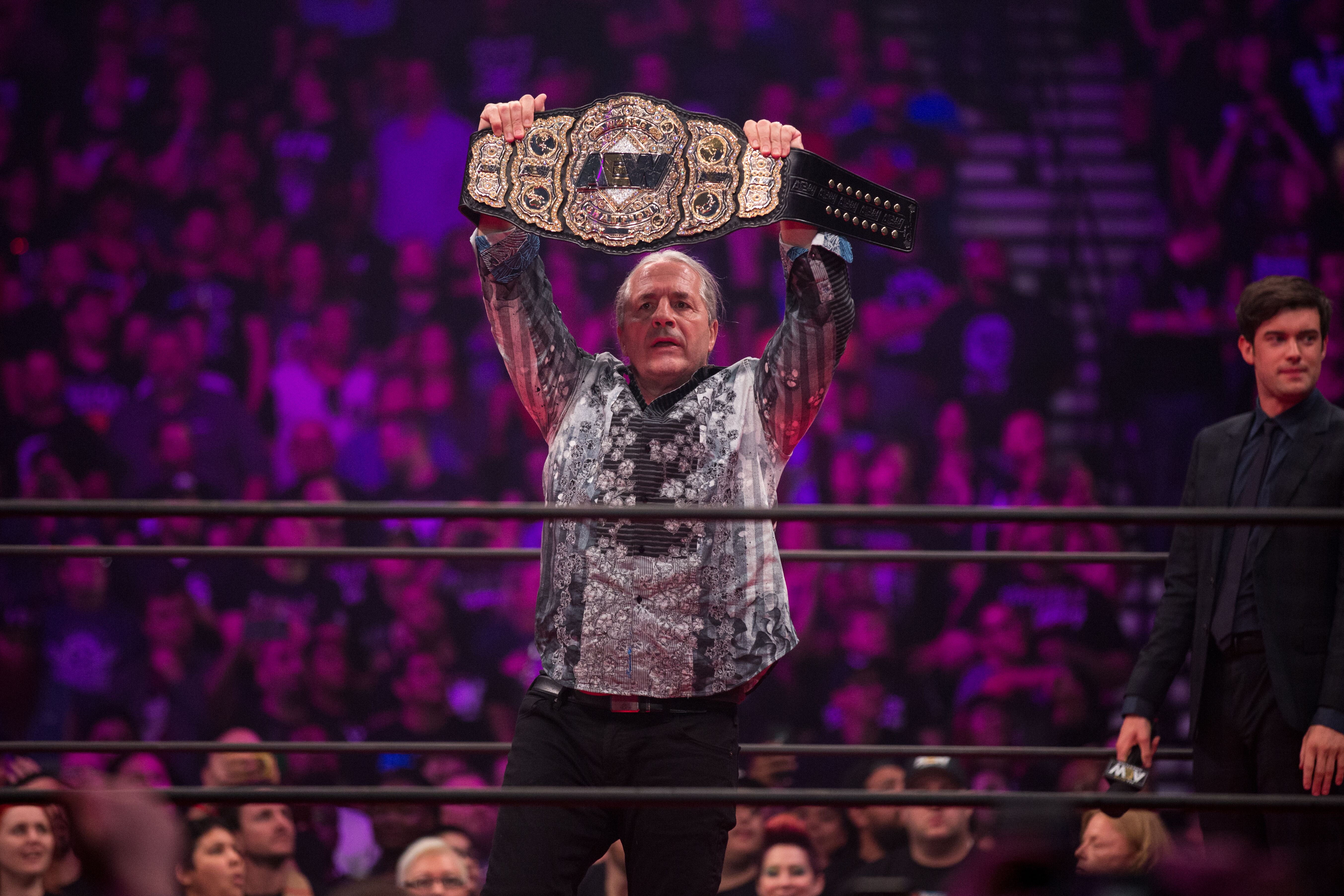 Rob takes a look at AEW, and their mission to deliver a more realistic and sports-oriented wrestling product. Will it work for the TV audience?
Hey everyone, it's me again.  I figured that with all the buzz about AEW going that I needed to tackle it at least a little.  I've said a few times here and on Twitter that I'm more interested in how AEW operates structurally than in any of the actual content they put out, and now that they've shown they can do Pay Per View the next big question is how are they going to handle TV.  I have a few questions to start with because I'm genuinely curious, so here they are:
How much wrestling?
Tony Khan has said more than once that they intend to more sports oriented and focused on the in-ring action than other stuff.  Now while that may be music to the ears of many who have grown to hate goofy skits and such on Monday nights, color me skeptical.  Why?  Here are a few YouTube numbers to chew on:
Brock Lesnar and Paul Heyman's comedy routine – 5.8 million views
R-Truth defending the 24/7 title at the Memorial Day cookout – 1 million views
Seth Rollins vs Sami Zayn – 691,000 views
Ricochet vs Cesaro – 257,000 views
What does this mean?  Well, the comedy stuff got way more views than the workrate stuff.  And you can go beyond those examples.  Becky Lynch getting in fights usually results in more views than Becky Lynch in the ring.  Braun Strowman destroying things backstage is usually good for a high number.  The Mandy Rose-Naomi hotel fight got more views than any match featuring either woman.  And lastly, the wild and crazy three way fight between Becky, Charlotte, and Ronda Rousey the week before WrestleMania that was straight out of an episode of Live PD has 9.7 million views, more than any televised match featuring any of the three women.  We can go on about workrate all we want but the other stuff gets more people's attention.  What do YouTube views have to do with TV?  Well, they show what people choose to look at when things are entirely in their control.  It's one thing to sit through R-Truth at the cookout in order to be there for the next match but choosing when you can pick any other part of the show is more telling.
Rob has more after the ad! Buy a shirt!
---
Time to pick up a new Chairshot shirt!

Get yours at:
https://www.prowrestlingtees.com/related/thechairshot.html
---
So what does that have to do with AEW?  Well as much as Tony Khan says that they're going to focus more on in ring action than backstage skits and such, there really isn't much evidence to support that as the way to go as far as drawing an audience, the exception being matches that involve people who have a following.  Roman Reigns' and R-Truth's tag team main event on Smackdown, which involved the top guy in the company and one of the most crowd/audience pleasing guys teaming up, has done over 2 million views this week.  So in the short run they may end up working the biggest names there (Moxley, Jericho, Omega, Cody, and the Bucks) a whole lot on TV, because lesser known people having even the greatest of matches just isn't going to hit like you might hope.  I can almost guarantee that an in ring promo that leads to a fight between Moxley and Omega will probably work better for the TV audience than a match between either guy and someone else.  If you want a non-WWE example when I was watching ROH last year I found Bully Ray's in ring rants more compelling that a whole lot of their matches, as good as many of them were.  Good wrestlers having good matches just isn't the draw some people think it is, otherwise you wouldn't be seeing or hearing any disingenuous ratings takes about RAW every week.
And oh yeah, the highest rated segment in the history of Monday Night Raw isn't a match, it isn't any of the Austin-McMahon stuff, it's…..wait for it………This is Your Life with the Rock and Mick Foley, which is exactly the kind of thing that would spawn a million rants on YouTube and podcasts were it to take place in 2019.  As for the idea that they'll do the goofy stuff and setup pieces on YouTube and stick to the serious stuff on TV, good luck with that.  Broadcast TV is for people who largely don't devote as much attention to other mediums, so to tell people that they need to go watch this other thing first to be ready for TV, as opposed to going there to catch up on some TV clips that I may have missed….that sounds like homework to me.  My kids watch almost zero broadcast TV now, and the stuff they do watch is in one place be it YouTube, Netflix, or whatever.  Watching pieces of a show in one place in order to understand some other pieces that are in another place, all in time for the live weekly broadcast, is asking a lot.  So to cut to the chase, here's what I'm guessing eventually happens: they scrap all that and go with a similar model to WWE, maybe with fewer replays during the show, but one where the meat of what's going on is all on TV with the YouTube/social media stuff serving as an add on.  So in other words, when the rubber meets the road don't expect the wheel to get reinvented.
Who gets on, and who gets stuck in catering?  Who wins and who loses?
Oh don't think that it won't happen here, too.  Assuming they're getting two hours of TV that's still not enough to give everyone time every week.  In the early going they're gonna have to use the people with the most name recognition simply to get attention, along with people that look like they could be a quick hit like MJF or Orange Cassidy.  And you have to assume that anyone who comes over from WWE and has any 'oh sh@#! They're here!' potential is going to be given time as well.  If some of their buddies from ROH come over like Marty Scurrl or Flip Gordon then they're going to get some TV time, too.  That's not going to leave a lot of time to develop people who don't catch on as quickly.  There is going to be a hierarchy no matter what anyone tells you and some really talented people are not going to get as much time as you think they should, because maximizing your audience requires you to use the people who draw eyeballs the fastest, and in two hours that space is going to get crowded really fast.
Putting people on because they 'deserve a chance' sounds really great in theory but in practice not so much.  Familiarity matters more than you think so running unknown people out there for long stretches just is not the move.  Now the obvious answer is to put those kind of folks in the ring with your established names so they can get a rub. But if they're losing all the time then don't we have the same problem that guys like Chad Gable have, where no one believes that anything is going to come of their good showing with the top guys?  If Sonny Kiss puts on a great match against Moxley, and then with Cody, and with Hangman Page but all in defeat are we really gonna hold on for the day that he might start winning those, all while there are six or seven guys who will be holding the keys to the kingdom for the foreseeable future?  Let's be real there's a top tier of the Elite plus Jericho and Moxley and then there's everyone else who will largely be fighting each other for the right to lose to them.  It may not be that way forever but in the early going that's what I expect, and to be fair it's probably the best move for business.  But of course that means that they're not really changing the world they're just sitting at the head of their own table instead of just another seat at someone else's.  Which of course was the plan all along.
Am I being really cynical here?  Yes.  Now I'm not saying they won't have good TV or that they won't find some innovative things to do (which of course will be imitated by WWE in due time).  But the path to successful  TV is going to require a lot of the same decisions that we get mad about when you know who does it.  And at the end of the day they're doing a TV show that includes wrestling and not a wrestling show on TV.  There's a difference and ultimately for them succeed over the long haul they're going to have to treat it as such.