Tiffany's Takes: NXT UK (6-19-19)
Lots of questions and lots of movement on the NXT UK brand! Why did Alexander Wolfe join Imperium?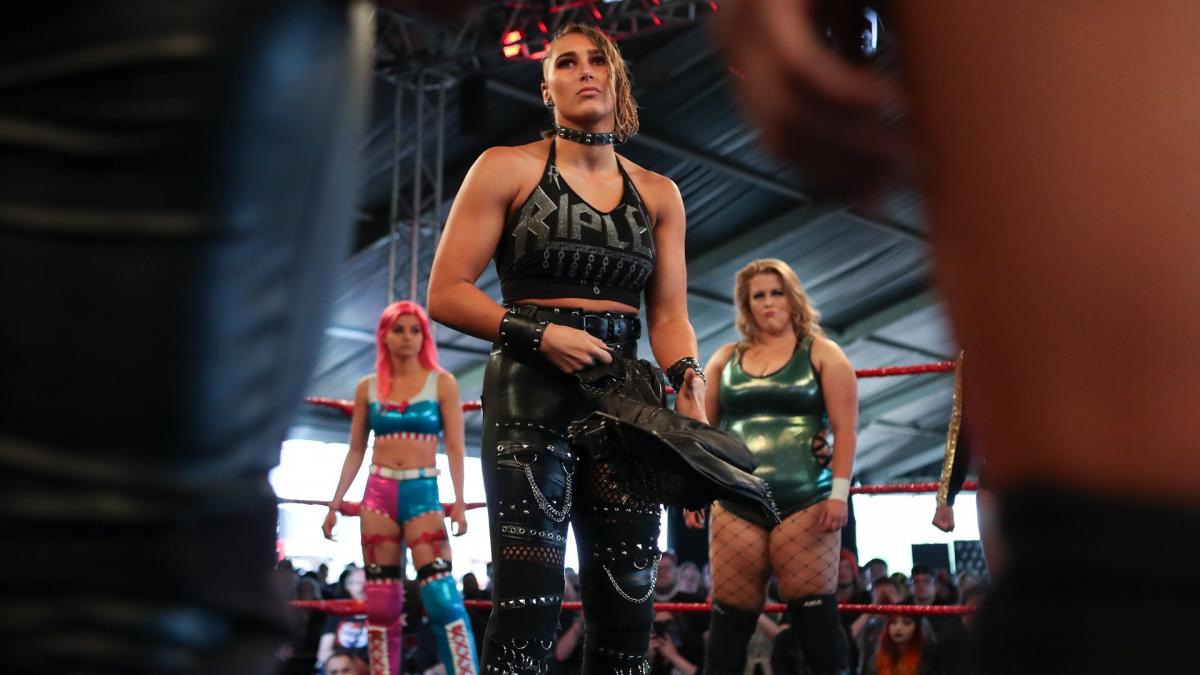 Lots of questions and lots of movement on the NXT UK brand! Why did Alexander Wolfe join Imperium?
After a shocking finish last week, who is ruling the Kingdom?
NXT UK Championship: Well, unless Travis Banks is going to be an Australian Winston Churchill, this storyline has officially left the 'Ripped out the history books' tracks, though the subtle hints at fascism were a little uncomfortable. I loved that Wolfe's reasons for joining were about respect, something he didn't really get during SAniTy's main roster run, and making professional wrestling great again, which seems to be a thing with a lot of people in the business.
I loved Banks coming out and basically saying he'll take them all on. I realize that Banks doesn't really fit with British Strong Style, but if they need a fourth member, he'd be a great addition.
NXT UK Women's Division: We're getting KLR vs Toni! This is NOT  a drill! That battle royal was really good, i loved the rookies coming in. Everyone looked really good in this match. I LOVED that Xia Brookside got some revenge on Jinny and Jazzy by eliminating Jazzy.
I will admit, I got REALLY excited when it looked like Xia won because she's one of my faves in NXT UK, but the way she was eliminated protected her and she showed that she's a STAR in the making. I will not, however, complain about Kay Lee Ray getting a shot at Toni Storm! I'm super excited by that! That match is going to be a barn burner.
NXT UK Tag Team Division: It's officially official! Mustache Mountain WILL be getting a Tag Team Championship rematch! I love that MM acknowledged that it's taken them almost five months to get around to asking for that match, but they're still getting it. Look out, GYV!
Kenny Williams vs Kassius Ohno: I don't like Kassius Ohno, but I'll admit that that was a really good match from him and Kenny Williams. It definitely went a lot longer than I'd expected since this was a cold match with no real build, but it wasn't bad. I was surprised by Ohno getting a win over Williams, who is a fan favorite, but they might be trying to groom, and I use that term loosely, Ohno for a bigger mid-card role.
I am curious about what the story is with Williams and Amir Jordan. I assumed that Jordan's 'injury' at the hands of GYV was a work, but he hasn't been seen in weeks and Williams is now feuding with Noam Dar. I hope they haven't split Lucky Bad Boys up, they were such a good team and fun to cheer on.
Speaking of Dar, what is his deal right now? I don't remember him being such a pretentious little douchebag during his initial heel run. I do like Williams and Dar feuding right now, but I'm not a fan of Dar's new attitude.
Gallus vs The Hunt: To quote JR, that was bowling shoe ugly. I wasn't expecting scientific or technical prowess in this match, but yikes, it was a brawl. I was impressed by how long it went since neither team usually has matches longer than maybe five minutes. Gallus pinning wasn't a shock since I think I can see where they'll be heading going into TakeOver: Cardiff, but we'll see. Gallus needed the win more than the Hunt, but Hunt will get their moment.
Overall Comments: Well, that was really good! The best part of these hour-long Network shows is that it feels like more gets accomplished in the 45-60 minutes they get to tell all these stories and it works.
Super excited about Toni Storm vs KLR. I'm not exactly saying KLR is going to win, but it'll be a hell of a match.
Xia Brookside showed her star power in that battle royal. She's going to be the It Girl in NXT UK before she's done.
I love that WWE is nodding to the trend of making professional wrestling respectable again. That seems to be a growing trend in the wrestling world lately and I like it.
Mustache Mountain vs GYV should be good, whenever it happens!
That's it for Tiffany's NXT UK Takes! Stay tuned for NXT US!