Tiffany's Takes: WWE NXT (6-5-19)
Post Takeover NXT episodes tend to be a bit slow. Tiffany let's us know how the show was!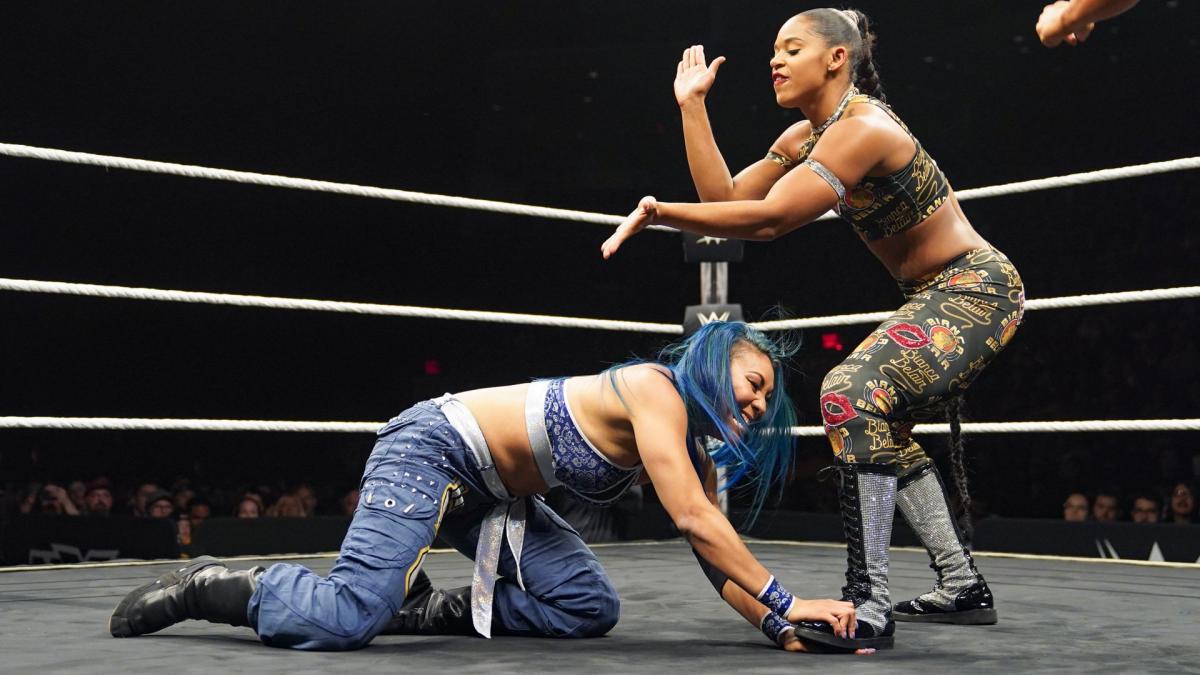 Post Takeover NXT episodes tend to be a bit slow. Tiffany let's us know how the show was!
TakeOver XXV is in the books, so how has the landscape of NXT changed?
NXT Championship: I'm not a super big fan of Undisputed Era, but I loved how legit happy they were for Cole when he won. That's genuine friendship. There was no post-match interview shown, so I guess we'll have to wait and see what the fallout of this match was.
NXT North American Championship: I like that Breeze didn't make excuses for his loss and and gave props to Dream. I think he's right that the bigger story is that he's back in NXT, the brand he helped build, and hopefully it also means a career revitalization for him.
NXT Women's Championship: I love that Io Shirai gave absolutely no fucks about what she did to Baszler at TakeOver, and I'm really interested to see what will come out of the tag team match against Duke and Shafir next week. I'm still very onboard with the idea of Shirai and LeRae as a team of no fucks given tweeners just beating up everyone in the division.
NXT Tag Team Championship: Even thought they weren't my picks to win the tag team championships, I love how genuinely happy the Street Profits are about winning and it does seem to be a long overdue thing. Also loved them kidding around with the camera crew. Very nice and classy.
Also, can't wait for next week's Bald Brawlers vs Undisputed Era next week, sounds like fun!
Mia Yim vs Bianca Belair: Is it too soon to say this needs to be a hair vs hair feud? I think that would make more sense right now. I will say that this is probably the best match of the three these two ladies have had in this rivalry and I would've said that if Belair had won, and if you've been following these takes, you know I don't like Bianca Belair.
That said, I'm THRILLED to pieces that Yim won! I've been saying for awhile that she wasn't being used correctly to capitalize on her being the breakout start of the 2018 Mae Young Classic. Now she's getting her turn to shine. I still want Shirai to keep beating up Baszler, but I want Yim vs Baszler for the NXT Women's Championship.
Keith Lee vs Kona Reeves: Isn't Keith Lee supposed to be a big deal/Next Big thing? Wasn't that how he was being billed a few months ago? Because that's not how he looked in this match against Kona Reeves, who's barely been a blip on the radar. The match was good and Lee got the win, but I can't say I was wowed by anything in this match.
Drew Gulak vs KUSHIDA: Well, someone had to be the immature child tonight and Gulak drew the straw. I'm increasing convinced that being against high-flying wrestlers who happen to be minorities is part of his gimmick, which is fine, but being stupid enough to challenge KUSHIDA to a submission match should end in a thorough asskicking.
Overall Thoughts: That was a good post-TakeOver show. The two new matches were good and the Belair/Yim storyline seemingly came to an end with Yim getting some badly needed momentum. I also liked that most of the storylines coming out of TakeOver began to develop.
One thing that puzzled me was the lack of interviews or movement in the Cole/Gargano saga. The show ended with Cole's promo from last week and a recap of the show, but there was no post-match interview or anything to indicate where this story is going next. Maybe we'll see next week.
Gulak vs KUSHIDA II should be good, but I'm wondering where this new Gulak is headed since he seems to be digging his heels into his conservative gimmick. Again, we'll see.
That's it for Tiffany's NXT Takes! I should be back on Friday with my Takes from Super Show Down.