Tiffany's Takes: WWE SmackDown Live (6/18/19)
Tiffany's Takes digs into WWE Smackdown as the company finishes up in SoCal en route to WWE Stomping Grounds this Sunday!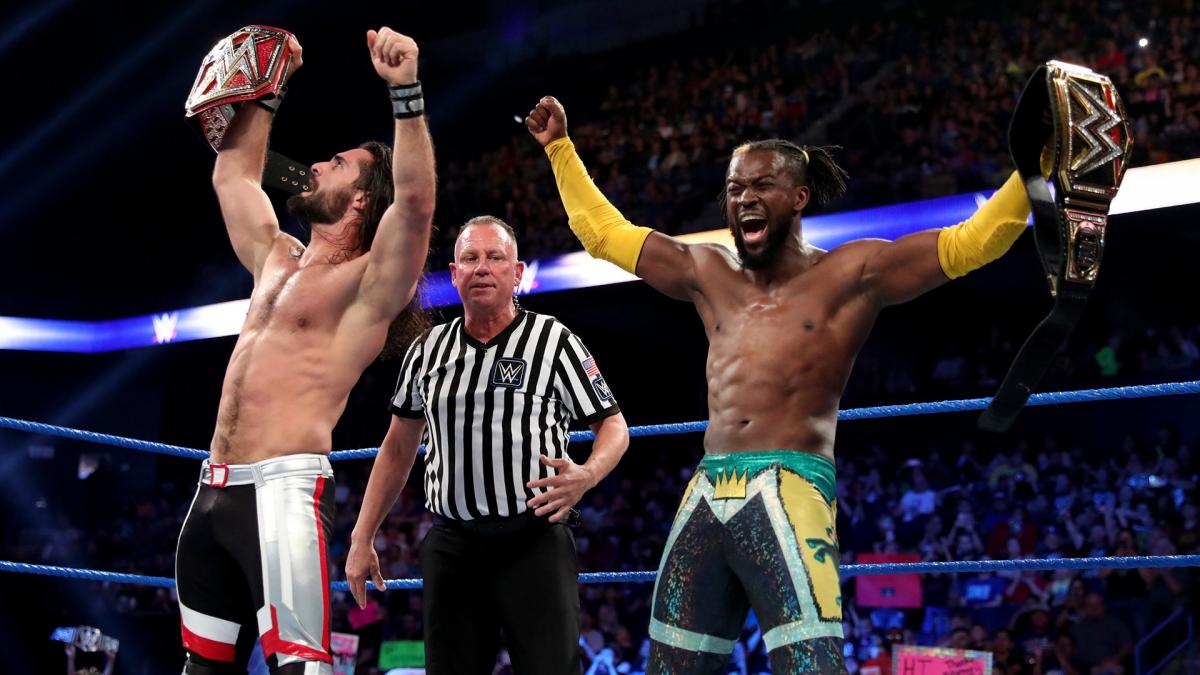 Tiffany's Takes digs into WWE Smackdown as the company finishes up in SoCal en route to WWE Stomping Grounds this Sunday! Can they deliver despite the ticket woes?
As things come together for Stomping Grounds, how is the SmackDown Card looking?
WWE Championship: Is it too late to cancel Ziggler's pity party and put someone else in this feud? Seriously, Ziggler's 'Poor me, WWE didn't give me a shot, even though I was sitting at home on my ass and not at work.' is getting OLD.
I did enjoy the match between Woods and Ziggler, but I'm over this whole feud. Can we get back to Kofi vs Owens or something?
WWE Intercontinental Championship: Okay, so Andrade is feuding with Crews now, but where's Balor?
SmackDown Women's Division: Have I told anyone how much I've loved the shift in Bayley's character since she teamed with Sasha Banks? I have, haven't I? Well, I do love it and I love Bayley treating Alexa Bliss with the same pettiness Alexa has been using for years. I also loved Bayley trying to get through to Nikki, but I think this is something Nikki will learn the hard way.
I love the idea of Carmella and Ember Moon uniting over their mutual loathing of Fire and Desire. Let's have that team up, please.
SmackDown Tag Team Championship: When I heard Heavy Machinery vs B-Team, my first thought was 'That was a fast audition' (B-Team were auditioning to be the guest refs for Corbin vs Rollins for some odd reason, but also 'Did they just pick teams out a hat?'. That said, I'm glad Heavy Machinery are getting a title shot at Stomping Grounds, but I'm not sure they'll win right now.
The match wasn't great, but it didn't suck as bad as I had feared. I still don't think HM are walking away with the belts just yet, though.
Women's Tag Team Championship: I really want the IIconics to have a long title reign, but it's looking like that won't happen since Kabuki Warriors are back on TV.
The match was good, exept for the part where the locker room cleared out to chase Truth and Miz was left on his own. Guess he forgot about the 24/7 thing.
24/7 Championship: What was Benjamin and co trying to do with the belt? Were they thinking that they could just take the belt while Truth was busy and that could count as a pinfall? That was weird, but very funny. Thank god for competent refs.
I'm glad that Maverick finally got a win, Carmella disguise or not, but I have a feeling Truth will be appearing on 205 tonight.
Roman Reigns vs Shane McMahon: Why does Miz continue to be part of this feud? He's gotten beaten three times by Shane. Let's move on. That said, the return of Awesome Truth was fun, even if Truth really didn't want to.
Wild Card: I'm still enjoying Seth destroying every potential guest ref that pokes his head out, it's like a really painful looking game of whack a mole. Also, I wonder if Seth got his chair on Matt Hardy and Shelton Benjamin, or were the B-Team just unlucky?
The tag team 2-0ut-of-3 Falls match was good, but it was definitely rushed to squeeze into the roughly 15 minutes they had left, which hurt it, but it was a good match.
Overall Comments:  So, how was SmackDown's go home show? It was okay. It wasn't as good as RAW, but it did a good job of building SmackDown's card.
I'm still enjoying Seth's rampage, but I'm growing very worried about who the guest ref will end up being, especially with Heyman around. I don't think Corbin would be stupid enough to tap Lesnar, since Lesnar could screw everything up by cashing in, but it's still worrying.
I'm a little confused as to why Roman, who is supposed to be on SmackDown, wild card or not, has only been appearing on RAW for his feud with Shane and Miz, who is supposed to be on RAW keeps appearing on SmackDown to continue his own feud with Shane.
Glad Maverick is finally 24/7 champ, but R-Truth is still the greatest.
That's it for Tiffany's SmackDown Takes! Stay tuned for 205 Live!
---
Time to pick up a new Chairshot shirt!

Get yours at:
https://www.prowrestlingtees.com/related/thechairshot.html