Andrew's G1 Climax 29 Ratings & Analysis: Night 4 B Block
Second night for the B Block! Jay White and Tetsuya Naito need to get on the scoreboard. Did it happen?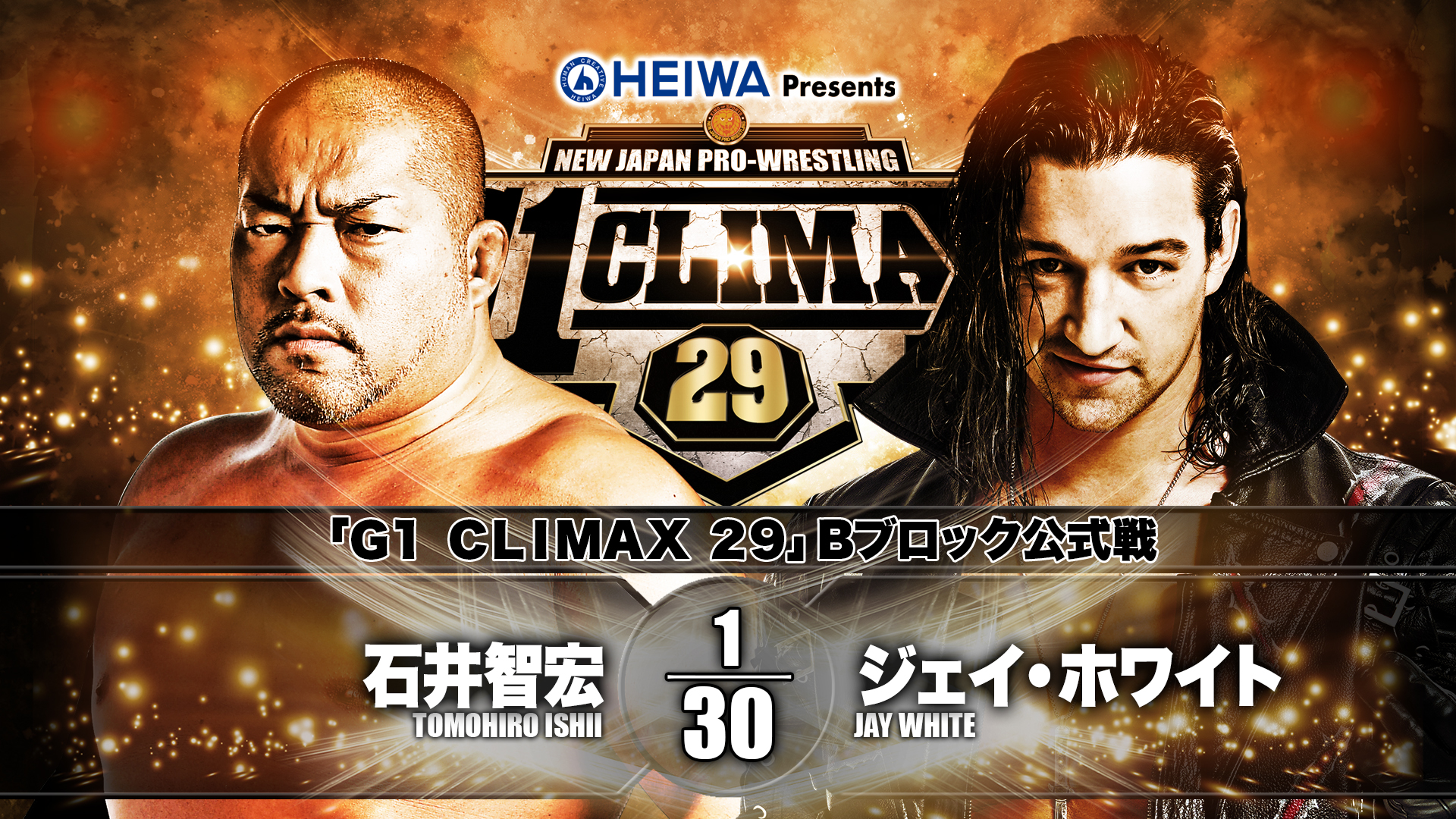 Second night for the B Block! Jay White and Tetsuya Naito need to get on the scoreboard. Did it happen?
Sapporo is a fun city for the main event, with a lot of general history.
Will Ospreay having a neck injury means he's not working the undercard tonight.
Those are probably the two points that matter the most. So I guess let's get to the show!
Ratings:
Jyushin Thunder Liger & Kota Ibushi vs Yota Tsuji & Shota Umino: Ibushi wins via Half Boston Crab @8:20 – **
Toa Henare, Ren Narita & Tomoaki Honma vs EVIL, BUSHI & SANADA: BUSHI wins via MX @7:20 – ** 1/2
Minoru Suzuki, Yoshinobu Kanemaru, Zack Sabre Jr & Lance Archer vs KENTA, Clark Connors, Karl Fredricks & Hiroshi Tanahashi: Kanemaru wins via Deep Impact @11:30 – ***
Chase Owens & Bad Luck Fale vs Kazuchika Okada & YOSHI-HASHI: Okada wins via Rainmaker @8:45 – ** 1/4
Block B: Shingo Takagi vs Toru Yano: Shingo wins via Pumping Bomber @6:15 – ** 3/4
Block B: Juice Robinson vs Hirooki Goto: Juice wins via Pulp Friction @12:20 – *** 1/2
Block B: Jon Moxley vs Jeff Cobb: Moxley wins via Draping Deathrider @8:55 – *** 1/4
Block B: Tomohiro Ishii vs Jay White: Ishii wins via Vertical Drop Brainbuster @19:15 – **** 1/2
Block B: Taichi vs Tetsuya Naito: Taichi wins via Last Ride @21:00 – *** 3/4
Analysis:
Liger and Ibushi take on Young Lions because Will Ospreay is nursing an injury. So this was unexpected, but who's gonna argue with some Liger? Bare bones basic Young Lion match, but Liger and Ibushi kept the interest high.
EVIL and SANADA are facing one another on Thursday, but they were on the same team tonight. Part of this story was BUSHI remaining to look strong since the end of the BOSJ, while EVIL and SANADA had the tension building up. Instead of the LIJ fist bump after the win, EVIL tries to cheap shot SANADA, SANADA counters and then they have a stand off.
This Suzuki-Gun match was beautiful. It was just a gang fight, with each member of Suzuki-Gun taking someone off and Lance Archer even joined commentary at some point. House show quality match was a good way to describe this, but it was still fun and got across the point for future matches and just great character work.
It might be a little mean to say, but YOSHI-HASHI is in this match, so who cares? Chase Owens does prove why he's the glue that holds Bullet Club together. He's a great tag team player and this year he's looked a lot better than he has in the past. So we've got an alright match, Okada wasn't gonna eat a pin, but I guess they wanted to protect YOSHI a little, so Chase ate the Rainmaker.
Shingo proved he watched the Naito match by trying to get Yano to take off his shirt. Anyone who saw Shingo in Dragon Gate knows he's got some comedy chops being a former…wait…the current, Open the Owarai Gate champion (Owarai means comedy). Shirt, wrist tape and turnbuckle shenanigans ensue, but the right person won. Shingo gets on the board and doesn't suffer the shame of getting bamboozled.
This tends to be an issue with Goto and Juice a lot of the time. By this, I mean boredom. Goto and Juice have bumped heads a few times and they both try very hard, but they aren't exciting together. Juice being a quirky but not overly animated just means you get a snarky line and one move that may be entertaining (usually Left Hand of God) and then the action stalls. So both did good work, it was a tough match, but it wasn't really anything crazy. Solid enough match though.
Moxley focused on Cobb's left shoulder, so the story was to take out Cobb's power and try to figure out how to end the match. We saw another solid match, and Moxley gets across more of his character. He does borderline heel tactics and then apologizes to the referee. So this brawling, unstable babyface is an old school gimmick in Japan, but not often seen in New Japan. It's nice to watch, and Moxley taking advantage of Cobb's positioning to hit the Draping Dirty Deathriding Paradigm DDT.
Jay White starts off against two of the heavier hitters from Chaos, his former stable. After taking Goto lightly, Ishii comes into this match after a big win over Jeff Cobb. White came into the match less relaxed, but still playing up his smarmy character. Ishii laid into Jay the whole match, where Jay tried to outsmart the Stone Pitbull, but Jay isn't as clever as he thinks he is. A great match with well placed false finishes and a lot of tension. Fantastic back and forth, plus Ishii picking up the win is something special.
There were so many story threads going on here. Sapporo is the place of their Intercontinental Championship match earlier in the year where Taichi had Takashi Iizuka interfere. Iizuka left the Iron Fingers for Taichi, but he hasn't used them in the 6 months he's had them. This was a great struggle of wrestlers who were once rivals, but Naito has since eclipsed Taichi. Hell, Taichi even hit a Ganso Bomb, shades of his mentor Toshiaki Kawada. References, call backs and a solid match from a story telling perspective.  Work rate might not have been fantastic, but that's the beauty of professional wrestling being more than the moves in the ring. Plus part of the fun of Taichi matches is watch Miho Abe react, since she's such a lovely devoted valet.
Overall Score: 6.75/10
A lot of this show was driven by the stories and the historical threads between participants, opposed to the in-ring action. I appreciate the mixture of angles that New Japan shows attack with. Many newer fans just know NJPW for great hard hitting work rate, but the beauty of puroresu in general is how deep the stories go.
Sometimes the wrestlers reference things from their mentors/trainers, sometimes it's just a story line from the isolationist politics that each puro company has dabbled with or sometimes it goes all the way back to when someone was a Young Boy in a dojo. The layers are there for those who wish to know, so part of the fun in nights like this, are what personally floats your boat.
The show was the weakest so far, but there were plenty of satisfying moments outside of ring work.
B Block Standings:
Tomohiro Ishii – 2-0 (4 Points)
Jon Moxley – 2-0 (4 Points)
Juice Robinson – 2-0 (4 Points)
Toru Yano – 1-1 (2 Points)
Hirooki Goto – 1-1 (2 Points)
Shingo Takagi – 1-1 (2 Points)
Taichi – 1-1 (2 Points)
Jay White – 0-2 (0 Points)
Jeff Cobb – 0-2 (0 Points)
Tetsuya Naito – 0-2 (0 Points)