Chris King's WWE SmackDown Live Grades & Analysis For 7/9/19
Tonight is the Go-Home SmackDown Live for Extreme Rules this Sunday. We finally find out who knocked on Aleister Black's door? Also what matches will be added from the Blue brand for this Sunday?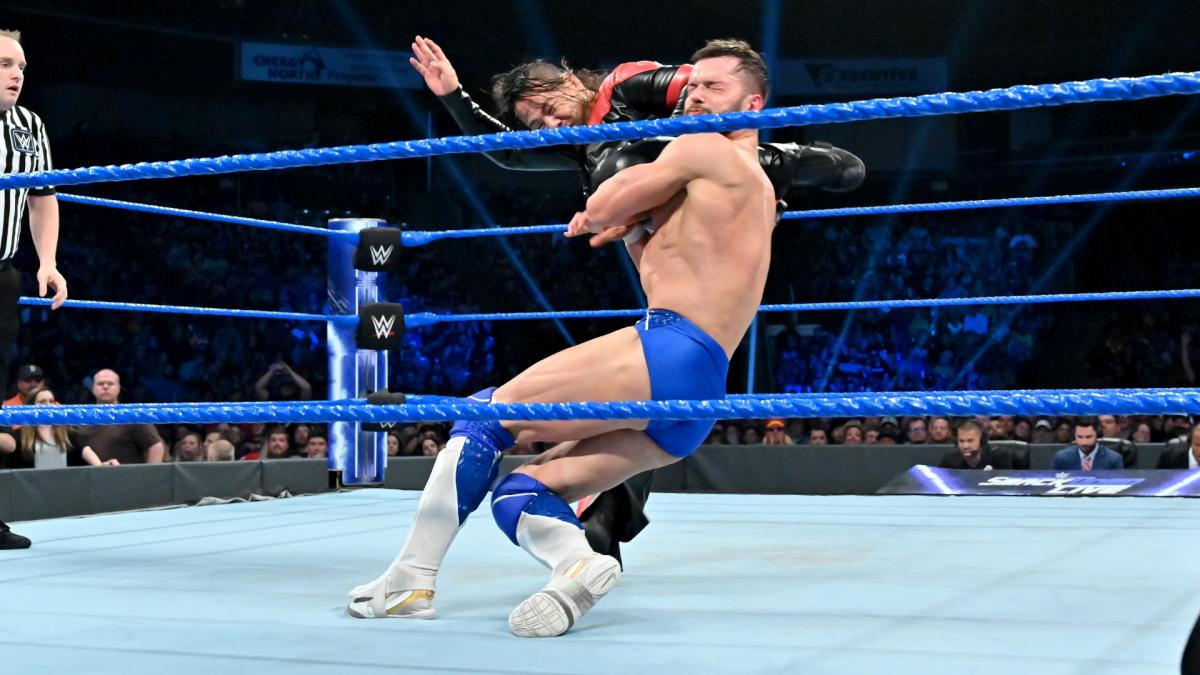 Tonight is the Go-Home SmackDown Live for Extreme Rules this Sunday. We finally find out who knocked on Aleister Black's door? Also what matches will be added from the Blue brand for this Sunday? 
Chris's Grades For WWE SmackDown Live:
Finn Balor vs. Shinsuke Nakamura–A
Nikki Cross vs. Carmella
Daniel Bryan vs. Otis vs. Xavier Woods Triple-threat-Match–B+
Roman Reigns vs. Dolph Ziggler–B- Would have been an A without out all the outside interference and shenanigans.
The show opens with footage from earlier today in the parking lot, where Dolph Ziggler is being interviewed by Kayla Braxton. She asked about his tag team partner from last week; Kevin Owens he says "you mean the guy that I carried on my back, just like I have carried this company for ten years", KO pulls up and honks his horn which aggravates Ziggler. After mince words, they begin brawling and are torn apart by some of the roster. "The Best in the World" and Commissioner of SmackDown Live Shane McMahon breaks it up and kicks KO out of the building.
We're backstage as Sarah Schrieber is interviewing McMahon about his decision to kick Owens out, he claims he's got some intriguing ideas for the main event that was going to be Ziggler vs. Owens. We're finally going live with the theme music playing; Corey Graves and Tom Phillips welcome us, KO immediately shuts it down and he's got something to get off his chest! "I've tried to be a good company guy, but it's gotten me nowhere"; he brought up how the McMahon Family ushered in a new era where they would listen to the WWE Universe, instead all we've witnessed is Shane McMahon with more control and more authority and receiving way more TV time than anyone ever wanted!
Owens has had enough and McMahon cuts off his mic as he's screaming names that haven't seen tv time. The WWE Universe is chanting "Kevin Owens". This is FREAKIN Gold, KO will make a fantastic rebel against the authority! Face turn back possibly?
We roll backstage to see the Intercontinental Champion Finn Balor making his way to the ring for his match with Shinsuke Nakamura for the first-time-ever on SmackDown Live. They faced each other once on NXT before Balor made the jump to the main roster and this was a passing of the torch.
Back live as Nakamura is making his entrance. Balor is out next…This is going to be electric. Bell rings and they tie up. Nakamura eats a stiff dropkick. Balor was getting stomped in the corner as we roll to commercial. Back live as Balor speeding things up with high-octane offense. Nakamura wants the Kinshasa but it's countered into a Slingblade. Coup de Grace… nope. "The King of Strong Styles" hits a nasty knee strike on the ring apron, followed by a Kinshasa outside…countout nope…one more Kinshasa for good measure and the 1-2-3
The Best in the World Huddle: We see McMahon, Elias and "The Scottish Psychopath" Drew McIntyre discussing what happened last night with Cedric Alexander outsmarting them. McIntyre brings out that they still won and on Sunday they will have the physical and mental advantage. Ziggler interrupts and he's pissed about his match with Owens off, McMahon books him against Roman Reigns instead. McIntyre is not sure about this partnership.
We see a replay of Kofi Kingston and Samoa Joe's face-to-face explosive encounter. Joe gives one of his best promos in WWE to date. He offered Kofi compassion last week and clemency to his loved ones. He vows to expose him for the lie that he truly is and take his WWE Championship.
Back live as Kayla Braxton is introducing both opponents for the SmackDown Live Women's Championship Match, Bayley and Nikki Cross (who is representing Alexa Bliss as well). We get a recap of last night's Beat The Clock Challenge. Bayley starts things off by once again trying to be the voice of reason to Cross, but she's not accepting it. Cross reveals that Bliss promised her that on Sunday they will become the first-ever SmackDown Live Women's Co-Champions. She tells Bayley to stick around for her match with Carmella.
We return from commercial with WWE's "Twisted Sister" taking out all her frustrations and aggression on Mella. Throughout every kick and headlock, Cross stares a hole through Bayley. Mella attempts a comeback but Cross drops her with the PURGE and the 1-2-3.
The Kabuki Warriors Are Coming: We see live footage from two weeks ago in Tokyo, Japan Asuka and Kairi Sane got a massive victory over The Iconics. Backstage Peyton Royce and Billy Kay are exiting the dressing room and Paige and the Kabuki Warriors are waiting. Peyton makes up an excuse that Billy is sick so they can't defend their Women's Tag Team Championships tonight.  Paige calls them "shriveled runaway cowards" and slaps Billy.
Back to ringside as Tom Phillips and Corey Graves congratulate The Man Becky Lynch for being on the cover of ESPN magazine alongside "Glow" star Alison Brie. Plug for Sunday's Winners-Take-All Mixed Tag Team Championship Match on Sunday.
Sarah Schrieber interviews The Big Dog Roman Reigns. He says that "These Crazy nights have created the big fight" and it's because of that, he's confident that Ziggler is not ready for him. "Me and The Deadman are going to do our thang, and this Sunday those boys are going to Rest In Peace".
It's a New Day…Wait where's the Intro lol technical error. Here comes Xavier Woods and Big E for the SmackDown Live Tag Team Summit. Woods has a Triple Threat Match tonight with Otis and Daniel Bryan. E says this Sunday they have a Triple Threat Tag Team Match for the SmackDown Live Championships. E claims "he thought he was involved in another type of three-way" –Rated R style. Sunday they will become your SIX-TIME Champs, The Planet's Champions quickly interrupt;
Bryan says he's figured it out that every time, The New Day wins the gold nobody takes them seriously. Woods cuts him off and wants to hear from Rowan…First, he was taking orders from Bray Wyatt, then it was Luke Harper, and now it's Bryan. They need some clarification on who his daddy is, Rowan is pissed as a "Who's your daddy" chant breaks out. Bryan is actually complimenting New Day as terrific wrestlers and having some of the best tag team title matches in WWE history. Of course, it's quickly negated with some mince words about how if they or Heavy Machinery won the titles it would be a travesty. Here come Otis and Tucker.
Tucker says they proved themselves as worthy contenders at Stomping Grounds; they didn't sit and mope after they lost, they went back to work. Last week Otis and Tucker earned their way into the triple-threat-match on Sunday. They respect the longest-reigning tag team champions New Day, but the sixth will have to wait. We finally get to the triple-threat-match…It was solid work from all three but, they should have been given more time to do the talking with their fists.
Bell rings with all three competitors but Bryan scurries outside so Otis and Woods can tear each other apart. Classic methodical heel work from Bryan. He tries to help Woods hit a double-suplex to Otis however, he suplexes both of them! All hell breaks loose as Rowan drills Otis with a ferocious clothesline and bulldozes through Tucker. Tucker and E drive Rowan over the announce table, but now the two powerhouses are broken up by the official. E, Tucker, and Rowan get sent to the back as we head to commercial.
Back live with a fired up Woods driving Bryan headfirst into the barricade. Back in up top, Bryan eats a missile dropkick…nope. Woods goes for The Honor Roll…countered into the Lebell Lock. Otis breaks it up. Otis executes a spinning slam to Bryan and a fisher-bone Suplex to Woods. It's Worm Time! Woods goes for another aerial maneuver, but it gets countered into a massive Compactor for the 1-2-3
Recap from the Kevin Owens Show last week with McMahon and McIntyre; which where this boiled frustration in KO originated from when he started asking highly-personal questions and was shut down. Followed by Ziggler and him vying for another title shot where McMahon denied both of them and placed them in a tag team match against Heavy Machinery. Of course, it ended with miscommunication and an inadvertent Superkick by Ziggler. Then we get to the parking lot brawl earlier today and KO's justified rant about The Best in the World crap!
Backstage in catering R-Truth is hiding under a table; Ember Moon is confronted by Sonya DeVille and Mandy Rose, this culminates into a tag team challenge for next week.
"The Dutch Destroyer" Aleister Black is getting wired up for THE BIG REVEAL…NEXT.
We're back live as this interview will be conducted by Tom Phillips; his opponent wants to remain anonymous, Black "Applauds them, for doing what he would do". He's past the point of caring now…A man in a suit circles the chair before it's revealed as "The Swiss Cyborg" Cesaro. The two will FIGHT Sunday!!! About Freaking Time that WWE does something interesting; with one of the most skilled and entertaining and competitive superstars, that has been under the damn noses for years now. Rant over!
Silent Shelton Benjamin: Sarah Schrieber asks Benjamin if he thinks Ziggler will finally do what it takes in his main event match, which is next…Silence and a sly grin.
Main Event is next as both "The Show-off" and "The Big Dog" make their way to the ring… commercial.
Kayla Braxton is about to interview the WWE Champion Kofi Kingston…Paul Heyman appears. Kofi says he knows Joe's mind games and he knows how dangerous of a threat he is. Last week though; he accomplished something nobody else has and that is getting inside his head too, Kofi welcomes the massive challenge to edge his name as one of the best WWE Champs of all time…BABY!
Back live as Reigns makes a slow and confident entrance, followed by Ziggler. I give this match five minutes before McMahon and his cronies interfere. Before the bell rings The Corporation 2.0 come out. I'm starting to wonder how much of what KO unloaded on earlier was scripted…this is the fourth or fifth sighting of McMahon.
Bell rings as Ziggler tries to go for Reigns' legs but to no avail. A shove to Reigns in the corner and a right hand all it takes is one headbutt for Ziggler to go down. The Big Dog is taking Ziggler to school, overpowering him. Ziggler goes on offense…flying clothesline…nope stiff uppercut. Drive-by on the apron…business as usual for Reigns. McIntyre and Reigns have a stare-off as Elias distracts him so Reigns can get his head slammed into the ring post. Ziggler takes advantage… two-count.
The Show-off takes over with his technical maneuvers that keep The Big Dog down…Comeback engaged, Elias on the apron and eats a Superman Punch, Ziggler hits the Zig-Zag…long two-count. McMahon is so giddy, he's acting like a kid on Christmas morning. Sweet Chin Music…nope Ferocious Superman Punch… kick-out. Sets up for the spear, McIntyre pulls Ziggler outside. The Big Dog is going flying, Ziggler nails him with a Superkick off a distraction by McMahon. From out of nowhere KO stuns him and hightails it through the crowd. Zig-Zag…nope Night Night Ziggler HUGE Spear 1-2-3. Good match but disappointed no Taker at either show.
That's it, folks! Extreme Rules begins this Sunday night at 7 p.m. ET on the WWE Network, with the kickoff show getting things started at 6 p.m.
Tiffany's Takes: WWE 205 Live (7/16/19)
Tiffany's Takes asks the important question after WWE Extreme Rules: Who will step up to challenge Drew Gulak?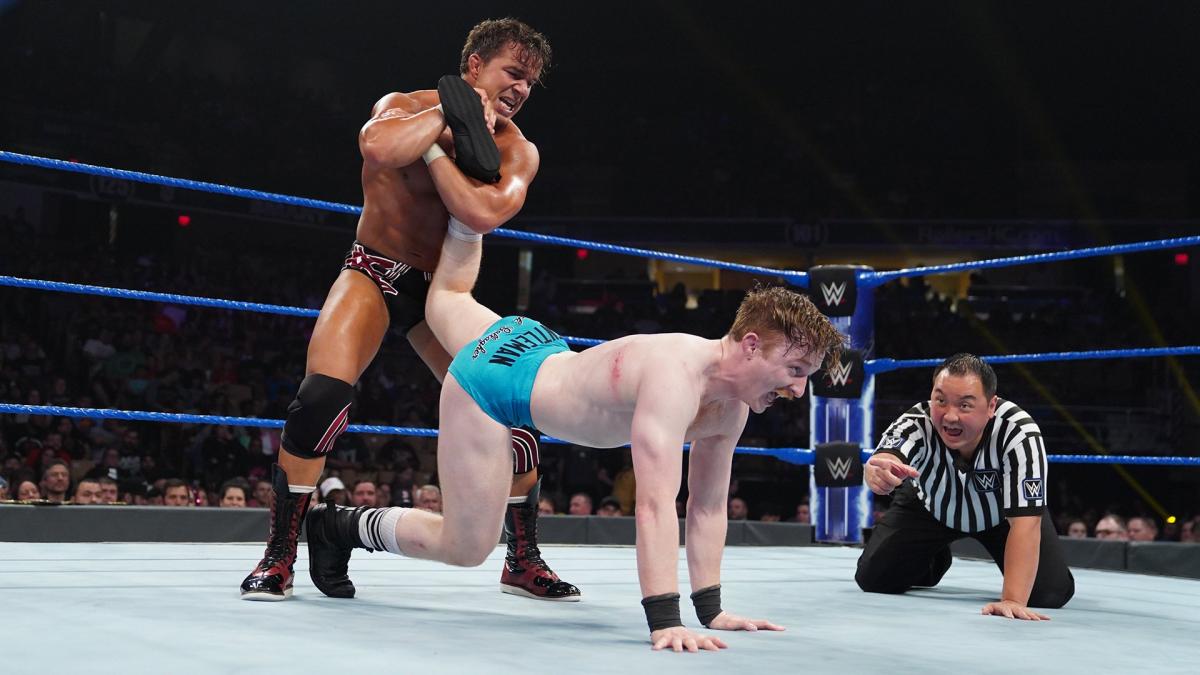 Tiffany's Takes asks the important question after WWE Extreme Rules: Who will step up to challenge Drew Gulak?
I still don't like Drew Gulak as champ. He's a great athlete, but his gimmick is too much like watching politics and he's very generic.
I like Akira Tozawa and Brian Kendrick as a team, they just make an odd amount of sense. My love for the Singh Brothers is pretty much established, even though they do look like cut rate strippers and I never remember which is which. Pants Singh was in the hot seat against Tozawa this week. I love that WWE is getting back to making guys look like legit stars even in defeat, but I would like to see the Singhs win clean, BUT I do like them being sore losers and beating up Kendrik and Tozawa. I'm not here for this feud to be about a trophy that the Singhs won.
I know WWE would really like for us to all get behind Humberto Carrillo as a top babyface, but he just doesn't work for me. I want him to, I want to like him SO much, but I just…can't.
FINALLY, Mike Kanellis vs Drake Maverick is getting somewhere! I loved every second of that in ring segment! Problem is that the writing of Mike Kanellis has been so inconsistent. He only has his balls and his spine on 205 Live. On RAW, he's Maria's henpecked husband who can't win for losing and Maria is written as every man's nightmare pregnant wife. Still, that was FUN. 205's Austin vs McMahon is taking shape and it's going to be a wild ride. I can imagine that there's going to be six kinds of hell to pay next week, but it's going to be a lot of fun to watch.
I'm so glad Chad Gable vs Gentleman Jack Gallagher is getting a Part 2 after the unsatisfying end to their match a few months ago. Also, I hope Gable can write the time he's spent in a tanning bed off on his taxes because it's clear he's been in one a LOT. This match was SO good, it should've been for a title, because those guys literally went until they couldn't anymore, giving the match a very old school feel that WWE's been missing. Gable and Gallagher got a well-deserved standing ovation from the audience, the commentators, and yours truly. I will say that Gallagher looking out at the crowd almost seemed like a goodbye, which I hope isn't true.
I'm going to assume a discussion of what was next for the Cruiserweight Championship was scrapped in favor of Gable vs Gallagher because we're four weeks from SummerSlam and nothing was really said or put in motion to decide who would take on Gulak in Toronto. I don't remember who on the roster is from Canada that they could plug in that spot, hopefully we'll get something next week and the build for SummerSlam won't be the same hurried one they had for WrestleMania. I'm betting Kanellis vs Maverick will happen on 205 and NOT at SummerSlam, but I wouldn't put it past WWE either.
That's it for Tiffany's 205 Live Takes! Tune in tomorrow for NXT!
Tiffany's Takes: WWE Smackdown Live (7/16/19)
Is Randy Orton #1 Contender OUTTA NOWHERE???
How will the fallout of Extreme Rules affect WWE SmackDown as we head into SummerSlam? And is Randy Orton #1 Contender OUTTA NOWHERE???
This Kevin Owens/Shane McMahon feud is going just like Austin/McMahon used to and I think it'll end just as badly…for the McMahon.
WWE seems to be really leaning in at taking a stab at current events, because this 'townhall' sounds like a political one where the person in charge is going to do what they want and listening to the constiuents, or superstars, is merely a formality. Still, love Owens pulling an Austin and getting the Stunner on Shane.
So we got Aleister Black vs Cesaro II from Extreme Rules. The match was just as amazing as the one on Sunday, but I keep feeling like Cesaro wasn't the original endgame for this, especially since Black picked up another win. It was a good match, but I'm not feeling this feud.
What is it with McMahons and lackluster lackeys? Ziggler hasn't exactly been putting up victories since his return, yet, he's still in Shane's circle. At least he took the time to re-bleach his hair.
So, how many of us knew Liv Morgan was going to get squashed by Charlotte Flair? All of us? Yeah, me too. Still, Liv went toe to toe with the Queen and got her attention, hopefully, she'll get another chance down the road. The Squad believes in you, Liv!
Okay, re-writing this because I'm pretty sure referring to two women as Trash and Trailer will get me in trouble. ANYWAY, the big deal is that Bayley came to help Ember Moon deal with Mandy Rose and Sonya Deville. Preferably, it would've been Sasha making her shocking return, but I'll take Bayley, even if she didn't do that much in the match, except level the playing field, AND give Moon a shot at SummerSlam! A new and fresh match? What world is this? I'm not fooled though, this is WWE, they'll shoehorn Charlotte or Alexa Bliss in somehow.
Ali vs Shinsuke Nakamura for the Intercontinental Championship? Yeah, I'll take that, sign me up.
So, what was Daniel Bryan's career-altering announcement? We have no idea since the little tree-hugging gremlin wouldn't tell us, except to bring out Samoa Joe, who thinks he has a right to a rematch at SummerSlam, despite a CLEAN win by Kofi Kingston at Extreme Rules.  Also, Elias thinks he deserves a shot for some reason, and so does Randy Orton, never mind that Elias and Orton have done nothing to deserve a shot. I'm not thrilled about Orton vs Kingstons, it feels like WWE doesn't know how to do a storyline without it having racist undertones, especially with Orton involved, but that's what we got, so hopefully Kofi survives.
Carmella and Truth are the best team going in WWE right now. How Truth got into the washing machine is beyond me, hope he wasn't there long. Why was there a washing machine there to start with?
I'm going to be honest, after Paige's conduct last week in slapping Billie Kay knowing Billie couldn't hit her back, I was rooting for the IIconics harder than ever. I'm not shocked that the IIconics took the countout win, Champion's Advantage, but I'm hoping that they'll do better at SummerSlam, since that's probably where this is going.
I'm not sure what's going on with Andrade vs Crews. The feud doesn't have anything at stake, and Andrade keeps winning, so what's the point? Just the look on Andrade's face when Crews pinned him with a crucifix pin. Good one, dude.
Well, Ziggler actually got out of the box this time, which is a step up from Sunday's encounter with Ice Cold Kevin Owens. The reprise of Austin vs McMahon was in full force and it was a lot of fun, though I doubt Owens vs McMahon will get as out of control as Austin vs McMahon did. Also, Kevin Owens can RUN! Run, Kevin, Run!
That's it for Tiffany's SmackDown Takes! Stay tuned for 205 Live!