Chris's Grades & Analysis For WWE Raw 7/28/19
RAW is WAR this week, or at least RAW is CHAOS! Chris King checks in with his look at WWE Raw and the craziness that ensued for a fast moving three hours.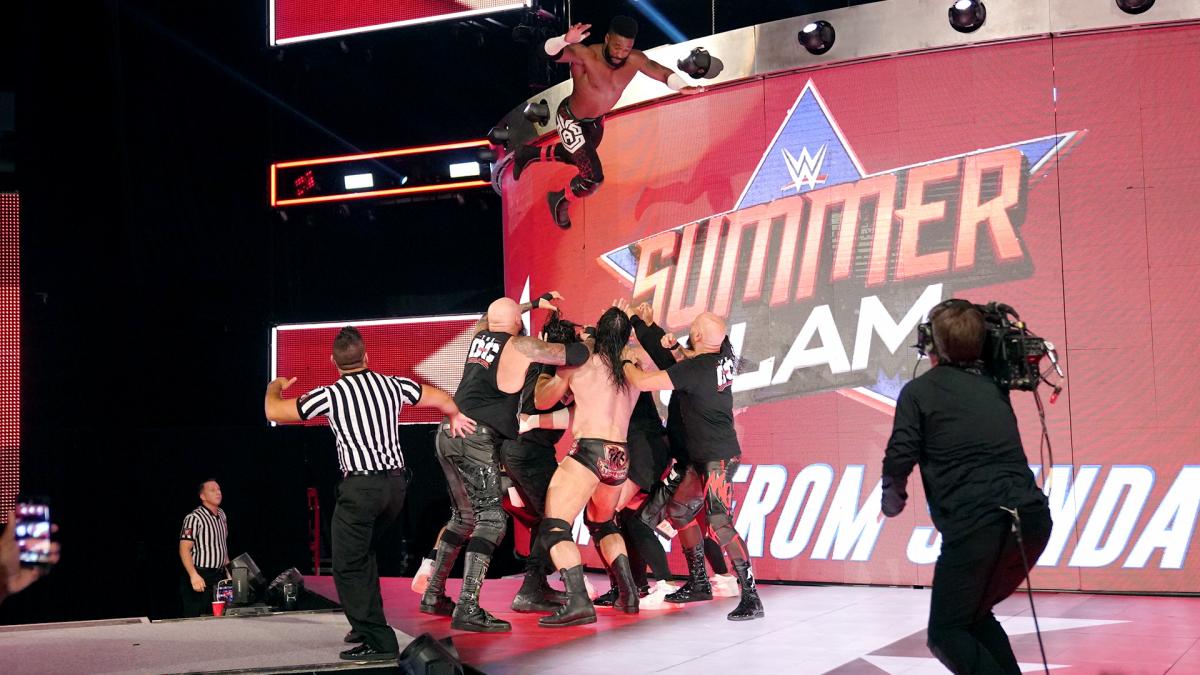 RAW is WAR this week, or at least RAW is CHAOS! Chris King checks in with his look at WWE Raw and the craziness that ensued for a fast moving three hours.
Tonight Ricochet, Andrade, Rey Mysterio, Cesaro and Sami Zayn will go to war in a Five-Man Gauntlet Match to determine The Phenomenal AJ Styles' challenger for SummerSlam. The Revival, The Uso's and Gallows and Anderson will also face off in a Triple-Threat Match for the Raw Tag Team Championships and so much more. Let's get this show on the road!
R-Truth & Carmella VS. Drake Maverick and Renee Michelle Mosh Pit Mixed Tag Team Match: 24/7 Championship
First things first, what a testament to the 24/7 Championship opening the flagship show of WWE! Last week when Legends and Hall of Famers became temporary champions, it once again proved that it was the hottest thing on WWE programming on a weekly basis.
The match itself was decent but I wasn't expecting it to run long at all. The grade is not for the match-all, it's for the absolute genius of this thrown together title that morphed into something Huge! Mike Kanellis winning the 24/7 title is amazing too if he can last the night and carry it over to 205 Live, to rub it in Drake's face tomorrow night on 205 Live, that's amazing storytelling right there.
Winners: R-Truth & Carmella–A
Ricochet Wins Five Superstar Gauntlet Match: 
Cesaro and Mysterio were on their way of putting on a wrestling clinic if they were given a little more time. Sami's shocking loss makes me believe that there's something going on with him. Mysterio and Andrade revisit their ongoing rivalry and deliver a heck of a performance.
I would kill to see them battle over any championship one day. Lastly, Ricochet and Andrade faced for the first-time-ever, and it did not disappoint. If The One and Only reclaims the US title this is a feud WWE should begin.
The only real option was for Ricochet to win, he's got unfinished business with The O.C and Styles. While this gauntlet match was really good, I'm predicting a stipulation added to the highly intense rematch at SummerSlam.
Winner: Ricochet, Grade–B+
A Moment of Bliss Segment:
Bliss and Cross show footage of Natalya training with Fit Finlay on how to reverse the Dis-Arm-Her, but The Man came around and left her mark! I know Bliss has a match with Lynch later tonight, but I'm not quite sure. why we needed this. It didn't really accomplish anything other than The Man threatening Bliss from backstage.
Grade–C
24/7 Backstage Segment: Maria Kanellis becomes the first-ever Pregnant Champion:
I'm thrilled to see the 24/7 title gain so much exposure tonight, but I'm scratching my head about this decision. I still can't figure what the payoff is for all this humiliation to Mike Kanellis, all I can say is Drake better be ready for a fight tomorrow night.
Grade–B
The Revival VS. The Usos VS. The O.C. Triple-Threat Tag Team Match for the Raw Tag Team Championships:
Wow, What a Match! It was extremely wise for both The Usos and The Revival to avoid getting close to Gallows and Anderson for the majority of the Contest. Both tag teams once again proved why they are two of the best teams in professional wrestling today. With that said, the angry Good Brothers unleashed pain and punishment to gain the victory and the tag team gold.
Where the hell was this strong booking in 2016? Gallows and Anderson were made into running jokes on a weekly basis, and I believe they won the tag team titles on the Royal Rumble kick-off show in 2017. This was as much of an exclamation point that, The O.C. is indeed getting a much-needed push as many have speculated since the reunion. Good Brothers are the new Raw Tag Team Champions!
Winners: The O.C., Grade–A+ 
The O.C. Backstage Segment:
Kayla Braxton wants to get Style's reaction to Gallows and Anderson becoming Raw Tag Team Champions, all three members celebrate in the catering area. The segment was a throwaway but with The O.C. holding most of the gold on Raw, things about to get dangerous on Monday nights.
Grade–C+
Street Profits & Seth Rollins Backstage Segment:
Each week Montez Ford and Angelo Dawkins bring their unique intensity to Raw, with recaps of the biggest moments. They haven't had a match yet but they're still receiving tv time every week. After they drop the NXT Tag Team Championships to The Undisputed Era (Bobby Fish and Kyle O'Reilly) at TakeOver Toronto, The Street Profits will be thrown into the mix. Seth Rollins joining them and bringing his electric energy just clicked well for me. He's gotta do something right with no Universal Champion in sight!
Grade–B
Becky Lynch VS Alexa Bliss, Becky Lynch VS. Nikki Cross:
Bliss once again proves why size doesn't matter, she is as dangerous as ever. She took control for the majority of their match, however, it seems WWE decided to hold off on the clean finish perhaps to save this highly intense rematch for a pay-per-view down the road. Cross didn't get much offense in, but it wasn't about showcasing her abilities this was about standing up for her "injured" friend.
The post-match attack was a pure genius for the Goddess of WWE, Natalya evening the score and locking in the Sharpshooter made her look strong here. Can The Queen of Harts shock us all in her hometown and become the new Raw Women's Champion?
Winner: Becky Lynch, Grade–B+
Natalya Backstage Interview:
Short, sweet and to the point. This feud isn't revolving around Natalya and Lynch's past friendship, it's about becoming Raw Women's Champion! Nothing more and nothing less, keep the talking to a minimum and let Natty's wrestling speak volumes.
Grade–B+
Seth Rollins VS. Dolph Ziggler/ The Return of The Beast Incarnate:
I was not looking forward to this match at all, I didn't know how this could be different than their previous encounters last year. How wrong was I? This was awesome seeing an incensed Rollins beating the hell out of Ziggler. If Dolph can keep this new edge and attitude, maybe he might find life again for his deflated character.
Brock Lesnar shocking the WWE Universe was the right call, and destroying his SummerSlam opponent was brilliant! Attacking the ribs and the Thunderous F5's leave an exclamation point, that things are going to be heating up on the road to The Biggest Party of the Summer!
Winner: No Contest, Grade B+
Backstage Brawl/ Beast Incarnate's Continued Assault:
Tonight we were supposed to see the conclusion of Joe and Reigns' bitter rivalry…Yeah Right! No Samoan Summit needed now as this feud is far from over! The Brand-new Raw Tag Team Champions attacking The Usos could either be the continuation of this tag team triple-threat-match from earlier or it could be a way to write them off the TV!
Grade–A
Eight-Man Pull-Apart Brawl Roman Reigns/The Uso's/Cedric Alexander VS. Samoa Joe/Drew McIntyre/The O.C.:
Holy crap, that's how Raw should end every week with a cliffhanger! This appears to set up a massive eight-man tag team match for either SmackDown Live or next week's Raw. From Brock Lesnar's vicious attack on Seth Rollins to this brawl it added a spark to an easily B-rating show which brings it to a solid A!
It leaves the WWE Universe and myself wondering how can they top it next week?
Grade–A+
Chris's Show Grade–A
Analysis: 
The shows opened up with a fantastic and hilarious video that recaps the brilliance and drama that surrounds the 24/7 Championship, all-the-while narrated in such a dramatic voice…This is Awesome! Now we go live as all 24- competitors are surrounding the ring, and Drake Maverick (in wrestling attire) along with his lovely wife Rene Michelle are making their way down for their Mixed Tag Team Match against current 10-Time champion R-Truth and Carmella. The rules are if Drake or Renee win Drake will become the new 24/7 Champion, and if Truth or Mella win then Truth retains.
The bell rings and Drake rolls Truth up for a near-fall, Drake runs right into a hard arm-drag takedown. Now, this match was not pretty, it didn't need to be though the whole point is that the 24/7 Championship opened the damn show! It was also defended inside of the squared circle. Truth won the match after a pinfall was broken up by Renee and Mella came in to stop her. Drake ate a slap from Mella, and Truth hit an inverted Suplex for the 1-2-3.  After the match, all of the competitors ran in and squished Truth, a pinfall was made and Mike Kanellis of all people escaped with it! 
Backstage Mike is running for dear life and finds an officials room to hide in, his pregnant wife Maria fainted some birth pains so all the superstars' fleed. She demands her husband to let her inside, but Mike's not sure this isn't a ploy by Carmella. He asks how do I know it's really you, Maria's priceless response was "If you don't open this door right now, I'm going to break down the door and kick you in your vagina!" Mike's a smart man and lets her in LMAO. 
We go back live as The Master of 619 is making his entrance, we'll find out who he's starting off with after a commercial. We return and The Swiss Cyborg Cesaro makes his entrance.
Rey Mysterio VS. Cesaro
The bell rings and Mysterio gets taken down and Cesaro gator rolls Mysterio and gets a few one-counts. The action picked up as Cesaro was delivering uppercuts to Mysterio. The Master of 619 attempted his signature pop-up twisting headscissors to the outside, but The Swiss Cyborg held on even after! Mysterio then sent him face-first onto the apron. 
The finish comes as Mysterio is climbing up top for the frog splash, Cesaro lands an uppercut and Mysterio is rocked. He manages to recover and hits a Super Bulldog from the top-rope! That sends Cesaro in position and Mysterio dials up 619…Frog Splash 1-2-3. There's no rest for him as Sami Zayn comes running in the ring and throwing punches and stomping Mysterio. 
Sami Zayn VS. Rey Mysterio
The bell rings and Sami sets him for a Helluva Kick but Mysterio blocks it, roll-up for the surprise 1-2-3! Andrade is out next… commercial. 
Rey Mysterio VS. Andrade
We return as Andrade and Mysterio tie-up and move into the corner. Andrade twists Mysterio's arm up with a wristlock. Both competitors use waistlocks and break it up with hard elbow jabs. Andrade is in full control now as he blasts Mysterio with a hard lariat in the corner followed by a running kick. He is mocking the late great Eddie Guerrero with the three amigo suplexes. The finish comes when Andrade caught Mysterio's 619 attempt, and landed a fall-away slam and then the hammerlock DDT for 1-2-3. After the match, Andrade tears Mysterio's mask off as The One and Only makes the save! 
Ricochet with a flying clothesline to send Andrade outside as we head to a commercial.  
Ricochet VS. Andrade
We return and the bell rings as both competitors tie-up and they break in the corner, but Andrade slaps him. There were several occurrences of Vega grabbing Ricochet's legs to prevent some high-flying maneuvers. Middle of the match Ricochet counters a hammerlock DDT attempt into a roll-up pin for a near-fall. Off the ropes and Ricochet runs up Andrade and hits the reverse Rana. The One and Only climbs up top and Andrade meets him but Ricochet knocks him down with a hard elbow…630 1-2-3! 
Post-Match Interview with Kayla Braxton, Ricochet says it was a shock to everyone including himself when he won the United States Championship at Stomping Grounds. At SummerSlam, he's going make the WWE Universe believe that he will be the new champion! AJ Styles is dying laughing backstage as he's been scouting his opponents all night long. 
Well, that didn't last long…as we see Mike declaring he won the 24/7 title for his wife and his unborn child. Maria continues the demasculinization as he makes him lay down on the floor "like he always does" and she becomes the first-ever Pregnant 24/7 Champion. She is parading and rubbing it in all the superstars' faces. 
We see The Goddess of WWE and WWE's Twisted Sister are making their way to the ring for a special edition of A Moment of Bliss after the commercial. We return as Alexa Bliss and Nikki Cross come out, she starts off by congratulating Maria on her impressive win. Then both of them bring up how amazing it was last week at Raw Reunion. Followed by Dolph Ziggler superkicking Shawn Michaels which completely killed the spirit of "family". Bliss has shocking video coverage of Natalya training with WWE veteran Fit Finlay on how to escape the Dis-Arm-Her. The Man Becky Lynch kicks him down under and then locks in the Dis-Arm-Her on Natalya. 
The WWE Universe is loving this but Bliss and Cross are appalled by their reaction. While Bliss is running down the Raw Women's Champion, The Man appears in the Tron. She said she was making an example out of Natalya that there's nowhere to run or hide, she remembers everything Bliss has done to her. As for you Nikki did you really come all the way from Scotland to be a coffee maker for this door… where's your Celtic pride? Before we get a response The Uso's are coming out for the triple-threat-match when we get back from commercial. 
We're back live and here comes as The O.C "The Original and Only Club that matters" make their entrance, followed by Dash and Dawson The Revival. The bell rings as Dawson and Jimmy start the match, Dawson uses a headlock to throw Jimmy to the mat. Jimmy now utilizes a headscissors to escape, off the ropes and Jimmy plows him over…goes for a second but Dawson with a hard elbow. Dawson lands a high angle back suplex, tag to Dash with a headbutt over the ropes Two! So far it's been a wrestling clinic by The Usos and #Top Guys while The O.C anxiously wait for a tag. Dash sends Jey to the outside, Gallows cleans his clock with a Ferocious Lariat… commercial.
We return to see Anderson with a deep headlock locked in, Jey back up but Anderson drives him to the corner. He gets blasted with a rocket kick, Two! Tag here comes Gallows with massive right hands and a thunderous elbow drop, Two! Tag to Anderson and he shows us what he can do. Jimmy gets the tag and he's firing on all cylinders, goes for Samoan drop Dash counters… enzugiri, hip attack in the corner. Jimmy goes for a cross-body but Dash catches him, Jimmy wiggles free and sends him into Gallows on the apron…Samoan drop, Two! Anderson and Dawson suplex each other outside, Dash hits a tornado DDT off the barricade to the floor! 
Gallows gets the blind tag as Jimmy splashes off the top-rope, roll through and a Shatter Machine. Jey hits a cross-body to wipe out The Top Guys, Anderson with a spinebuster to Jey…Magic Killer to Jimmy 1-2-3! New Raw Tag Team Champions!!
We return live as Styles is approached by Kayla Braxton on his reaction to his brothers winning the tag team champions as Gallows and Anderson interrupt. Styles climbs on top of the catering table while shouting in celebration. 
We get a recap of the magic of the Raw Reunion last week, and Dolph Ziggler superkicking Shawn Michaels in a huge show of disrespect. Ziggler vs. Rollins happens later tonight. 
We roll backstage with The Viking Raiders getting ready for action in a red-lighted room as we head to commercial. Let's find out who they are obliterating tonight when we come back. Back live as Erik and Ivar make their entrances, their opponents Johnny James and Cole Carter are already in the ring. Erik blasts Carter to start this squash match, but Erik and Ivar destroy their opponents in under two minutes. 
We roll backstage as the always-entertaining newcomers The Street Profits gives us a break down of everything that's happened tonight. Dawkins apparently has the hots for Maria Kanellis. The Beastslayer Seth Rollins comes into the picture as they try to use his line. Rollins puts some stink on it…BURRRRRN IT DOOOOWN! It's Becky Lynch vs. Alexa Bliss after the commercial. 
We're back live as The Man comes around followed by The Goddess of WWE. The bell rings as Lynch puts her hands behind her back to give Bliss a free shot, Bliss gets suckered in and Lynch with a right hand. Waistlock takedowns from The Man, she goes for an early Dis-Arm-Her but Bliss escapes, pleading for a break and The Goddess drives Lynch face-first into the middle rope. Bliss has taken over after Lynch attempted a comeback, here comes The Man with another Dis-Arm-Her… countered into a roll-up Two! Bliss is now trash-talking Lynch driving her knees into the body, Insult to Injury and another near-fall!
The Champ mounts a comeback with clotheslines and some hard kicks, Lynch hits the Bexploder and Bliss lands right on her leg, she's crying in pain as WWE's medical team evaluation is she can no longer continue…No contest. Cross gets up on the apron and both her and The Man are in each other's face, Cross wants to fight Lynch as we head to commercial. Back live as this match is now official, the bell rings and Cross is still trash-talking The Man. Lynch explodes now with a shoulder tackle as Bliss is seen with her injured leg elevated on a chair at ringside. The finish comes when Cross is on the top-rope and Lynch knocks her down shoulder-first, followed a Manhandle Slam for the 1-2-3!  It's a miracle as Bliss is fully recovered, cough…both Cross and Bliss delivering a two-on-one post-match attack to the champ. Natalya comes down and locks in the Sharpshooter, as payback for earlier. 
Natalya is storming backstage as Kayla Braxton asks her if the pursuit of the championship has broken up their friendship. Natty says this isn't about making friends, it's about winning titles. She indirectly challenged The Man to a submission match at SummerSlam, or did she? 
We return as the first-ever Pregnant 24/7 Champion Maria is taking a photoshoot when she backs up to a snarling Monster Among Men. Now we go to ringside as The Beastslayer is making his entrance, followed by The Heartbreak Kid Shawn Michaels? Nope, Dolph Ziggler comes out mocking HBK with all of his mannerisms. The Show-off grabs a mic and says whether it's HBK or Goldberg stealing the spotlight from the full-time talent it's PATHETIC! The bell rings and Rollins is beating the holy hell out of Ziggler, inside the ring to the outside. Both Rollins and Ziggler are on the apron, The Show-off kicks the rope and lands a DEVASTATING DDT on the apron as we head to commercial. Back live and Rollins is exploding like a rocket, he blasts Ziggler with a rolling elbow Two! Ziggler goes for the DDT again except Rollins counters into the falcon arrow and another near-fall! 
Ziggler sends Rollins into the ring post twice and hits the Zig-Zag Two! The Show-off is tuning up the band for a Sweet Chin Music but Rollins answers back with a Superkick! He's setting up for the Stomp when…Brock Lesnar's music hits HE'S HERE! The Universal Champions just blasts his SummerSlam opponent with a lariat! Rollins is taking a trip to Suplex City inside and outside of the ring. F5 to the ring post sternum first. He grabs a chair and Lesnar is laughing while Rollins tries to make it to his feet. Lesnar hits THREE THUNDEROUS F5's onto the steel chair, and Rollins is coughing up blood! 
We go backstage and The Big Dog Roman Reigns is watching his former Shield-mate getting into an ambulance, when out of nowhere The O.C. and Samoa Joe brutally attack Reigns and The Usos. We then turn our attention back to the ambulance who's stopped by The Beast Incarnate. Lesnar drags Rollins's stretcher, he kicks him and hits one more FEROCIOUS F5 ON THE STRETCHER! 
We return from commercial and The Samoan Submission Machine makes his entrance, grabs a mic and says The Samoan Summit is canceled and here's here for a Fight! Here comes The Big Dog and the brawl ensues, The Scottish Psychopath blindsides Reigns and now it's a two-on-one attack until Cedric Alexander evens the score! The Age of Alexander is upon us as he levels McIntyre with a kick, but The Scottish Psychopath isn't fazed. He just hurls Cedric up the which leaves The Big Dog and The Samoan Submission Machine to continue the brawl. On the ramp Reigns and Joe have made it to the announce table, when The O.C. come out of nowhere, followed by The Usos. 
There's a melee happening between all the competitors, wait where's Cedric? Holy Shit, he's on top of the Tron and delivers a HUGE CROSS-BODY OFF THE TRON ONTO THE SEA OF SUPERSTARS! McIntyre and Cedric make it back to the ring, set up for a Claymore… Dropkick from Cedric! Here comes Gallows and Anderson but they are blasted with SUPERMAN PUNCHES, Usos Double-Superkicks to even the odds! Reigns is in the corner it's SPEAR TIME for Joe, Cedric hits a jaw-dropping Senton to the outside…The Big Dog, The Usos, and Cedric stand tall! 
What a HUGE way to end the show!