Tiffany's Takes: Monday Night RAW (7-15-19)
Tiffany's Takes digs into WWE Raw: after a shocking Extreme Rules, will Seth Rollins get his rematch?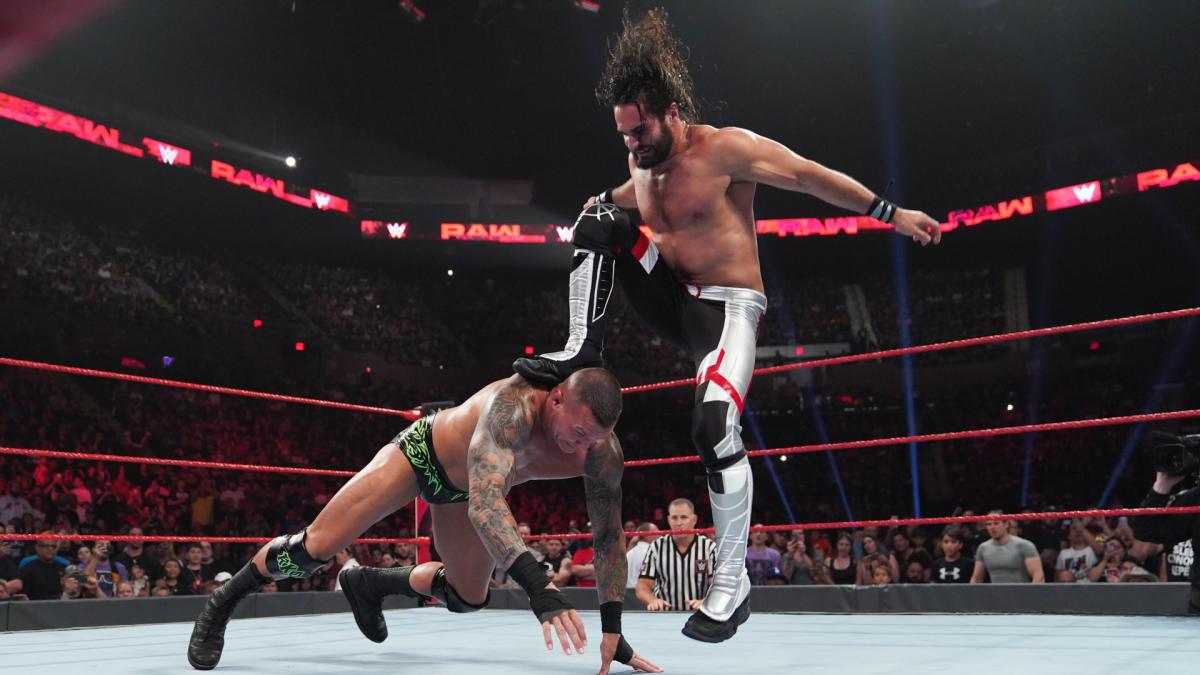 Tiffany's Takes digs into WWE Raw: after a shocking Extreme Rules, will Seth Rollins get his rematch?
I will not discuss the new Universal Champion beyond saying that it should never have happened.
Ricochet kicked off the show with a six man 2-out-of-3 Falls tag with the Usos against Bobby Roode and the Revival, for some strange reason. Guess the 'No Rematch' thing is back in force because he should be getting a shot at AJ Styles after last night. Well, I guess it's not over between Ricochet and Styles and it looks like the Good Brothers are getting in on the fun with the Usos. Not sure why Roode stuck his nose in it. I'm guess Ricochet will get a rematch at SummerSlam and the Usos and the Good Brothers will face the Revival. Not sure what Roode will do.
Viking Raiders took on two locals who didn't have a prayer and got squashed and that was that.
So Drew McIntyre's response being beaten by Undertaker and Roman Reigns was to pick a fight with Cedric Alexander, who helped Reigns get the better of the Corporation 2.0 last week. Guess ol' Drew needs to take his impotent rage out on someone. Also, Drew, disembowel and eviscerate mean the same thing. If you're going to use big words, at least look them up in a dictionary, okay?
Oh. My. God! I expected a squash and got Cedric Alexander PINNING Drew McIntyre 1, 2, 3! That was hilarious!
Did Balor call Shinsuke Nakamura 'Shitske'? I like that Balor is back in the hunt, even if he's got to go through Samoa Joe, who was also licking his wounds after losing to Kofi Kingston.
I know a lot of Roman Reigns fans want him to get his rematch against Lesnar since he never lost the title, but I don't think it'll happen. Reigns is on SmackDown and WWE has been firm in making sure cross brand title matches don't end with titles changing hands.
Balor vs Joe was disappointingly quick. Joe got the win but Balor was the last man standing. Also, NOT here for a rehash of the Balor/Wyatt trainwreck from two years ago? Nope, not having it.
Well, it looks like Drake Maverick's big night is finally going to happen, but since it's on RAW, it's probably not going to end in fireworks.
What the hell is going on with the Kanellis storyline? Maria Kanellis is being the pregnant wife from Hell and Mike Kanellis looks like a jackass instead of a badass. He lost to Zack Ryder of all people! There better be an amazing payoff for this because this storyline is annoying.
I'm honestly surprised The Club vs Lucha House Party wasn't an out and out squash. Maybe it would've been if not for Ricochet. Judging from how Kalisto got treated, the Club isn't feeling too great about being taken to task by luchadors or Ricochet. Look out, RAW.
Seth Rollins has a right to be pissed. He towed the company line and threw Dean Ambrose under the bus and lost the title to a man who had no business being Mr. Money in the Bank. If this is Vince making Seth earn it all over again after what happened in January, he's a bigger idiot than I think.
You gotta respect Becky Lynch. She had a huge knot on her forehead from Lacey Evans, took an End of Days from Baron Corbin, and she still came out to see who she would be facing at SummerSlam between Alexa Bliss, Naomi, Nattie, and Carmella. The match was really good, but I'm honestly SHOCKED that Nattie won. I figured Bliss would get yet another chance at the title, but that was not the case. It's Becky Lynch vs Nattie at SummerSlam!
Well, I guess after last night's embarrassing defeat, Dolph Ziggler had to find SOMEONE to whine to and who better than Miz, who was NOT in the mood for Ziggler's shit. Looks like another feud from 2016 is being revived.
I'll give Maverick his due, he really tried to make this wedding consummation romantic, but I think we all know what's going to happen since it's on RAW, though I REALLY hope he had a thong between him and that belt. At least it wasn't coitus interruptus. Also, kudos to Cory Graves for the 'small package' punchline.
I gotta admit, I wasn't stoked about the Top 10 Battle Royal because the 'Top 10' seemed to be drawn at random. I could see them picking guys who'd won last night, but then you have Sami Zayn, Randy Orton, Bobby Lashley, Baron Corbin, and Rey Mysterio. I'm not surprised that Seth won, since he's the only logical choice, I am surprised that Orton was runner up. Guess we should warn Kofi Kingston.
That's it for Tiffany's RAW Takes! Tune in tomorrow for SmackDown and 205 Live!