Andrew's G1 Climax 29 Ratings & Analysis: Night 14 B Block
Does Moxley bounce back from his soul crushing loss to Toru Yano? Will Shingo become the first LIJ member to beat Naito in the G1?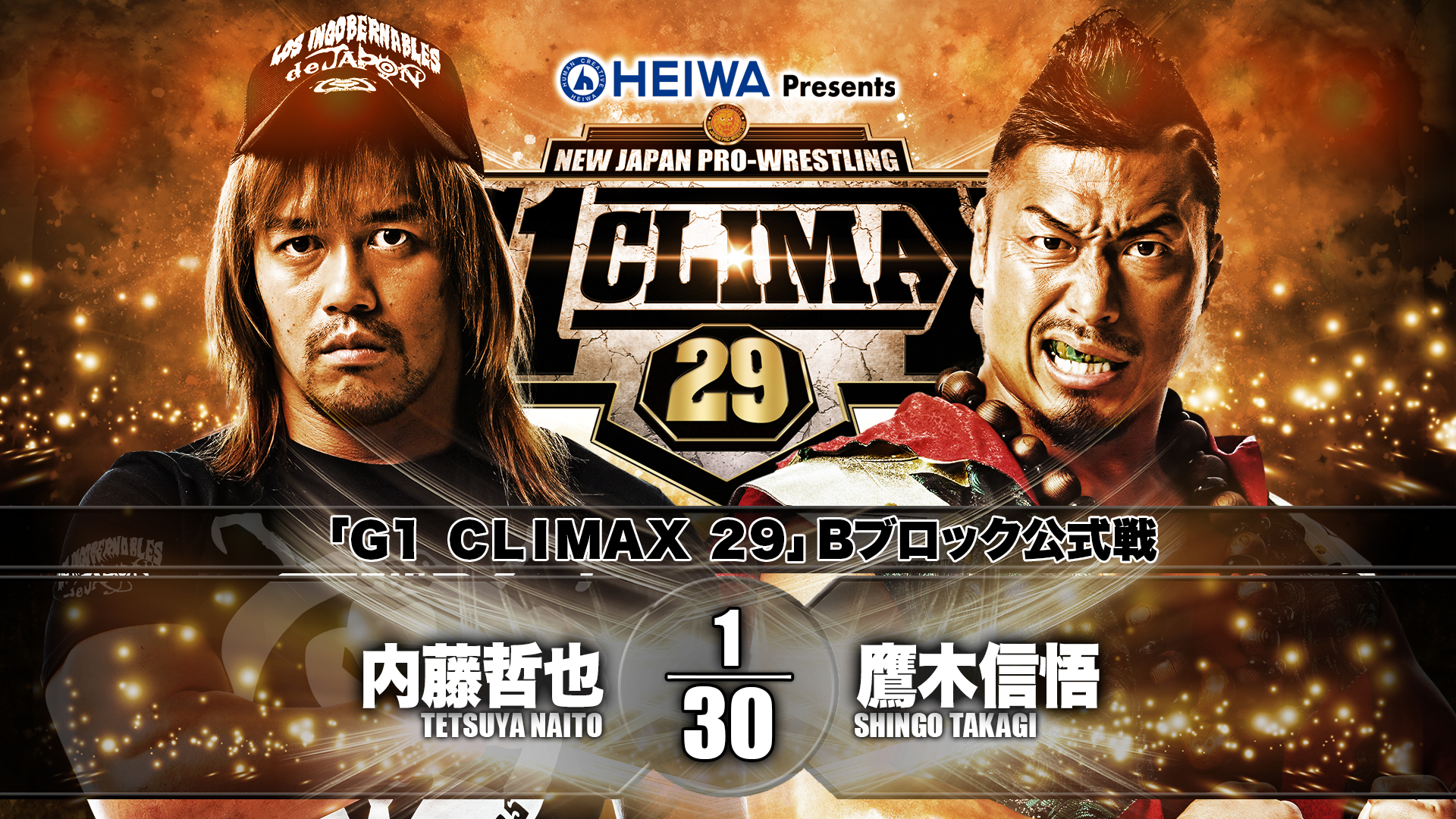 Does Moxley bounce back from his soul crushing loss to Toru Yano? Will Shingo become the first LIJ member to beat Naito in the G1?
So Jay White is still on his 6 in a row run, but he's facing Moxley. Jay needs the win to stay alive, and if Moxley loses it keeps the block wide open.
Yano is probably not winning the block, so Ishii has to be a shoe in for that match. Goto is back on an upward trend, so knocking out Cobb is a logical step.
Honestly, there's only one thing we care about. So let's see if Moxley rebounds or continues to slide.
Ratings:
Shota Umino & Ren Narita vs Toa Henare & Yuya Uemura: Shota wins via Fisherman Suplex Hold @6:05 – **
Minoru Suzuki, Zack Sabre Jr & Lance Archer vs SANADA, BUSHI & EVIL: Suzuki wins via Gotch Style Piledriver @6:40 – ** ½
Chase Owens, Bad Luck Fale & Yujiro Takahashi w/ Pieter vs Tomoaki Honma, Hiroshi Tanahashi & Kota Ibushi: Owens wins via Package Piledriver @8:15 – ***
Will Ospreay, Kazuchika Okada & YOSHI-HASHI vs KENTA, Clark Connors & Karl Fredricks: YOSHI wins via Butterfly Lock @8:25 – ** ½
B Block: Toru Yano vs Tomohiro Ishii: Ishii wins via Vertical Drop Brainbuster @9:35 – ** 1/2
B Block: Taichi w/Miho Abe vs Juice Robinson: Taichi wins via Black Mephisto @12:30 – **
B Block: Jeff Cobb vs Hirooki Goto: Goto wins via GTR @11:20 – ***
B Block: Jay White vs Jon Moxley: Jay White wins via Blade Runner @15:15 – *** ¾
B Block: Tetsuya Naito vs Shingo Takagi: Naito wins via Destino @27:15 – **** ½
Analysis:
Shota Umino & Ren Narita vs Toa Henare & Yuya Uemura – It's always odd when there's a tag match without any G1 participants. Henare should be treated as a step above a Young Lion, but hasn't been able to really string together consistent momentum. So I'm guessing this match was more a proving ground style match for Henare, and he failed. Sure.
Minoru Suzuki, Zack Sabre Jr & Lance Archer vs SANADA, BUSHI & EVIL – Archer is looking to make an example of SANADA in their next match on Wednesday, but it was fun to watch Archer's resentment of Sabre. Archer refused to tag in Zack unless it was a desperation moment, and his trash talk was epic levels of good and intimidating. As for the match, it was fine; it was really Archer that made this fun. After the match Archer and Sabre exchange a bro fist, so I'm guessing they're fine now.
Chase Owens, Bad Luck Fale & Yujiro Takahashi w/ Pieter vs Tomoaki Honma, Hiroshi Tanahashi & Kota Ibushi – Tanahashi got attacked before the bell, and Fale made sure to put a beating on him most of this match. Ibushi didn't get a ton of time; the ending was Honma's time. There was a nice triple Kokeshi from all of the Honma team, but Bullet Club tactics ruined Honma's attempts to finish the match. So a Package Piledriver later and it's all over. Chase is probably leading the C Block at this point.
Will Ospreay, Kazuchika Okada & YOSHI-HASHI vs KENTA, Clark Connors & Karl Fredricks – The LA Dojo Young Lions continue to impress. KENTA and Ospreay get very chippy and seem like that should be a good match. As we've all learned in these tags, YOSHI has been picking up the majority of tag wins and if you see Young Lions, they eat the pinfall. So…umm…Yahtzee?
B Block: Toru Yano vs Tomohiro Ishii – Well this match was…different? Yano tried his shtick early, Ishii wasn't having all of it. Yano tries to bait him to the outside, but Ishii stays in the ring. Yano realizes his mistake and has to run back in the ring before getting counted out. After that we got a little more of a wrestling match than we are used to. Yano had a few near falls with wrestling holds and even showed a little fighting spirit before getting murdered.
B Block: Taichi w/Miho Abe vs Juice Robinson – The match never really felt like it got moving correctly. Kanemaru attacked Juice before the bell, then there was action on the outside where Miho even got a slap in. Then when we finally got back in the ring, the whole match was filled with stops and starts. Taichi grabbed the referee multiple times, Kanemaru got involved a few times, the moves were just never able to get a flow. It was a very prototypical "half assed heel tactics" style Taichi match.
B Block: Jeff Cobb vs Hirooki Goto – This was a hard fought match, just very slow to the point of plodding. Cobb for some reason has not been very impressive against the bigger guys in the block. This was a fine match, not bad at all, just nothing close to a highlight match. At least it allows for Goto to remain alive in the block regardless of the Moxley match.
B Block: Jay White vs Jon Moxley – Jay finally did what no one else was able to do in New Japan, and that's beat Moxley by pinfall. Moxley came out of the gates fast and attacked Jay White before the bell. The match spilled to the outside and Jay was getting handled for the better portion of the first half of the match. Gedo's involvement helped a lot, moving a table, a brass knuckle shot and general interference help Jay scrape by. Moxley was defiant til the end, but Jay's Blade Runner has yet to be kicked out of.
B Block: Tetsuya Naito vs Shingo Takagi – Naito pushed Shingo to try and take LIJ from him, he wanted a determined Dragon. The match started off deliberately and then turned into a hell of a battle. Shingo powered through a lot of Naito's mind games, Gloria and a few Destino variants. As I've said a few times, Shingo being a Junior has him slated for a lot of losses, but this match proves that once he moves up, he's gonna be a force to be reckoned with. An arm ringer style Destino seals the match shortly after the 3 minutes to go call. Great punctuation, and thanks to Jay White's win, the Block is still wide open.
Overall Score: 7.5/10
With Moxley's grip on B Block loosening, we get a few more moving pieces. I always appreciate when quick starts sputter out. Because, with all of the angry people complaining about early losses, now get to see how suspense is built in a tournament and can learn to shut the hell up.
Could Moxley still win the block? Of course. But we finally have a good race to the finish. B Block is shaping up nicely, and even though A Block got more interesting with SANADA's upset, B Block is still the biggest question mark.
B Block Standings:
Jon Moxley – 5-2 (10 Points)
Tomohiro Ishii – 4-3 (8 Points)
Tetsuya Naito – 4-3 (8 Points)
Hirooki Goto – 4-3 (8 Points)
Jay White – 4-3 (8 Points)
Toru Yano – 3-4 (6 Points)
Juice Robinson – 3-4 (6 Points)
Jeff Cobb – 3-4 (6 Points) – ELIMINATED
Taichi – 3-4 (6 Points) – ELIMINATED
Shingo Takagi – 2-5 (4 Points) – ELIMINATED
Andrew's G1 Climax 31 FINALS Day Results & Match Ratings: 10.21.2021
Kota Ibushi looks to 3-Peat, Kazuchika Okada looks to win his first G1 in 7 years! Who will win?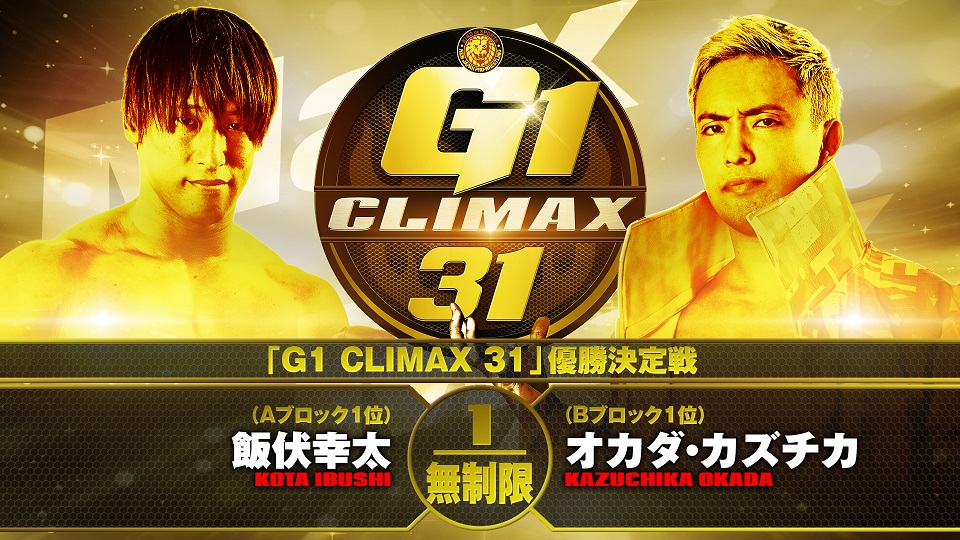 Kota Ibushi looks to 3-Peat, Kazuchika Okada looks to win his first G1 in 7 years! Who will win?
So we get a fairly basic card. A few undercard tags, the semi-main contains Shingo and most of the main players not in the Finals. Jeff Cobb goes from a shot in the Finals to the opening match, that's a big blow to the ego.
There's a few interesting threads that can be pulled at, but the major draw is the G1 Climax 31 Finals. So let's get to it!
Ratings:
Ryohei Oiwa & Kosei Fujita vs El Desperado & Yoshinobu Kanemaru: Kanemaru wins via Boston Crab @8:40 – **
United Empire (Jeff Cobb & Great-O-Khan) vs Toru Yano & Yuji Nagata: Yano wins via Roll-Up @8:29 – **
House of Torture (EVIL, SHO & Yujiro Takahashi) w/Dick Togo vs Hirooki Goto, YOSHI-HASHI & Tomohiro Ishii: EVIL wins via Everything is Evil @11:20 – * ½
KENTA, Tama Tonga, Tanga Loa & Chase Owens w/Jado vs Togi Makabe, Tomoaki Honma, Tiger Mask IV & Hiroshi Tanahashi: Chase wins via Package Piledriver @10:41 – ** ½
5 Minute UWF Rules Match::Katsuyori Shibata vs Zack Sabre Jr: Time Limit Draw @5:00 – *****
TenCozy, Ryusuke Taguchi & Master Wato vs Hiromu Takahashi, BUSHI, SANADA & Shingo Takagi: Shingo wins via Pumping Bomber @12:17 – *** ½
G1 Finals: Kota Ibushi vs Kazuchika Okada: Okada wins via Referee Stoppage @25:37 – *** ¼
Results:
Ryohei Oiwa & Kosei Fujita vs El Desperado & Yoshinobu Kanemaru
Commentary doesn't even really try to hide the fact that these Young Lions are very early in their careers and have no real chance. They are in this match to learn, build endurance and get experience.
Nothing special in this match, they give the Lions a few flash pinfall attempts but again, we all know better. More just moments of surprise cause the Suzuki-Gun duo were playing with their food. Still far too fresh in their training to show anything more than basics, and all I'll say is, they didn't embarrass themselves, so that's a positive.
United Empire (Jeff Cobb & Great-O-Khan) vs Toru Yano & Yuji Nagata
So one of the most successful teams and singles wrestlers this year, against a clown and a veteran. I mean Nagata is no slouch, but he's not in a position to be upsetting two rising stars. Maybe Yano pulls off some thievery, but I'm not really intrigued.
Early on we see the usual Yano stuff of shenanigans and turnbuckle pads going missing. Nagata gets tagged in and we get some real wrestling. However, Cobb and Nagata square off outside when they aren't the legal men, and Yano executes the miraculous shot to the Ding-Ding, and Rolls-Up O-Khan for the win!
This does continue the weird story between O-Khan and Yano, so at least there's a thread of story, but it does definitely leave Cobb in a weird spot.
House of Torture (EVIL, SHO & Yujiro Takahashi) w/Dick Togo vs Hirooki Goto, YOSHI-HASHI & Tomohiro Ishii
Early on SHO starts with the mind games having a CHAOS towel in the ring and wiping his body with it, and being generally mocking. Things start quick, turnbuckle pads are taken off, people get wrapped into ropes and I suppose this is a more tolerable usage of EVIL. House of Torture can torture the 6 man division with bad wrestling and cliché paint by numbers heel work.
Togo uses the garrot on HASHI, but HASHI and Goto manage to hit GYR on EVIL, but Dick Togo of course gets involved to distract the referee. Chairs lay out the CHOAS members, Everything is EVIL on HASHI and yeah yeah, House wins and challenge for the six mans. Ugh.
KENTA, Tama Tonga, Tanga Loa & Chase Owens w/Jado vs Togi Makabe, Tomoaki Honma, Tiger Mask IV & Hiroshi Tanahashi
So wait, we get all Bullet Club members against the veteran Hontai Squad? I mean Tanahashi has looked extremely mortal lately, and he's not really bringing a ton of back up. When Makabe is the second best one on your squad, and he's barely wrestled this year…you gotta wonder.
Makabe starts things off and we can see his back and waist heavily taped. So it looks like Makabe's part time schedule could have something to do with injuries. Injured or not, Makabe gets the most of Loa, brings in Honma, then Honma eats some offense from Tama, until Honma counters and lands a big suplex. Tiger Mask IV comes in and actually cleans house, it takes a little bit before Tama does the Double Leapfrog Haku Chop to start taking control.
Bullet Club smacks around Tiger Mask until KENTA eats a Tiger Driver (ironic, I'm aware) and then Tanahashi gets tagged in. Tanahashi works to get a measure of revenge on the Bullet Club, but  then we get some spam moments. G.o.D. tries to take out Makabe, but Makabe wipes out G.o.D. easily. Makabe brings in Honma, Honma takes it to Chase Owens, but no avail. A missed Kokeshi, a blocked Brainbuster attempt, and then C Trigger into Package Piledriver gives Chase the win.
Chase looks to be setting up a challenge, but KENTA blindsides Tanahashi with the belt. KENTA and Chase play tug of war a little, Chase tells KENTA he pinned him, KENTA says he doesn't care, and Chase relents. He says KENTA can get the first shot, but he got next.
5 Minute UWF Rules Match: Katsuyori Shibata vs Zack Sabre Jr
This…this is amazing. Shibata gets his first match in 4 years, and it's against the most perfect wrestler for Shibata to have a technical and safe exhibition match.
Since its UWF this is usually done in a points system like the old IMPACT Grand Championship. But a 1 round exhibition doesn't allow for anything beyond a Draw, but this is wonderful. It's a technical marvel with counters, submissions, references to Inoki's classic on the ground pose that we saw Great-O-Khan reference back to during the G1. This is just a great moment, and hard to do any real play by play, but it's a technical marvel. Hell, Shibata looks better than he ever has.
WAIT – After the match Shibata says "Next time I'm in the ring, I will be in my ring gear". He punctuates the line with a hard flat back bump and a kip up. …Shibata is back? SHIBATA IS BACK?!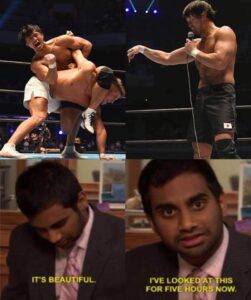 TenCozy, Ryusuke Taguchi & Master Wato vs Hiromu Takahashi, BUSHI, SANADA & Shingo Takagi
Taguchi and Hiromu start off with a good bit of comedy, before everyone not named Tenzan starts doing the Mongolian Chops, much to Tenzan's chagrin. Wato has some nice spots early before LIJ do their wonderful Bum Rush. BUSHI comes in, uses the shirt and then LIJ starts dominating Wato. Wato manages to get a little space and get Kojima in and we get Machine Gun Chops on SANADA in the corner!
Hiromu tries to block it, gets shoved in the corner for his own chops, BUSHI tries to stop it, and gets put in the corner for the Triple Stacker of Chops. Shingo looks, and then drops off the apron and decides he's just gonna let them play. Shingo does cut off Kojima before he does his signature Elbow, so Shingo didn't ignore his team, just decided he wasn't gonna fall into the dumb spot.
Signature spams, LIJ pain train, signature spam again, and then we get solid call backs. Shingo and Tenzan are the last two, Shingo uses Mongolian Chops, Tenzan responds in his own way. Some haymakers thrown, a Headbutt from Tenzan, the attempted Flying Headbutt, but Shingo cuts him off, Pumping Bomber, and Shingo wins!
G1 Finals: Kota Ibushi vs Kazuchika Okada
So they feel each other out early, and have the usual fast pace wild swings that get dodged and end in a small rest moment where they just smile and absorb the energy of the match. Before Ibushi can really get anything going, the arrogance of the Rainmaker returns. Very deliberate shots, perfectly rolling through his Slingshot Senton, and his single foot Dropkick. It's really interesting to see Okada reverting back to his old self. The 2017 form is further exemplified by Shibata's return since it helps to bring everyone back to "brighter days".
Okada goes for his corner Hip Attack, but now Ibushi gets to start a comeback. Dropkick, Roundhouse Kicks, Standing Moonsault and Okada powders. After some fighting on the outside, Okada takes control again and hits a DDT on the ramp, which has Ibushi pretty much out. Okada waits in the ring until about 18, before he decides that's not how he wants to win. Drags Ibushi in, tries the Money Clip, Ibushi won't go in comfortably, Okada rocks him, whips him into the ropes, hits the Million Dollar Dropkick, and finally gets the Money Clip sunk in. Okada is in a different aggressive form that we haven't seen since 2018 when his nearly 2 year title reign ended and he went balloon crazy.
Savage Elbow, Rainmaker Pose, Zoom Out…Wind up…Rainmaker misses and Ibushi returns with his own Lariat turning Okada inside out. Now they stand up for the strike exchange. Okada falls into an old Nakamura trap, where he starts winning the exchange, taunts the challenger and gets rocked. Ibushi grins, hits the Frankensteiner sending Okada to Powder. So now it's Moonsault time for Ibushi, and lands perfectly on Okada.
Going back inside, Ibushi looks for Kamigoye, Okada blocks and then ducks the Round Kick, goes for a Backslide, but Ibushi rolls through and kicks Okada. Okada then eats a V Trigger and a Kamigoye…but it's only 2! Okada flips Ibushi over when he attempts another Kamigoye, Double Legged Cradle, but ibushi kicks out. They lay each other out, Ibushi crawls to the top rope, Phoenix Splash and…Ibushi lands weird. He immediately grabs his arm, Red Shoes goes over to Ibushi, and after a few moments Red Shoes calls for the bell.
Okada wins the G1 off of Ibushi missing the Phoenix Splash and possibly dislocating his right arm.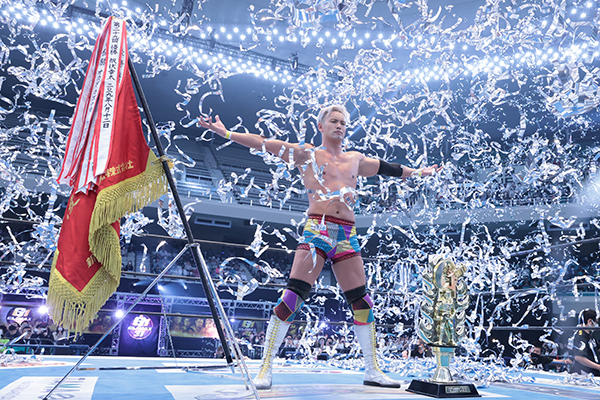 Overall Score: 7.25/10
There's a dark poetry in the ending to this year's G1. Starting with Naito's injury and ending with Ibushi's injury, just makes this a fairly cursed year which plays into the cursed aspect of this World Heavyweight Championship. In a way, this works out for the best since if this tournament was supposed to make a newer wrestler and ended the same way, there would always be an asterisk. But it's Okada, he's a proven commodity and no one will really question his victory. I really appreciated the fact that he always loomed close while Ibushi was struggling with the doctor and through his injury. He held his hand many times, even seemed to tell him it's fine, we'll do it correctly 1 more time in the future.
Katsuyori Shibata returns, Kazuchika Okada returns to the a level of prominence by winning the G1 Climax 31 and this is a nice way to remind people of the names that many of the current crop of IWC fans know. New Japan grew quickly because of AJ Styles and Kenny Omega's Bullet Clubs, but in the last few years we've seen many of the names we know fall to the back or go to different companies. This could be a return to form finally for New Japan.
Even if it ended off a failed Phoenix Splash, it could help New Japan rise from the ashes of community favor like a Phoenix.
Mitchell's NJPW G1 Climax 31 Results & Report! (10/21/21)
Will history be denied in the Climax?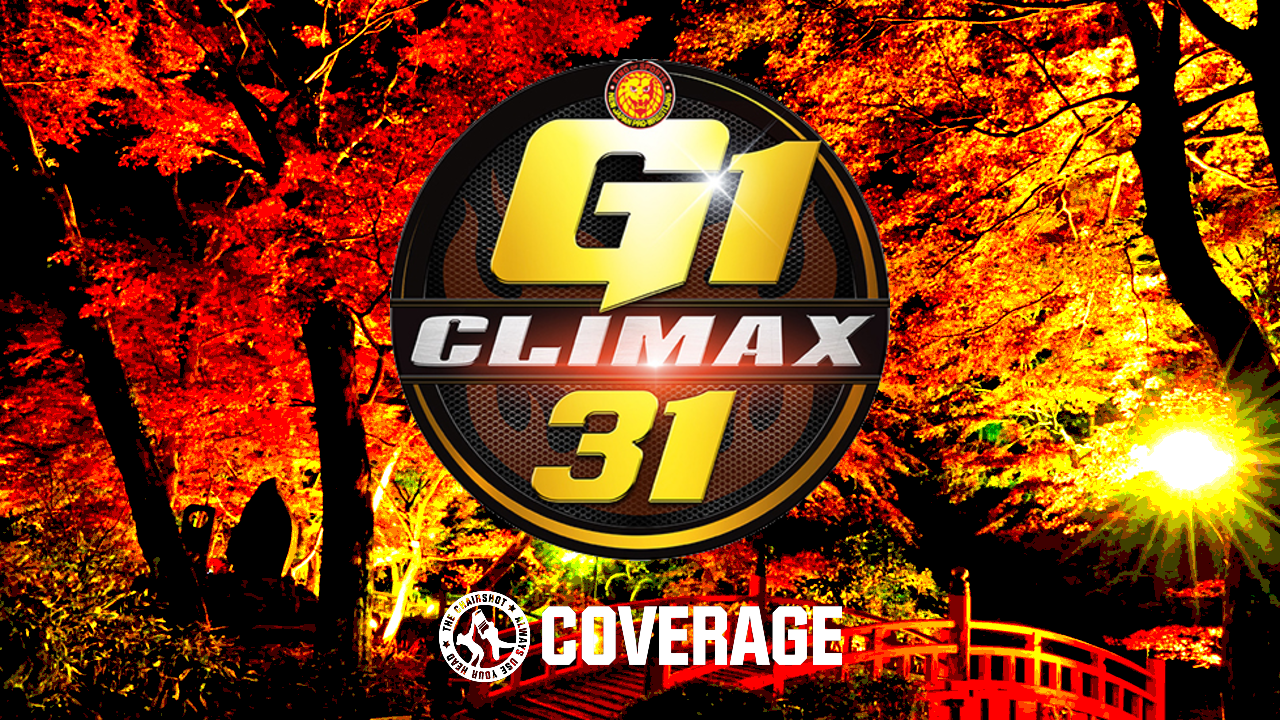 The Autumn heatwave comes to a head right here!
NJPW could see something never before seen! The Golden Star makes a fourth finals appearance, but will he have a historic THREEPEAT in the G1?
NOTE: NJPW no longer wants to feed AXS TV now that it is with Anthem and Impact Wrestling. But never fear, I will cover NJPW in the spirit of AXS in providing the most important matches of the show.
OFFICIAL RESULTS
The United Empire VS Toru Yano & Yuji Nagata; Yano & Nagata win.
Six Man Tag: Chaos VS House of Torture; House of Torture wins.
Special Exhibition: Zack Sabre Jr. VS Katsuyori Shibata; Time Limit Draw.
G1 Climax 31 Finals: Kota Ibushi VS Kazuchika Okada; Okada wins and has the Right to Challenge for the IWGP World Heavyweight Championship.
PLAY BY PLAY
The United Empire VS Toru Yano & Yuji Nagata!
Jeff Cobb was so close to the G1 finals but he still fell short. Will he and Great-O-Khan unleash their frustrations on the Producer and Blue Justice? Or will their woes only continue on the final night?
Cobb and Khan stand still at center during Yano's long introduction. The teams sort out and Khan calls Yano out. Fans rally up, Yano starts with Khan and the two circle. Yano is a bit scared of Khan but then Khan attacks from behind! Khan stomps and CLUBS Yano in a corner, rakes his eyes, then lets off as the ref counts. Khan whips Yano corner to corner but Yano reverses, and goes to untie the corner pad! Yano gets the buckle pad off, Khan runs corner to corner but Yano dodges! Khan hits bare buckles, Yano slaps Khan on the back of his head! Fans rally up as Yano runs, but Khan BOOTS him down!
Khan drags Yano up by his ears, the ref counts and Khan throws Yano out. Cobb gets in to DECK Nagata! The United Empire goes out, Khan SMACKS Yano with the buckle pad! Khan stomps Yano at the railing, then storms off. Cobb stomps Nagata, fans rally up, and a ring count begins. Khan drags Yano up and puts him in, then CHOKES him! The ref reprimands, Khan lets go at 4, and he taunts Yano with his ponytail before he stomps him down. Fans rally up for "Y T R! Y T R!" but Khan drags Yano up and to the corner. Cobb tags in and headbutts Yano in the side! Cobb slaps Yano around, brings him up and ROCKS him with a forearm.
Cobb headbutts Yano down, drags him to a cover, TWO! Another try, TWO! Cobb is annoyed but fans rally up as he drags Yano around. Cobb hoists Yano up and RAMS him into a corner! Then goes corner to corner, but chooses not to use the bare buckles as he rams Yano in again! And again! Fans fire up for that showing of strength, and Cobb taunts Yano. Fans rally, Yano throws body shots, but Cobb eggs him on. Yano throws a forearm, Cobb knees him down! Yano pulls hair, Cobb ROCKS him with a right! Cobb whips but Yano reverses to throw Cobb down by his hair! Hot tag to Nagata! Nagata BOOTS Cobb, BOOTS Khan then KICKS away on Cobb!
Nagata whips Cobb but Cobb reverses, only for Nagata to come back with a BOOT! Nagata brings Cobb up but Cobb blocks the exploder, so Nagata ENZIGURIS! Cobb staggers, fans rally for Nagata and he runs in to SHINING WIZARD in the corner! Nagata reels Cobb in but Cobb fights off the exploder. Nagata throws forearms, whips but Cobb reverses to DROPKICK! Fans rally up and Cobb tags in Khan. Khan and Cobb coordinate, Khan CLUBS and stomps Nagata. The United Empire double whip then Cobb whips Khan in, but Nagata dodges to BOOT Cobb down! Khan dodges the boot but Nagata holds off the iron claw!
Khan keeps trying but Nagata throws the claw away. Nagata fakes Khan out to dropkick Khan's leg! Nagata then dodges Khan's clothesline to hit an EXPLODER! Fans fire up and Nagata tags in Yano! Yano fires up and whips Khan. Khan reverses but Yano stops himself from hitting the bare buckles, only for Khan to RAM him in! Khan whips Yano to ropes, Yano holds ropes and dodges Khan to clinch and BELLY2BELLY! Fans rally, Yano drags Khan up and dodges the claw to Fireman's Carry Takeover! But Khan returns the Fireman's Carry Takeover! Fans fire up, Khan elbows Nagata down and Cobb joins in.
The United Empire double whip Yano, Khan runs in and clotheslines! Cobb runs in to back elbow! Cobb gut wrench suplexes Yano, then Khan gut wrench suplexes Yano back! Cover, but Nagata breaks it! Cobb throws hands on Nagata then throws Nagata out. Cobb keeps after Nagata with a choke against railing! Fans rally up as Khan pushes Yano towards his boot! But the ref is distracted by Nagata whipping Cobb into railing and Yano LOW BLOWS Khan! Cover, Yano & Nagata win!!
Winners: Toru Yano & Yuji Nagata, by pinfall
The United Empire got ahead of itself and now they've lost again! Will they ever be able to face their leader, Will Ospreay, like this?
Six Man Tag: Chaos VS House of Torture!
Tomohiro Ishii fell in the ninth but Hirooki Goto & YOSHI-HASHI finished strong. Now they go back to focusing on being NEVER Openweight Six Man Tag Team Champions. Will they win together in this non-title match? Or will the King of Darkness lead Tokyo Pimp and High Voltage to victory in their first trios outing?
Sho still has a Chaos towel and looks at it. It hasn't been updated, it still has his name on it. He throws it down and stomps on it! And a brawl breaks out! Hashi throws Evil out, Ishii is after Yujiro, and Goto goes after Sho in the ring. The bell rings and Goto stomps away in the corner. The ref counts as Goto digs his boot in but Goto lets off to then stomp Sho more. Goto stands Sho up to CHOP him, then whips him corner to corner. Goto runs in to clothesline, then he feeds Sho to Hashi's CHOP! Sho sputters and crawls but Goto-Hashi fire off on him. They double whip but Sho holds ropes, and then Evil and Yujiro get in to throw them down! Sho DECKS Ishii, then stomps away on Goto!
Evil and Yujiro go after Ishii and Hashi, then Sho stomps Goto out of the ring. Sho goes after Goto's bad arm with elbows, and Evil RAMS Ishii into railing in front of commentary! The ref is busy watching Sho and Goto so Evil gets a chair to dig it into Ishii's neck! Sho digs his heel into Goto, the ref reprimands, but Yujiro whips Hashi into railing on the other side. Sho stomps Goto but fans rally up for Chaos. Goto hits back but Sho CLUBS away on him! Sho drags Goto up and puts him in the ring. Sho whips him in, and surprise! The blue corner's buckles are bare! Standard Bullet Club fare at this point. Evil tags in and he stands on Goto's head.
Hashi gets in and goes after Evil but Evil rakes Hashi's eyes! Evil throws Hashi out but distracts the ref so that Dick Togo can whip Hashi hard into railing! Evil drags Goto up, CLUBS the bad arm, then gives him toying kicks. Fans rally up for Goto as Evil drags him up. Evil CLUBS the bad arm, tags in Yujiro, and Yujiro drives an elbow into the bad arm. Yujiro wraps the arm around ropes while Sho distracts the ref. Yujiro lets off to bring Goto around and snapmare. Yujiro runs to basement boot the bad arm! Cover, TWO! Fans rally up, Yujiro stomps Goto to the ropes but Goto kicks back. Yujiro knees low, tags in Sho, and Sho taunts Ishii before he mugs Goto.
Sho stomps and digs his heel into Goto's bad arm! Sho even uses the ropes! Ishii gets in but the ref works to keep him back. Sho taunts Ishii but Ishii still backs down. Fans rally, Goto rises, but Sho slaps him. Goto throws elbows and CHOPS! Sho elbows the bad arm again and again! Goto drops to a knee, Sho wrenches the good arm and KICKS away. But Goto blocks a kick, so Sho rakes his eyes! Sho runs, Goto follows and LARIATS! Both men are down and fans rally up again! Goto crawls, hot tag to Ishii! Ishii storms in after Sho, drags him up but Sho throws forearms! Ishii just ROCKS Sho! Yujiro runs in but Ishii ROCKS him, too!
Ishii whips, Yujiro reverses and Evil catches Ishii. Yujiro runs in but Ishii boots him first! Ishii elbows Evil away and then baits Yujiro in! Yujiro falls for it, Ishii sends him at Evil! Ishii whips and sends Yujiro in again! Evil holds on but Ishii baits Yujiro in again! Yujiro runs but Ishii dodges and the BOOT sends Evil down! Ishii runs and CLOBBERS Yujiro! Fans fire up as Ishii stands tall and goes back to Sho. Ishii CHOPS high on Sho and the ref reprimands but Ishii still CHOPS! Sho gasps and sputters, Ishii stands him up to CHOP him and slap him! Ishii drags Sho up to suplex, but Sho slips out to waistlock. Ishii elbows away until he's free, then runs into Sho's kitchen sink knee!
Sho stomps Ishii to a corner, stomps away on him and digs in boots. The ref reprimands, counts, but Sho lets off at 4. Sho comes back to KICK Ishii but Ishii stands right up! Ishii throws forearms but Sho gives them back. Fans fire up as the two go back and forth, and Ishii gets the edge! Sho wobbles, Ishii runs but Sho JUMP KNEES! Sho whips Ishii into the bare buckles! But Ishii swats the clothesline away, only to swing into a waistlock. Sho shoves Ishii to ropes and Evil trips him up! Sho runs to basement dropkick! Evil tags in, Sho goes after Goto-Hashi! Yujiro and Evil whip Ishii into a corner, Yujiro runs in to BOOT! Sho adds a clothesline, then Evil adds his own!
Evil brings Ishii out to a FISHERMAN BUSTER! Cover, TWO! Evil is furious but the ref defends his count. Fans rally up for "I-SHI-I!" but Evil drags him back up. Evil fireman's carries but Ishii fights free to shove Evil into Hashi's forearm! Then Ishii reels Evil in for a BIG back suplex! Both men are down, fans rally up, hot tag to Hashi! Hashi runs but Evil blocks the clothesline, so Hashi CHOPS! Evil rebounds but Hashi forearms, kicks and CHOPS! Evil spins, into a SUPERKICK! Evil falls, Sho gets in but gets a mule kick! Yujiro runs in but gets a BACKSTABBER! Fans fire up with Hashi but Evil kicks and runs. Hashi ducks and dodges to LARIAT!
Hashi drags Evil up with a sleeper, then half nelsons and pump handles. Evil fights, grabs the ref, and Dick gets on the apron with the SPOILER CHOKER! Evil distracts the ref but Goto trips Dick! Hashi is free, Goto gets in but Evil kicks first. Evil runs, but into the fireman's carry! Evil slips off, runs at Goto but Goto dodges and Hashi SUPERKICKS! Goto reels Evil in, HEADSHOT to Hashi's METEORA! Fans fire up, Goto gets Evil up, dragon sleeper and Hashi picks Evil up, G Y W!! But Dick distracts the ref from the cover! Chaos would've won by now! Yujiro gets in to shove Hashi into the ref! CANE SHOT for Goto! CANE SHOT for Hashi!
But Ishii gets in to GERMAN SUPLEX Yujiro! Sho gets in to CHAIRSHOT Ishii! CHAIRSHOT to Hashi's head!! Evil drags Hashi up and reels him in, EVERYTHING IS EVIL!! Dick gets the ref up and he counts the cover, House of Torture wins!
Winners: House of Torture, by pinfall
Bullet Club's newest sub-faction just pinned the champions! And now they add insult to injury! SPOILER CHOKER for Goto! Sho reels Ishii in for the CROSS ARM DRIVER! Yujiro chokes Hashi with the pimp cane! Evil grabs the NEVER Openweight Six Man belts, and hands one each to Sho and Yujiro. The HOT boys stand tall, will they soon take gold away from Chaos?
Zack Sabre Jr heads to the ring.
It's not really clear what the Submission Master is doing here. He missed out on the finals, and he isn't dressed in his usual gear. Wait is that Katsuyori Shibata?!?! He's got wrist tape, a kneepad, and a wrestling towel, but this can't be! Is he coming back to wrestling?!
Special Exhibition: Zack Sabre Jr. VS Katsuyori Shibata!
Fans are thunderous already and the bell rings! ZSJ and Shibata circle, feel things out, collar 'n' elbow but Shibata gets a waistlock. ZSJ moves around, Shibata keeps on him. ZSJ switches Shibata scrambles free and fans cheer. Shibata goes for a leg sweep, has a leg guard when it misses, but ZSJ works on getting through it. ZSJ facelocks, armlocks, goes back to the facelock as Shibata stands, but Shibata hits a takedown. ZSJ keeps Shibata back with a body scissors, but Shibata shifts around. ZSJ holds off the lateral press but Shibata manages a top mount. ZSJ tries to fight it with his legs but Shibata gets away. The two stand off and fans are thunderous again!
Shibata and ZSJ knuckle lock, Shibata gets a leg. Shibata gets under the leg and trips ZSJ up to then get a FIGURE FOUR! ZSJ fights it to the last, using his own head to block. Shibata fights through but ZSJ toeholds! Shibata has that kneepad for a reason and he lets off as he clutches his knee. ZSJ keeps on the foot, makes it a standing toehold and again uses his own head for leverage. Shibata rolls, reels ZSJ in for a headlock takeover but ZSJ headscissors! Shibata moves around, headstands and pops free to have ZSJ's leg for a toehold. ZSJ grabs at Shibata but Shibata has the same standing toehold. ZSJ rolls and tries to use the same trick Shibata did but Shibata holds that off!
Shibata rolls ZSJ, the two stand off again and fans cheer. ZSJ and Shibata reset, tie up with knuckle locks, and Shibata brings ZSJ to his knees. ZSJ fights up but Shibata powers him down again. ZSJ spins things around to a straitjacket stretch! Shibata turns it around onto ZSJ and sits him down. ZSJ wriggles, spins Shibata around and brings him down. ZSJ hooks Shibata's legs and brings him into a STRAITJACKET SURFBOARD! Shibata gets his legs free and rolls back to put the straitjacket back on ZSJ! ZSJ stands up, wiggles the straitjacket down and gets a headlock. Shibata powers up but ZSJ holds on tight!
Fans rally for "SHI-BA-TA!" and he powers out to get a SLEEPER!! ZSJ fights up, but Shibata goes for the Cobra Twist! ZSJ holds that off, switches and puts the twist on Shibata! Shibata fights, ZSJ does everything he can to get leverage, but Shibata switches back to the IRON OCTOPUS! But the bell rings because time's up!!
Time Limit Draw
Fans are thunderous as ZSJ and Shibata let off and reset to their corners. The ref raises both men's hands, and Shibata offers a handshake. ZSJ accepts it, and fans cheer even more! ZSJ takes his leave, and Shibata gets the mic to speak to the crowd. "Zack. Thank you." Shibata then passionately promises that this isn't the last time we see him back in the ring! Is the Wrestler to be believed? Is he on the mend back to wrestling shape?
G1 Climax 31 Finals: Kota Ibushi VS Kazuchika Okada!
The Golden Star has made history already by making it to the finals four years in a row. But he wants to make further history by winning three in a row! Will that be the headline of the year? Or will the Rainmaker rain on that parade to reestablish himself?
The bell rings and the clapping for "I-BU-SHI!" "O-KA-DA!" is thunderous as the two stare down. Okada and Ibushi slowly circle, approach, feel things out, and Okada backs away. They circle more, approach again and feel things out again. Ibushi shoots in but Okada blocks with a facelock. Ibushi slips around to a waistlock, Okada switches, but Ibushi wrenches the arm to a wristlock. Okada rolls and trips Ibushi to have a toehold. Ibushi tries to headscissor but Okada fights that off as he cranks the hold. Ibushi gets a chinlock and pries Okada off the foot. Okada stands up, Ibushi hits a takeover but now Okada headscissors. Ibushi kips free and fans cheer the standoff!
Okada and Ibushi go back to their corners, then approach again. They circle, tie up, Okada headlocks and grinds Ibushi down. Ibushi hooks a leg but Okada keeps on the headlock. Ibushi rolls but can't get the cover so he gets Okada with a headlock. Okada fights off Ibushi trapping an arm, gets a headscissor and he clamps on tight. Okada pushes up to put on pressure but Ibushi endures. Ibushi kips, moves around, and he pops out to then get a headlock. Okada rolls it to a cover, ONE! Ibushi holds on, Okada fights up, pries at the hold, but Ibushi clamps it back on. Okada pushes with wrists to put Ibushi on the ropes and Red Shoes calls the ropebreak.
Ibushi lets go, Okada lets off slowly, and then he whips! Okada drops, hurdles, Ibushi leaps over, ducks and dodges, but Ibushi fakes out the dropkick! Okada lands on his feet, avoid the V-Trigger and gets around to wristlock! Ibushi avoid the Rainmaker and fans are thunderous again as the two stand off. Okada and Ibushi reset, approach, feel things out, and they feel things out. They knuckle lock, Ibushi kicks low then KICKS Okada off is feet! Ibushi wraps on a chinlock and grinds Okada down. Ibushi then gets Okada's arms for a motorcycle stretch, with a knee in Okada's back. Okada scoots forward but Ibushi uses a chicken wing and crossface!
Okada turns to block the hold but Ibushi hops on for a rear mount. Ibushi goes to a sleeper and body scissors, but Okada fights to the ropebreak! Ibushi lets off, but then he stomps Okada down! Fans rally up, Ibushi drags Okada up and CLUBS Okada on the back! Ibushi stands Okada up to whip but Okada reverses and FLAPJACKS! Fans rally again, "I-BU-SHI!" "O-KA-DA!" as Okada stalks Ibushi. Okada drags Ibushi up, turns him and hits a NECKBREAKER! Cover, TWO! Okada paces and brings Ibushi up but Ibushi scrambles away to ropes. Okada stomps him down, brings him back up, and snapmares to run for the basement dropkick!
Okada drags Ibushi back up, ROCKS him with a right, but Ibushi glares and throws a forearm back. Okada eggs Ibushi on and Ibushi throws more forearms. Okada takes those to knee low, then scoop SLAM! Okada goes to the apron to slingshot senton! Cover, ONE!! Okada clamps right on with a chinlock and fans rally again. Ibushi endures, fights up and throws body shots. Okada CLUBS Ibushi on the back, brings him around and ROCKS him with a forearm to the back! Fans rally up as Ibushi is in the corner. Okada stands Ibushi up to throw back elbows. Okada then whips Ibushi corner to corner, runs in, but Ibushi dodges! Ibushi comes back but Okada BOOTS him!
Okada runs but into a dropkick! Fans rally up while both men are down! Ibushi rises but Okada follows. Ibushi throws forearm after forearm then whips, but Okada reverses, only for Ibushi to GAMANGIRI! Fans rally, Ibushi fires off a strike fest, then ROUNDHOUSES Okada down! STANDING MOONSAULT! Cover, TWO! Fans keep rallying as Ibushi gets up. Okada bails out but Ibushi pursues. Okada kicks low and whips Ibushi into railing! Ibushi falls in a heap but Okada brings him up to whip him the other way. Ibushi reverses and Okada stops himself, only to swing into a HALF 'N' HALF to the floor!
Both men are down on the outside and Red Shoes checks on them. They're both okay to continue and a ring count starts. Ibushi stands at 4, brings Okada up at 7, and puts him in at 9 of 20. Ibushi aims, springboards and missile dropkicks! Okada flounders to a corner, Ibushi runs in, but Okada dodges! Okada puts Ibushi up top to dropkick him to the floor! Fans rally up as both men are down. Okada goes out after Ibushi, throws a EuroUpper, then brings Ibushi around the way to the ramp, for a DDT! Red Shoes checks but Ibushi is somehow okay. Okada takes a moment while the ring count climbs to catch his breath and get up.
Okada goes into the ring at 8 of 20 then leaves the rest on Ibushi. Ibushi stirs at 13, rises at 15, stands at 16 but Okada goes out to put him in. Fans cheer as this continues in the ring, and Okada SHOTGUNS Ibushi into the other corner! Okada drags Ibushi up, reels him in and wrenches to the MONEY CLIP! Ibushi endures, throws body shots with his free arm and RAMS Okada into the buckle! Ibushi is free, he throws more elbows then runs, but Okada dropkicks him down! MONEY CLIP! Ibushi endures again, fights his way up, reaches for ropes, but Okada lets him go to scoop and SPINNING TOMBSTONE! And back to the MONEY CLIP!!
Ibushi endures, fans keep rallying and Ibushi fights for the ropes. But Okada drags him away! Ibushi pounds the mat and fans rally up. Ibushi reaches out again but Okada hits a BACK2BACKBREAKER! And back to the MONEY CLIP!! Ibushi scrambles and gets the ROPEBREAK! Okada lets go in frustration but fans are thunderous again. Okada brings Ibushi up, scoops and SLAMS him, then goes to the corner. Okada climbs, aims, MACHO ELBOW DROP! And… Rainmaker Pose! Okada stalks Ibushi, drags him up and ripcords, but Ibushi ducks! Okada ducks the roundhouse, tries again, Ibushi LARIATS first!!
Fans rally hard as ever as Ibushi gets Okada's wrists. Okada throws a forearm but Ibushi gives it back! Ibushi eggs Okada on so Okada forearms again! Ibushi forearms back, Okada gives another! Ibushi forearms, Okada forearms, and they pick up speed. Fans rally as Okada eggs Ibushi on, the forearms keep going, Ibushi ROCKS Okada then fires off a flurry! Okada staggers but stays up and Ibushi grins! Is this Kowai Ibushi!? Okada roars but runs into a RANA! Okada bails out and fans are thunderous as Ibushi goes to the apron. Ibushi rallies the fans and ARIHARA MOONSAULTS!! Direct hit at the ramp and fans stay fired up!
Ibushi drags Okada up, puts him in, and he drags Okada up to reel him in. SIT-OUT POWERBOMB! Cover, TWO! Ibushi keeps his focus and gets the wrists. Okada shoots in to avoid Kami-Goye but Ibushi CLUBS away! Okada ducks the buzzsaw to backslide but Ibushi rolls through! Ibushi ducks the lariat to ripcord ROUNDHOUSE! Ibushi keeps the wrists, to V-TRIGGER! KENNY~! Ibushi gets both wrists, KAMIGOYE!! Cover, TWO!! Okada survives and fans are thunderous again! Ibushi brings the kneepad down and vows to end it this time. Ibushi drags Okada up with wristlocks but Okada shoots in to back drop and sit on the cover, TWO!!
Ibushi is surprised he escaped, but he runs in, only for Okada to dodge. Okada ducks the lariat, spins but Ibushi LARIATS again! Fans rally hard as ever, Ibushi puts Okada in a drop zone and goes to the corner. Ibushi climbs up, to PHOENIX FLOP!! Okada avoids the splash and fans are electric as both men are down! Okada sits up in the corner, Red Shoes checks on Ibushi, and he calls it?!? Ibushi can't continue, Okada wins!!!
Winner: Kazuchika Okada, by referee's stoppage (G1 Climax 31 Winner)
Medics hurry out to check on Ibushi as he clutches an arm. Okada lets Young Lions help, and this isn't really how anyone wanted this one to go. Shingo Takagi even gets off commentary to be at ringside for this. Either way, the Rainmaker wins the 31st G1. Okada checks on Ibushi and fans clap for Ibushi as medics help him up. The injury does seem to be Ibushi's right arm, and that complicates his ability to exit, so the bottom rope has to be undone. At the same time, Red Shoes and timekeeper Abe-san set up the NJPW flag and G1 trophy. Okada checks with Ibushi and assures him it's alright. Fans clap to assure Ibushi the same, and he manages to exit the ring.
Red Shoes raises Okada's hand in victory and now things can be a celebration. Okada is presented with the trophy and banner by the NJPW president, then they stand together for the photo op. Okada gets his solo photo op and fans cheer. Okada then takes a moment and gets the mic. "G1 Climax!" This match ended in a referee stoppage, but all the same, Okada sticks out his chest with pride in saying he won. Okada and Ibushi fought with heart and pride all over Japan, and in the end, the result is what matters, a win is a win, and Okada has won. He thanks the fans for their support in this hot, hot Autumn.
So now, Okada's eyes are set on the Tokyo Dome, but also on showing us he is the CENTER of NJPW's world! It is on him to tear it up! Okada vows to once again carry NJPW on his back. Okada wants to say that this is the end, but first, he hopes Ibushi can come back so they can do this again properly. And as the G1 Champion, Okada will say this to management. "Make sure that I get to re-assault Kota Ibushi again, so that I can face Ibushi and make sure I am the fourth IWGP World Heavyweight Champion." Okada wants to be IWGP Heavyweight Champion if he can't be world champion, as he waits for Ibushi. And of course, he'll make it rain all over NJPW!
Okada strikes his pose and the streamers fly! Okada is fired up for the road to WrestleKingdom 16, will he make it to the goal of the Tokyo Dome?
---
My Thoughts:
That was a rough ending for the main event given how great it was going, but this was still an overall great event. I chose to skip the 8 Man Tags because in many ways, NJPW uses those as filler. I believe Bullet Club won theirs while Los Ingobernables de Japon won the other. I kept the first two matches, though, because I was curious. For one, I thought Cobb & Khan were going to rebound but Yano gets another one over on Khan. The Six Man Tag was really good stuff, even with the usual antics of Evil and Dick. But in the end, the House of Torture winning of course sets up a Six Man title match for Power Struggle (and hopefully not a random Road to event). Hard to say who wins that at this point but it wouldn't surprise me if House of Torture cheats to take those belts.
As I said, a rough ending to what was building to be an epic match between Okada and Ibushi. Ibushi really went hot into that Phoenix Splash and that is clearly what injured his arm around the forearm to wrist area. Who knows if Okada was meant to win before, but that's just how it goes. Okada now carries the Right to Challenge and might owe Tama Tonga a shot at that with Tama being the only one who beat Okada during the round robin. I'm pretty sure Okada holds onto the Right to Challenge to have another match with Takagi that at this point could go either way.
My Score: 8.9/10