Andrew's Top 5 Matches: Week Ending 8/24/2019
So there's an interesting smattering of companies in the mix the week! If you enjoy women's wrestling, this might be a Top 5 for you!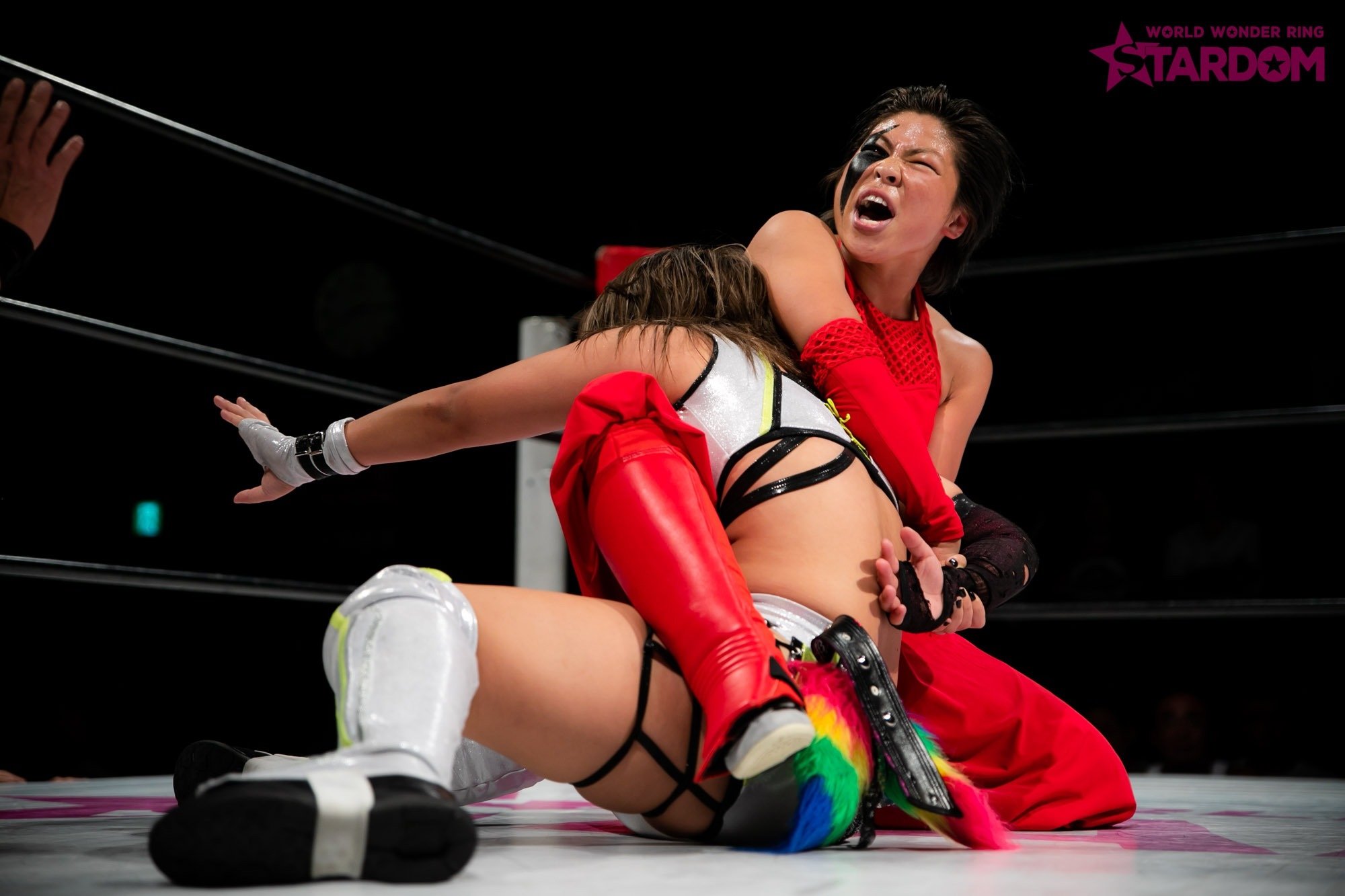 So there's an interesting smattering of companies in the mix the week! If you enjoy women's wrestling, this might be a Top 5 for you!
Now as we always do, we address the last week vote winner. This is no surprise to anyone, unless you live under a rock, NJPW G1 Climax 29 Finals: Jay White vs Kota Ibushi.
Last week had a nice mixture of things, this week is a…well…different mixture. Tokyo Joshi Pro-Wrestling makes it's debut with a match in the Top 5 and I think it's only the second time for Big Japan.
So, WWE fans can skip this week. BUT – with 3 women's matches, this is a different looking Top 5 than usual.
5. Stardom 5 Star GP Blue Stars Day 2: Bea Priestley vs Konami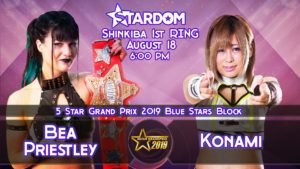 Aside from wrestling recently, these two don't have much of a built in story either. Of course, Bea being the Red Belt champion makes every match matter for her. Aside from the prospect of a title shot, this ain't much more than a normal tournament match. So hey, let's just enjoy it, right?
Konami flies in with a Body Scissors, immediately aiming for a Knee Bar. That was Konami's bulls-eye all match, she kept focusing strikes and submissions at Bea's left leg. We saw Ankle Locks, Knee Bars, Stretch Mufflers, all those fun moves trying to take out the leg. The attack is questionable from a logic stance since Konami's finish focuses on the neck and arm. So it seemed a little weird to be honest.
Aside from me questioning Konami's game plan, the match was actually well wrestled. Bea tapped into her inner Kenny Omega and hit a few Knee Strikes which I'm assuming she calls Bea Triggers. And if she doesn't…well dammit she should, it's right there.
Anyway, Bea kept her distance with Pump Kicks and Bea Triggers until she decided to pull out a few finish attempts. She first went for the Regal Suplex, but Konami kicked out of that. So Bea then uses an Electric Chair Suplex Hold, which thanks to the We Are Stardom Twitter, I learned is called Queen's Landing.
So the Red Belt champion is off to a fast start and in a three way tie for the lead.
Winner: Priestley via Queen's Landing
Rating: *** 3/4
4. TJPW Brand New Wrestling 3 ~ Stronger Than Anyone!: Maki Ito vs Mizuki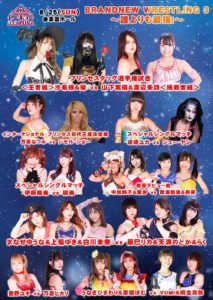 It's always funny what draws attention to a show. Maki Ito is a snarky little former Idol (Japanese Pop Star), who likes to flip people off and learn bad English words. So thanks to her entertaining Twitter, and the show containing Mina Shirakawa, as well as, a match between Yuka Sakazaki and Su Yung, I was intrigued.
So this was definitely an odd match to watch visually. Two girls in frilly Lolita style outfits, who seem to hate each other and make this seem like a brawl. Maki wraps a microphone chord around the ring post and Mizuki's neck just so she can get in her catch phrase of being the Cutest in the World.
What this lacked in technical prowess, it made up for in feeling like a grudge match. The two we literally scratching and clawing to stop one another at different points. Maki has an ever defiant bird to flip to Mizuki, before the Fisherman Suplex Hold finished the match, but it was still damn entertaining. Even with not having a lot of context, a grudge match is easy to understand.
Winner: Mizuki via Fisherman Suplex Hold
Rating: ****
3. Impact Cali Combat: X Division Championship: Jake Crist (c) vs Rich Swann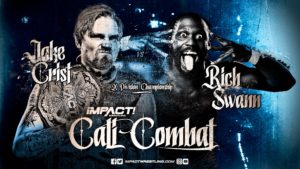 Rich Swann gets his contractual rematch, and Crist is told by Callihan that he's on his own for this defense. Crist kicks off the match quickly with a Yakuza Kick, then we get insane amounts of back and forth. Gimmick be damned, Jake is a damn good wrestler, and I appreciate his new attire have his JC initials stylized in a Prince symbol type of thing. Swann did catch Crist with his blitz, his back kick and then a 450 Splash, but the champion didn't stay down. The heel roll-up with a handful of tights keeps the Golden Draw in tact, but don't let the heel finish detract from the fact the match was great.
Winner: Crist via Roll-Up
Rating: ****
Honorable Mentions:
Dragon Gate Dangerous Gate: Open the Dream Gate Championship: Ben-K (c) vs YAMATO
Winner: Ben-K via Ben-K Bomb
Rating: *** 3/4
Stardom 5 Star GP Blue Stars Day 1: Utami Hayashishita vs Jungle Kyona
Winner: Utami via Torture Rack
Rating: *** 3/4
WWE SmackDown Live: Buddy Murphy vs Daniel Bryan
Winner: Murphy via Murphy's Law
Rating: *** 1/2
TJPW Brand New Wrestling 3 ~ Stronger Than Anyone!: Su Yung vs Yuka Sakazaki
Winner: Double Knock Out
Rating: *** 1/2
Dragon Gate Dangerous Gate: Open the Twin Gate No DQ: Eita & Big R Shimizu (c) vs Kzy & Genki Horiguchi
Winner: Big R via Shot Put Chokeslam
Rating: *** 1/2
Stardom 5 Star GP Red Stars Day 2: Hazuki vs Tam Nakano
Winner: Tam via Tiger Suplex Hold
Rating: *** 1/2
Impact Cali Combat: Rhino vs Michael Elgin
Winner: Double Count-Out
Rating: *** 1/4
Stardom 5 Star GP Blue Stars Day 2: Utami Hayashishita vs Arisa Hoshiki
Winner: Utami via Torture Rack Bomb
Rating: *** 1/4
Impact Cali Combat: Willie Mack vs Trey
Winner: Mack via Stunner
Rating: *** 1/4
WWE Raw: Ricochet & The Miz vs Baron Corbin & Drew McIntyre
Winner: Ricochet via Recoil
Rating: ***
NXT UK: James Drake vs Mark Andrews
Winner: Andrews via Stundog Millionare
Rating: ***
Stardom 5 Star GP Blue Stars Day 2: Natsuko Tora vs Kagetsu
Winner: Kagetsu via Michinoku Driver
Rating: ***
Impact Cali Combat: No DQ Match: Tommy Dreamer vs Sami Callihan
Winner: Callihan via Piledriver
Rating: ***
Stardom 5 Star GP Blue Stars Day 1: Arisa Hoshiki vs Jamie Hayter
Winner: Hayter via Curb Stomp
Rating: ***
WWE Raw: Cesaro vs Samoa Joe
Winner: Joe via Coquina Clutch
Rating: ***
2. Stardom 5 Star GP Blue Stars Day 1: Kagetsu vs Konami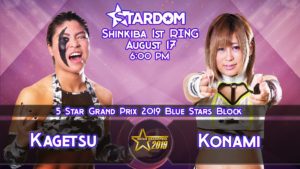 The rematch from last year's round 1 match! Konami's Triangle Lancer injured Kagetsu's neck last year, which may have impacted her ability to win as champion. So does Kagetsu get her win back? Will Triangle Lancer's winning percentage remain 100%?
Kagetsu hits a Dropkick at the bell, Michinoku Driver and then goes for the Oedo Coaster…but she misses. This was nearly a 30 second match, which would've been disappointing. We see some great chain wrestling between the two, Armbar transitions everywhere, great mat work, and a very even back and forth.
Konami lands a Round Kick to Kagetsu's head, but it just pisses her off, she trips her, slingshots in for a Footstomp, extends Konami's arm, springboards to the top rope and Footstomps the arm, all setting up for a Fujiwara Armbar attempt. The Prime Minister of Oedo Tai dominates from that point forward. 3 Michinoku Drivers, Avalanche Michinoku Driver and then she hits the Oedo Coaster! It's over! 1-2-and…Kagetsu picks up Konami. Oh hubris…you cheeky monkey…
Kagetsu tries to drive home the point, but then we get a myriad of counters. Michinoku Driver attempts, Triangle Lancer attempts…and then Konami finally catches Kagetsu and sinks in the Triangle Lancer. Damn well wrestled match.
Winner: Konami via Triangle Lancer
Rating: ****
1. Big Japan Pro-Wrestling: Michael Elgin vs Daisuke Sekimoto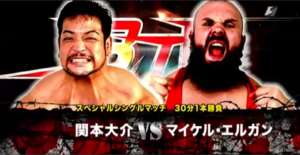 So Big Japan had a hell of a special match penned in for 8/24. Michael Elgin squaring off with arguably the best guy in Big Japan, Daisuke Sekimoto. We're gonna have two big boys beating the hell out of each other!
The match was a lot of what you'd expect from two thicc power house wrestlers. It started off a little slow, but we saw a ton of power moves, some suplexes off the apron, and just generally great and stiff looking wrestling. Elgin manages to fight out of Sekimoto's Suplexes and even the Torture Rack. Sekimoto returns the favor by eating two Buckle Bombs and an Elgin Bomb, but still kicking out.
It's not often that the particular sequence of Buckle Bomb + Elgin Bomb doesn't finish a match, so that was a big pop moment. Then Elgin props Sekimoto on the turnbuckle, puts him on his shoulders, and actually finishes the match with a Burning Hammer!
My synopsis is a little light on details, but if you like two bull's charging at one another until one just stops…this is your match. Find it.
Winner: Elgin via Burning Hammer
Rating: **** 1/2
Thoughts:
Since I'm covering the Stardom 5 Star Grand Prix with Mathew, the shows I'm consuming are definitely a little different than usual. As much as I'd love to give my vote to Kagetsu and Konami, that Big Mike vs Daisuke match was just great to watch. No need for any context, just two big strong guys beating the hell out of each other. So, Big Japan: Michael Elgin vs Daisuke Sekimoto, gets my vote.
A weird week, I'm fully aware. But hey next week is All Out, that NXT:UK Takeover (I'm pretty sure) and a few other shows. But I think Royal Quest is exclusive to Fite for a week or so, so I won't be watching that live. So if you're not familiar with Joshi or non-New Japan, Japanese companies, next week there should be plenty of stuff for you!
King's WrestleMania Rewind: Stone Cold VS. Scott Hall (WrestleMania X8)
Chris King is back with another WrestleMania Rewind, looking at the NWO's Scott Hall battling Stone Cold Steve Austin at WWE WrestleMania X8 from Toronto!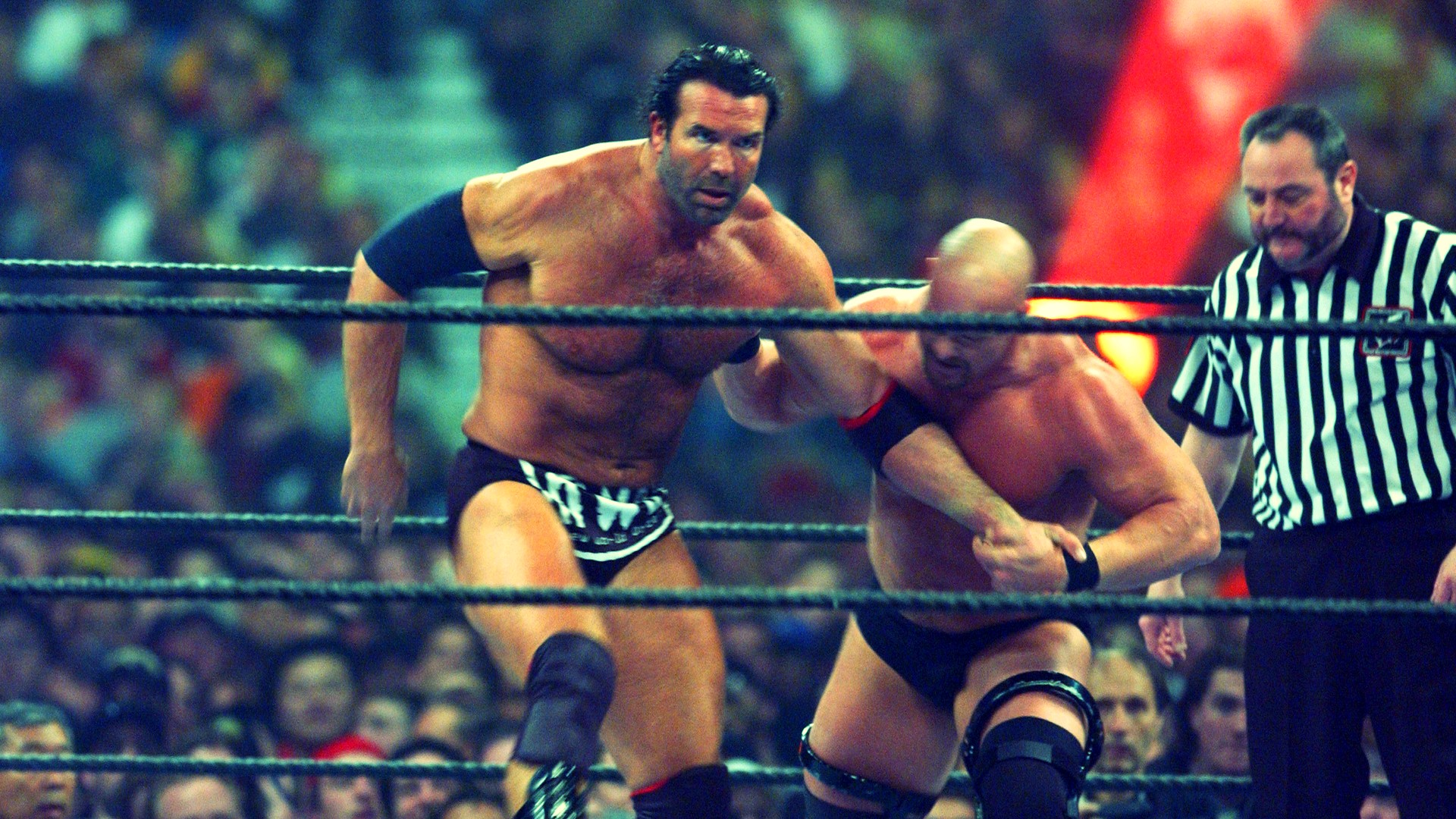 Chris King is back with another WrestleMania Rewind, looking at the NWO's Scott Hall battling Stone Cold Steve Austin at WWE WrestleMania X8 from Toronto!
Chris King is back this week with another edition of WrestleMania Rewind, where he is rewatching all the past Mania matches and feuds. This week you're in for a treat as we look back at 'Stone Cold' Steve Austin vs. Scott Hall at WrestleMania X8.
In late 2001, Vince McMahon bought out his competition WCW and acquired the rights to a plethora of talent including Booker T, Eddie Guerrero, Chris Benoit, and the iconic trio known as NWO. Hulk Hogan; Kevin Nash, and Scott Hall were hell raisers, and what better way to make a name for yourself than take out the two top superstars in the WWE The Rock, and Stone Cold?
The NWO cost Austin his chance at becoming the Undisputed Champion at No Way Out during his match with Chris Jericho. Adding insult to injury, the NWO spray-painted 'The Texas Rattlesnake' with their brand logo just like they did in WCW. As you can imagine, Austin was pissed and out for revenge against the group and primarily Scott Hall.
Hall would challenge Stone Cold to a match at WrestleMania 18. Both superstars beat the living hell out of each other leading up to this highly-anticipated match for who runs the WWE.
The glass broke and Stone Cold made his iconic entrance, and black and white NWO covered Halls' entrance alongside Kevin Nash. With the odds stacked against 'The Toughest S.O.B' could Austin or NWO prove their dominance? Sadly the NWO  broke up that very night when Hulk Hogan came to the aid of his adversary The Rock after their 'iconic' dream match. Stone Cold would ensure the victory with the Stunner. Hall would perform an Oscar-worthy sell over the finisher.
What a time to be a wrestling fan in the 2000s when nothing was impossible for WWE. Who would've thought WCW would go out of business and Hogan would make his long-awaited return to WWE?
King's WrestleMania Rewind: Seth Rollins vs. Kevin Owens (WWE WrestleMania 36)
Chris King takes a look at the most underrated WWE WrestleMania matches, and starts off with Seth Rollins battling Kevin Owens at WrestleMania 36!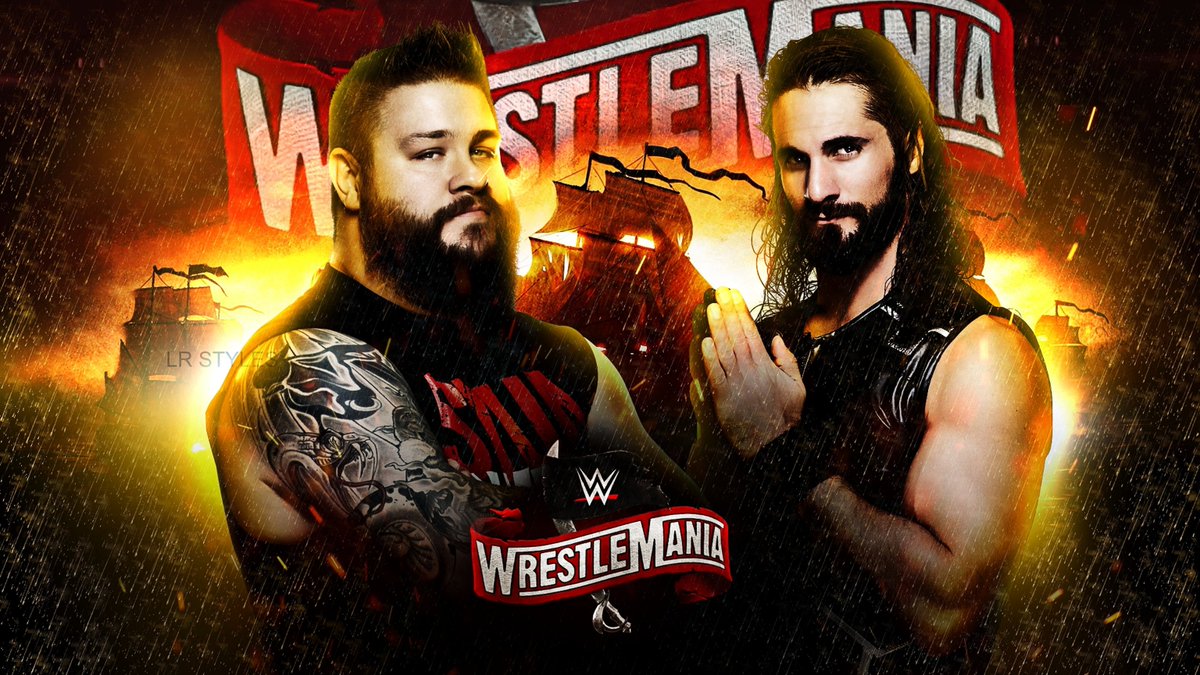 Chris King takes a look at the most underrated WWE WrestleMania matches, and starts off with Seth Rollins battling Kevin Owens in the WWE Performance Center at WrestleMania 36!
Chris King is starting a new series heading into WrestleMania season dubbed WrestleMania Rewind. Each week he'll be going back and sharing his insight over underrated matches at the Show of Shows. First up, is Kevin Owens vs. "The Monday Night Messiah" Seth Rollins at WrestleMania 36.
At the 2019 edition of Survivor Series, Rollins sacrificed himself during the men's traditional match allowing SmackDown to ultimately gain the victory. The following night the self-proclaimed Messiah, berated the whole roster but KO was not having any part of it. Owens quickly became a huge barrier in Rollins' cause for the greater good. The Authors of Pain attacked Owens with Rollins' character in question.
Owens finally had enough of his rival's mind games and torment and challenged Rollins to a match on the Grandest Stage Of Them All. Rollins mockingly accepted his challenge and the match was made official for night one of WrestleMania. Owens came out of the gate beating the holy hell out of the Monday Night Messiah trying to achieve his long-awaited moment at Mania but, Rollins tried to steal a disqualification victory by using the ring bell.
Owens hellbent on revenge provoked Rollins into turning their encounter into a no-disqualification contest where the fight could be taken all over the empty arena. The highlight of the match, was when KO used the WrestleMania sign to deliver a thunderous senton bomb through the announce table. Owens would secure the victory with a Stunner in an incredible match. Despite having no crowd during the pandemic era, both KO and Rollins put on an intense performance under the brightest lights.
In my personal opinion, this was a great feud that helped both superstars in their transformation as compelling characters for years to come.