Cook's Top 5: Worst Wrestling Crowds
As SummerSlam heads to "Bizarro World," Steve Cook takes a look at wrestling's worst crowds!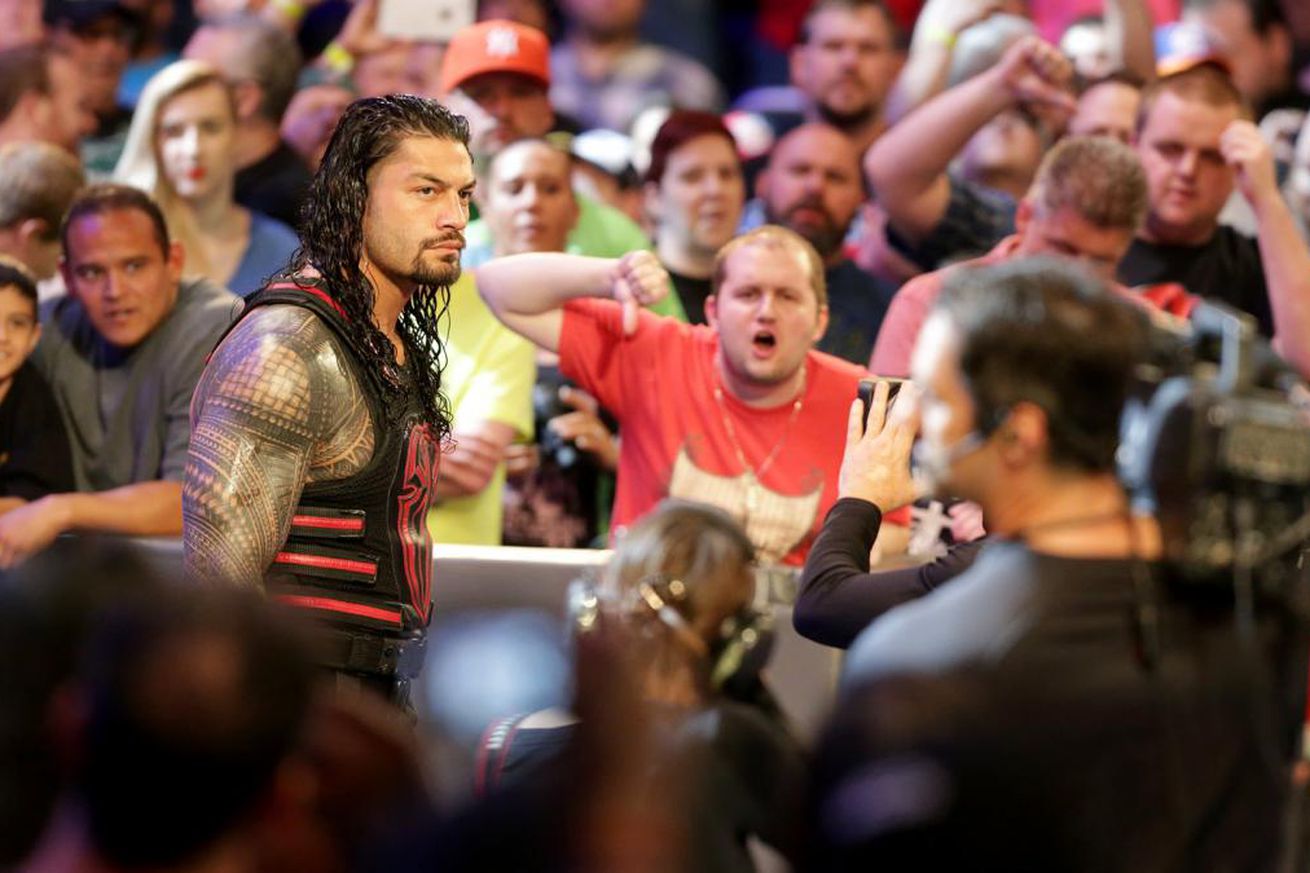 As SummerSlam heads to "Bizarro World," Steve Cook takes a look at wrestling's worst crowds!
SummerSlam is taking place in Toronto, Ontario, Canada. It's tough to make too many predictions, especially when most of the card is still in flux, but there is one thing that I can pretty much guarantee will happen:
At some point in the evening, the phrase "Bizarro World" will be uttered by an announcer.
See, Toronto has a tendency to react to things in a way WWE doesn't expect. Sometimes it's just cheering all the Canadians. Other times, it's crapping all over a match that WWE thinks will get over big. Then sometimes they'll just boo the top babyface. Or they'll cheer Hulk Hogan so hard that his decrepit ass will get a title run. You just never know with these folks.
I like Toronto, for the most part. I can live without Drake, but most of it's ok with me. The wrestling fans are cool too. Here are five crowds that I'm not as high on…
5. Long Island
New York City is known as the worldwide hub of pro wrestling. WWE has had some of its greatest events in Madison Square Garden & the Manhattan Center. ECW & Ring of Honor have torn it up in the Hammerstein Ballroom. I know there are like ten other venues within the city limits I'm forgetting about. The area has always been hot for wrestling.
But when you head over to Long Island…all that excitement fades something fierce. The Nassau Coliseum was known for years as one of WWE's worst venues for audience reaction. Maybe it was the perception that MSG got all the good stuff while Nassau got the leftovers. Then you have the Barclays Center, which WWE is trying to turn into their new MSG, but is infested with hipsters that are more interested in getting themselves over than watching the wrestling. Maybe they'll become the crowd WWE wants them to be at some point.
4. ECW/CZW/The/2300 Arena
Call it what you want, but that bingo hall at the corner of Swanson & Rittner has seen some wrestling through the years. After ECW came through and showed there was a regular crowd that would go watch wrestling there every month, every independent promotion tried to follow in their footsteps.
It wasn't the worst idea in the world, but at some point every venue gets burned out. CZW had countless shows with 200 people in the Arena that didn't make any noise and couldn't have looked less thrilled to be there. At some point, going to wrestling shows became a chore for Arena regulars. They'd seen everything after years of hardcore violence. Ring of Honor ran some TV tapings there and didn't get any better of a reaction. Sometimes, you just have to let a place go.
3. Impact Zone
Most of the crowd traits we complain about today started in the Impact Zone. Universal Studios Florida played host to TNA Impact episodes from 2004 until 2013, and took the company back later that year when the idea of touring nationally didn't go as well as hoped. TNA wasn't able to charge admission, as the soundstage was part of the Universal theme park. Some regulars attended shows, but most of the time there were people just coming through.
WCW had held TV tapings at Universal & Disney MGM Studios previously, and the crowds were generally oblivious to what was going on. They would cheer when the APPLAUSE sign came on, which worked fine for WCW purposes. By the time TNA rolled around, wrestling fans in general were smarkier. The regulars in the crowd came up with some amusing chants and were big on the dueling chants. "This Is Awesome" became a thing thanks to the Impact Zone. That alone puts it on the list.
2. Mid-South Wrestling
We've all heard the stories about those crazy Oklahoma & Louisiana crowds back in the day. If you've listened to any of Jim Cornette's historical talk he's gone on about how those Mid-South crowds wanted to kill him & the Midnight Express. Because they believed it was real, they thought the heels were really nasty people and wanted to fight them. Pretty much any bad guy had to fight for their life to get out of the arena. Guys like Cornette & Bill Watts put this over as a good thing, and a sign of how the business has deteoriated from the good ol' days when men were men, women were women & the sheep were scared.
What am I missing here? Maybe it's just me, but a crowd full of angry drunken rednecks trying to fight wrestlers sounds like the exact opposite of a good crowd. It's one thing to loudly cheer & boo, enjoy the show & have a good time. It's another to attack wrestlers & end up spending the night in jail with a black eye or two. These dumb fools were the original "fans trying to get themselves over".
1. WWE Hall of Fame
The 2004 WWE Hall of Fame Induction Ceremony is one of my favorite DVDs. I could listen to those classic speeches from the likes of Bobby Heenan, Harley Race, Jesse Ventura and others over and over again. I have! Something changed once 2005 rolled around, and subsequent HOF events haven't been nearly as enjoyable as 2004.
The problem is obvious to me: 2004's event wasn't open to the public. It was held at the Hilton Hotel in New York City, in front of WWE Superstars & family & friends & whatnot. After that event was a success, WWE figured out they could make some money out of selling tickets to it. So fans started attending, and acted dumber & dumber with each passing year. An inductee can't make a speech without people chanting "ONE LAST MATCH" or doing other things to interrupt speeches. Heck, this year saw some idiot attack Bret Hart while he was doing a speech.
It's not all the fans' fault, really. You can't want your fans to act like manaics at every other event and expect them to behave & treat people with respect one night of the year.