King: Shane McMahon-The Origin Of The Coast-to-Coast
Chris King takes an in-depth look at The Best in the World himself Shane McMahon, and shares the inside story behind the Coast-to-Coast!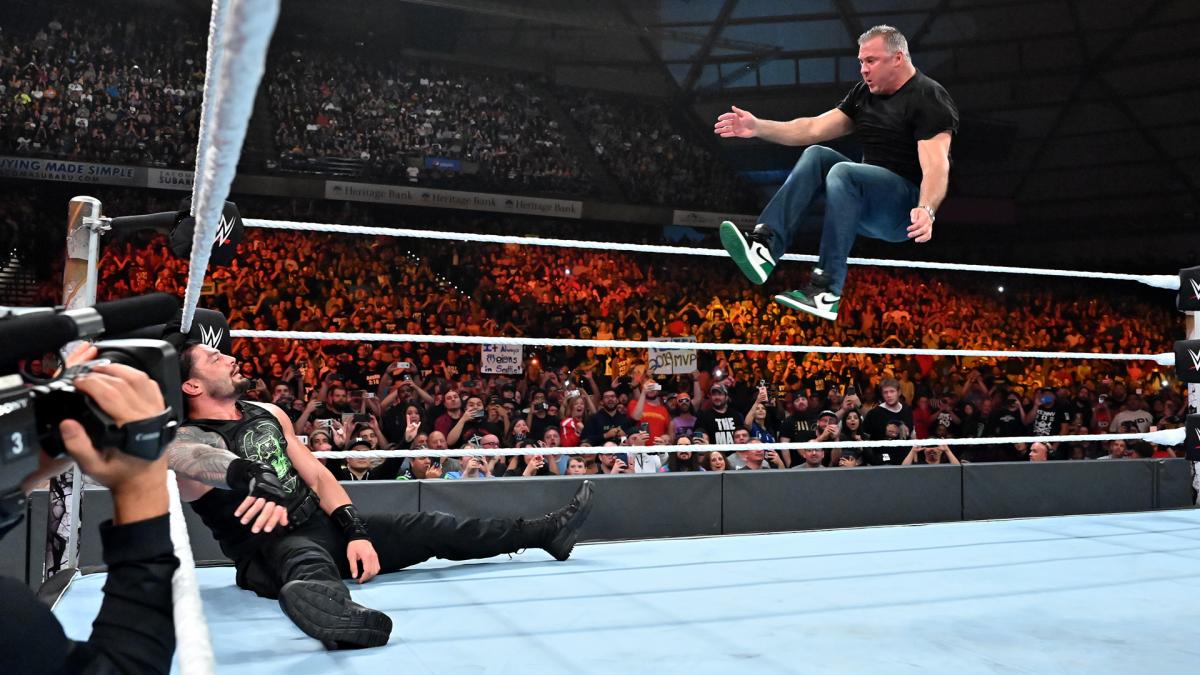 Chris King takes an in-depth look at The Best in the World himself Shane McMahon, and shares the inside story behind the Coast-to-Coast!
The self-proclaimed Best in the World Shane McMahon has played an integral role in WWE. Outside of his current on-screen character as the egocentric boss, Shane-O Mac has provided the WWE Universe with dozens of breathtaking moments we'll never forget.
Every superstar has their niche, and Shane's has always been putting his body on the line with his death-defying "Leap of Faith" and most notably his rendition of the "Coast-to-Coast!"
Growing Up In The Business
Shane began working for the family business at the age of fifteen, where he would record merchandise orders. From there he would assume the roles of a referee, producer, announcer and, a wrestler all-the-while becoming WWE's Executive Vice President of Global Media behind the scenes.
In 1988 Shane would make his on-screen debut as WWE official under the moniker of 'Shane Stevens', he received the prestigious honor to officiate the inaugural Royal Rumble pay-per-view. Shane would also be the first performer to grace the Grandest Stage of Them All at WrestleMania VI.
In 1990 #Undertaker confronted referee Shane Stevens, 26 years later, Shane would attempt revenge #WWE #WrestleMania pic.twitter.com/T4yZ8zbRLW

— Total Wrestling Mag (@TWrestlingmag) April 7, 2016
Shortly after the historic event, Shane left his black and white striped shirt behind and assumed the role of a backstage official. He appeared during the scripted pull-apart brawl between 'The Macho Man' Randy Savage and 'The Nature Boy' Ric Flair' at WrestleMania XIII.
Shane-O Mac would disappear from television until the 'Iconic' Austin vs. McMahon rivalry ignited in 1998. He played a major factor in negotiations for 'The Iron' Mike Tyson's involvement in the highly-personal ongoing feud, between 'Stone Cold' Steve Austin and 'The Heartbreak Kid' Shawn Michaels for WrestleMania XIV.
Shane soon returned to television as a color commentator, alongside Jim Cornette, Kelly Kelly and Jerry 'The King' Lawler for weekly programming show dubbed 'Sunday Night Heat'. Shane-O Mac offered his father's nemesis Austin a contract after he was demoted to a WWE official.
Then at the 1998 Survivor Series pay-per-view he and his father screwed the fan-favorite Mankind out of the WWE Championship when The Rock applied the 'Sharpshooter' and both McMahon's signaled for the bell ala 'The Montreal ScrewJob'. Following Shane's shocking betrayal, he picked up a mic proudly saying "I screwed Stone Cold, Mankind, and the people!"
Let's fast forward to 2001, where Shane-O Mac would face his father Vince in a street fight at WrestleMania X-Seven, the feud was built around Vince's public affair with WWE diva Trish Stratus behind Linda McMahon's back while recuperating from a nervous breakdown.
Shortly after Vince began demeaning Stratus, forcing her to bark and strip for him in the middle of the ring. When Shane found out about all of this, he returned to WWE and began beating the holy hell out of his father. Then Mick Foley returned after being fired as commissioner by Vince himself and declared that he was the special guest referee and their match would be a street fight.
During their highly-intense battle, Vince's mistress Stratus wheeled Linda down to ringside and tipped her over which led Stratus and Vince's daughter Stephanie McMahon to begin a catfight. Foley attempted to aid Linda but was blasted with a steel chair by Vince. With Linda in prime position, Vince was about to take his son's head off with a trash can when miraculously Linda stood up and low-blowed Vince.
Shane would then set-up the trash can between the ropes that we're so familiar with now, and execute his first-ever Coast-to-Coast on his father (correct me know if I'm wrong), and gained the victory.
The Coast-to-Coast Happened As A Bet
Recently on WWE Photoshoot Season 2 Episode 5 Shane McMahon revealed the origin of the Coast-to-Coast.
"So I was screwing around in a warehouse and there was a ring in there, this was many, many, many years ago. [Paul Heyman] walks by and says Hey can you jump from one side to the other? [Shane] I was like I have no idea, [Heyman] see if you can. Rob Van Dam did something similar, but he would do a springboard in ECW. [Shane] Alright so how do I make it different, how can I make it more difficult? Well if I take away the jump up, then I really just have to go from the top rope. I go about.¾ of the way across, ¾ the way across and ¾ of the way across. Heyman goes okay I'll see you later. Everyone else went and got out of there, they knew that I was going to be there all night until I started to figure it out and get it and I did. Once I got there I was like wow, I get mad at myself like what a wuss you can't jump across? So now it's kind of intrinsic in my body, and I can hit it whenever I want. But it started as a bet".
In 2009, Shane's on-screen character would suffer a broken leg and ankle at the hands of "Legacy" (Randy Orton, Cody Rhodes, and Ted Dibiase), and would leave the company shortly after.
The Prodigal Son Returns
On February 22, 2016 episode of Raw Shane would make his shocking return to WWE after a seven-year hiatus, interrupting his sister Raw Commissioner Stephanie from receiving the "Vincent J. McMahon Legacy of Excellence Award".
Shane then made his intentions crystal clear when he requested control over Raw, this led to his iconic Hell in a Cell Match with The Undertaker at WrestleMania 32 (with the control of Raw) on the line. While Shane-O Mac was unsuccessful in victory over The Deadman, the following night on Raw he was given temporary control over WWE's flagship show for a month. In July Shane was announced as SmackDown Live Commissioner, alongside the recently retired Daniel Bryan as General Manager.
Let's fast forward to 2017 as Shane's on-screen babyface character began a feud with an irate Kevin Owens, who was hell-bent on causing as much chaos as humanly possible.
Owens and Shane would face one-on-one in a Hell in a Cell match at The Hell in the Cell pay-per-view, following Owens's devastating headbutt to his father Vince. Shane lost the match after Sami Zayn (Owen's real-life best-friend) shocked the WWE Universe, and pulled Owens off the announce table and Shane-O Mac crashed through the table. As WWE doctors were checking on Shane, Owens pinned him to gain the victory.
Holy shit!! 20 feet through a table @shanemcmahon #wwe #HIAC #WWEHellInACell pic.twitter.com/J1Ydw98orv

— Cody Meister (@Cody_Meister) October 9, 2017
In the fall of 2018 at WWE Crown Jewel in Saudi Arabia during a first-ever World Cup Tournament, when The Miz and Dolph Ziggler advanced to the finals. Ziggler's insurance policy at the time was The Scottish Psychopath Drew McIntyre, and McIntrye attacked Miz causing a "kayfabe" ankle injury preventing him from starting the match.
The Best in the World's Power Trip
A very concerned SmackDown Live Commissioner took his place in the finals, instead of forfeiting the whole tournament and Shane won the tournament and The Best in the World Cup Trophy. Shane-O Mac oversold the victory as if he participated in the tournament in its entirety, it was rumored that this would catapult into a heel turn.
Shane McMahon #BestInTheWorld #WWECrownJewel pic.twitter.com/9N95XZIBN6

— All Things WWE (@_AllThingsWWE_) November 4, 2018
At the end of 2018, Miz following his heartbreaking "injury", he began petitioning for The Best in the World to join forces and become The Best Tag Team in the World. After weeks of begging Miz shares that his intentions are driven, by his dad's approval of Shane and wanting to make him proud.
At the 2019 Royal Rumble pay-per-view, Shane and Miz would defeat The Bar (Sheamus and Cesaro) to become the new SmackDown Tag Team Champions. At next month's Elimination Chamber pay-per-view, The Best Tag Team in the World would lose the titles to The Usos. At the Fastlane pay-per-view in Miz's hometown of Cleveland, OH the last stop before WrestleMania 35, Shane and Miz would be unsuccessful in their attempt to reclaim the SmackDown Tag Team Championships. Following their loss as both competitors were hugging Miz's dad, Shane would blindside his partner and brutally attacked him and placed his hands on Mr. Miz after triangle choking Miz out cold.
On March 12th episode of SmackDown Live, an arrogant and entitled Shane-O Mac addressed the live Ohio crowd, claiming he wasn't The Best in the World because he won a trophy he's The Best in the World because he's a McMahon. Shane ended the segment stating that it felt so good beating up Miz, that he challenged him to a match at WrestleMania. He was crystal clear in declaring that he's the boss and essentially forcing Miz to accept his challenge.
At Mania, the two former tag team partners brawled all over MetLife Stadium in a Falls Count Anywhere match. The self-proclaimed Best in the World would make Miz incensed after he put his hands on his dad again, which drove Miz to Suplex Shane off a Scaffold all the way to the floor but The Best in the World's body landed on top to score the pinfall.
On July 9th episode of SmackDown Live a new antihero would emerge, Kevin Owens, who was sick and tired of Shane stealing tv time from more deserving full-time talent. Owens cut a Pipebomb promo unloading all of his frustrations, after being kicked out of the arena after a parking lot brawl ensued with Dolph Ziggler.
After consecutive weeks of Owens stunning the so-called Best in the World, the two rivals are set to engage in a volatile battle in three days at WWE SummerSlam. Shane has upped the stakes, if Owens loses he must quit WWE in writing.
One thing that we've learned throughout Shane McMahon's illustrious career, is that nothing is off limits. Whether or not Shane-O Mac has earned the title of The Best in the World is highly debatable but, he's had a hell of a career in the WWE and provided the WWE Universe with some of the most breathtaking moments in sports entertainment.