NOAH celebrates it's 19th Anniversary and a GHC Heavyweight Tag Title defense! Hisame breaks it all down for us!
CURRENT TOUR RECAP
Highlights
NOAH held the 19th anniversary of the founding of the company at Korakuen Hall on the 4th August. In NOAH in 2019 there are only three people left from then (although one of them did not compete at the event in 2001), being Naomichi Marufuji, Takashi Sugiura and Yoshinari Ogawa. Kenta Kobashi was on hand as a special guest commentator, and a frail looking Akira Taue did the honors for the memorial to Harley Race.
Harley Race had a long association with NOAH, which came through his days in All Japan. On the death of Joe Higuchi, he was created the chairman of the GHC Heavyweight management committee. Race died two days before the event on the 2nd August.
Atsushi Kotoge made his first match back in the juniors since he left in 2017, and found a less than welcoming reception from Daisuke Harada (who he later called "that fool"), who attacked him almost as soon as he got in the ring. In a match that resembled at times a fight in the school playground as at times the ref had trouble keeping control, Harada continued to beat down on Kotoge throughout the match, at one point using metal panels, chairs and giving him a brainbuster on to a pile of them. However, Kotoge got the sneak win…and Harada threw one of his tantrums by throwing chairs. In the end, YO-HEY and Tadasuke managed to calm him down and get him to leave the ring. Harada's issue with Kotoge stems from 2016 when he was teaming with Kotoge, and they had to vacate the GHC Junior Heavyweight tag titles because Kotoge became a heavyweight. Harada has never forgiven him.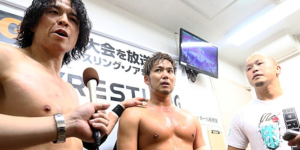 Kotoge watched from the turnbuckle as Harada was led away by Tadasuke and YO-HEY, and Yoshinari Ogawa helped him down. Later it was announced that Kotoge had joined Stinger. He has not given a reason yet, but he says he will. Stinger and RATELS now stand four to four, and are heading into a war with each other.
Takashi Sugiura choked out Kaito Kiyomiya during their tag match (which looks to give us Hideki Suzuki vs Shuhei Taniguchi), which went to a referee stop. Sugiura then loomed over him as the seconds buzzed around. Speaking on the microphone he said, that he wanted to challenge him for the belt but as the N-1 was approaching, he realized that he had to win the league in order to do that. He finished with saying that he would take his belt at Sumo Hall, and for Kiyomiya to wait for him there.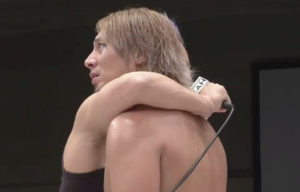 HAYATA beat Minoru Tanaka for the GHC Junior Heavyweight title, and was challenged by YO-HEY. It was also HAYATA'S 32nd birthday, so YO-HEY wished "Wife" both congratulations and a happy birthday, and then while hugging him, challenged him.
HAYATA accepted the challenge by saying, "Next….you!". Match has been set for that traditional place that RATELS have all their big matches, in Osaka, and this time at the Edion Arena 1st Stadium on the 16th September.
AXIZ retained the GHC Heavyweight Championship against The Return of The Dark Agents. The match was emotional in its building with Masao Inoue first being the bumbling old vet, who got some very close falls against the much younger champions, especially at the beginning of the match when he got a near (sneak) pinfall on Go Shiozaki, and later Nakajima was alone in the ring and being held in the Argentina Backbreaker. Fans screamed for Nakajima not to give up…but fortunately, Go Shiozaki broke the hold. After that Nakajima swiftly dispatched Inoue.
There were no challenges for the titles, as the majority of the heavyweights are now gearing up for the N-1.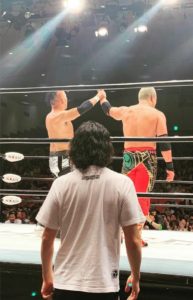 In the main event, Naomichi Marufuji and Kotaro Suzuki had their second ever singles match in seventeen years, which Marufuji (the heavyweight) mostly dominated. Dominated it he might have done, but Suzuki refused to give in to him, (even at one point having his chest chopped open, and a line of blood from it drawn on his face by Marufuji), and Marufuji found himself having to pull out more and more techniques from the box. In the end, poignantly, Marufuji got the win with the Emerald Flowsion Pole Shift Type.
An iconic picture was taken of Yoshinari Ogawa watching Marufuji and Suzuki at the end of the match when they had their arms raised. Ogawa has his back to the camera as he looks on, and the whole picture speaks of NOAH's past and its future rolled in to one. Misawa may be gone, but it is almost as if here he is watching through Ogawa. Ogawa has seen NOAH grow up, just as he has seen Marufuji and Suzuki grow up from boys in the dojo, he has seen all the NOAH born (and others such as Katsuhiko Nakajima) grow up, and he will continue to instruct the next generations of NOAH, and through him, the teachings of both Baba and Misawa will live on. This was a fitting picture to end NOAH's 19th anniversary on.
After the match, he whispered to Marufuji, "thank you for staying with NOAH".
NEWS
KEIJI MUTOH, AND OTHERS…..
Via pre-recorded message, Keiji Mutoh announced that he would be competing in NOAH on the 16th September at the Edion 1st Arena. He says he wants to see this new NOAH that Kiyomiya is promising.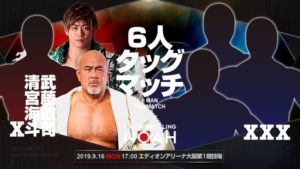 It has since been announced that Kiyomiya will team with Mutoh in a six man match, but the third member of their team, and their three opponents are yet to be announced…
OTHER NEWS
~ Daisuke Harada will defend the IPW Junior Heavyweight title against Chris Ridgeway at the Osaka Edion Arena 2nd Stadium on the 25th August.
~ Kazushi Sakuraba will team with The Sugiura Army (NOSAWA Rongai & Hajime Ohara) against Stinger (Chris Ridgeway, Yoshinari Ogawa and Kotaro Suzuki) on the 16th September at the Osaka Edion Arena 1st Stadium.
~ Seattle based wrestler, Sonico, will be competing in NOAH.
CURRENT CHAMPIONS
* Stinger have been challenged for the titles by Hi69 & Minoru Tanaka. Title match will take place on the 18th August.
THIS WEEK IN NOAH
Wednesday 7th August: Takashi Sugiura will be the special guest at MEGARAGE (event will be live at 8pm JST. Please subscribe to the official YouTube channel for notification).
Thursday 8th August: Akitoshi Saito turns 54.
Sunday 11th August: Atsushi Aoki memorial (Naomichi Marufuji, Takashi Sugiura, Hitoshi Kumano, Shuhei Taniguchi (plus Masao Inoue and Ippei Ota) will be taking part).
BROADCASTS
Atsushi Aoki Memorial (August 11th) will be broadcast on Wednesday August 21st on GAORA (9pm JST)
The opening of the N-1 Victory (August 18th) will be broadcast on Samurai on Sunday August 25th at 10pm JST
NOAH's big show in Osaka at the Edion 1st Arena (16th September) will be broadcast on Monday September 23rd on G+ at 4pm JST
LINKS
Marufuji defeats Kotaro, Misawa's two favorite pupils in clash of souls
4th August Korakuen Hall event highlights
"American Papa. There are too many memories" Marufuji, Sugiura and others. Memorial tweets of the Noah students.
Kobashi "I will never forget Race's words, "You are Mr. Puroresu"
Marufuji vs Kotaro, Fate's Rematch
"The Dark Agents" Saito & Inoue "Endure & Wait" in the belief that they will take the GHC Tag
"I will bring a new view in my own way" ~ Kiyomiya achieves his fifth defense, but is not participating in the N-1
Kaito Kiyomiya press conference on fifth title defense
Kiyomiya reveals his thoughts on his sixth defense at "The Stage at Sumo Hall"
GHC Champion not participating in the N-1, sight is on main event at Sumo Hall on 2nd November
"A Frog in The Well, but I think Noah is Go Shiozaki": Go Shiozaki and Hideki Suzuki, a match full of excitement
Green Guide to the N-1 Victory
Tik-Tok fun with Katsuhiko Nakajima & Go Shiozaki
Picture credit: Naomichi Marufuji. Noah GHC.