(NOAH) WEEKLY NEWSLETTER VOL.46 ~ 5TH AUGUST 2019
NOAH celebrates it's 19th Anniversary and a GHC Heavyweight Tag Title defense! Hisame breaks it all down for us!

NOAH celebrates it's 19th Anniversary and a GHC Heavyweight Tag Title defense! Hisame breaks it all down for us!
CURRENT TOUR RECAP
Highlights
NOAH held the 19th anniversary of the founding of the company at Korakuen Hall on the 4th August. In NOAH in 2019 there are only three people left from then (although one of them did not compete at the event in 2001), being Naomichi Marufuji, Takashi Sugiura and Yoshinari Ogawa. Kenta Kobashi was on hand as a special guest commentator, and a frail looking Akira Taue did the honors for the memorial to Harley Race.
Harley Race had a long association with NOAH, which came through his days in All Japan. On the death of Joe Higuchi, he was created the chairman of the GHC Heavyweight management committee. Race died two days before the event on the 2nd August.
Atsushi Kotoge made his first match back in the juniors since he left in 2017, and found a less than welcoming reception from Daisuke Harada (who he later called "that fool"), who attacked him almost as soon as he got in the ring. In a match that resembled at times a fight in the school playground as at times the ref had trouble keeping control, Harada continued to beat down on Kotoge throughout the match, at one point using metal panels, chairs and giving him a brainbuster on to a pile of them. However, Kotoge got the sneak win…and Harada threw one of his tantrums by throwing chairs. In the end, YO-HEY and Tadasuke managed to calm him down and get him to leave the ring. Harada's issue with Kotoge stems from 2016 when he was teaming with Kotoge, and they had to vacate the GHC Junior Heavyweight tag titles because Kotoge became a heavyweight. Harada has never forgiven him.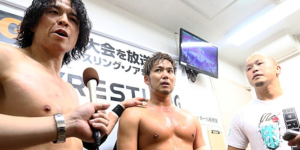 Kotoge watched from the turnbuckle as Harada was led away by Tadasuke and YO-HEY, and Yoshinari Ogawa helped him down. Later it was announced that Kotoge had joined Stinger. He has not given a reason yet, but he says he will. Stinger and RATELS now stand four to four, and are heading into a war with each other.
Takashi Sugiura choked out Kaito Kiyomiya during their tag match (which looks to give us Hideki Suzuki vs Shuhei Taniguchi), which went to a referee stop. Sugiura then loomed over him as the seconds buzzed around. Speaking on the microphone he said, that he wanted to challenge him for the belt but as the N-1 was approaching, he realized that he had to win the league in order to do that. He finished with saying that he would take his belt at Sumo Hall, and for Kiyomiya to wait for him there.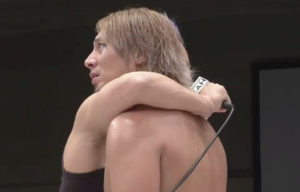 HAYATA beat Minoru Tanaka for the GHC Junior Heavyweight title, and was challenged by YO-HEY. It was also HAYATA'S 32nd birthday, so YO-HEY wished "Wife" both congratulations and a happy birthday, and then while hugging him, challenged him.
HAYATA accepted the challenge by saying, "Next….you!". Match has been set for that traditional place that RATELS have all their big matches, in Osaka, and this time at the Edion Arena 1st Stadium on the 16th September.
AXIZ retained the GHC Heavyweight Championship against The Return of The Dark Agents. The match was emotional in its building with Masao Inoue first being the bumbling old vet, who got some very close falls against the much younger champions, especially at the beginning of the match when he got a near (sneak) pinfall on Go Shiozaki, and later Nakajima was alone in the ring and being held in the Argentina Backbreaker. Fans screamed for Nakajima not to give up…but fortunately, Go Shiozaki broke the hold. After that Nakajima swiftly dispatched Inoue.
There were no challenges for the titles, as the majority of the heavyweights are now gearing up for the N-1.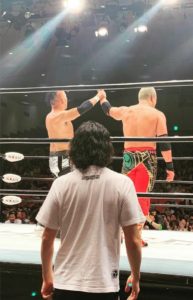 In the main event, Naomichi Marufuji and Kotaro Suzuki had their second ever singles match in seventeen years, which Marufuji (the heavyweight) mostly dominated. Dominated it he might have done, but Suzuki refused to give in to him, (even at one point having his chest chopped open, and a line of blood from it drawn on his face by Marufuji), and Marufuji found himself having to pull out more and more techniques from the box. In the end, poignantly, Marufuji got the win with the Emerald Flowsion Pole Shift Type.
An iconic picture was taken of Yoshinari Ogawa watching Marufuji and Suzuki at the end of the match when they had their arms raised. Ogawa has his back to the camera as he looks on, and the whole picture speaks of NOAH's past and its future rolled in to one. Misawa may be gone, but it is almost as if here he is watching through Ogawa. Ogawa has seen NOAH grow up, just as he has seen Marufuji and Suzuki grow up from boys in the dojo, he has seen all the NOAH born (and others such as Katsuhiko Nakajima) grow up, and he will continue to instruct the next generations of NOAH, and through him, the teachings of both Baba and Misawa will live on. This was a fitting picture to end NOAH's 19th anniversary on.
After the match, he whispered to Marufuji, "thank you for staying with NOAH".
NEWS
KEIJI MUTOH, AND OTHERS…..
Via pre-recorded message, Keiji Mutoh announced that he would be competing in NOAH on the 16th September at the Edion 1st Arena. He says he wants to see this new NOAH that Kiyomiya is promising.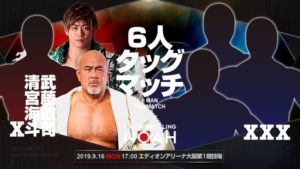 It has since been announced that Kiyomiya will team with Mutoh in a six man match, but the third member of their team, and their three opponents are yet to be announced…
OTHER NEWS
~ Daisuke Harada will defend the IPW Junior Heavyweight title against Chris Ridgeway at the Osaka Edion Arena 2nd Stadium on the 25th August.
~ Kazushi Sakuraba will team with The Sugiura Army (NOSAWA Rongai & Hajime Ohara) against Stinger (Chris Ridgeway, Yoshinari Ogawa and Kotaro Suzuki) on the 16th September at the Osaka Edion Arena 1st Stadium.
~ Seattle based wrestler, Sonico, will be competing in NOAH.
CURRENT CHAMPIONS
* Stinger have been challenged for the titles by Hi69 & Minoru Tanaka. Title match will take place on the 18th August.
THIS WEEK IN NOAH
Wednesday 7th August: Takashi Sugiura will be the special guest at MEGARAGE (event will be live at 8pm JST. Please subscribe to the official YouTube channel for notification).
Thursday 8th August: Akitoshi Saito turns 54.
Sunday 11th August: Atsushi Aoki memorial (Naomichi Marufuji, Takashi Sugiura, Hitoshi Kumano, Shuhei Taniguchi (plus Masao Inoue and Ippei Ota) will be taking part).
BROADCASTS
Atsushi Aoki Memorial (August 11th) will be broadcast on Wednesday August 21st on GAORA (9pm JST)
The opening of the N-1 Victory (August 18th) will be broadcast on Samurai on Sunday August 25th at 10pm JST
NOAH's big show in Osaka at the Edion 1st Arena (16th September) will be broadcast on Monday September 23rd on G+ at 4pm JST
LINKS
Marufuji defeats Kotaro, Misawa's two favorite pupils in clash of souls
4th August Korakuen Hall event highlights
"American Papa. There are too many memories" Marufuji, Sugiura and others. Memorial tweets of the Noah students.
Kobashi "I will never forget Race's words, "You are Mr. Puroresu"
Marufuji vs Kotaro, Fate's Rematch
"The Dark Agents" Saito & Inoue "Endure & Wait" in the belief that they will take the GHC Tag
"I will bring a new view in my own way" ~ Kiyomiya achieves his fifth defense, but is not participating in the N-1
Kaito Kiyomiya press conference on fifth title defense
Kiyomiya reveals his thoughts on his sixth defense at "The Stage at Sumo Hall"
GHC Champion not participating in the N-1, sight is on main event at Sumo Hall on 2nd November
"A Frog in The Well, but I think Noah is Go Shiozaki": Go Shiozaki and Hideki Suzuki, a match full of excitement
Green Guide to the N-1 Victory
Tik-Tok fun with Katsuhiko Nakajima & Go Shiozaki
Picture credit: Naomichi Marufuji. Noah GHC.
Mathew's AJPW Champion Carnival Results & Review: Day 5 (4/18/2021)
Another day at the AJPW Carnival! With Zeus' undefeated streak broken, do we see new leaders at the top of the single block?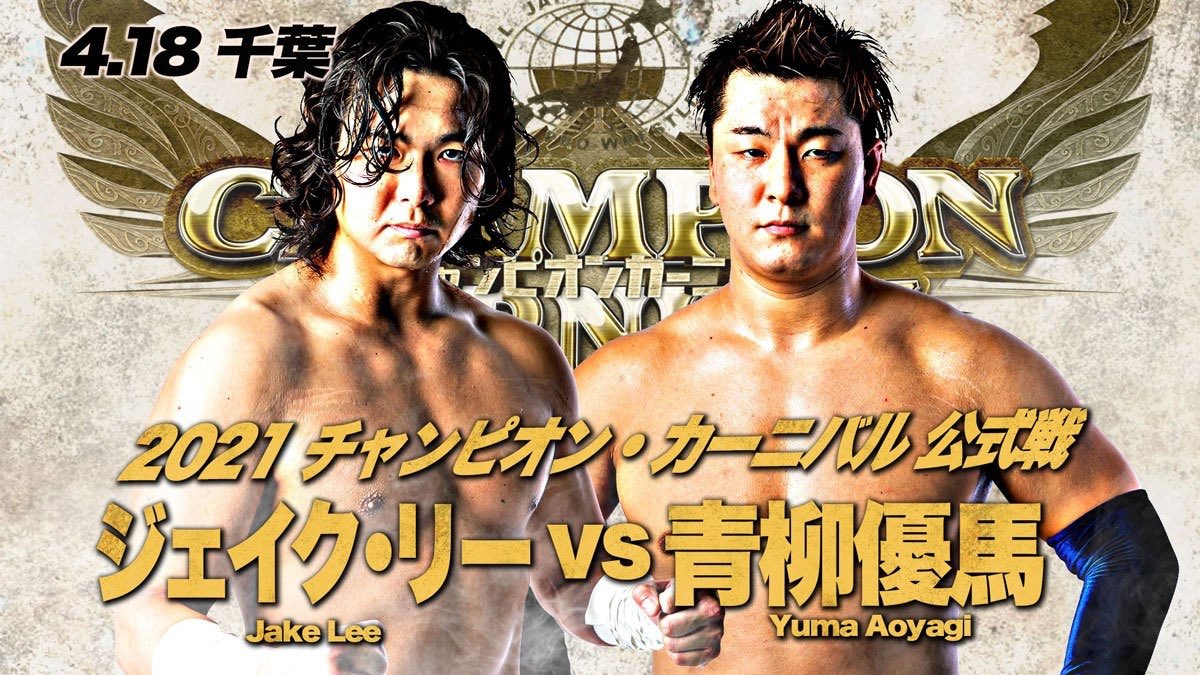 Welcome back to another exciting day of All Japan's Champion Carnival. We had some solid wrestling for the previous day and we will now be at the halfway point of the tournament after this show is over. We're gonna find out who will step up in the rankings and who will also fall behind.
Who will advance? Does anyone get eliminated? All this and more as we…dive right in.

Star Rating System:
0 Stars: Dave Meltzer
1 Star: Vince Russo
2 Stars: Tony Schiavone
3 Stars: Eric Bischoff
4 Stars: Bruce Prichard
5 Stars: Jim Cornette


Champion Carnival 2021 Match
Kento Miyahara vs. Koji Doi
Review: Time for our first match as Kento Miyahara is set to take on Koji Doi. Kento has had a bad start for this year as he's only won one match and lost two but if he can get a win here, he'll be in the middle on the scoreboard. Koji, however, has three losses and one more loss here could make him unable to win depending on how the next day goes. Can Koji get a second win or does Kento get a victory?

Soon as the bell rang, Koji started charging at Kento into the corner and it leads to the both of them delivering stiff shots to each other back and forth. Koji eventually turned it into a Torture Rack and had it applied until Kento wiggled out to land on his feet but Koji stopped his momentum to get the heat in a nicely done opening sequence. The two are outside of the ring now as the two tried to hit a Brainbuster onto one another into the crowd or on the entrance ramp but Koji decided to DDT him onto the ramp to apply damage to his head more. Good control from Koji to keep working on the head and needed it while Kento sells the pain well to get the crowd behind him in this match.

Koji applies the Rings of Saturn onto Kento as he pulls on his head while applying the lock but Kento would finally struggle enough to get his foot on the rope, breaking the hold. I said it before and I will say it again, Kento delivers better knees than Kenny Omega, he makes them look legit and despite still slapping, he knows the right time to do it without it looking phony, unlike Olivia. Kento hits the Blackout into the corner on the back of his head and then another one but Koji kicked out at two. Kento goes for the Shutdown German Suplex Hold but Koji broke free, elbowing him in the face before picking him up to hit the Swinging Side Slam as Kento kicked out at two. Koji attempts the Lariat but Kento ducks to hit a Blackout and used this chance to hit the Shutdown German Suplex Hold, getting the win while Koji is in last place!

Rating: Eric Bischoff and a quarter

Champion Carnival 2021 Match:
Shuji Ishikawa vs. Shinjiro Otani
Review: Time for the next match as Shinjiro Otani takes on the GAORA TV Champion, Shuji Ishikawa. Both of them are around the middle in rankings but Shuji has more points than him by one victory. If Otani can win here though, he'll be in the middle with him and among others. Can Otani score a win here or will Shuji move up to the top spot?

The two would lock up as neither of them was getting the advantage until they were on the ropes to break it, then they would tackle each other while they're both still standing their ground until they go blow for blow with Shuji kneeing him in the gut to get him down. Shuji is beating down Otani any chance he gets with his stomps or just hitting him, and it works since Shuji is a bigger guy than Otani and a little more well-rounded but you can see Otani getting pumped up despite being knocked down. Otani would make his comeback, having Shuji into the corner as he ran the ropes to deliver a boot to the face.

The two are hitting each other back and forth, delivering stiff shots one after another but Otani would get behind him to apply the sleeper as Shuji pushed him into the corner. Otani would sit on the top turnbuckle and slap Shuji across the face and applied the sleeper once again but the referee tells him to break the hold. Otani would deliver a Missle Dropkick but Shuji gets up to charge at him, only to be met with a Backdrop as Shuji got up again to hit the Lariat as they both go down. Shuji got up first as he hits the Tsunami and the Giant Driver but Otani was able to kick out at two. Otani fought off the Powerbomb and hits a Lariat on him but soon as Shuji kicked out, Otani applied the Cobra Clutch and gets the submission victory!

Rating: Eric Bischoff and a quarter

Champion Carnival 2021 Match
Kohei Sato vs. Zeus
Review: Time for our next match as Zeus takes on Kohei Sato. Zeus suffered his first loss at the previous show but is still at the top of the board. If Sato can win though, he'll be up on top since he'll have a better average than Zeus since he only lost one match himself but only has two victories. Will Zeus be able to bounce back or does Sato take control of the scoreboard?

Is Sato a little taller than Zeus? Yes, but is Zeus beefier than Sato? Fuck yeah. Sato had Zeus sat down on the mat as he delivered stiff kicks to the back but Zeus got up quickly, pulling his head in for a headlock and it just looked powerful. Zeus keeps the headlock locked in for a good while and makes sure Sato is in as much pain as possible during all of this and it's good seeing Zeus look this dominating in his matches since he has the god of an almighty God, put that shit into use! Sato finally stopped Zeus with a knee to the gut and would deliver stiff kicks to the chest to get him down. This is just a stiff fest with the strikes and I am all for it in this match.

Zeus gets Sato down with the Chokeslam as Sato kicked out at two. Zeus is calling for the end already as he sets him up for the Jackhammer but Sato reversed it to hit the Falcon Arrow as they both go down. The two slowly get up as Sato delivers stiff forearms while Zeus counteracts with chops and it goes for a bit until Zeus hits a Lariat. Sato kicked out and Zeus turned it into the Facelock, trying to get him to tap out but Sato gets his foot on the rope! Zeus goes for the Jackhammer again but Sato powers out of it to deliver forearms to Zeus while Zeus attempts Lariats as Sato stands his ground to hit one more forearm. Sato went for a pin but Zeus kicked out and hits Zeus with another stiff forearm as Zeus kicked out again. Sato picks him up to hit the German Suplex Hold and gets the victory over Zeus! Sato is now on top of the board with three wins and only one loss.

Rating: Eric Bischoff and a half

Champion Carnival 2021 Match:
Jake Lee vs. Yuma Aoyagi
Review: It's time to close up the show with our main event as Jake Lee takes on Yuma Aoyagi. Jake has a chance to be in the top spot if he can win this match and keep up his dominating run aside from the one loss. Yuma was able to score an upset victory over Zeus to stay in the game and if he can win here, he'll be able to tie for the top spot with Zeus, Sato, and Lee. Will we have a four-way tie or does Jake move up the ladder?

They both have their arms up as if they were taunting each other or something but they would eventually lock up, Jake gets him into the ropes until the referee tells Jake to get off him. Yuma would get Jake to the ropes this time and as he broke it up, he taunts Jake by doing the taunt he used for when he was a babyface, the disrespect. This angered Jake and would kick him in the gut and gets him in a headlock to apply damage to his neck. The two started some chain wrestling until Jake lifted Yuma to make him hit the rope between his legs, causing Yuma to flop outside of the ring for Jake to work him outside. When you look at these two men, these guys are going to be your future of the company next to Kento Miyahara in the long run. Jake is a star waiting to happen and while Yuma had a slow start, he is slowly figuring himself out in the past year and if he can keep this up, he will have a bright future in the company with guys like Kento, Jake, Suwama, Zeus, Nomura, and hopefully Shotaro. While Jake isn't being a full-on heel in this match, he still shows that side of him in the match from how aggressive he is and just taunting the referee whenever he's told to let go of Yuma and going back into what he was doing.

Jake tosses Yuma into the corner as Yuma used this chance to bounce off and hit a Crossbody but he's not down as he climbs to the top rope, hitting another Crossbody as Jake kicked out at two. Jake was able to get Yuma on his stomach, having a knee on his back while pulling on his head, stretching him out until Yuma grabbed the rope but the referee wanted to be a dick for a moment, kicking the bottom rope to make him let go and Yuma grabbed it again to make them break the hold this time. The two kept on fighting back and forth with Yuma getting up right away as Jake attempts the Giant Killing but Yuma caught his leg to push it down, hitting a spinning back kick, and Jake would hit a jumping kick to the chest as the two go down! Yuma hits two German Suplexes and goes to apply the End Game but Jake had his hand on the rope soon as Yuma was able to lock it in.

Yuma went for the Rock Star Buster but Jake fought out of it, attempting the Giant Killing again as Yuma caught his leg to turn him around, rolling him up with the European Clutch as Jake kicked out at two again. Jake tries to pick Yuma up but doesn't budge, laying there motionless as it annoys Jake while the referee tells him to stand back so he can count. Yuma finally has some light in him as Jake goes over to him just to knee him in the face, knocking him down again. Jake tried pulling Yuma up again but doesn't budge again, angering Jake more as he makes him sit up to knock him down with another knee. He keeps hitting Yuma with his knees while yelling at him until the referee pushed him away again. Jake had Yuma up on his knees before running the ropes and before he could get closer to him, Yuma collapsed once more. Jake is calling for the end as he picked him up for the D4C but Yuma knees his head and reverses it into a roll, turning it into the End Game! Beautiful counter as he has it locked in fully, giving Jake no choice but to tap out! Another big win for Yuma.

Rating: Eric Bischoff and three quarters

Overall: Much better night than the previous one, that's for sure. Nothing over the top, solid action all around, and just nice wrestling with nothing going 30+ minutes all the time. We're at the halfway point and now the competition is going to get harder from here. Let's see where this takes us.

Favorite Match: Jake Lee vs. Yuma Aoyagi

Least Favorite Match: Shuji Ishikawa vs. Shinjiro Otani

Score: 7/10

Champion Carnival Standings:
Kohei Sato: (3-1) (6 Points)
Zeus: (3-2) (6 Points)
Jake Lee: (3-2) (6 Points)
Yuma Aoyagi: (3-2) (6 Points)
Shuji Ishikawa: (2-2) (4 Points)
Suwama: (2-2) (4 Points)
Kento Miyahara: (2-2) (4 Points)
Shinjiro Otani: (2-2) (4 Points)
Koji Doi: (1-4) (2 Points)
Shotaro Ashino: (1-3) (2 Points)
NOAH WEEKLY NEWSLETTER VOL.128 ~ 18TH APRIL 2021
Hisame brings us updates moving towards Mutoh's nostalgic second defense of the GHC Heavyweight title, and a recap of the Junior championship bout! If you're not paying attention to NOAH, you should be!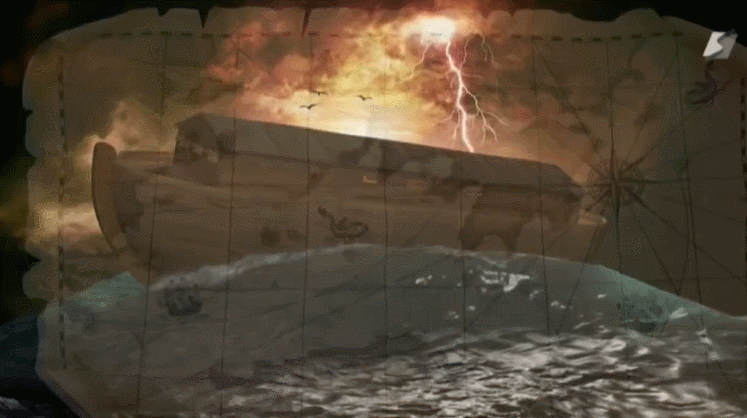 Hisame brings us updates moving towards Mutoh's nostalgic second defense of the GHC Heavyweight title, and a recap of the Junior championship bout! If you're not paying attention to NOAH, you should be!
NEWS
Kenoh tests positive for COVID, Tadasuke, Manabu Soya & Haoh to also miss time
NOAH announced on the 17th April that Kenoh had developed a fever, and would undergo PCR testing, and as a precaution Tadasuke, Manabu Soya and Haoh would also miss time due to being in close proximity to Kenoh. The results of Kenoh's PCR test came back on the 18th April and were announced to be positive for Coronavirus, but he will undergo a further examination with the results being available on the 20th. NOAH have announced that all four will miss the 24th and the 29th events.
While Kenoh is absent, Katsuhiko Nakajima has said to him to "leave it me".
Kazuyuki Fujita destroys Takashi Sugiura
Kazuyuki Fujita and Takashi Sugiura faced off for their long awaited pre-match ahead of their long awaited GHC National Championship match, which will take place on the 29th April in Nagoya, which is Takashi Sugiura's home town.
Although Takashi Sugiura said that he wasn't going to do any kind of stare down with Kazuyuki Fujita, he actually did two. The first was when their respective partners, Kazushi Sakuraba and Kendo Kashin were fighting in the ring, and the second was when they were fighting outside of it and Kashin did the perspex sheet spot on Sakuraba. After that the fight was on, with Fujita felling Sugiura with stiff punches, and then a lariat when Sugiura sprang to his feet with a roar. Fujita emerged the victor after nine minutes and fifteen seconds, when he pinned Sugiura after three soccer ball kicks to the head. After the match, Fujita had no comment to make other than "Nagoya is next", and Kazushi Sakuraba took a picture with Sugiura revealing that Sugiura had the beginning of a black eye and a swelling on the side of his head.
Atsushi Kotoge's first successful defense 
Atsushi Kotoge made his first defense of the GHC Junior Heavyweight against Nioh on the 18th April at Korakuen Hall. Both Kotoge and Nioh put on a brutal match, which involved a spot where Nioh used a javelin throw move on Kotoge to drive his head into the ring apron. Both wrestled the match cool, calm and calculated; which is not so far from Kotoge's persona in Momo No Seishun, but for Nioh it did show what he is capable of and fans commented it was nice to see him put his mind to something. After the match, Kotoge said he would take on all comers and was hungry for a challenger, while Nioh said he would be challenging again in the future.
 Masa Kitamiya makes Keiji Mutoh tap
Masa Kitamiya and Keiji Mutoh faced off in their one and only pre-match at Korakuen Hall on the 18th April. The card was changed due to the absence of Kongoh members, so Katsuhiko Nakajima teamed with Kitamiya against Mutoh and Naomichi Marufuji. Nakajima, although he was looking forward to facing Mutoh after a long while (and fans wanted to see him face Mutoh), pretty much kept Naomichi Marufuji occupied and after the first time when he broke the Prison Lock, kept him outside the ring for the second one. Kitamiya had the hold locked in, and headbutted Mutoh, busting them both open. Mutoh had no choice but to tap. After the match, Kitamiya spoke on the microphone and said he was aiming for Mutoh's knees.
Three new trainees
In a break from tradition, as NOAH usually announce trainee debuts, not trainees joining the dojo. NOAH had the three new boys (and one who has been in the dojo for over a year) stand in the ring on the 18th April and introduce themselves.
Keisuke Ota, 26 years old. He entered NOAH in January 2020, so hopefully he will be debuting soon. However, it is Yoshinari Ogawa who decides these things.
Yosuke Sasaki, 18 years old. He was one of the ones who came to the trainee audition last November. He has recently entered NOAH (April 2021).
Haruto Ogawa, 18 years old. Like Sasaki, he came to NOAH via the trainee audition last November, and entered NOAH at the same time as Yosuke Sasaki.
With the influx of new trainees to the dojo, plus the debut of Yasutaka Yano a few months ago, and the potential debut of Keisuke Ota, Yoshinari Ogawa is going to be very busy.
 EVENT RECAPS & POST MATCH PROMOS
Event recap: "NEO BREEZE 2021" ~ 18th April, Korakuen Hall
Post match promos: "NEO BREEZE 2021" ~ 3rd April, Yokohama Radiant Halls
ELSEWHERE IN NOAH
~ Kaito Kiyomiya and Yoshiki Inamura made a very polite visit to DDT on the 15th April to scout out their opponents ahead of the CyberFight Festival. They came in, took their seats, sat quietly, applauded the winner, came to the apron when invited and then left.
~Yoshiki Inamura's tires which he uses for training, have become dojo celebrities. Tadasuke has been determined to lift them, and posted a video of himself succeeding. YO-HEY said he made an attempt, and even NOAH's official photographer has had a go.
~ Still no one has come for the GHC Heavyweight Tag titles. Katsuhiko Nakajima has even been talking about nominating someone.
~ NOAH have created a Showa Era monster movie theme for Takashi Sugiura vs Kazushi Sakuraba. Fans are reminded of Kong vs Godzilla, with DDT\NOAH President, Sanshiro Takagi, saying it reminds him more of Sanda vs Gaira.
CURRENT CHAMPIONS
THIS WEEK IN NOAH
Saturday 24th April: NOAH THE GLORY, 2021
BROADCASTS
Please note, unless stated it is a free stream, you must be a subscriber to WRESTLEUNIVERSE to view events. Subscription is free for first month, then 900 yen per calendar month. You can sign up from anywhere in the world. All ABEMA shows are eventually put on WRESTLEUNIVERSE, with the exception of the PPVs.
"NOAH THE GLORY 2021"  will be broadcast on WRESTLEUNIVERSE on the 24th April at 17.30 pm JST. This will not be a free stream.
LINKS
"It's effective, it was piercing. Amazing" Takashi Sugiura is taken aback at the German Suplex reminiscent of Rick Steiner, thrown by Yoshiki Inamura
Participation at ZERO-1 "ALL STAR Great Charity Festival" ~ Yasukuni Shrine Sumo Wrestling Place, Tokyo, Japan (March 27th, 2021)
Guide to CyberFight Festival 2021
GIFS taken from NOAH Official Twitter\ABEMA
Picture credit: Kazushi Sakuraba