N-1 Victory Tournament kicks off! Who starts off strong to earn a number 1 contender spot? Hisame fills in the blanks!
CURRENT TOUR RECAP
NOAH held their small interim show "NOAH THE SPIRIT" on the 16th August 2019.
Sonico made his NOAH debut facing Hitoshi Kumano, but tapped out to the Argentine Backbreaker. In his post match promo, Kumano (who still had his blue hair left over from the Atsushi Aoki memorial show), said that he was going to aim for the singles belt.
RATELS vs STINGER entered a new chapter by having a very fast paced match. So fast in fact that fans complained that they couldn't get a good picture of anyone, as they were all moving at the speed of light, even Yoshinari Ogawa is who is in his fifties, but can still kick the ass of any junior (or heavyweight) on the roster. Naturally, Daisuke Harada and Atsushi Kotoge didn't wait for the bell to sound before attacking each other.
The main event was the N-1 Block A (Naomichi Marufuji, Takashi Sugiura & Go Shiozaki) vs N-1 Block B (Katsuhiko Nakajima, Kenoh and Shuhei Taniguchi). Nakajima and Shiozaki shook hands beforehand, but this didn't stop Nakajima from being chopped.
Kenoh decided that if he didn't want to fight with anyone other than his mortal enemies (and obsession number 1 and number 3), Naomichi Marufuji and Takashi Sugiura, and made Shiozaki tag Sugi in. Kenoh also got highly annoyed later on, when he "caught" Nakajima kicking Sugi, yelled at him, shoved him, and the two of them kicked him in tandem.
Shuhei Taniguchi was the star of this match however, when he knocked down everyone (teammates or not), refused to give Kenoh his own way by tagging him in when Kenoh wanted to beat up Marufuji (so Kenoh tagged himself in using a mannerism that reminded me of my angry cat when I tried to move her off some t-shirts I wanted to put away), and then made Takashi Sugiura tap out.
The N-1 kicked off on the 18th August 2019 in Nagoya. There was a small hitch in the show due to a sound issue, but this was sorted quickly.
The traditional ceremony was held with the participants coming to the ring and lining up in their respective blocks. As far as I know everyone managed to get along during it.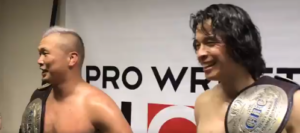 RATELS and STINGER clashed again with Atsushi Kotoge showing some of his old spirit when he suddenly seemed to perk up when running to the ring. He is also noted to have lost some of his heavyweight body and be rapidly returning to a junior.
Backstage, Kotoge said that STINGER wanted all the belts. Later that evening when Minoru Tanaka & Hi69 failed to take the GHC Junior Tag championship from Yoshinari Ogawa and Kotaro Suzuki, Ogawa said that in the absence of any challengers, it would be fun to defend the belts against Chris Ridgeway and Atsushi Kotoge.
Both El Hijo de Dr Wagner Jr and Alex Hammerstone made their debut in NOAH.
We will talk about Hammerstone in due course.
Wagner Jr made his debut alongside The Sugiura Army (although not a member), and Hajime Ohara was overheard to be speaking to him in Spanish. Ohara has always been called "NOAH's Treasure", but today this raised him to a whole new level.
The fifth match was a huge ten man which was a curious mixture of N-1 heavyweights with an axe to grind (Naomichi Marufuji and Shuhei Taniguchi), juniors who normally wouldn't be in such matches (Hitoshi Kumano and YO-HEY & HAYATA), and miscellaneous heavyweights (50 Funky Powers and The Return of The Dark Agents), and of course Kaito Kiyomiya, who acted like a demonic puppet master.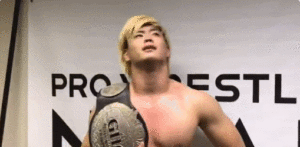 Kiyomiya didn't cause trouble until the end of the match, when he looked very smug as he held up the belt to Marufuji (probably the rudest he has ever been to him so far) and Shuhei Taniguchi. After a chaotic match in which several mass brawls broke out (and the referee had trouble keeping control), Kiyomiya cut a backstage promo, in which he looked somewhat evil, and said that he loved the fact that he was everyone enemy, he loved the fact that they were fighting, and (sounding like a demon who has infested a home of a loving family) he said, he feeds off of it and it gives him stimulus.
Kiyomiya's transition from a slightly nervous overly polite boy is beginning to shift to a nastier manipulative heavyweight.
The last time Katsuhiko Nakajima and Masaaki Mochizuki had a singles match was in 2009. Katsuhiko Nakajima was in his early twenties, and Mochizuki was in his late thirties. They clashed in the ring today in 2019, the very first match ever in a very brand new league…and kicked the blue thunder out of each other. The match was won by Nakajima after a double knockout, as he was the one to get to his feet first.
After the match, Nakajima joked that their next singles match would be in 2029. Mochizuki said he would be 59!.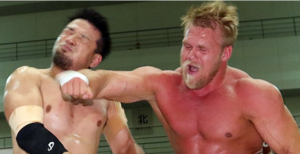 Alex Hammerstone made his NOAH debut facing Go Shiozaki in the N-1 main event in a highly anticipated match. I am afraid that when this match took place, I have no details on it as both my Twitter timeline and the NOAH GHC hashtag went quiet, but it must have been pretty brutal, as Hammerstone appeared to have a bright red sunburn on his neck and chest which came from being chopped. Hard.
Hammerstone won the match via the Pendulum Nightmare.
Event will be broadcast on the 25th August on Samurai TV at 10pm JST.
EVENT RECAP: "NOAH THE SPIRIT" ~ (16TH AUGUST 2019, KASUKABE CONTACT CUBE, KASUKABE, SAITAMA)
POST MATCH PROMOS: "NOAH THE SPIRIT" ~ (16TH AUGUST 2019)
EVENT RECAP ~ N-1 VICTORY, NIGHT 1 (NAGOYA INTERNATIONAL CONFERENCE CENTER, SUNDAY AUGUST 18TH 2019)
NEWS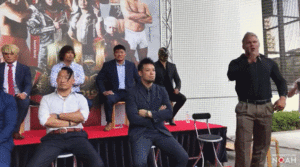 N-1 PRESS CONFERENCE
NOAH held a press conference on the 17th August for the ten wrestlers who are taking part in the N-1 VICTORY. They were seated according to blocks, and so there was no repeat of last year, when Kenoh was treated like a small boy being told off by his seniors, when Marufuji asked "Kenoh-kun" why he chose the seat between himself and "Sugi-san" in the manner that you might speak to a small child in.
Seat near his enemies or not (and Marufuji did call him "bastard"), Kenoh's usual obsessions boiled to the surface (along with how flushed he looked in a suit and tie in 30+ degrees of heat), and he said that he wanted Marufuji or Sugiura in the finals, and then proceeded to rant against Kaito Kiyomiya, "the champion who ran away".
Naomichi Marufuji told the Japanese wrestlers very pointedly that he was tired of wrestling them, and was only interested in the two foreign ones.
Takashi Sugiura has a score to settle with Shuhei Taniguchi for making him submit, and has vowed to make Taniguchi regret it.
Go Shiozaki wants to face Katsuhiko Nakajima in the finals.
Masa Kitamiya sees this as his chance to wake up from his "smoldering" state, and engrave his name on the N-1. He is not interested in anyone in particular, only the champion at the end of the line.
Alex Hammerstone has vowed to crush all in his path.
Katsuhiko Nakajima did not return Go Shiozaki's compliment, but said it was going to be a hot summer that was about to get hotter, and it would be him that would win.
Masaaki Mochizuki said he was honored to be in the league after such a short time in NOAH (three matches), and he did want Marufuji in the finals originally, but now was no longer interested after Marufuji said he wasn't interested in him (he's Japanese).
Shuhei Taniguchi named no names, but sent out a threat in that he would destroy everyone to reach the championship at Sumo Hall.
El Hijo de Dr Wagner Jr said he was honored to be here, and would bring the N-1 glory back to Mexico. He wanted to face Marufuji in the finals (he also mentioned KENTA earlier in the afternoon, no one reacted, there was a pause, and it was almost as if tumbleweed blew across the stage).
It's not that NOAH are angry at KENTA (after all, Marufuji said he was to do his best in New Japan and not get buried, so he does have their blessing, meeting up with some of the roster for drinks etc), but its more the negative fan reaction to what is happening currently that made it so awkward.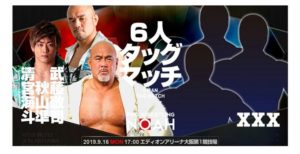 It was announced earlier this week that Jun Akiyama would team with Keiji Mutoh and Kaito Kiyomiya on the 16th September in Osaka. Kiyomiya had said that this third team member was someone who "knew the weight of the belt."
Kenoh naturally wasn't happy, seeing this as further evidence of LIDET'S favoritism of Kiyomiya that they would let him team with the chairman of a rival promotion (Akiyama has actually stepped down from that position), when they have said that within Japan, they will be having an isolation policy. The three opponents are yet to be announced, but it hoped that Kenoh will be one of them.
CURRENT CHAMPIONS
THIS WEEK IN NOAH
The N-1 continues on the 20th, 21st, 23rd, 24th and 25th of August.
BROADCASTS
Sunday, August 18th: Nagoya Congress Center, Aichi ~ Sunday 25th August, Samurai TV
Monday, September 9th: Korakuen Hall, Tokyo  ~ Sunday 15th September, Samurai TV
Monday, September 16th: Osaka Edion Arena 1st Stadium ~ Monday 23rd September, G+
LINKS
All ten wrestlers participating in the N-1
Chanko recipe from the Noah dojo
16th August – 9th September, merchandise and Noah's Ark Fanclub schedule
"My senior told me, win by breaking through the shell" ~ Interview with Shuhei Taniguchi
N-1 Victory: Introduction of participants
"I thought about wrestling 24 hours a day" ~ Kaito Kiyomiya and Takeshi Rikio talk
"Home Town Victory" ~ Go Shiozaki and Pro Wrestling Noah's league match on the 23rd
Picture credit: Noah GHC, PKDX
GIF credit: Noah GHC