Tiffany's Takes: 205 Live (7-30-19)
It is Drake Maverick vs Mike Kanellis to decide who faces Drew Gulak at SummerSlam!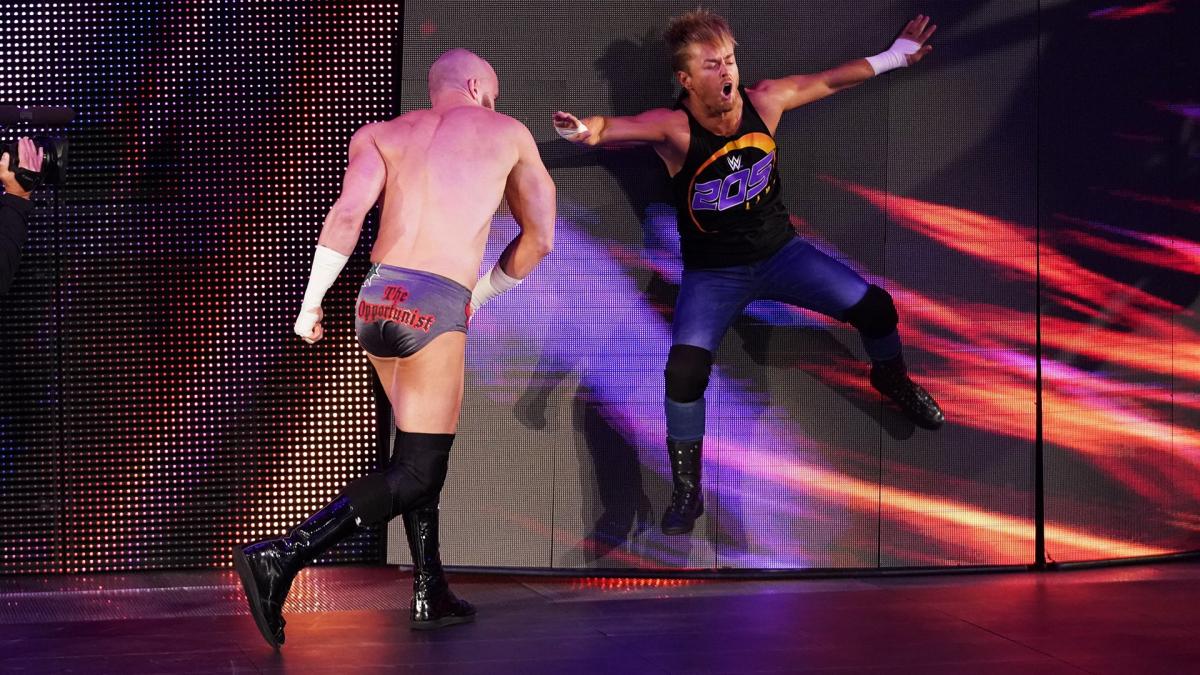 It is Drake Maverick vs Mike Kanellis to decide who faces Drew Gulak at SummerSlam!
Akira Tozawa and Brian Kendrick vs the Singh Brothers! I gotta give the Singhs credit for being men enough to go out in those outfits and and dance like two bit strippers. I know the dancing is supposed to be Bollywood, but the outfits make it something else. I love that the Singhs are such a well-oiled team, but they showboat a little too much. Okay, now I'm mad. The Singhs were looking so good, but WWE made them lose stupid. Come on, WWE, they're such a great team!
I'm still not feeling Humberto Carrillo and I know WWE's REALLY trying to make me like him, but I just don't feel him. There's just something there that I'm not seeing and it makes me sad.
Lucha House Party has an interesting warm up, at least for Lince Dorado and the Golden Lynx is taking on Ariya Daivari. Really good match, really glad these guys are getting some air time, Daivari's not been seen since his war with Oney Lorcan. I like Dorado, but I always hope for more mat wrestling, fewer gymnastics. Okay, I don't know what just happened, but it didn't look like a barrel of fun. I do like Daivari using the Cobra Clutch or is that the Million Dollar Dream? Looks like the Golden Linx pulled one over on the Golden Lion this week. I don't think Daivari's going to let that slide though.
Poor Mike Kanellis. Poor Maria Kanellis for having to do this horrible storyline. Plus, Maria should be stripped of the title since she can't defend it.
Honestly, I really want Daniel Bryan to go to 205 because they need a big name star. Gulak's as interesting as paint. Bryan's bland too, but he's got name recognition and his gimmick would work in 205.
Okay, I like that Maverick isn't rally wearing gear or is he, I can't tell. No, he's not. Okay. I really want Mike Kanellis to win and I want Maria to stay out of it. I hate this storyline because it projects an idea that a woman can't be tough without being abusive or a bitch and that being pregnant is carte blanche to act that way. Maria's had this gimmick for over a decade and it's worked everywhere but WWE because they let Mike, and Maria, to some extent, back it up. If this storyline had been reversed with Mike treating Maria that way, people would be calling for Vince's hide, so why is it okay for Maria to treat Mike like trash? I will give Maverick kudos for letting himself be Kanellis' punching bag because he's getting the trash kicked out of him. Maverick Hulking up is funny. This is such a good match, but that ending stinks! What does Kanellis have to do to get a title shot?! Maverick's the GM, he can't put himself in the title picture and this shitty, abusive, storyline continues! Be better than this, WWE!
That's it for Tiffany's Takes! Tune in tomorrow for 205 Live.