Tiffany's WWE RAW Takes: King of the Ring Continues
We are three weeks away from Clash of Champions and moves are being made! King of the Ring continues, and Nattie demands retribution against Sasha Banks.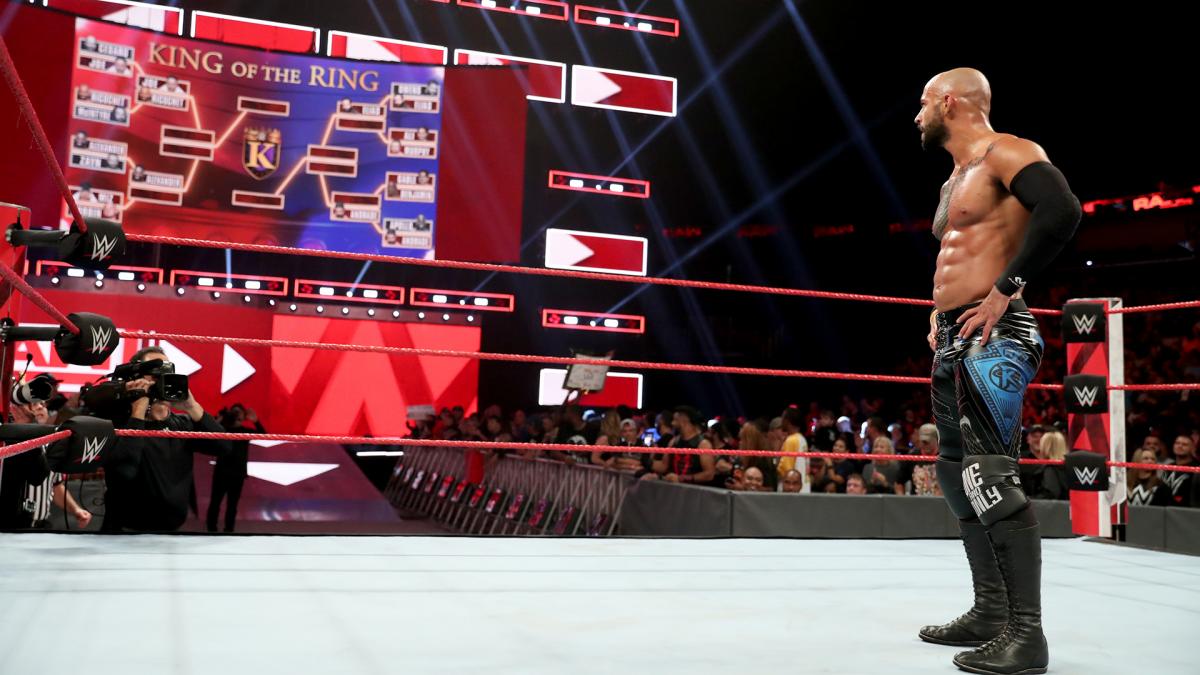 We are three weeks away from Clash of Champions and moves are being made! King of the Ring continues, and Nattie demands retribution against Sasha Banks.
King of the Ring
The second part of Round 1 of the King of the Ring Tournament was on tonight. First up was Ricochet vs Drew McIntyre. This match had several awkward spots, but I am THRILLED that Ricochet beat McIntyre to advance to face Samoa Joe! Next week is going to be amazing!
Next match was Miz vs Corbin. I don't really care for Miz, babyface or not, and I strongly dislike Corbin, so I really had no dog in this fight, but the match was really good. I'm not surprised that Corbin won since Cedric Alexander is a babyface and needed a heel to go up against. That match promises to be amazing!
Instead of doing another tag match for King of the Ring contestants, we got a singles match between Cedric Alexander and Cesaro, both of whom have advanced in the King of the Ring Tournament. I'm not going to waste my time describing how great this match was, you can probably figure it out for yourself. Alexander won, but Cesaro put up quite a fight and has nothing to be ashamed of, great stuff from both guys.
Women's Division
I'm really liking Sasha Banks' new attitude. It's more like her NXT!Boss attitude that gave absolutely no fucks. I also love them using the dirtsheet stuff in the promo. It gives this feud an actual reason that most fans of Sasha understand: She's been misused and she's frustrated and Nattie was a soft target. However, I'm a little curious about what the fallout of her comments about the Women's Tag Title match will be since Bayley is in the building. Also, good brawl.
I'm a little puzzled as to why Bayley vs Nikki Cross was needed on RAW. Yeah, Nikki's TECHNICALLY a RAW superstar, but her being a Women's Tag Team Champion means that she can go to either show. I'm guessing WWE wanted A Women's Champion on the show since Becky's on vacation. The match was really good, and I really wish Cross could get a title match of her own, hopefully that will happen down the road.
Nattie vs Banks was really good. Nattie's at her best when she's being personally attacked or someone trashes her family. Sasha had a lot of her normal moves, plus some stuff she picked up in Japan, including a variation on the Banks Statement that looked really nasty, which was nice to see, plus seeing the old, vicious, Boss was a breath of fresh air. I can't wait to see her and Lynch mix it up in September. Only thing I didn't like was that they didn't get more time or the main event. I'm sorry, AJ Styles vs Strowman for the US Championship…again, isn't that interesting to me.
RAW Tag Team Championship
Since Seth is in Maui on a lovely vacation with his NEW fiancee, we didn't have much movement on the Universal Championship match, but there was a Tag Team Turmoil match, presumably to decide who would get a shot at the new Tag Team Champions since the McMahons are back enforcing the 'No Automatic Rematch' rule.
This week's interview was actually from last week. I am not surprised that Seth's plan to neutralize the Strowman threat hasn't worked, but I think Rollins will survive Strowman. If I had to call it, they'll drop the belts to whomever wins the tag team turmoil and Rollins will retain the Universal Championship by DQ.
Tag Team Turmoil was exactly what I expected it to be, which was very good. Most of the teams were either former Tag Champs, or had a member that had been a tag champ. The only team I really didn't get was Bobby Roode and Dolph Ziggler. I'm going to assume that the Usos are still in the doghouse over Jimmy's DUI, and so a substitution was needed. The ending was absolute trash. In a tournament that featured The OC, Revival, Viking Raiders, and Heavy Machinery, why the hell are Roode and Ziggler getting a Tag Team Championship opportunity? You can't tell me that none of those other teams were ready. Way to waste the division, WWE.
That's it for Tiffany's RAW Takes! Tune in tomorrow for SmackDown and 205 Live coverage!