Best For Business: Worlds Collide In The Takeover Spot?
WWE is putting a Worlds Collide event in the Takeover spot for Royal Rumble 2020 weekend in Houston. But is this move…best for business?
WWE is putting a Worlds Collide event in the Takeover spot for Royal Rumble 2020 weekend in Houston. But is this move…best for business?
If you are unfamiliar with Best For Business, you can check out the introduction here. I take a look at a portion of the wrestling product from the industry's past, present, or future, and make a single determination: is it Best for Business?
This week's question is simple: WWE is removing Takeover from Royal Rumble weekend, and replacing it with a Worlds Collide event. Is this move Best For Business?
In a word: YES. (More below the ad–buy a shirt!)
---
Elisa looks great in her Chairshot gear.
You can, too!
Be like Elisa and get yours at:
https://www.prowrestlingtees.com/related/thechairshot.html
---
WWE released details of the 2020 Royal Rumble weekend of events, and one event name was noticeably missing: NXT Takeover Houston. Instead, a new name was prevalent. Take a look at the entire schedule, courtesy of Wrestling Inc:
Friday, January 24 – SmackDown in Dallas
Saturday, January 25 – Worlds Collide from the Toyota Center in Houston
Sunday, January 26 – Royal Rumble from Minute Maid Park in Houston
Monday, January 27 – Raw in San Antonio
While the fact that Friday's Smackdown isn't in Houston, it's in Dallas, and Monday's Raw isn't in Houston, it's in San Antonio, are both noteworthy developments, they pale in comparison to the face that Worlds Collide is listed for Saturday–in that I have already started to refer to as "The Takeover Spot." This lends itself to a ton of speculation, and if you know me, you know I love some educated speculation.
NXT  is moving to television, and by January it might be treated as a legit #3 brand. Thus, it's may be a part of the regular PPV events, contributing a match or so to the show. I personally think that is a big IF, as in the same Wrestling Inc report it's revealed that a WWE spokesperson indicated Takeovers will continue.
"That event will be Worlds Collide. The schedule of the 2020 NXT TakeOver Events will be out in the near future."
It's expected that Worlds Collide will feature action from NXT, NXT UK, and 205 Live. To me, this is one thing: BRILLIANT. The "Takeover Spot" is firmly established as a pure wrestling show, featuring the best in-ring competition WWE has to offer. NXT, NXT UK, and 205 Live fit that bill, but shifting the product slightly allows all three shows to feed talent into a Takeover-like event, giving the WWE Network brands a broader showcase. I fully expect an NXT Championship Match to main event this newly redone Worlds Collide event, with matches from the other brands underneath. The event name is broad enough to include main roster talent as well, much like Cesaro appearing at the recent NXT UK Takeover: Cardiff event.
Let's assume for a moment these events coincide with the WWE Big Four of Royal Rumble, WrestleMania, and SummerSlam. While it's hard to swallow a WrestleMania weekend with no Takeover, it's also equally possible we get a separate NXT event, or NXT has a presence at WrestleMania itself. That aspect of the black and yellow brand's move to the USA Network is still a bit of an unknown.
But if we assume that NXT is moving away from the Big Four in favor of Worlds Collide, then we still have 5-6 other Takeover events to take place. Assuming six (for ease of calendar), that gives us 10 of these events per year. Mix in 2-4 NXT UK Takeover events, and the calendar is suddenly loaded with some amazing events for us to enjoy.
We have to remember Triple H's take after Takeover XXV. He said it was the start of a new era, and that Adam Cole was the champion to lead the brand into this new era. He also said NXT could stand alone. I know the revelation was more recent, but this move to present NXT on the USA Network as a third TV brand didn't happen overnight. It very well might be in response to All Elite Wrestling. But they've been laying the groundwork throughout 2019.
And while it's very possible WWE NXT presents Takeover events in conjunction with other PPV events, it's also possible they run on different dates–maybe even against AEW pay-per-view events.
No matter how you slice it, WWE slotting Worlds Collide into "The Takeover Spot" is indeed Best For Business. Takeover established a spot that can benefit other talent now, and NXT has grown to the point where they don't need the Big Four PPV crowd. While this announcement will be remembered for the wrong reasons now, in the long term it'll be yet another very smart step towards the overall growth of WWE brands other than Raw and Smackdown.
Follow me, at least temporarily, on Twitter @ChairshotGreg.
King's WrestleMania Rewind: Stone Cold VS. Scott Hall (WrestleMania X8)
Chris King is back with another WrestleMania Rewind, looking at the NWO's Scott Hall battling Stone Cold Steve Austin at WWE WrestleMania X8 from Toronto!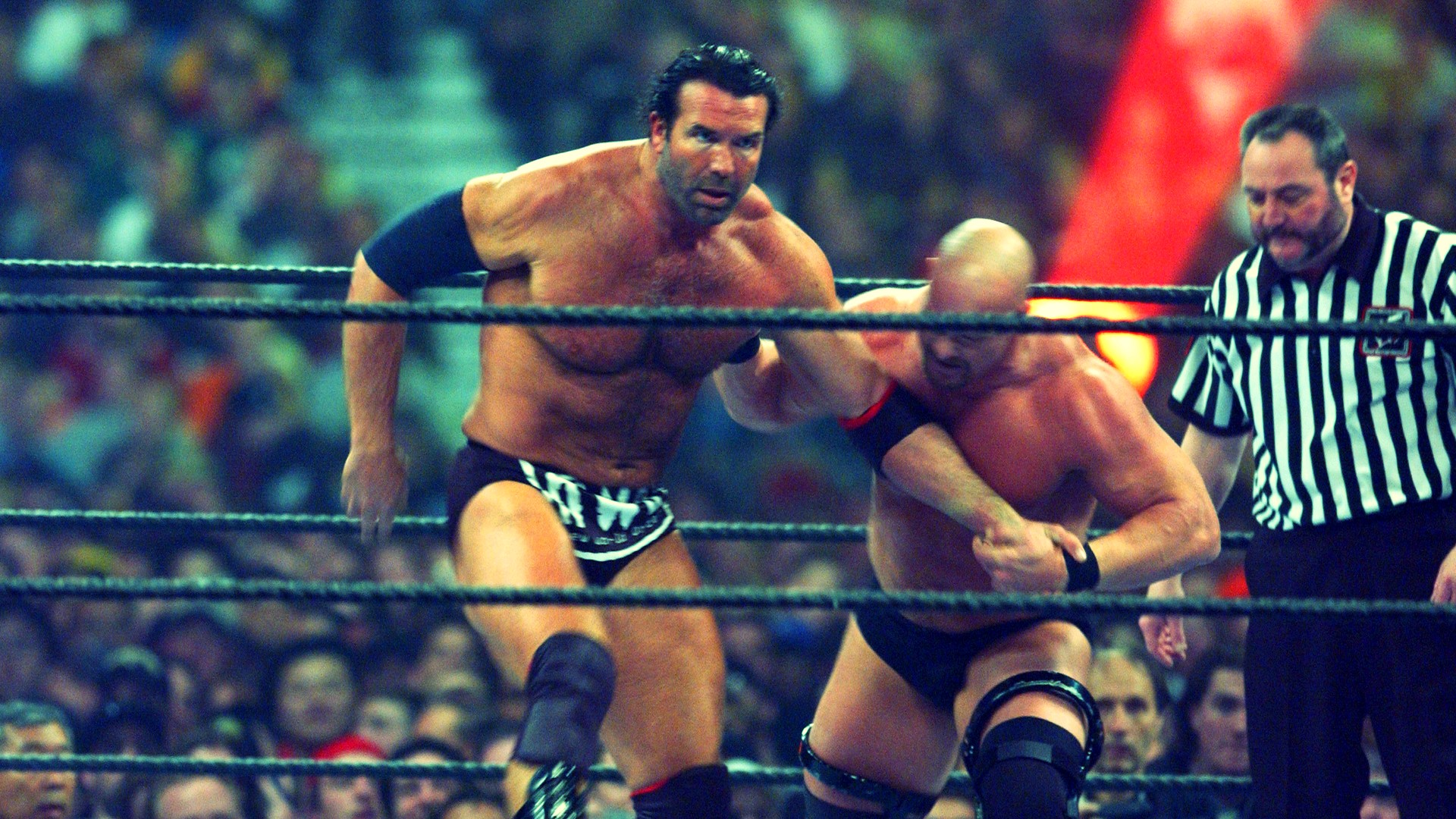 Chris King is back with another WrestleMania Rewind, looking at the NWO's Scott Hall battling Stone Cold Steve Austin at WWE WrestleMania X8 from Toronto!
Chris King is back this week with another edition of WrestleMania Rewind, where he is rewatching all the past Mania matches and feuds. This week you're in for a treat as we look back at 'Stone Cold' Steve Austin vs. Scott Hall at WrestleMania X8.
In late 2001, Vince McMahon bought out his competition WCW and acquired the rights to a plethora of talent including Booker T, Eddie Guerrero, Chris Benoit, and the iconic trio known as NWO. Hulk Hogan; Kevin Nash, and Scott Hall were hell raisers, and what better way to make a name for yourself than take out the two top superstars in the WWE The Rock, and Stone Cold?
The NWO cost Austin his chance at becoming the Undisputed Champion at No Way Out during his match with Chris Jericho. Adding insult to injury, the NWO spray-painted 'The Texas Rattlesnake' with their brand logo just like they did in WCW. As you can imagine, Austin was pissed and out for revenge against the group and primarily Scott Hall.
Hall would challenge Stone Cold to a match at WrestleMania 18. Both superstars beat the living hell out of each other leading up to this highly-anticipated match for who runs the WWE.
The glass broke and Stone Cold made his iconic entrance, and black and white NWO covered Halls' entrance alongside Kevin Nash. With the odds stacked against 'The Toughest S.O.B' could Austin or NWO prove their dominance? Sadly the NWO  broke up that very night when Hulk Hogan came to the aid of his adversary The Rock after their 'iconic' dream match. Stone Cold would ensure the victory with the Stunner. Hall would perform an Oscar-worthy sell over the finisher.
What a time to be a wrestling fan in the 2000s when nothing was impossible for WWE. Who would've thought WCW would go out of business and Hogan would make his long-awaited return to WWE?
King's WrestleMania Rewind: Seth Rollins vs. Kevin Owens (WWE WrestleMania 36)
Chris King takes a look at the most underrated WWE WrestleMania matches, and starts off with Seth Rollins battling Kevin Owens at WrestleMania 36!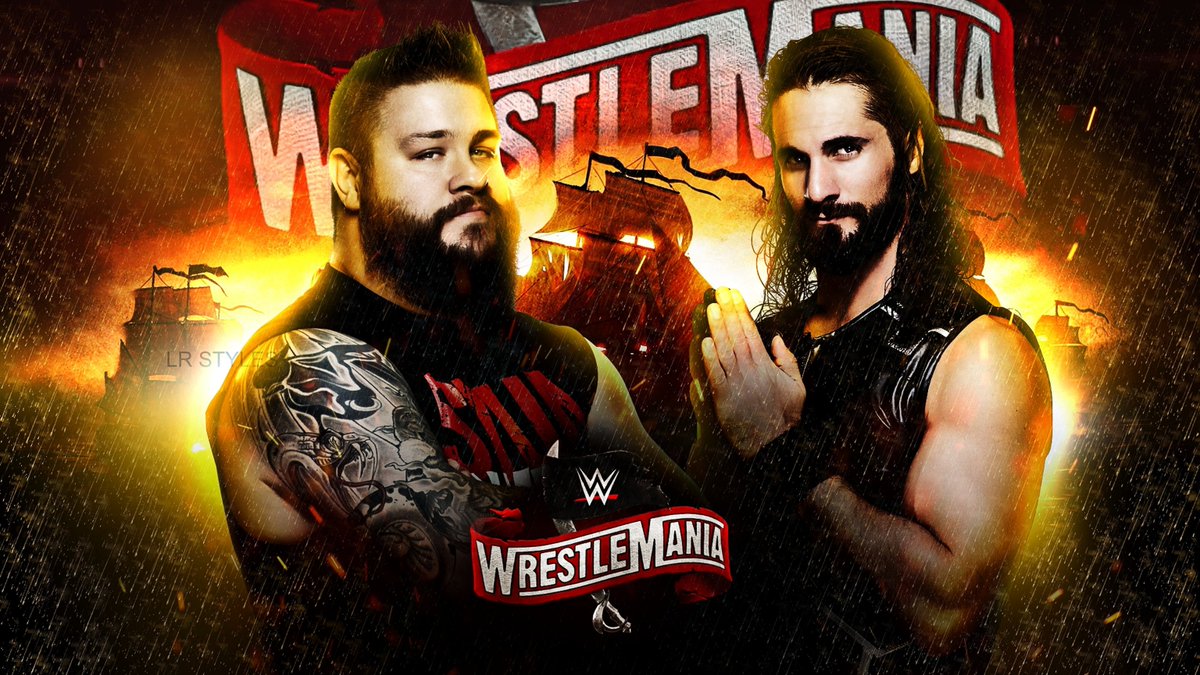 Chris King takes a look at the most underrated WWE WrestleMania matches, and starts off with Seth Rollins battling Kevin Owens in the WWE Performance Center at WrestleMania 36!
Chris King is starting a new series heading into WrestleMania season dubbed WrestleMania Rewind. Each week he'll be going back and sharing his insight over underrated matches at the Show of Shows. First up, is Kevin Owens vs. "The Monday Night Messiah" Seth Rollins at WrestleMania 36.
At the 2019 edition of Survivor Series, Rollins sacrificed himself during the men's traditional match allowing SmackDown to ultimately gain the victory. The following night the self-proclaimed Messiah, berated the whole roster but KO was not having any part of it. Owens quickly became a huge barrier in Rollins' cause for the greater good. The Authors of Pain attacked Owens with Rollins' character in question.
Owens finally had enough of his rival's mind games and torment and challenged Rollins to a match on the Grandest Stage Of Them All. Rollins mockingly accepted his challenge and the match was made official for night one of WrestleMania. Owens came out of the gate beating the holy hell out of the Monday Night Messiah trying to achieve his long-awaited moment at Mania but, Rollins tried to steal a disqualification victory by using the ring bell.
Owens hellbent on revenge provoked Rollins into turning their encounter into a no-disqualification contest where the fight could be taken all over the empty arena. The highlight of the match, was when KO used the WrestleMania sign to deliver a thunderous senton bomb through the announce table. Owens would secure the victory with a Stunner in an incredible match. Despite having no crowd during the pandemic era, both KO and Rollins put on an intense performance under the brightest lights.
In my personal opinion, this was a great feud that helped both superstars in their transformation as compelling characters for years to come.