Cook's Top 5: WWE Raw Announce Teams
With all of the combinations of announce teams, Cook goes over his Top 5!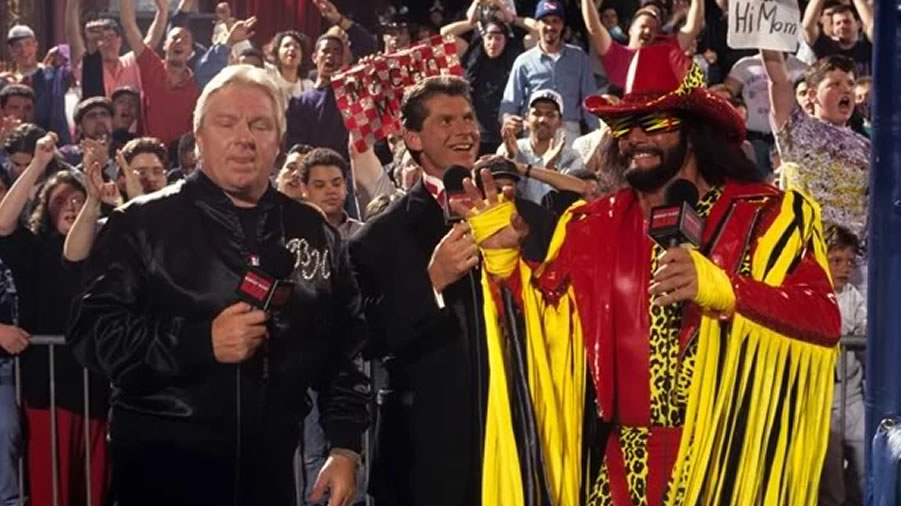 With all of the combinations of announce teams, Cook goes over his Top 5!
With all the changes coming to WWE's US show-carrying situation, it's not surprising that there would be some changes to the announce teams of the main shows. Fox is apparently a major network, so they have demanded to have the A-team of Michael Cole & Corey Graves call SmackDown, with Renee Young along for the ride as a Special Contributor. So USA got the leftovers for Raw, and they decided they wanted Vic Joseph, Jerry Lawler & Dio Maddin to call the show.
If you're like me and not up to date on 205 Live, you're wondering who the heck Dio Maddin is. You may also be wondering why the heck Jerry Lawler is still doing commentary in 2019, and there's an easy answer for that: Jim Ross & Tony Schiavone are under contract with AEW. I'm not saying Lawler would add a lot to that situation, but WWE probably doesn't want every announcer from the 1990s under contract to the opposition.
I have no idea what to expect from this team. Vic has been fine from what I've heard from him. I have not heard Dio because I haven't seen 205 Live in awhile. All I know is that it seems like the perfect time to look back at the Top 5 Raw announce teams.
5. Michael Cole, Jerry Lawler & CM Punk
It doesn't surprise me that the Fox relationship with WWE could lead to CM Punk being re-introduced to WWE fans through commentary. Apparently he's tried out for the WWE Backstage show on FS1, and if they're smart he'll be on it. The man has always been a talented communicator, dating back to his days in the independent wrestling scene. As skilled as he was in the ring, the microphone was always his strong suit. It was showcased during his month on commentary on Raw, and also on Superstars with Scott Stanford. He also did an episode of NXT with Cole & Josh Mathews that was incredible TV.
Punk was also smart enough to get out early in the Michael Cole heel run.
4. Vince McMahon, Bobby Heenan & Randy Savage
The real shame of the thing is we missed out on Vince, Bobby & Randy calling a couple of months of Raw because of the Rob Bartlett experiment and the chance to have Heenan wear women's clothing to try to get into the first Raw episode. We're talking about the perfect milquetoast play by play announcer alongside the greatest manager of all time & one of the greatest wrestlers of all time, all three being incredible talkers. It was great while it lasted, but it could have lasted longer.
3. Vince McMahon & Jerry Lawler
Commentator Vince always worked best as the straight man with funny heels. We all fondly remember his days calling Superstars with Jesse Ventura, and he had a very similar chemistry with The King during 1995-96. I watched a bunch of the early Raws a couple of years ago because they were up on the Network, and one of the things I noticed was Vince wanting people to comment on current events. He tried it a few times with Randy Savage and it was very awkward. Lawler was able to give some kind of commentary…whether it was great or not is certainly debatable, but at least it was content.
Vince loved working with Jerry. If you're one of those people wondering how Jerry Lawler is still on WWE's payroll after all of these years, that's why. Vince saw Jerry's quick wit in action back in the day, fell in love and that was that. Lawler's never done anything to piss him off either…even when the King left the company when his wife (at the time) was released, I'm sure Vince respected him for doing it.
2. Jim Ross & Jerry Lawler
JR & The King are among the most listened-to announce teams in the history of pro wrestling. They called Raw & PPV during the Attitude Era & for years afterward were the company's top announce team. There isn't a team that I can imagine doing a better job on Raw in the late-90s & early 2000s. Everything about the product played to Ross & Lawler's strong points, and they had great chemistry together in the classic play-by-play face/heel color commentator pairing. Would you want to hear anybody else calling the Austin vs. McMahon feud? Absolutely not.
The only issue: It wasn't the same after Jerry left the company. Lawler had already turned face & he & JR were established as friends, but the lack of fire from the booth became more & more noticeable through the years. As good as the JR/King pairing was in those Attitude years, it became a drain on the show in their later years. It didn't help that WWE brought in the likes of Jonathan Coachman as a third man to freshen things up.
Honorable Mention: Gorilla Monsoon, Bobby Heenan & Rob "Vince McMahon" Bartlett
So Vince McMahon & Randy Savage did a charity event. This led to a very interesting episode of Raw that aired on March 15, 1993. It's well known to people that know me that my favorite announce team of all time is the pairing of Gorilla Monsoon & Bobby Heenan. Nobody's topped them in my book, and I can't imagine it ever happening at this point. They had not appeared at the Raw table at this point, but they were there this week, alongside Rob Bartlett, who had been there since the beginning of the show.
For some reason, Rob decided to impersonate Vince McMahon on this evening. It was both the best & worst thing of all time. He somehow managed to get Gorilla & Bobby on the same page, which they realized meant that they were in trouble. If you haven't seen this episode of Raw, I highly recommend it, simply for the trainwreck factor of Gorilla & Bobby trying to deal with this nonsense. Just hilarious stuff.
1. Jim Ross & Paul Heyman
The Invasion rightly gets a lot of guff from online wrestling pundits. It wasn't all bad though, especially on the announcing side of things. While the McMahons were wrapping themselves in the WWF, WCW & ECW banners and trading wrestlers back & forth like baseball cards, Jim Ross was sitting at the Raw announce booth alongside a man that nobody ever expected to see behind an announce table again, much less a WWF announce table. Paul Heyman's ECW dreams were over, but he landed in The King's vacated chair next to Good Ol' JR and spent most of the next several months irritating the hell out of his old colleague from the WCW days.
Insiders were convinced there was some kind of heat between Ross & Heyman based off their interactions at the announce table, which goes to show what a great job they did. They spent about nine months together, which in hindsight was just about the right amount of time for them. Ross & Heyman didn't get the chance to wear out their welcome with the audience. It was brief, and it was awesome.
Well, the stuff they were calling wasn't all that awesome. But Ross & Heyman weren't booking at the time, so we can't blame them for that.