Cook's Top 5: Barbed Wire Weapons
With the prevalence of Barbed Wire in Kenny Omega vs. Jon Moxley, Steve Cook presents his Top 5 Barbed Wire Weapons!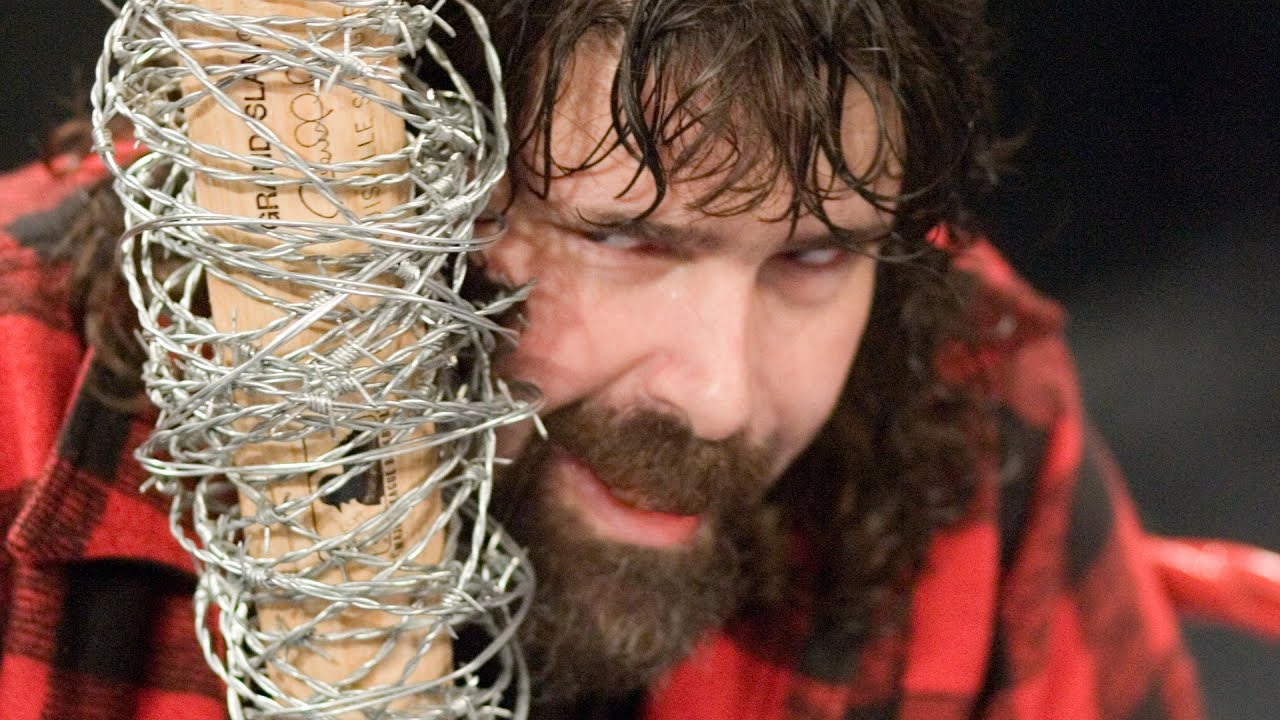 With the prevalence of Barbed Wire in Kenny Omega vs. Jon Moxley, Steve Cook presents his Top 5 Barbed Wire Weapons!
One of the top feuds in the early days of All Elite Wrestling features one of their EVPs against one of their top free agent signings. Kenny Omega is part of the Elite and part of AEW's brass, but he's not ducking the top competition. Jon Moxley is one of the most dangerous men of this or any other era. He doesn't care about his own personal safety, and he cares even less about anybody else across the ring from him.
They faced off with barbed wire weapons on the most recent episode of AEW Dynamite, and Tony Schiavone marked out with the rest of us. It was awesome, and it made me wonder what the top five barbed wire weapons in wrestling were.
So here we are.
5. Chair
The barbed wire chair rating this low will certainly get some negative feedback on this website. I mean, we're all about chairshots here, right? Yup, we do love us some chairs around here. The thing is, you don't need to add anything to a chair. One really good chairshot is all you need. Adding anything else seems like overkill.
4. Broom
Kenny Omega is the first person to think of wrapping barbed wire around a broom. It works on a couple of levels. First of all, it's a callback to his New Japan days where he was known as "The Cleaner". Kenny was part of the Bullet Club, and he was given the duty of cleaning crime scenes after Bullet Club mayhem. He phased that nickname out later on during his time with the promotion when he wanted people to like him, but it was a thing during the time he was getting over.
The other way it works? As Jim Ross said on AEW Dynamite a couple of weeks ago, people always said Kenny could have a good match with a broom stick. That was what people said about guys like Flair, Steamboat & Michaels back in the day. So it makes all the sense in the world for Omega to take a broom stick out. If it has a little barbed wire added on, well, that's even more fun!
3. Table
There aren't many more popular weapons in professional wrestling than the table. The Dudley Boyz got over in WWE with Bubba Ray telling D-Von to get the tables. We all love us some tables, and adding barbed wire to the occasion just makes things more exciting.
2. Board
As much as I love a table wrapped in barbed wire, a board is so much better. It's much less dignified, which I think is important when you're talking about hardcore weapons. The sleazier they are, the better, and it doesn't get much more sleazy than a random piece of board wrapped in barbed wire.
The table works without the barbed wire. A random piece of board without barbed wire really doesn't work. It seems cheap by itself, but tremendously dangerous with barbed wire wrapped around it.
1. Baseball Bat
We're talking about the favored weapon of Cactus Jack during his WWF/E years, so obviously it's going to be the most memorable. Mick Foley didn't invent the idea of the barbed wire baseball bat, though. The first people to use it in North America were Ian & Axl Rotten during their ridiculously brutal ECW feud that helped put the promotion on the map. I still remember the pics in Pro Wrestling Illustrated of Ian & Axl grinding the bat into each other's skulls. Sick stuff.
Then Foley was smart enough to take the weapon for himself in WWE & cut great promos about it like the one featured above. He was always a great story-teller and always made sure to have things have a meaning. If he was going to use something, he wanted to have a story behind it. ECW fans knew the full story, and they had no problem with Mick adopting it for his own purposes. If anybody deserved it, he did. I'm sure the Rottens were wishing they had filed a copyright or something, but that's their cross to bear.
Does anybody doubt that Jon Moxley should be the man to swing the barbed wire baseball bat into the next generation? They really shouldn't.