King: Superstars On The Rise
Chris King shakes things up this week by highlighting the stars of Monday Night Raw to pay attention to heading into Survivor Series.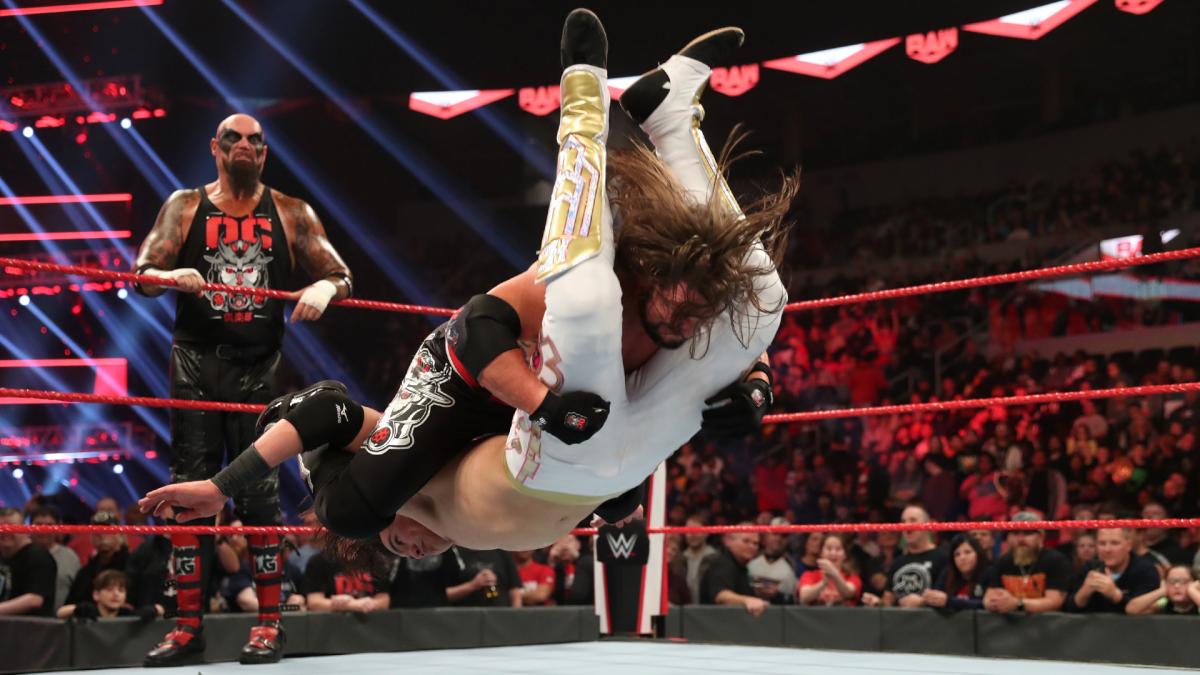 Chris King shakes things up this week by highlighting the stars of Monday Night Raw to pay attention to heading into Survivor Series.
There is a lot to unpack from this week's episode of Raw, we saw the Universal Champion Seth Rollins battle the monstrous Erick Rowan in a chaotic falls-count-anywhere match, and the WWE Universe witnessed "The Bulgarian Brute" Rusev finally get his hands on "The Almighty" Bobby Lashley after weeks of humiliation. With Survivor Series right around the corner here are the superstars to keep your eyes on.
5. Rusev
Throughout the past month, Rusev has been involved in a raunchy love triangle storyline between his wife Lana and her new lover Bobby Lashley. While I have not been super interested in the story between all three, something I couldn't overlook is Rusev's character development. For the first time in his WWE career he actually feels real he's exhibiting real heartfelt emotions and frustrations.
Lana was right, Rusev has no feelings – at least not in his back… #RAWpic.twitter.com/tYuzJx5CUl

— GIF Skull – Cowboy Lawyer #AEWDynamite (@GIFSkull) October 29, 2019
No longer is he just a foreign heel degrading the USA, The Bulgarian Brute is pissed off and I'm loving it. The fact that while Rusev was beating the holy hell out of Lashley the WWE Universe was chanting "Rusev Day" shows that this is getting him "over." Some may argue that Rusev's pairing with Aiden English got him over and while I agree to a certain extent it was only English's mic skills and songs that was "over." Rusev is at his breaking point and it's incredibly fun to watch.
4. The Street Profits 
While on this week's episode, The Street Profits Angelo Dawkins and Montez Ford didn't compete in a match they once again had a good showing. WWE must have a huge amount of confidence in the duo because they gave them at least ten minutes to come out into the ring and hype the crowd. The charisma and electricity Dawkins and Ford carry is crazy and the WWE Universe is eating it up.
You hear that?

The @WWEUniverse WANTS THE SMOKE! #RAW #StreetProfits pic.twitter.com/AMlihI0kZ4

— WWE (@WWE) October 29, 2019
Later in the night, The Street Profits did come to the aid of Humberto Carrillo as The O.C., began a three-on-one beatdown where they sent the heels packing. I'm expecting next week we'll see a six-man tag match with The Street Profits having another terrific match. When the former NXT tag team champions began delivering their Flavor Flav style promos I don't think anyone expected them to be spotlighted on Raw but they have and it's awesome.
3. Kairi Sane
The Kabuki Warriors opened the show this week making another bold statement. This time it was to the woman that brought them together Paige who was blasted with the green mist. Ever since Asuka and Sane turned heel they've been portraying a villainous duo reverting to winning at all costs and solely speaking in Japanese. "The Man" Becky Lynch made her entrance and the match was on. Lynch was more than ready to get her hands on Sane after weeks of humiliation.
Call me crazy, but I think Becky Lynch vs Kairi Sane might be pretty awesome. #RAW pic.twitter.com/CHfgw1fCZ5

— Daily DDT (@FanSidedDDT) October 29, 2019
The former Pirate Princess looked every bit of a star here taking the fight to the Raw Women's Champion. Her strikes were wicked and her maneuvers had ill-intentions behind them. Keep in mind that Lynch had to stay alert for Asuka to interfere any chance she got. The Man silenced her rival and stood tall with a hard-fought victory but the true gem was Sane in my opinion. I love this new evil and maniacal side of her personality. This is the kind of development that will one day see her climb the mountain and win the women's championship.
2. Humberto Carrillo & AJ Styles
This was only Humberto Carrillo's second week on Raw, and he's already breaking down barriers that other Cruiserweights have had to climb over. On his first night the Lucha Libre superstar went toe-to-toe with the Universal Champion Seth Rollins in a fantastic match and this week he was proving he belonged to "The Phenomenal" United States Champion AJ Styles. During a backstage segment The O.C., primarily Styles felt disrespected that Carrillo chose Rollins over him last week and challenged him to a match.
.@humberto_wwe is giving @AJStylesOrg a run for his money on #RAW! pic.twitter.com/I4bpi8bjrR

— WWE (@WWE) October 29, 2019
I would like to also point out how amazing Styles is a heel. He sells like crazy and his facial expressions are spot on. The United States Champ bumped all over the ring for the Cruiserweight making him look like a million bucks. Carrillo hit all his signature maneuvers from his flying armdrag to his breathtaking Moonsault and yet Styles kept fighting out. The wily veteran took advantage after Carrillo tweaked his knee off the ropes and locked in the Calf Crusher for the tap-out.
The #CalfCrusher taps out @humberto_wwe, and the #StylesClash adds insult to injury.#RAW @AJStylesOrg pic.twitter.com/z5UhuD9dqn

— WWE (@WWE) October 29, 2019
Following the match, Styles faked-out the young up-and-coming superstar with a handshake instead Carrillo smacked the hell out of Styles for his blatant disrespect. What followed next was a three-on-one beatdown from The O.C., until The Street Profits made the save to likely set up a fantastic six-man tag for next week.
1. Drew McIntyre & Ricochet
"The Scottish Psychopath" Drew McIntyre and "WWE's Resident Superhero" Ricochet clashed in a rematch from last week. Before McIntrye could even make it to the ring, Ricochet drilled him with a suicide dive sending him crashing outside. After a quick fury from "The One and Only," McIntrye took control for the remainder of the match. "The Scottish Terminator" has begun to find life after a horrible 2019 so far.
The two rivals told an incredible story between the ropes of the brutal and unforgiving ass-kicker and the no-quit resilient babyface barely surviving. McIntrye cut the high-flyer at every turn just beating the holy hell out of the fan-favorite. In my opinion, in only two weeks McIntrye has looked more like a star than his entire run with "The Best in the World."
This move is so special that is should be saved for big matches. #RAW pic.twitter.com/QsHRJUHlmy

— Fightful Wrestling (@FightfulWrestle) October 29, 2019
This Thursday will be a very big sign if the five-on-five turns into an all-out massacre courtesy of "The Scottish Psychopath."  If WWE can build McIntrye back up as an unstoppable force then he should be the next in line to challenge for the Universal Championship.