Mitchell's NJPW Press Conference Report! (10/21/19)
Living in America~!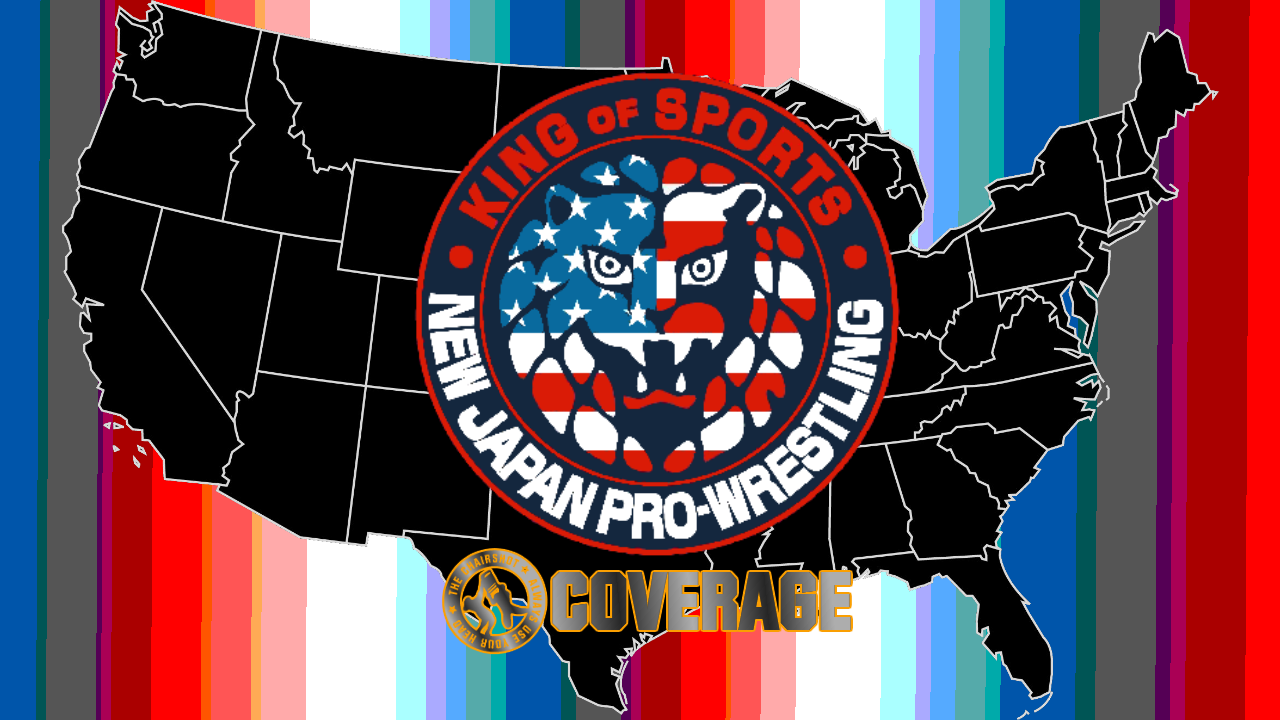 Living in America~! – James Brown, 1985
As of 2 AM Eastern Standard Time on October 21st (11 PM Pacific), New Japan held a press conference to view free on New Japan World, and later had a transcript on their main site. I'm simply going to sift through it and point out the important elements.
New Japan Pro-Wrestling of America is preparing for November!
Based out of California, this new subsidiary of the top dog in Japan plans to officially begin operation as we go deeper into Autumn. It will still be run by NJPW's top brass, such as Chairman Naoki Sugabayashi and CFO Michiaki Nishizawa, along with CEO Takami Ohbari and COO Kaname Tezuka. Ohbari gave the presentation detailing the structure of NJPW of America, and "the decision making behind its establishment." This subsidiary is phase three of NJPW's overall expansion into the US and other international markets.
To review: Phase one involved "discovering new wrestlers in markets outside Japan and developing talent through the LA Dojo"; phase two involved running "events in the US, including at Madison Square Garden and Dallas this year, both independently, and with the assistance of other promotions." Therefore, phase three is for NJPW to "establish a company within the US, and be ingrained in the everyday fabric when it comes to fans' wrestling consciousness." Ohbari went on to explain what was next as NJPW of America prepares to move forward. "Growing a footprint and increased consciousness in America will become a key factor, especially as competing cash rich promotions are being established." In other words, as a company like the WWE tries to get an NXT Japan established, NJPW is ready to counter.
Ohbari explained that "fans of NJPW are strongly invested in the concepts of Strong Style and the high level of wrestling that New Japan provides." Not only that, but "the majority of fans surveyed during the recent Dallas event stated that they watched other wrestling besides NJPW, and that they still expressed a preference to the different style and approach that New Japan presents." And that is very on the mark for those who know what The Chairshot, and myself specifically, are all about. So long as NJPW of America brings Strong Style to the states on a regular basis, this new branch will thrive, even with NXT and now the rising All Elite Wrestling being out and about.
But how is NJPW going about this?
Two words: live events. Also known as "house shows," this will be the core of NJPW of America. Ohbari expressed that "the goal will be for American fans to experience NJPW up close and in person on a regular basis." The touring structure focuses on "five key areas" within the continental United States: West, East, South(east), Mid(west), and Texas. That's right, Texas! You're a region all your own as far as NJPW is concerned! And that makes a lot of sense, given Dallas got to kick off this year's G1 Climax tournament.
The exact breakdown of each region was put on a map graphic, with the distribution detailed as:
WEST: 6 cities across 4 states
MID: 7 cities across 6 states
TEXAS: 4 cities
SOUTH EAST: 6 cities across 4 states
EAST: 4 cities across 3 states
As you can see, nothing has been confirmed or denied about what cities they plan on in each state, though certain ones might be obvious when you consider the regions and states. The thinking behind these specific regions states being chosen is to allow the "majority of the US fanbase-some 70% according to market research-to be able to attend an NJPW event and see New Japan action near to them." This makes a lot of sense, given how other promotions in America tend to tour. A wrestling company goes where they know wrestling fans are, and I'm sure it isn't impossible for you hardcore fans just outside the region to take a road trip.
Ohbari assured that this is by no means leaves their home fans "abandoned." The expansion "will see benefits on both sides of the Pacific." "While the LA Dojo has existed solely as a Dojo up to now, it will now see a full office environment that is designed to support business in the States, as well as to support talent." This will essentially ease the travel concerns for American-based wrestlers who want to join NJPW, because now they can stay close to home and still represent the company in the States. This will also boost scouting power, as there can be dedicated management of the tryouts and camps, which "will lead to a deeper roster of talent and better matches and events going forward."
Picture this being on par with what NXT, and even NXT UK, does for the WWE. It will be one part developmental, one part an avenue for introducing wrestlers to the main stream fanbase, and all with the hopes that one day, there is a major crossover for dream matches within the company as a whole. In the same way WWE has used NXT to give us a match like Walter VS Kushida, we could see NJPW of America bring us any number of American independent talents to have amazing matches with each other, as well as with the big names from THE NJPW. One does have to wonder what this means for ROH's relationship with NJPW, but that perhaps will be addressed at a different time.
NJPW opens it to the press!
The assembled media outlets were allowed to ask questions of Ohbari, as we are all naturally curious about what this all means.
"As NJPW runs more events in America, what are the differences between the two markets?"
Ohbari understood that America has "more of a range" in the wrestling fanbase. A bigger range of ages, largely thanks to television coverage of pro-wrestling, and it can even be seen as something for the whole family. Ohbari's understanding is that American audiences "also skew more male; in Japan, our male female balance at events is 60:40, while in America it's more 80:20." Ohbari also understands that "because there are a lot of young fans, they often view content digitally rather than through TV," and assures that NJPW is ready to pounce on that.
"Will there be plans for longer tours in the US, of the order of the three to four week Power Struggle tour that crosses the whole country, as distinct from the condensed Super J-Cup and Fighting Spirit Unleashed weekends?"
To shorten that, how are these NJPW of America tours working exactly? Ohbari pointed back to his map graphic, and is thinking NJPW will be "keeping to tours taking place in those areas and not outside." They won't be making one huge circuit where they jump from West to East, but rather "you'll have the west coast tour, and then the Texas tour later, then the central tour and so on."
"Will tours in the US run concurrently with Japanese tours, or could it be that American and Japanese tours run at the same time?"
Those technically mean the same thing, but Ohbari said "that US events will take place while the Japanese schedule is between tours." I believe that means it is more of an alternating scheduling just so fans aren't overwhelmed. But Ohbari did add that "if there is high demand from fans, simultaneous tours may become a possibility." So there may come a day when NJPW of America has a live event in Texas, after an event back home in Japan occurred. This perhaps could make for entire days where an American NJPW fan can be watching NJPW wrestling, one online and then one in person.
"What are your plans in terms of scale of events?"
Ohbari says NJPW will look at venues with at least 2000 seats, but might have to be less depending on circumstances. "We are a live event company, and the first priority of a live event company is to run in more venues. Once people are in those venues, then we can fire them up and have them ready to spread the word to larger and larger audiences." But first and foremost, Ohbari says it is about frequency, not size, and then build to those larger venues.
"Do you have plans for a certain number of events per year in the US?"
That is something Ohbari must discuss with Chairman Sugabayashi, but as NJPW does a mostly monthly schedule, with 12 to 13 events just this calendar year, "we could be in the region of double that next year." The math is obvious, but that could mean two major Pay-Per-View type events a month, one for Japan and one for America, paralleling how WWE and NXT have their respective PPV's and TakeOver events.
"Will events be primarily broadcast on NJPW World? Also will there be dark match only Dojo events?"
"As much as is humanly possible," Ohbari says they plan to air those events live on NJPW World. And if it can't be live, then it will be On Demand. And while nothing is decided for Dojo events, "we have a large space in the LA Dojo and it may be a possibility in future."
"Will the increase in American events necessitate a reduction in the number of Japanese events?"
No, there are no such plans.
"So there will be more total events on the calendar?"
Yes!
"Can you give any details with regards to television rights?"
Ohbari knows AXS TV has been a great partner for American TV audiences, and plans to keep that partnership going. With these US events coming and increasing, Ohbari and NJPW would love "to be able to make more opportunities for fans to watch those events live and in real time on TV, and those are opportunities we're excited to discuss with TV partners going forward." AXS TV has already done a lot of work to keep up to date with the NJPW events that are the most crucial, though that did mean skipping the FSU Weekend since it didn't have much affecting storylines, but this time next year, AXS TV (and by extension, us here at the Chairshot) could be much busier with airing NJPW of America events, but to their (and our) benefit.