Chris's Takes For 205 Live 11/08/19
For the first-time-ever 205 Live emerges from Full Sail Arena where superstars from NXT will clash with the amazing high-flying Cruiserweights.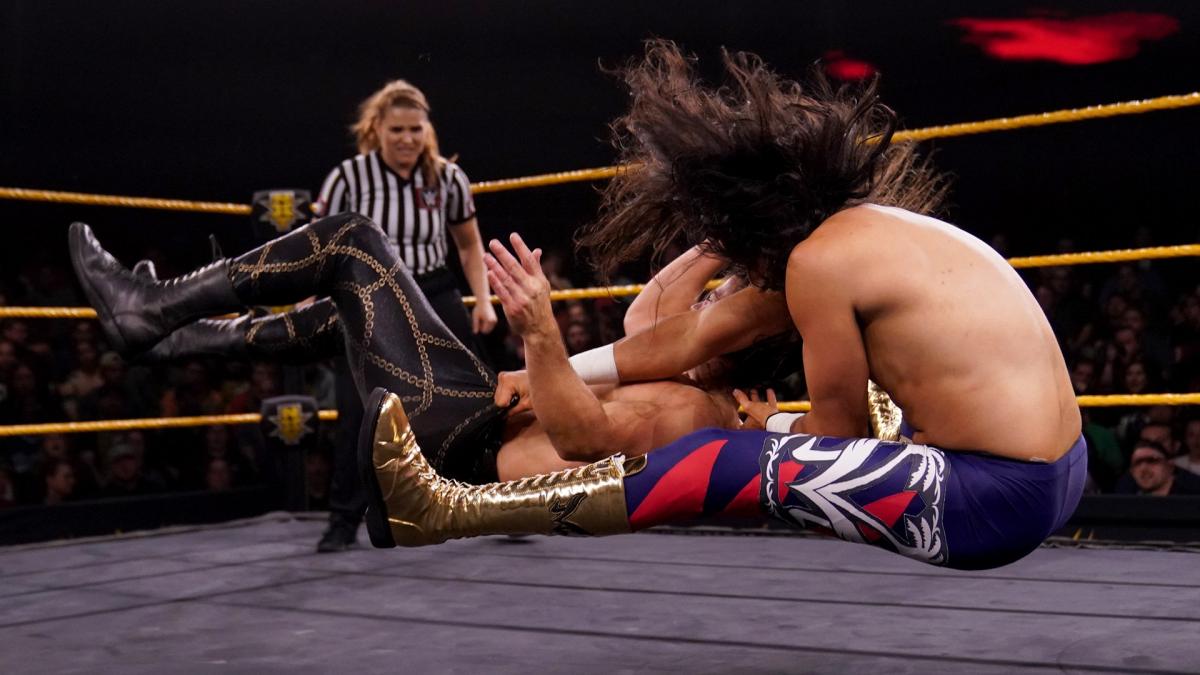 For the first-time-ever 205 Live emerges from Full Sail Arena where superstars from NXT will clash with the amazing high-flying Cruiserweights.
"The" Brian Kendrick vs. Mansoor 
The match started with Kendrick blasting the Mansoor with vicious strikes. The Saudi superstar answered back with a stunning dropkick. The wily veteran turned things around with a nasty kick caught between the ropes on his opponent. Kendrick began relentlessly attacking the injured arm trapping it in dangerous submissions.
Mansoor finally gained some momentum after executing a jawbreaker followed by some nasty-looking knife-edge chops and running knee. The Saudi superstar picked up speed and delivered a roll through Suplex/falcon arrow combo for a near-fall.
Kendrick caught his opponent in the corner with a stiff kick and went for Sliced Bread No. 2 but the young up-and-comer countered into a thunderous Death Valley Driver. The veteran countered a half and half suplex into one of his own. Kendrick attempted Captain's Hook but Mansoor got caught with a powerslam but trapped the veterans' legs to secure the victory.
The man is a WINNING MACHINE.@KSAMANNY picks up the victory over @mrbriankendrick on #205Live! pic.twitter.com/r20ICaaILv

— WWE (@WWE) November 9, 2019
Opinion: The Full Sail crowd was red-hot for Kendrick throughout the match. This was a great opener something that has become a staple for the purple brand. I'm just hoping these losses will amount to Kendrick demanding a title shot sooner than later. Mansoor has been picking up victories as of late. First at Crown Jewel and now tonight. He's definitely on a roll right now perhaps, he could be challenging for the NXT Cruiserweight Championship or the North American Championship in near future?
A replay of Angel Garza vs. Tony Nese on this week's episode of NXT where after a fantastic match the Lucha Libre favorite picked a major victory to become the number-one contender for the Cruiserweight Championship. If you haven't watched this match I strongly urge you to. Both competitors gave their blood, sweat, and tears all for a title shot. I'm thoroughly excited for this Wednesday's NXT Cruiserweight Championship Match!
'Sup, @itsLioRush?@AngelGarzaWwe is coming for your gold! #WWENXT pic.twitter.com/d9qgRXFh4D

— WWE (@WWE) November 7, 2019
A video package aired hyping Danny Butch's arrival to 205 Live. I can't wait to see him in action!
Main Event: Lio Rush vs. Raul Mendoza
This is a rematch from last week's thrilling main event. The match started with the Lucha Libre superstar right out of the gate firing a dropkicked the champion but it was avoided as Rush used his quick speed to dodge his opponent. Mendoza caught him with a stiff knee strike followed by a stunning tornillo on the outside. Back in the ring, Mendoza hit a series of maneuvers including a swinging neckbreaker for a near-fall.
The high-octane action continued as both competitors made attempts to go up top but were thwarted. The champion was in a world of trouble as Mendoza applied a Surfboard Stretch in multiple positions. Rush turned things around after countering a suplex and delivered a basement tornado kick.
A series of clotheslines, handspring elbow and a handspring kick sent Mendoza crashing to the outside. The champion was firing on all cylinders as he wiped out his opponent with a suicide dive. Rush successfully executed the Springboard Stunner but only got a two-count.
Mendoza answered back with a thunderous maneuver for a near-fall of his own. The Lucha Libre superstar went up top for a high-risk move but landed but nobody was home. Rush delivered a series of wicked kicks and hit a Twisting inverted double underhook facebuster for the victory.
This was a thrilling match from start to finish it had the WWE Universe on the edge of their seats. Chants of "205" erupted through the arena. Mendoza continues to impress every single week and here was no different. His athleticism and quick speed make him fascinating to watch. While he may not have won the match, this is the second week in a row that he's pushed Rush to his limit.
The NXT Champion made the Lucha Libre superstar look like a million bucks here even in defeat. Rush needed a victory to carry the momentum into his match on Wednesday against Angel Garza.
Summary: I loved that Mansoor was given a huge opportunity to clash with a seasoned veteran such as Kendrick. Him picking up the victory over one of the most talented superstars on 205 Live was even better. I was a bit disappointed that instead of utilizing more of NXT's superstars as the show was hyped for, we saw a replay of Nese/Garza in its entirety. That was definitely a head-scratcher for me.
Rush and Mendoza have impeccable in-ring chemistry and I definitely feel that the Lucha Libre superstar at least deserves one title shot soon. Last but certainly not least, why can't 205 Live air at Full Sail Arena every week? The raucous crowd made both matches feel special and important, something that doesn't happen very often these days. If WWE wants to save the purple brand they need to look into making a change in venue.