Cook: WWE's Women's Evolution Becomes Their Salvation
Cook discusses the one major light in any darkness for WWE, the Women's Division!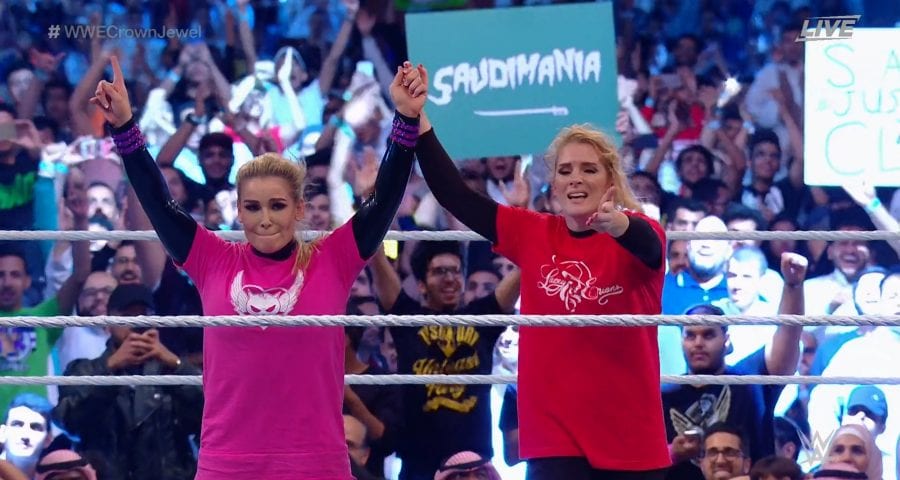 Even the staunchest WWE defenders have had a difficult time putting a positive spin on recent events. Any momentum brought about by SmackDown's move to Fox has seemingly been squandered within a month. The recent draft has produced very limited results from a popular or critical perspective on that show & Monday Night Raw. The Universal Champion constantly has his foot in his mouth while trying to promote the company.
A recent t-shirt controversy combined with the return of Hulk Hogan & Kofi Kingston losing the WWE Championship in six seconds has the company looking poor on the diversity front. Saudi Arabia still has a negative connotation in the eyes of most.
Also, the third quarter financial report came out & didn't impress Wall Street. At all.
There have been worse stretches of publicity for WWE, but there's no doubt that the company could really use some good news heading into the closing months of 2019. Fortunately, as has happened quite recently in recent years, the female Superstars are stepping up to the plate.
It Happened!
People that have been all about the Saudi Arabia shows as a way to influence change in what's traditionally been one of the more oppressive regions of the world have to be pretty happy with this week's news. We finally saw a ladies' wrestling match on a show emanating from the Kingdom of Saudi Arabia, as Lacey Evans & Natalya continued their feud. Even the staunchest defenders of MbS & the Saudi regime probably didn't think it would happen so soon, but the time was right for it.
Mostly because both WWE & Saudi Arabia could use the positive publicity. I'm sure this fact was mentioned to the Crown Prince on several occasions. Nothing wrong with a little quid pro quo action, am I right? There's no doubt that Saudi Arabia still has a long way to go and still needs to cut back on things like killing journalists & political opponents, but allowing the womenfolk in the ring is a step in the right direction. I still have plenty of misgivings over the whole Saudi Arabia situation, but I have to give credit to WWE for pulling this off.
The one knock people could find for the match is that it's not Becky Lynch vs. Sasha Banks. Or Bayley, or whoever else they would rather see in the spot. To me, this is like the United States electing a female president and people complaining about the pantsuit she wears for the inauguration. There's more important things going on here than the identities of the competitors. I'm sure there are reasons Nattie & Lacey were chosen, and hopefully it paves the way for others to be chosen for the slots.
Of course, the next step will be to get them to let Lacey wrestle in her traditional ring attire. If they can pull that off, Vince McMahon should be nominated for the Nobel Peace Prize.
War Games!
We can't be all about peace & love & hope & change though. Every once in awhile, war must enter the picture. NXT's annual War Games is approaching, and for months people have been speculating over which men would step into the cage to battle the Undisputed Era. We know who three of them will be, but there was even bigger news to break on Wednesday's NXT show regarding the upcoming War Games event.
There won't be just one War Games match this year.
A large number of NXT women want the next shot at Champion Shayna Baszler. Rhea Ripley previously lost to the champ via questionable disqualification. Io Shirai lost to Baszler in a cage match & became evil as a result. She's been on quite the winning streak since then. Bianca Belair has come up short in her opportunities against Shayna, but she beats everybody else & has no lack of confidence in herself to win the title one of these days. Candice LeRae lost her shot pretty recently but is still in the picture. Then there's Dakota Kai & Tegan Nox, who keep crossing paths with Baszler & the Horsewomen.
They all keep interacting with each other in interesting ways that make for good wrestling & good television. As usual, William Regal's answer for all this is to put everybody into War Games. Ripley will captain one team, which will likely consist of LeRae, Kai & Nox based on the faceoff at the end of the skirmish. Baszler will lead the other team, which might be a little trickier to figure out because there were five people outside the ring there. 3 Horsewomen, Shirai & BelLair. Perhaps Shayna sits it out? Maybe Team Ripley adds a member to make it five on five? That could be some drama to fill the weeks until War Games.
An advantage in the WEDNESDAY NIGHT WAR~!
If there's one advantage NXT undeniably has over AEW at this point, it's the women's division. Granted, AEW had probably their best Dynamite women's match yet this past Wednesday with Hikaru Shida & Shanna putting on a pretty good show. But if you compare what AEW's put out there with their ladies to the NXT Women's Division as it stands right now, there's really no contest. NXT needs to emphasize that, and what better way than to feature a women's War Games match?
Just when you thought WWE ran out of "firsts" for the female superstars to accomplish, they found a couple more. There might not be an Evolution event this year, but the women have provided WWE with some salvation at a time when they really need it.