NXT's TakeOver On Friday Night SmackDown
It took four long years but on this week's episode of Friday Night SmackDown, fantasy became reality as NXT stormed onto the main roster and annihilated their competition and I loved every minute of it!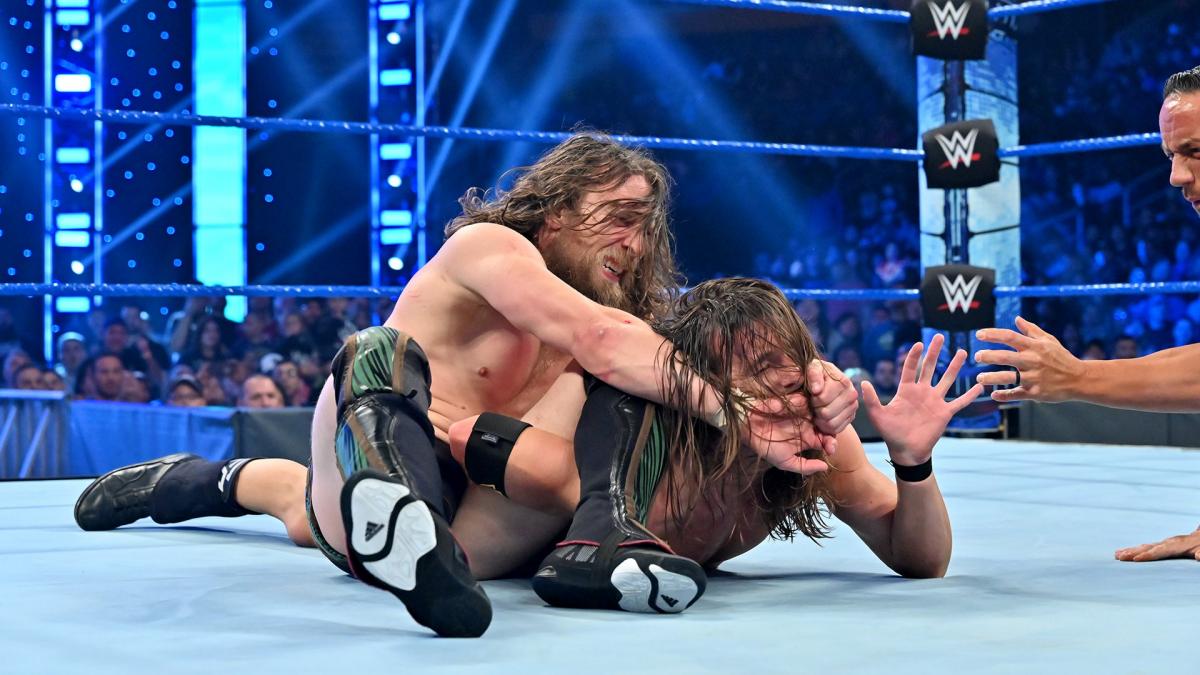 It took four long years but on this week's episode of Friday Night SmackDown, fantasy became reality as NXT stormed onto the main roster and annihilated their competition and I loved every minute of it! 
For four years the WWE Universe has been asking the question when will the creator of NXT Triple H bring NXT to the main roster and wreak havoc? It's always been considered a fantastic fantasy but never a true reality.
Dream matches such as Daniel Bryan vs. Johnny Gargano, The Undisputed Era vs. The Shield or The Club has been at the forefront of everyone's mind. Well, on this week's episode of Friday Night SmackDown we got our answer and it was as EPIC as we've always dreamed it would be.
Brock Lesnar Quits Friday Night SmackDown: After a brilliant segment that took up enough time with Paul Heyman doing what Heyman does best. The walrus showed footage from Crown Jewel where "The Beast Incarnate" tapped out Cain Valesquez with the deadly Kimura Lock.
He claimed that because of Rey Mysterio's vicious attack Lesnar wanted to get his hands on him but since he's contractually obligated to SmackDown. We have a major problem okay let's fix it!
WAIT, WHAT? @BrockLesnar just quit @WWE Friday Night SmackDown! #SMackDown pic.twitter.com/EfUNICUfdR

— WWE on FOX (@WWEonFOX) November 2, 2019
(SmackDown Women's Championship Match) Bayley vs. Nikki Cross
Bayley defended her SmackDown Women's Championship against the number-one contender Nikki Cross. "WWE's Twisted Sister" brought the fight to the champion coming out of the gate firing on all cylinders. Cross is always fascinating to watch because you never when she will turn up the volume of her chaotic and unpredictable wrestling style.
Tonight was no different, as Cross went for The Purge but "The Boss" Sasha Banks got involved breaking things up. Bayley went up to the top rope to deliver her signature Flying Elbow Drop but Cross kicked out at the last second. Cross answered back trapping the champion in between the ring apron and the cover pounding away at her. Banks finally struck and Cross was ripe for the picking for the new callous and vindictive Bayley to execute what I hope is her new finisher.
Takeaway: I liked this match it was one of Cross's best showing since arriving on the blue brand. With her bestie Alexa Bliss nowhere to be seen, Cross chasing after the women's title gives her something to do for the time being. Bayley once again is portraying a much more vicious side to her that we've never seen before. Bayley hit her new finisher spiking Cross's head into the mat to give her the victory.
Bayley defeats Nikki Cross with a new finisher. (For those who don't know, in the indies, while competing as Davina Rose, she called this move "The Rose Plant") #SmackdownOnFOX pic.twitter.com/HllYQX55Uw

— BayleyMedia FAN ACCOUNT NOT BAYLEY (@BayleyPamBayley) November 2, 2019
Moments later, the NXT Women's Champion Shayna Baszler appeared out of nowhere sending Banks right into the ring post before shifting her attention to Bayley. "The Queen of Spades" blasted the SmackDown Women's Champion with a devastating knee strike followed by a gutwrench suplex and yet another decapitating stiff knee, knocking out Bayley cold.
OH MY GOD! That's @WWENXT Women's Champion @QoSBaszler, what is she doing on #SmackDown?? pic.twitter.com/HOxbNC19Wl

— WWE on FOX (@WWEonFOX) November 2, 2019
Takeaway: Holy Shit was my reaction when I saw Baszler come out. I was surprised she came alone without the rest of The Horsewoman. The NXT Women's Champion obliterated Bayley striking first and making her mark on a brand unfamiliar with the carnage she can cause.
In a backstage interview, we saw the loudmouth Sami Zayn interrupted by NXT's Keith Lee and Matt Riddle. They chased Zayn into the ring. Zayn finally got shut up as "The King of Bros" hit the Bro Derek and "The Limitless One" hit a stunning second-rope Moonsault.
Hey @WWENXT! Come get your boys. @SuperKingofBros @RealKeithLee #SmackDown pic.twitter.com/wP1vnSLeC4

— WWE on FOX (@WWEonFOX) November 2, 2019
Takeaway: First I'm really thrilled that NXT is pairing Keith Lee and Matt Riddle up more they did on Wednesday and now tonight. Perhaps, they could be next in line to dethrone Kyle O'Reilly and Bobby Fish? Thank God someone finally shut up Zayn! It was absolutely glorious to watch him getting beat up.
On what was supposed to be a monumental edition of MizTv with Bray Wyatt the new Universal Champion, WWE upped the ante with Tomasso Ciampa making the show truly must-see. "The Greatest Sports Entertainer Of All Time" tore into the A-LISTER throwing out shots he's been hearing his whole career. The Miz essentially challenged the former NXT champion to a match.
Ciampa says while Miz is an actor and plays a part, Ciampa IS the part. #WWE #Smackdown pic.twitter.com/1TCCORfZRB

— NoDQ.com: AEW Full Gear 2019 news #AEWFullGear (@nodqdotcom) November 2, 2019
Ciampa bulldozed through the must-see superstar drilling him with some stiff knee strikes. The A-LISTER grounded Ciampa locking in the Figure-four Leglock forcing the NXT star to apply enough pressure to make it to the rope for a break. Ciampa turned The Miz's lights out with a wicked lariat and finished him off with the Fairy Take Ending.
Takeaway: The match was good, not great I didn't really feel like Miz and Ciampa gelled well. Some of it was due to time restraints but both superstars have such polar opposite wrestling styles. It was a great sight to see Ciampa pick up a big victory here especially with TakeOver: WarGames and Survivor Series right around the corner.
Daniel Bryan/Triple H Confrontation: In the parking lot Bryan is questioning why HHH and Shawn Michaels are here? Bryan knows NXT is with him and challenges "The Cerebral Assassin" to a HUGE rematch from WrestleMania 30. Instead, HHH has other plans and calls the NXT Champion Adam Cole into the mix. The segment concludes with a colossal dream match announced for the main event with the NXT Championship on the line!
Fans when they find out that Cole vs Bryan will be for the NXT Championship #Smackdown pic.twitter.com/07QVzejQXE

— Matt-B (@MattBornGames) November 2, 2019
Takeaway: Bryan and HHH have such great chemistry together which is why their highly-intense personal vendetta had such an amazing payoff at Mania 30. There was a small tease of Bryan vs. Michaels but at this point, I don't want to see that. Adam Cole is a freaking star he's the most braggadocios superstar in WWE today.
Tegan Nox and Rhea Ripley vs. Fire and Desire 
Mandy Rose and Sonya DeVille were set to battle Dana Brooke and Carmella but "The EST of NXT" Bianca Belair turned the night into a nightmare.
Statements were made. #WeAreNXT #SmackdownOnFOX pic.twitter.com/sIQS1hhiaG

— Sit back, relax and watch @BiancaBelairWWE shine. (@GivesEmWhiplash) November 2, 2019
The women of NXT brought the level of intensity that is provided on Wednesday nights to Smackdown. Nox hurled Rose up and over the announce table and the Australian perfectly executed her Standing Modified Cloverleaf submission for the tap-out.
Takeaway: Quick, precise, and to the point. Fire and Desire had zero chance of survival against the women of NXT. SmackDown got a small appetizer of the brutality that Ripley brings to the table. This also gives the partners in the first-ever women's WarGames match a little more edge and confidence going into the hellacious match.
(NXT Championship Match) Adam Cole vs. Daniel Bryan
Holy FREAKIN crap! As a huge fan of NXT for a long time now I was entranced by this fantastic five-star match. I may be wrong but it truly felt like Bryan cranked up the volume in his strikes and high-octane offense to the level of an NXT-esque match. His kicks appeared devastating and using some joint manipulation is something we don't see from Bryan very often. The NXT Champion proved without a shadow of a doubt that he was the star in this match.
When Bryan couldn't put Cole away with every move in his arsenal, he began stomping him in the face reminiscent of how he won the WWE Championship from AJ Styles. Bryan executed a fantastic German suplex from the top rope that turned Cole inside out. The NXT Champion withstood all Bryan was dishing out and landed his signature Panama Sunrise from the top rope followed by the Last Shot for the hard-fought victory.
PANAMA SUNRISE. LAST SHOT. @AdamColePro is STILL #NXTChampion!#SmackDown pic.twitter.com/PPig73UKMR

— WWE (@WWE) November 2, 2019
Takeaway: I do not feel that words can describe how EPIC this match truly was. In my opinion, this not only gave Cole a huge amount of momentum going into WarGames but a massive win over a former WWE champion speaks volumes to how valuable he is to the company going forward.
After the match, HHH brought all the NXT talent into the ring and delivered a powerful warning to Raw and SmackDown stating "NXT fired the first shot, now Raw and SmackDown let's see what you got!"
Developmental no more.@WWENXT HAS ARRIVED.

The road to #SurvivorSeries HAS BEGUN! #SmackDown pic.twitter.com/o4fuSihOoJ

— WWE on FOX (@WWEonFOX) November 2, 2019
Overall Show Takeaway: This was an amazing and exciting episode and a terrific idea to bring in NXT as a backup plan for all the talent who couldn't make it. This was an excellent step forward heading into Survivor Series and, it also solidified what was once viewed as a "developmental territory" as a strong equal to the "major leagues" on the main roster. With the possibility that Raw or SmackDown can take NXT under siege, the WWE Universe must be prepared for some captivating television!