Tiffany's Dynamite Takes: Music City Madness
How will the Rebels of Wrestling handle the Full Gear Fallout? Will they be able to stand up against the Gods of Country Music as the CMAs are ALSO happening in Nashville tonight?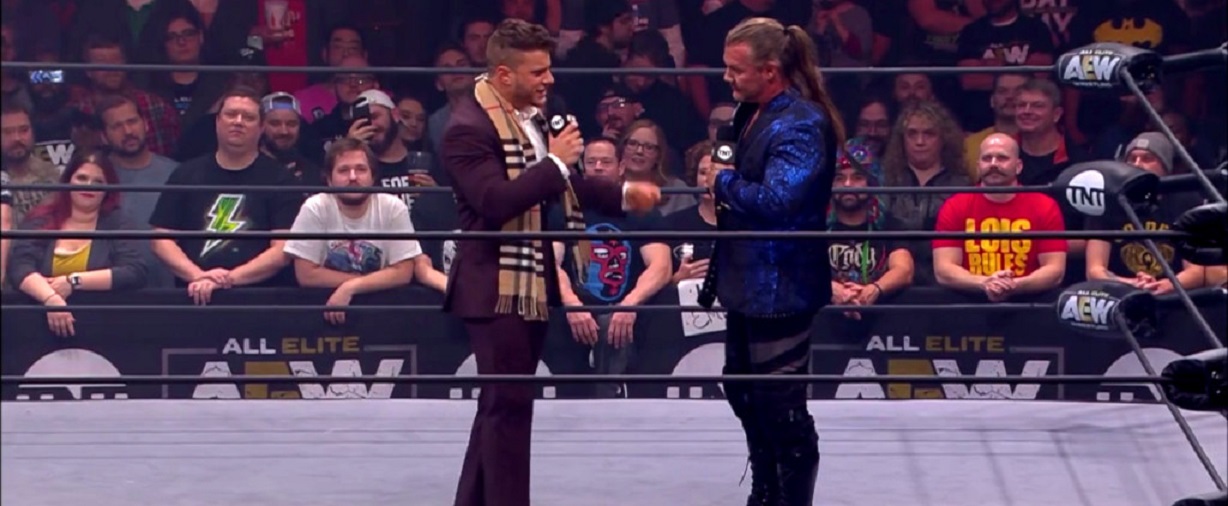 How will the Rebels of Wrestling handle the Full Gear Fallout? Will they be able to stand up against the Gods of Country Music as the CMAs are ALSO happening in Nashville tonight?
Jericho vs Cody was so good, but let's not forget the real Match of the Night: Jon Moxley vs Omega.
JESUS! Kenny Omega looks like he's been rode hard and put up wet.
Jon Moxley vs Michael Nakazawa
I love that Mox comes through the crowd. A nod to the fans and to him being an outsider. So, I'm guessing Nakazawa wants some revenge. Mox is no selling this bullshit. Thanks for coming, Nakazawa.
I love Mox on the mic! No Vince BS, it's HIS voice coming through! Love the nod of respect. He might be right about no one wanting to step with Mox. Hey, Elite, you really sure you knew what you were doing when you signed him? I'm curious to see any 'real' men step to Mox.
Dark Order vs Jurassic Express
So it's the bad BDSM porn extras vs the Barney Crew.
Jungle Boy Jack is going to be a STAR in a few years.
Marko Stunt could surprise us down the road.
They're really meshing as a team. I still hope Luchasaurus comes back soon.
Dark Order are good, but the gimmick is terrible.
They're trying to recruit Marko? I don't think he's legal yet.
Where is Luchasaurus?
Shawn Spears (with Tully Blanchard) vs Peter Avalon (with Leva Bates) vs Darby Allin
I hate random Triple Threats.
This can't be for a title shot, none of these guys are in the top 5.
Here comes Joey Janela to stir the pot. Guess that feud isn't over.
Avalon is such a schnook.
Allin wins it, which is fine.
ALLIN ACCEPTS MOX'S CHALLENGE!
Nyla Rose vs vs Dani Jordan
Yeah, she looks a little grumpy…or has she fallen under the spell of Brandi?
Dani Jordan is cute. I think she's going to get killed, but she's cute.
Well, Miss Jordan is showing no fear.
I'm not sure what it says that AEW doesn't have Nyla just squash these women outright.
Uh oh, you made her bleed her own blood. You're a dead woman.
Beast Bomb.
Nyla, hon, you didn't break a nail.
Dustin Rhodes Update
We're still a month or so out from Dustin Rhodes returning. Have a feeling he'll have something to say about the whole MJF thing.
Dynamite Dozen Battle Royal
Whatever that is is next week.
Love the plug for the rankings.
Allie in action…
Who didn't pay the bill?
Well fuck us all.
Not, Allie's pretty hair!
Chris Jericho
Still sounds like he's calling himself a mushroom
Still needs to Just For Men those roots.
Dude, last time you demanded a thank you, Mox kicked your ass.
Chris, Cody didn't give up, MJF double-crossed him.
Uh, oh. What's with the lights, Nashville?
Are these fuckers chanting for Triple H?
Oh, that's low.
I still don't think MJF is a top heel, but he's definitely hated.
Cody is going to KILL him when he's cleared to wrestle.
Even Jericho hates his guts. When even the heels think you're trash, you haven't got a prayer.
Oh, lord, this is obnoxious.
Well, this got a lot more interesting.
So much for those separated ribs, I guess.
Is that Waldo?
PAC vs Hangman Page
Time for cowboy shit.
This match isn't as good as Saturday's
Okay, it's as good as Saturday's.
Damn, Page lost.
Overturn the decision, he refused to break the hold.
Page falls in the rankings.
Brawl
The fuck is going on? Young Bucks and PnP feuding or what?
Well, this is fun, even with Picture in Picture.
Just let 'em fight!
PnP vs Private Party will be a slaughter.
Jon Moxley vs Darby Allin will probably kill me.
SCU vs Chris Jericho and Sammy Guevara – Tag Team Championship Match
Sammy Guevara is so obnoxious.
Someone get rid of Hager or SCU is done.
This has been a surprisingly good match for what it is.
Cody, Bucks, SOMEONE get out here and help SCU or Inner Circle gets the gold.
Scorpio Sky did! He saved it for SCU! Jericho has been pinned!
Jericho is FURIOUS!
Next week in Indy will be ROCKIN!
That's it for Tiffany's Dynamite Takes! Stay tuned for ongoing coverage!