Tiffany's Dynamite Takes – Champaign Toasts and Bloody Dreams
AEW is back from Thanksgiving and in Champaign, Illinois? Who will drink the bubbly drink of  victory?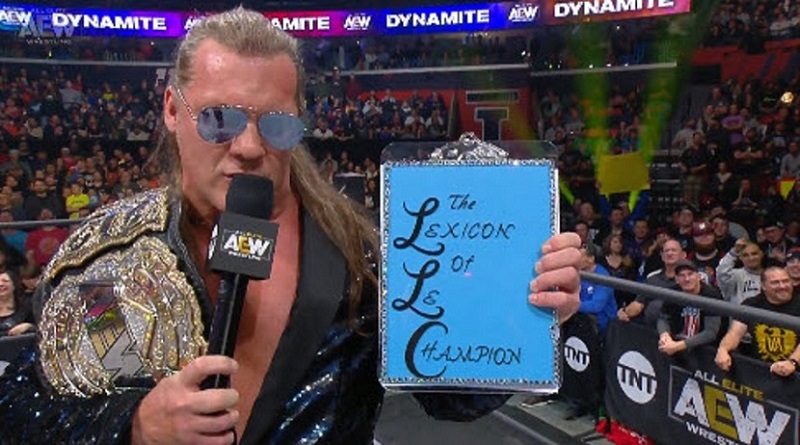 AEW is back from Thanksgiving and in Champaign, Illinois? Who will drink the bubbly drink of  victory?
Young Bucks and Dustin Rhodes vs Inner Circle
It's so weird to see Dustin Rhodes not being Goldust. I do like that he's trying to coordinate with the Bucks.
Sammy Guevara is such a douche, but Santana and Ortiz are scary good. It's amazing to me that Dustin Rhodes can work as well as he can at his age.
This was a really good match. Young Bucks and Santana and Ortiz could be a fight forever. Dustin Rhodes and Sammy Guevara could be a career making feud for Guevara, who seems a little at risk of being lost in the shuffle of the Inner Circle. .
I love that Rhodes and the Bucks got the win, but I'm puzzled as to why it was essentially clean. Santana and Ortiz did a great job of putting Jurassic Express over last night on Dark, and then they're part of a match with a clean loss. I'm puzzled by this.
Trent vs Fenix
So, Trent of the Best Friends has been on quite a roll against the Lucha Brothers.
This was a pretty good match. I'm not sure why Trent is suddenly getting what seems like a singles push, but he's definitely showing his mettle against Fenix. Fenix is SOO good, it was nice to see him work. I'm a little sorry Trent lost, but he definitely showed his stuff. I also like Excalibur explaining some of the purely Mexican moves.
Okay, so this isn't over because Trent wanted a handshake and Fenix refused, which lead to a brawl. Very nice, let's keep fighting.
Backstage
Cody with some official looking papers. Wonder what he's up to.
Cody
I'll be the first to admit that I wasn't a huge Cody fan when I went on this AEW adventure, but he changed my mind when he came out to thank the crowd for coming. He won me over.
Ooh, he quoted Garth Brooks and it's my favorite song. I love Cody being like 'WTF is going on in this company?!'. So, we're getting Cody MJF on the Cruise.
Cody with ALL the receipts is HILARIOUS! I am sorry for all the nasty shit I said about him. I THINK I know what the price is going to be and it isn't going to be his truck, shoes, money, watches, It's going to be Cody's career.
Joey Janela
Janela's hungry and pissed. Oh, this is going to end BADLY, BUT it is going to count…hopefully.
Dark Order
Are they trying to make the Dark Order an AEW version of the Wyatt Family or the Ministry of Darkness?
Nyla Rose vs Leva Bates
I was going to start my stopwatch for this match, but I guess I shouldn't bother. I have no idea what the point of Leva Bates being in AEW as a wrestler is. She's not that good and is basically just cannon fodder. I can't say Peter Avalon is that much better. The double chokeslam was cool. Nyla still wanting the Women's Belt is good continuity.
OH! Shanna with the run in after Nyla attacked her last week is FABULOUS! Great continuity, even though she got her ass kicked. Love it! Poor Knox and Shanna and why is Britt Baker in the crowd?
Chris Jericho
I love heels getting cheap heat, especially to get the crowd to stop cheering them. I still love that they're making wine. Cheap plug. Ooh, contractually obligated match and it's on December 18! The Lexicon of Le Champion doesn't flow like List of Jericho. I love this! Love the shot at AJ Styles.
I love Jungle Boy, but I want Mox to get a title shot and that will be a bigger deal than Jungle Boy getting beat clean. I do like that Jericho wants to put over young talent, even when he beats them.
Kris Statlander vs Hikaru Shida
These two have been standouts for the Women's Division, it's so much fun to see them face off. There's been a lot of criticism of the AEW Women's Division, and some of it is justified, but Shida and Statlander was a really great match and shows the potential this division has.
I'm a little surprised Statlander won since Shida is the #1 Contender. I'm not surprised Kong and Brandi showed up.
Brandi Rhodes 
So, this whole thing about stealing the hair of women who lost is because Brandi is making her own faction. I love the name, but this makes no sense, I DO like her inviting Statlander to join though, not sure who the girl was who did pledge. Guess we'll find out.
Christopher Daniels vs Pentagon Jr
This was such a great match for these two! Christopher Daniels has been phenomenal since his debut twenty years ago. Pentagon is always good. I did notice that Daniels has definitely slowed down, but this match was SOO good to watch. I'm a little surprised Pentagon won, but I'm glad they protected Daniels by having Fenix interfere.
BBB
How does Allie go from cute bunny, to evil bunny? Did Brandi steal Allie's soul when she cut her hair?
Jon Moxley vs Joey Janela
Mox coming from the crowd is an experience, love it!
I'll admit, I didn't have extremely high expectations for this match because it wasn't going to be hardcore and their match at Fyter Fest was SOO good and it wasn't quite as shocking, but it was still really good. I'm glad Mox DIDN"T hit that Paradigm Shift from the turnbuckle again, my heart can't take it.
I take it back, this match is GREAT and crazy! Love that Mox won and didn't have to kill the ref for fucking up the count. That was REALLY good for both guys considering that it wasn't a hardcore/Unsanctioned match.
OH MY GOD, IT IS HAPPENING! IT WILL BE HAPPENING! MOX VS JERICHO IS COMING!!!!!
That's it for Tiffany's Dynamite Takes. Please forgive the CAPSlock and the bad jokes, and keep your eyes peeled for more coverage!