Andrew's Impact Wrestling Ratings & Analysis: 1.21.2020
Impact's first episode from their foray in Mexico! Thank God it's not a highlight show!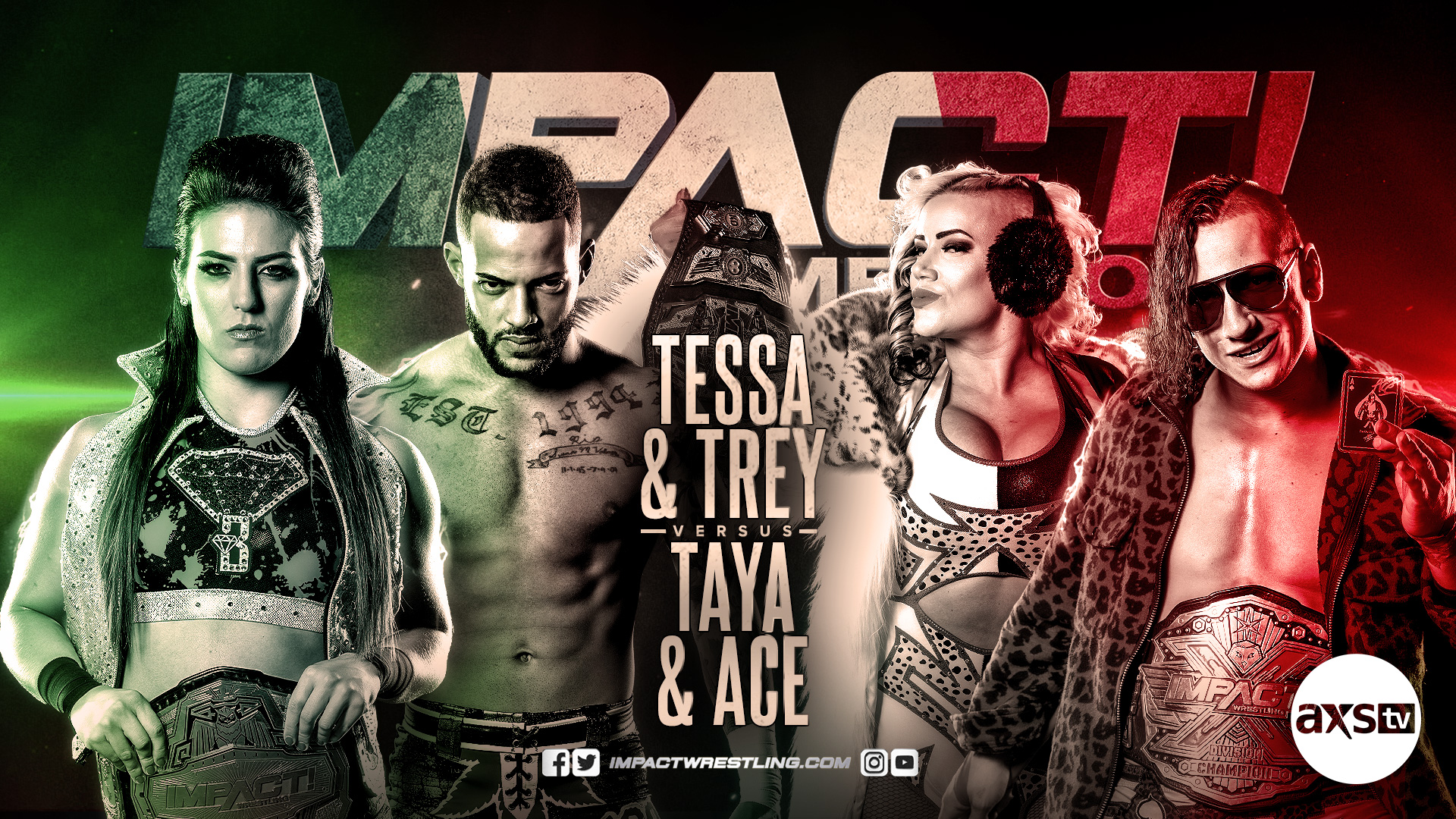 Impact's first episode from their foray in Mexico! Thank God it's not a highlight show!
Now we get the real first episode to deal with fall out from Hard to Kill.
Tessa is the new champion, Willie Mack has to make due alone, Sami lurks in the shadows and Elgin is not happy with his loss at the PPV.
Let's all just be as excited and happy to be in Mexico as Suzie:
It's nice to see @realsuyung is adjusting well to Mexico. #IMPACTonAXSTV pic.twitter.com/u9crKiWzMB

— IMPACT (@IMPACTWRESTLING) January 22, 2020
Ratings:
Taurus vs Moose vs Rhino: Taurus wins via Gore – ** 1/2
Joey Ryan vs Maximo: Joey wins via Sweet Tooth Music – **
Rosemary vs Havok w/Suzie & James Mitchell: Havok wins via Tombstone – *
Rohit Raju w/Shera & Gama Singh vs Willie Mack: Mack wins via Stunner – **
Tessa Blanchard & Trey vs Ace Austin & Taya Valkyrie: Ace wins via Springboard Fold – *** 1/4
Analysis:
Tessa opens the show with a humble promo that goes over fairly flat, then she tries to call out Sami Callihan, and you know – I love Tessa, but her first two promos/interviews as champion have been cringey. Her intensity doesn't make sense or translate well, and pausing for crowd reactions when she's trying to make a point, feels forced. Thankfully, Taya comes out to talk some smack, look all different kinds of adorable and fire up the crowd a little. She basically makes a challenge to Tessa, but Ace Austin comes out to make a pass at Tessa, Trey makes the save and that sets up for a mixed tag later.
.@TheTayaValkyrie insists SHE is the one that has made history, especially when her record breaking title reign started by defeating @Tess_Blanchard. #IMPACTonAXSTV pic.twitter.com/aWaSFJUTEv

— IMPACT (@IMPACTWRESTLING) January 22, 2020
Jimmy Jacobs interviews Willie Mack, Johnny Swinger offers himself as a replacement for Rich Swann, but this babyfaces Willie well. 
Johnny Swinger offered himself as a replacement for @GottaGetSwann as @Willie_Mack's partner. #IMPACTonAXSTV pic.twitter.com/UeUIfsImB0

— IMPACT (@IMPACTWRESTLING) January 22, 2020
Madison and Kiera approach Taya because they had a deal. Taya tells them to face each other next week and she'll give the winner a title shot. 
Taurus vs Moose vs Rhino –  Moose powders out and tries to get Taurus and Rhino to take each other out. It starts to work until Moose starts tripping Rhino and Taurus. At that point they make Moose get back in the ring, Moose tries to beg off, but then we get a nice moment of Rhino and Taurus taking turns that send Moose reeling. After the commercial, we get some decent teaming up between Rhino and Taurus, then Taurus goes for the pin, and the discord is sown. Moose tries to take advantage of moving the referee, but he can't finish Rhino after the Low Blow. Taurus Ole's Rhino's Gore, so Rhino Gores Moose, Taurus headbutts Rhino to take advantage of the prone Moose and get the pinfall. Decent match between three power guys.
Jordynne Grace is backstage and says she wants in on Madison and Kiera's match next week since she didn't lose clean at Hard to Kill. 
Joey Ryan vs Maximo – Well I mean…if you're gonna have a Joey Ryan match, might as well have it with an exotico who likes to kiss their opponent. Joey had a decent early back and forth, even hit a Suicide Dive at some point. Maximo is all flash and goofy affection, but people tend to forget he is sneaky athletic. Since it was a telegraphed comedy match, it was okay for what it was. Still not my cup of tea, but a few spots amused me well enough.
RVD has some thoughts on the Joey Ryan and Maximo match.
.@TherealRVD didn't seem to enjoy @JoeyRyanOnline vs. @MaXiMo_Sioux. #IMPACTonAXSTV pic.twitter.com/tgdOJCpyxx

— IMPACT (@IMPACTWRESTLING) January 22, 2020
Rosemary vs Havok w/Suzie & James Mitchell – Long match that was visibly competitive but also visibly clunky. Rosemary tried to convince Suzie away from James Mitchell at different points and then she took a big move from Havok. This really just languished. We see the referee check on Rosemary or something that forces space with Havok, for no real reason aside from…it's playing to the finish. Rosemary gets Havok in the corner, Mitchell tries to interfere but Rosemary mists him for his troubles and then she gets Tombstoned. Ugh…I remember a time when Rosemary matches used to be enjoyable. Pepridge Farms remembers as well.
Elgin and Eddie have a tiny altercation:
Things are far from over between @TheEddieEdwards and @MichaelElgin25. #IMPACTonAXSTV pic.twitter.com/2NxPGJqQRf

— IMPACT (@IMPACTWRESTLING) January 22, 2020
Rohit Raju w/Shera & Gama Singh vs Willie Mack – So for what this was, the match was fine. Rohit had a few moments where he tried to take advantage of a situation, but Rohit has been a fairly consistent joke in recent memory. Mack does a little Mackarena before his Standing Moonsault, but he puts Rohit away with a Stunner, and that's when Shera attacks. True to his words, Johnny Swinger comes out to try and make the save. Swinger gets distracted with Gama, and Shera is able to hit a Sky High, and the Desi Hit Squad stands tall.
ImpactPlus Flashback Moment: Beer Money vs Motor City Machine Guns, TNA Tag Team Championship, Genesis 1/9/2011
Tessa Blanchard & Trey vs Ace Austin & Taya Valkyrie – So the match outcome is pretty obvious when you look at it from the perspective of 3 champions and 1 who isn't. Tessa and Taya mostly interacted, but we did see both women mix it up with the X Division stars. Trey took most of the punishment in the ring while the heels either beat him up or played keep away with the tag. Tessa gets the hot tag, puts together some offense to give her team the momentum and tags Trey back in. Tessa dives out on Taya, which leaves Ace and Trey alone, Trey gets caught by a Springboard Fold and the heels win, to Tessa's surprise. Pretty decent TV match, I also liked the little screen hack during Tessa's entrance to get across that Sami was paying attention.
Overall Score: 6/10
Sami doing the hacking of the entrance and responding on Twitter to Bully Ray in Binary makes me wonder if he's incorporating some of the Solomon Crowe aspects. As for the show, this was really setting things up for later…so it felt a little uneventful.
We get Willie Mack's story building since he's alone, and the numbers are working against him, Tessa now has Taya to deal with, while Sami lurks behind the scenes, Eddie Edwards and Michael Elgin will begin a best of 5 series and next week's number 1 contender match for the Knockouts title were all established. So it's nice to see a good portion of the roster in active storylines, but aside from amusing segments and a decent main event, there was nothing really special about tonight's episode.
Average enough episode, nothing awful, nothing great, but stories did get advanced a little.