Tiffany's Dynamite Takes: Bash At The Beach!
AEW brings back Bash At The Beach, and Tiffany MC has your detailed report!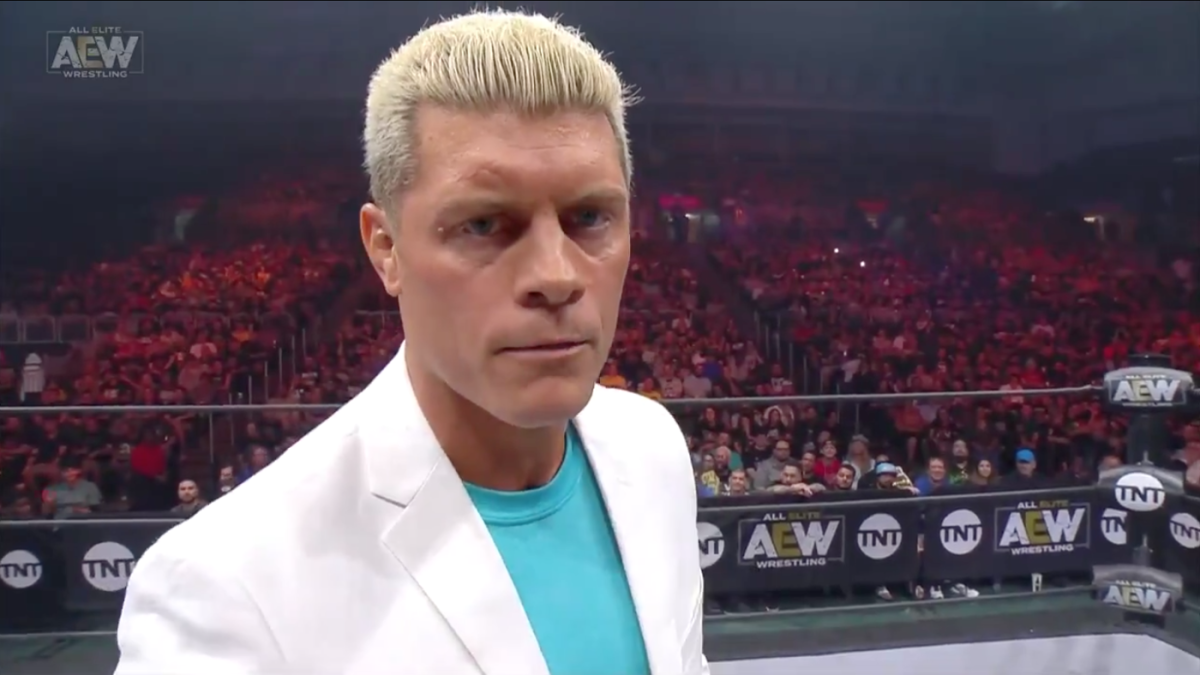 AEW brings back Bash At The Beach, and Tiffany MC has your detailed report!
We're taking a page out of the WCW past and resurrecting a classic as the Elites descend on Miami!
#1 Contender's Tag Match – Santana and Ortiz vs Young Bucks vs Kenny Omega and Hangman Page vs Best Friends
We're starting off hot with the epic Tag Team Match. I LOVE that they mentioned the passing of Rocky Johnson as well as the other wrestling legends that passed away recently. Love the beachy theme, including the clothes.
This match was crazy! Loved the Elites teaming up against the Inner Circle, but not wanting each other to get the pin. Page's facial expressions were great storytelling. There were a lot of high spots, but a lot of good wrestling and storytelling. Loved Nick slightly hesitating to tag in Omega or Page. I'm a little stunned that Omega and Page stole the win from the Bucks, but I love the storytelling. Also loved Kenny trying to get the beer away from Page, only for Page to get another one.
DDP doing his yoga is everything.
Cody and MJF
So, we're getting the answer to the $64k question: Will Cody accept MJF's stipulations in order to get a match at Revolution?
Not here for Cody trying to be Crockett from Miami Vice. Stay in the 2020s, Cody. I love Cody having MJF figured out. Long story short, Cody does accept MJF's stipulations, but MJF gets pretty roasted in the process.  Loved the callback to his father and brother's histories. Never underestimate a Rhodes, never trust a Horseman, and never discount the Shield.
MJF's shirt is Ew. Can't wait for DDP to feed it to him.
Joey Janela
Janela looks like an 80s Hair Metal rocker. Not a fan of this promo as far as the Penelope Ford thing. I do like Janela facing Rey Fenix.
Nightmare Collective vs Hikaru Shida and Kris Statlander
I love Brandi, I love her as a character and a manager. I don't love her as a wrestler. I have no idea where Awesome Kong is, but I would rather watch her and Mel than Mel, Shida, and Statlander try to carry Brandi.
I loved Shida taking no shit from Uncle Fester, but this wasn't a great showcase for the Women's Division. Shida and Statlander were good, but Nightmare Collective needs work. They need a big star to be the focus of the group. Brandi's good, but she's not a good enough wrestler to fill the spot.  I will say that Mel is surprisingly good, I hope she's a long-term thing for AEW.
Dark Order
So, we're getting a list of who Dark Order is trying to recruit and it's an…interesting list. Other than Omega and Page, I can't say any of them would be a big enough deal to really take Dark Order to the next level.
Jon Moxley vs Sammy Guevara – Winner Faces Winner of PAC vs Darby Allin in #1 Contender's Match Next Week
Gotta love that entrance! Mox further embarrassed Inner Circle by driving the Ford GT whatever to the ring in his entrance!
No surprise, this was a great match! Guevara and Mox really worked great together and put on a heck of a match. I was actually surprised the match went as long as it did, but it gave both guys time to show off. Love the return of the ORIGINAL Dirty Deeds. Mox making Guevara tap was SO cool! I've never seen him win by tapout.
The Inner Circle run in wasn't a shock, I expected that. The spike spot…that was unexpected. I'm not worried though, Mox has sewn his own nipple back on before. It is wild to see Moxley as an endangered babyface, not really used to that.
Okay, love the interviewer not taking no for an answer. Great promo from Jericho. I LOVE THIS FEUD!
MJF, Butcher, and Blade vs Dustin Rhodes, QT Marshall, Dustin Rhodes, and DDP 
After nearly 19 years absence, Diamond Dallas Page is wrestling on TNT on a WCW named program.
This match was REALLY good! I was impressed. DDP hasn't wrestled since 2002, as I recall, but he didn't seem to have missed a step for someone who is in his sixties.
Everybody got their moment, including QT Marshall. I was a little surprised by the heels winning, but I also like that the legend didn't pin a young talent. Sadly, QT Marshall took the pin, but it was a rollup with a handful of tights. Good stuff.
Wow, Page is REALLY soused. Love Omega trying to break things up and the furthering of the 'Elites Imploding' storyline. Good stuff.
PAC vs Darby Allin – Winner Faces Jon Moxley for #1 Contender's Match to Face Chris Jericho at Revolution
Well, it's a battle of the crazy/mean fuckers.
This is a REALLY good match! PAC and Allin really tore each other apart, it made both the title shot and Mox look like a big deal. I'm not surprised that PAC won, but Allin looked great in defeat, he's just not ready for the big push.
PAC's promo was what I expected, but if he thinks Mox is going to give up that match, he's the stupidest fucker in the place.
Jon Moxley is the craziest, baddest SOB in AEW. Dude's got one 'good' eye, but he still wants to fight and he gives zero fucks who it is. Love Christopher Daniels trying to calm Mox down. PAC and Jericho have pissed off the wrong man!
That's it for Tiffany's Dynamite Takes! Stay tuned for ongoing coverage.